Rated

5

out of

5
 by
auty
great for crafting
This is perfect for organizing materials for kids crafting. My kids can get to what they want and is easy to see what they run out of. Bright colors are fun.
December 16, 2014
Rated

5

out of

5
 by
BrentInFrisco
Like I Designed It Myself
I bought a few of these with a mix of of the cup type inserts. They are perfect for organizing various screws, bolts and miscellaneous items in the garage. I have several odd size and shaped pieces so these storage units allow me to custom make space for each part. The fact the cup inserts are not jammed in tight leaves oblong spaces that are perfect for the longer screws, bolts, drill bits, etc. to fit along the sides. I like that the top clamps on so dust in the garage is not an issue. A couple of other nice features are that they stack nicely off to one side of my work bench, and I can see inside each one without having to remove the cover. If needed, I can print out large text words on my printer, cut them to size and tape them to the inside of the box facing out. This is better than labels on the outside that can get dirty, scraped, etc.
April 24, 2014
Rated

5

out of

5
 by
PinataParty
Great Prismacolor Marker Storage
I had been looking around the internet for ideal storage for my full set of 156 Prismacolor markers (chisel tipped - I'm not sure if other types will fit). I wanted something with a tight locking lid (I have a toddler), that had cups that I could easily throw the markers into (as opposed to individual marker slots), and that I could also put on my small desk to use while drawing. This container does all of those things. I was concerned there wouldn't be enough space, but this holds all my markers with room to spare. The height of the markers does not prevent the lid from fully closing.
May 11, 2013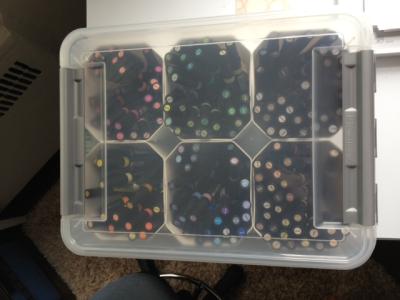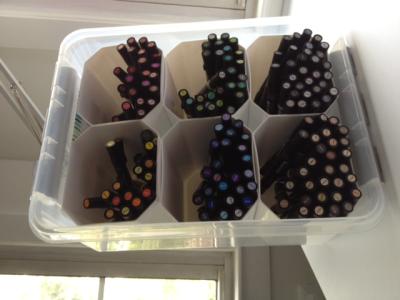 Rated

5

out of

5
 by
nicole131313
Alternative tool box!
I keep our tools in a tool box I made from a collection of these modular parts. It is much nicer to look at than the standard metal case, and I feel like I can see everything better as well.
January 8, 2017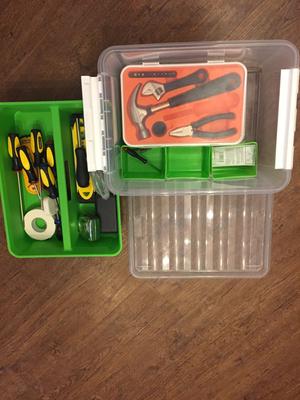 Rated

3

out of

5
 by
MeghanM
Smaller than I thought
I should have paid better attention to the actual size. These are not large bins despite the similar price (I picked up large clear bins for $13.99). These are small and good for organizing small items. Not great for storing large size items or large amounts. Still, useful for storing lightweight things such as fabric scraps etc. and I love the snap closures on the sides. The colors make it not very easy to see what's inside.
December 13, 2016
Rated

5

out of

5
 by
GoofyMe
Perfect!!!
I needed storage for all my crochet stuff. This fits the bill. I can stack them and see everything I have. It helps me with all my projects. In fact I'm planning on getting more.
July 28, 2016
Rated

5

out of

5
 by
TeriD
It's perfect for what I need it for. Good size and good for storage. A little pricey, but worth it!
July 15, 2016
Rated

5

out of

5
 by
twinmom13
love these!
they are cute and durable and have so many options for organizing. I have the medium ones and the small ones and all the various inserts. wonderful!
April 29, 2016
Rated

5

out of

5
 by
GKhan
Good storage for Legos
I purchased this product along with the handled tray and 3 medium inserts to store my son's Lego Robot kit. I am completely satisfied as it makes organizing the Lego parts so simple and accessible.
March 20, 2016
Rated

5

out of

5
 by
Mom1205
Awesome.
These sets have helped me get a handle on puzzle pieces and little toys tgat always end up lost. So great to have everything organized. Well worth the price!
January 6, 2016
Rated

5

out of

5
 by
Jamonine
Creative solution
If you pencils, rubber bands, and other items. It's awesome.
August 22, 2015
Rated

5

out of

5
 by
Roman
Form and Function
The containers are perfectly sized with great fitting lids. The bright colors or clear give multiple options for where to use them.
June 2, 2015
Rated

5

out of

5
 by
containergirl15
FANTASTIC !
i got three medium smart totes, one pink, one blue and one green and they are awesome! not sure what i was thinking of putting in them but when i needed to put some stuff away quickly, after the cat knocked a bunch of dvds on the floor, each one fit about 24 dvds, lined up on their sides with the titles showing for 20 or 21 of them along the length of the box and 3 along the side on their sides too. it of course depends too on whether they're regular size or a complete season of a tv show which tend to be bigger so the number you can fit in could be different. and the lid is awesome! a super tight fit but easy to open and close. one of the handles that helps close it was jammed almost shut so i didn't want to break it by forcing it open. it was still fine though as the lid could be slid under it and then it closed fine just like the other side. and looks like a nice tight fit that could withstand cats knocking it off something onto the floor. !! so i am ordering more. they are transparent so you can see thru them although if you want something you can read from the outside when they're closed you might want to get the clear ones just for easier ability to see thru them. and my only improvement would be to have more colours in this size !!! orange and purple and yellow are always good. so two thumbs up, five stars out of five and 10 out of 10. you can't go wrong with these beauties !!!
August 16, 2014
Rated

4

out of

5
 by
KatyTwinMom
Mostly functional
I got the clear bin with the 6 different colored tall inserts for art storage for my children. I really love it except for the fact that unsharpened pencils are too tall for it. I either have to jam the lid in place or sharpen them all. I like to gather up every odd and end craft supply they've gotten from school, birthday parties, etc in here so it's annoying to have to sharpen all 20 extra pencils. Other than that this is a great product and easy to use for young children (mine are first graders).
August 12, 2014
Rated

5

out of

5
 by
pattycake0421
Nice Product!
I bought this tote and six of the colored organizers to put inside. I am very pleased with the amount of space it provides! I love it that the container is clear so it's see-through and the colored containers inside show through just enough that it looks good. I am also happy that I can take out each colored container and use it as needed and then return it to it's place so everything stays neat and clean inside. I will be ordering more of these systems to continue to organize my life! Great design & quality.
August 12, 2014
Rated

3

out of

5
 by
momodot
Okay for some uses
This works for what it is, a lightweight storage option for organizing small things. It is appropriately priced - much more affordable than Iris containers but also lower in quality/durability.
August 4, 2014
Rated

5

out of

5
 by
ElaM
Fantastic if you can afford it!
These container are absolutely the best! I love the ability to keep an entire body of project items in one place while still having everything separated within the box. The only qualm I have is about the price. It is entirely too expensive! As with other container store items, sometimes there's nothing better than the real thing. You get what you pay for, and here you are paying for the quality. All in all, great storage system!
June 18, 2014
Rated

5

out of

5
 by
shopper78
So Handy!
Love the bins and options for this tote for whatever you need it to be!
June 9, 2014
Rated

5

out of

5
 by
MominRI
Perfect for Kids Craft Mediums!
This is the perfect solution when coupled with the tall insert bins. It's possible to organize crayons, markers, colored pencils, etc all in on container standing up straight. Would definitely recommend this to anyone trying to consolidate coloring supplies!
May 27, 2014
Rated

5

out of

5
 by
Carjens
Get Your Artist On
My seven year old granddaughter can't seem to find anything to wear or get her clothes organized. But she can "keep calm and get her artist on" with her awesome Smart Store Tote organizer. Everything she needs for her art and crafts is right at her fingertips in colorful Smart Store Inserts. Thanks Container Store for Smart products that even delight a rather messy child.
May 4, 2014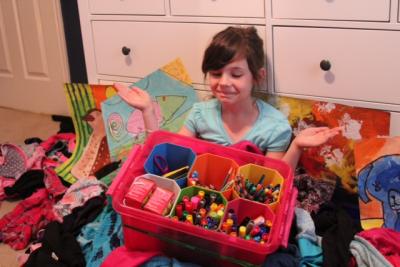 Rated

5

out of

5
 by
YouBettaOrganize
Toddler Proof!
My toddler kept getting into my supposedly child-proofed makeup drawer, so I had to find an alternate solution. I bought the Medium Wavy Smart Store Tote with a couple of inserts. Perfect solution! I stay organized and my toddler can no longer paint her body or my walls...or my furniture...with my eyeliner! :)
April 25, 2014
Rated

4

out of

5
 by
Laurags
Great for crafts
I get a few different types of craft kits and always have left overs - this is a great way to keep them organized and usable for the next craft day!
April 25, 2014
Rated

5

out of

5
 by
Sara0107
Perfect Art Caddy
This made a perfect art caddy. I made sure to label each insert with its contents: markers, crayons, scissors, etc. so even if everything is dumped everyone knows how to put it away. Great quality, too.
April 9, 2014
Rated

5

out of

5
 by
Onthegreen
Great Storage Option
this is great for crafts - plenty of room and very organized!
April 7, 2014
Rated

5

out of

5
 by
Organizingfanatic1
Great Craft Storage
I love to do crafts, but don't like to dig. I used the medium one to organize my stamping supplies and it makes me want to use them now that I can see them.
April 1, 2014
Rated

5

out of

5
 by
Jean28027
A Solution for Desks with Nothing but File Drawers
I have recently been assigned to a wonderful desk that has four file drawers and a keyboard tray where a shallow pencil/office supplies drawer usually lives. This colorful tote, when paired with six of the coordinating inserts (sold in tandem), fit perfectly within one of the file drawers. I now have six perfectly-sized compartments for everything from boxers of binder clips and staples to stashes of post-it notes, pens and markers. It made my wonderful desk function much better and provides a mood-elevating pop of color. Thanks, Container Store, for once again having just what I needed (and so much more)!
March 30, 2014
Rated

5

out of

5
 by
JoyfulBiz
Great for storing and carrying rubber stamps!
I'm loving my new SmartStore Color containers! I often do art parties and so I need to bring my rubber stamps and supplies with me. This keeps them easy to organize and carry...plus I love the colorful color options!
March 28, 2014
Rated

5

out of

5
 by
EvieFig
Great
I purchased this being a little hesitant, but it is great I purchased the open totes that go inside, and it's great, my daughter has everything sorted out from crayons, markers, pencils, pens, erasers...it's easy for her to carry and keep things organized when she is finished with it.
November 20, 2013
Rated

5

out of

5
 by
TXMomof4
Bought for 9-year old's collection
My son and I went to the Container Store to find a way to store his Beyblade collection. After choosing first bins, then multicolor plastic boxes, we found the Smart Store System. He chose the medium size, along with the handle and the small boxes in a pack of 6. We also bought the label holders. Lo and behold, my child organized his toys in this tote, and he carries it everywhere and puts his toys away. I'm a happy mother and the tote is going strong!
August 14, 2013
Rated

5

out of

5
 by
Verified Reviewer
Amazing!
I had been looking for something to help me organize my kids craft supplies. We bought one of these (with 6 of the tall inserts) to try it out and I was able to replace 2 large cardboard boxes with just this one container. The best part is that now we can see where everything is and my son can easily get to his supplies. He actually gave me a huge hug when he saw this and thanked me for organizing his crafts.
August 13, 2013