Rated

5

out of

5
 by
DRONY
GREAT STORAGE BINS
WE ARE USING THESE BINS IN OUR BUSINESS TO STORE CLOTHING IN THE SALES AREA. BECAUSE THE BINS ARE CLEAR YOU CAN SEE WHATS INSIDE AND ALWAYS KNOW IF THAT ITEMS INVENTORY IS RUNNING LOW. THESE BINS ARE STRONG ENOUGH TO STACK EVEN WHEN FILLED.
August 20, 2016
Rated

5

out of

5
 by
Ariadne
Love these totes!
I am in the process of reorganizing my art studio, which is also my garage. The neutral color and 'see through' qualities of these sturdy totes will make it a serene space when I'm done. They have figured out the perfect measurements so that these totes fit front to back on an 18 inch shelf, maximizing storage capacity of each shelf. I particularly like the 25 gal. size, as they don't get too heavy. I order them by the case.
June 29, 2016
Rated

5

out of

5
 by
mrsbmontes
Love Being Organized
These Totes are so nice I bought the big and small ones so I could stack them together in my bedroom closet. I'm so happy I did, there Great just love them. I got 6 of each and was able to save so much space. Its so funny how being Organized can make you happy. I'm a family of 6.
January 1, 2016
Rated

5

out of

5
 by
soccerjo
nice storage bins
great bins, like the way they close and lock Stack well, and perfect for organizing my office closet
December 29, 2015
Rated

5

out of

5
 by
Aelspache
It WORKED!!!
My cat uses the box, but doesn't lower her bum, so she messies the floor. I've tried the 'high sided' cat boxes at 4 or 5 times the price of this box and they were never high enough so I decided to try this.. I carefully cut out the front for easy access and it's PERFECT! It's very easy to empty, the litter doesn't stick, and it looks clean.. Very happy with the purchase.
September 7, 2015
Rated

5

out of

5
 by
Aggie4684
Easy
Moving in with fiance was time consuming. Making room for my stuff along with his was tough. Our walk in closet was becoming too cluttered but consolidating seasonal stuff in these bins has been a life saver. Being able to see what was inside and utilizing my label maker has made locating things very simple. I'm glad these came in two sizes so I can utilize every inch in our closet as two large bins stacked on another wouldn't fit. I definitely love walking into my closet without questioning where things are.
March 24, 2015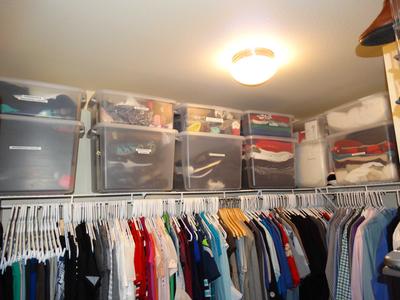 Rated

5

out of

5
 by
48andover
Problem solver
I was looking for a way to make the lower part of my kitchen cabinets accessible without going to the expense of installing roll out shelves since we will be moving soon. These totes fit the cabinets perfectly and hold the pots, pans, appliances, etc. I just pull out the tote to access whatever I need, plus it makes cleaning the cabinets easier - just remove the tote and contents, dust the cabinet and replace the tote!
November 29, 2014
Rated

5

out of

5
 by
Knitcat
Great Yarn Storage
I bought several of these totes in the past to store my yarn and unfinished projects. I can see what's stored inside so I don't have to dig through the stack of totes looking for a specific item. These also fit well in my closet which is barely 24 inches wide.
August 16, 2014
Rated

5

out of

5
 by
MPLSCondoLiving
Solid container
This tote doesn't secure quite as tightly as the Water Tight containers, but it's perfectly fine for what I needed it for - to store shoes and art supplies.
April 9, 2014
Rated

5

out of

5
 by
DebO
Right size
I was looking for a way to permanently store completed 12x12 scrapbooks of my daughters. The 50 qt. size allows me to store the books vertically so the contents does not get smashed under the weight of the books above it. So glad I found this container!
March 24, 2014
Rated

5

out of

5
 by
Kbitson
Great toy storage
Went in to the store looking for toy storage. More specifically Lego storage. I wanted something sturdy with a good solid lid that closed securely. This box had all that. It is wider so the Legos are a little more spread out and my girls can find what they are looking for but it is still compact enough and doesn't take much room.
March 22, 2014
Rated

5

out of

5
 by
StephK
Good for storing
I needed to clean my room and store away things I didn't want in my room anymore so the totes were perfect. The latches are so easy and fast to lock and does no harm to my fingers! I also like that they're transparent so you don't have to open to see whats inside in case you forget. They're good for organizing your things!
March 11, 2014
Rated

5

out of

5
 by
DamaJoy
I use these containers all over my home for organizing all sorts of things, and in this case, the trunk of my car also. They hold up well, look very attractive out,and keep things very organized. I love shopping at the Container store because they have such a lot of choices for attractive storage like this!
February 28, 2014
Rated

5

out of

5
 by
GRZ1
Good sized bin
I was looking for bins to store extra holiday decor, and found these to be the perfect size so that things don't get lost in the size of the bin. They are also very sturdy and I like that they are somewhat translucent so you can tell what is in them.
February 16, 2014
Rated

5

out of

5
 by
AustinShopping
Fantastic Product!
These Garage Totes are amazing! Great price for a great product. I use them for storage in my back room at my store and they fit so much merchandise! They fit perfectly on my shelves and have made my life so much easier. I can now clearly see what is stored where and easily restock my merchandise every night. I bought all that my local Container Store had in stock and will have to make another trip soon to pick up more!
December 4, 2013
Rated

5

out of

5
 by
Carlton
Love these containers
These are the best containers and fit the shelves that I bought. They fit side by side and if you use the smaller of the two containers, they will stack on top of each other. I have many of these containers in my sewing room. I love the fact that they are clear and I can see the fabric in it easily.
December 1, 2013
Rated

5

out of

5
 by
Stuckonsushi
awesome and great value
Bought several of the 25 quart size to replace beat up xerox boxes I've been using to store pictures, yearbooks, mementos, and miscellaneous things. I like the size as it is roomy to hold a good amount of stuff, but not too much stuff. Pictures and yearbooks get heavy quickly so I wanted small enough containers to be able to fill them up but still have a manageable weight. Even the heavy boxes are easy to hold and feel extremely sturdy. The latch is also easy to do and undo but holds very well. Also love that they are see thru so I can access what I want without having to dig through several opaque boxes first. I don't have a need for the 50 quart size YET but when I do I will definitely get some. $8 for the 25 quart is good, and $10 for the 50 quart is even better! Awesome price for an excellent product.
July 23, 2013
Rated

5

out of

5
 by
Paris
Clean and secured
I got these boxes and I put all the old family pictures in them. They are clean, secured and strong. My closet is now, finally, organized.
June 22, 2013
Rated

5

out of

5
 by
ninawernyc
Garage Tote Clear
I bought 4 Garage totes for storage at my school. They came quickly and were in perfect condition!
May 1, 2013
Rated

5

out of

5
 by
Seaker
Great Totes!
Easy breezy storage - can see what is inside and the contents stays clean, water free and fresh as the day I put the materials in the container.
April 10, 2013
Rated

4

out of

5
 by
MrJay
I See You!!
The clear tote make it easy and faster to find the objects that I am looking!
March 18, 2013
Rated

5

out of

5
 by
2mbb
Garage Organization
I used these totes for my Garage organization project. The large tote holds a lot of stuff, but is still manageable for putting up onto a high shelf. The small tote will stack two high to be the same height as the large tote. This makes for efficient use of shelving space.
March 11, 2013
Rated

5

out of

5
 by
grumpycat
Perfect storage
Bought these to organize my crawlspace to replace broken down xerox boxes. They are a perfect size and I can see what is stored in them.
February 27, 2013
Rated

4

out of

5
 by
dinosaurshugar
Great totes for moving/storage
I liked the latches on the totes b/c they were actually secure, unlike some other brands whose latches tend to lose their hold even soon after purchase (to be fair, it's probably b/c I tend to overstuff them). The clear body is very useful and saves time rummaging and scavenging for needed stuff displaced in the move. Obviates labelling which can be tedious. A bit more expensive and smaller than I would have liked but the latter is probably for self-proclaimed, incorrigible overstuffers like myself.
May 6, 2012
Rated

5

out of

5
 by
spicer
My favorite storage bin!
I have physical issues that cause me to be VERY particular about my storage containers. I needed storage boxes that were durable, translucent, and had latching lids that were easy on my hands. These bins felt right, and once in use at home, proven right. Even full, I have no trouble moving the smaller bin, and my hands have never been happier! Thank you, Container Store!
May 4, 2012
Rated

5

out of

5
 by
italmama
Perfect for moving
We needed a sturdy large tote to storage smaller items prior to our move. This tote worked perfectly and held up very well!
April 27, 2012
Rated

5

out of

5
 by
SuzyG
The BEST containers for storage!
These containers have it all, great size, the handles clip under and over for a tight fit with the top, they are translucent so you can see what is stored inside and they stack beautifully!
April 27, 2012
Rated

5

out of

5
 by
Hillybilly
Love these Totes
Great totes. Love how they are stackable. Many uses. Garage or closet.
April 23, 2012
Rated

5

out of

5
 by
DigDoug2000
Great for Storing Shoe Boxes
Perfectly stores six (6) of the clear plastic shoe boxes. (p/n: 10008759) I use these for storing my model train collection, and I use the shoe boxes as project bins to store all the parts and tools need for each project. Everything is translucent so it's easy to see what is in each box.
March 20, 2012
Rated

5

out of

5
 by
mamacat513
Sturdy and attractive storage
I have the smaller garage totes. We now have a lovely Elfa garage so I want to keep everything organized and attractively stored. The locking lid on the totes protects the items inside from dust and dirt. The slightly contoured bottom of the totes fit well on the 16" Elfa ventilated shelving.
March 19, 2012