Rated

5

out of

5
 by
Iceherinit
Super Useful
This little gadget organizes all my cosmetic brushes and makes them easy to find.
July 21, 2016
Rated

5

out of

5
 by
OldMotherHubbard
One Is Never Enough
Bought 1, then another. 'Got 4 now, and I bought 3 more as Christmas gifts. Now my friends want more.
January 27, 2016
Rated

5

out of

5
 by
JenMarie
Great brush organizer!
I have 6 of these. They are great for organizing my makeup brushes. They are also super cool looking! Great for artists! You could also use them to organize pencils. I like how there's divided tubes. I highly recommend!
August 26, 2015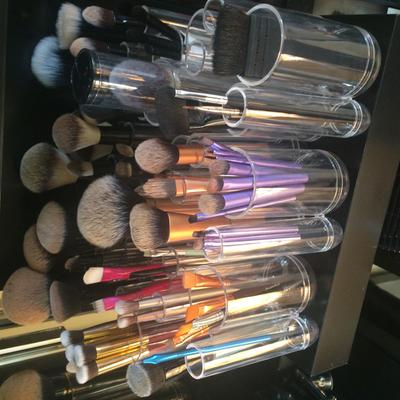 Rated

4

out of

5
 by
Trinigirl
Faulty
I love the container store I have many products from here but the Tubo countertop is very poorly put together. I have a couple of tubes that just fell off
May 13, 2015
Rated

5

out of

5
 by
ShannahP
Needed to organize my 1/2 of our vanity and this has proven perfect for brushes, tubes and more! It's well made, thick. Looks very nice & organized.
March 27, 2015
Rated

4

out of

5
 by
Tyfaithz
Makeup Brush holder
I like this product. The only problem I have with it is its a little smaller than I thought. Nevertheless, it still holds some of my main brushes. Still a great buy for the price. You can always use it for something else.
November 11, 2014
Rated

5

out of

5
 by
Makeitup
Great way to organize eye makeup!
I have tons of colored eye pencils and now they are organized by color! I wish there was one tube much shorter than the rest but I still love this thing a lot!
August 29, 2014
Rated

5

out of

5
 by
Sephoraaddict
Excellent organizer
I have been looking for this type of organizer for my eye liners and brushes for a while. I like that everything is upright and easily identifiable. I didn't spend enough time looking at Umbra, but am wondering what other similar style organizers they might make in addition to this one. Love it!
July 13, 2014
Rated

5

out of

5
 by
LadyDiana
Great Organizer
My Turbo Countertop Organizer was bought in an effort to clear up some of the clutter on my vanity. I put two round brushes, a rat-tail comb, hair scissors, several complexion brushes and a lip defense pencil in it. There was a tube the right size for all of these things that I use most frequently and need easy access to. This tube organizer does the job, looks nice and is easy to keep clean and I hope it lasts a long time.
June 4, 2014
Rated

5

out of

5
 by
Afw2002
Great organizing
I really like the different size tubes. It's small enough for the corner of my personal vanity or my small sink with everyone's toothbrushes and toothpaste!
May 13, 2014
Rated

5

out of

5
 by
StampQueen
Perfect cosmetic brush solution!
This is exactly what I've been looking for to keep my makeup brushes easily accessible. I love the different sizes as they accommodate my smaller brushes, such as the concealer brushes, eyebrow brushes, lip brushes and then the larger ones for eyes and my bronzer and blush brushes. Highly recommend if you're looking for a quick organized solution for applying makeup, sure saves time shuffling through to find the exact brush I need!
April 19, 2014
Rated

5

out of

5
 by
Ir318
Love love love
Out of all the products I bought for my make up the most fun one was this. I used it to for my eye / lip pencils mascara and brow tools Instead of having them in one lil a holder . This is the perfect way to keep them organized. And easier to look for them also looks really cool next to the rest of my container make up storage stuff :)
April 2, 2014
Rated

5

out of

5
 by
khawkins
Beautifully Functional
This is super functional and the design is amazing. It clears clutter from your counter and looks good while doing it!
March 18, 2014
Rated

5

out of

5
 by
vashonte
Dear sir/sirs
I purchased this product a few weeks ago. I had several containers for my makeup brushes but I was not satisfied with them plus they made my vanity look cluttered. While online, I stumbled upon this organizer and knew immediately it was what I had been looking for. I have different size brushes and my smaller ones were getting lost among the other brushes. With this container, it is so organized that each and every brush has a place and each can be seen at a glance. I love it and it looks so elegant on my vanity. Thanks for offering such a versatile and incredible product. I will definitely recommend it to my friends.
March 4, 2014
Rated

5

out of

5
 by
Cindygold
Top organizer - fabulous, darling!
This product is simply terrific! Ends drawer jumble. Just great to have items at my fingertips. Very attractive and solidly constructed. Great assist in my neatnik efforts.
February 13, 2014
Rated

5

out of

5
 by
AlexaD
Cute and easy!
I can now grab my small comb and eyeliner instead of shuffling through makeup bags! I will never go back.
January 30, 2014
Rated

5

out of

5
 by
Twin1988
Great purchase
I love how I can separate my brushes according to uses into the openings and they still be able together in one place.
January 7, 2014
Rated

2

out of

5
 by
Joska
sill looking for brush holder
Some of the tubes are too tall to easily remove brushes. . .in addition, the tubes should have a larger diameter.
November 18, 2013
Rated

5

out of

5
 by
BrightEyes1
Great Organizer
Bought this product to organize bathroom counter clutter. It works great to keep mascara, lipsticks, and other essentials neat. I especially like the different size and height compartments. Also easy to clean the counter as you can grab the organizer and have everything in one place. Love it!!!
November 7, 2013
Rated

5

out of

5
 by
GLZ1
Terrific Cosmetic Organizer
I purchased this 'Tubo' organizer recently not sure it would be 'the' best container for makeup brushes, eyeliner, tools, etc. To my delight, all of my most-used products fit neatly into the container making the morning grooming regimen simpler and more fun. It's a winner, for sure!
November 3, 2013
Rated

4

out of

5
 by
Nic1
I purchased this to use with the large acrylic makeup organizer clear and the two items are perfect to hold all my makeup and tools. Both look nice on the dresser and make it so much easier to find items, rather than in a soft sided case.
September 1, 2013
Rated

2

out of

5
 by
bj616
Loved it until it fell apart
I loved this when I got it and it was perfect for what I needed. However, shortly after I bought it, one section fell off, and now the other one,. Very disappointed.
August 26, 2013
Rated

5

out of

5
 by
skyspirit464
Brush Perfect
I bought this in conjunction with the Large make-up organizer. It is perfect for my make-up brushes--no more looking around for them on the vanity top or in the drawers! Love it!
August 4, 2013
Rated

5

out of

5
 by
rosemarybee
Eureka!
This multi-channel vessel is perfect for keeping my hairbrushes and combs organized and easy to reach, and it look great on my counter!.
July 14, 2013
Rated

5

out of

5
 by
AerobicGrandma
WHAT A GIFT!
Bought two first time out, one to use and one to give away. Loved mine. First gift recipient was wild aobut hers. Bought two more. Next recipient equally enthusiastic. Next time you need a bread-and-butter, modest gift for a female, you cannot do better than this! I mean ⿦ something handsome and useful versus another bottle of wine?
May 5, 2013
Rated

5

out of

5
 by
kalena
Best Purchase Ever
First off, whats not to like at the Container Store? Love it all!! Started shopping when they opened in So Coast Plaza, Costa Mesa, CA and since we now live in Hawaii, love being able to shop on-line. The product I chose is the Umbra Tube Organizer, I have the small and the large one and use them in my kitchen to organize my utensils I use the most when cooking.
April 26, 2013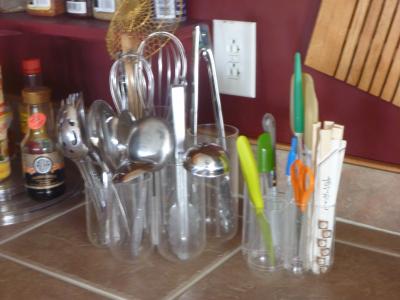 Rated

1

out of

5
 by
Philly
A great idea if ......
I loved this for my brushes and bought two! However, I could see it was poor quality, as soon as I opened the box! Made in a very thin plastic that scratched very quickly.They looked very inexpensive next to my other acrylic makeup trays, especially ! ( also purchased at the Container Store online.) At one month the 1st holder broke. After two months the other broke as well! Most items sold at the Container Store are much better!
March 31, 2013
Rated

5

out of

5
 by
California1sunshine
love....
Perfect for separating make up brushes!!!! I also purchased the lipstick organizer, love, love, love...........
March 19, 2013
Rated

5

out of

5
 by
EnergizerBunnie
Exactly what I was looking for!
I have several brushes and this keeps them organized nicely. It looks nice and clean on my bathroom counter.
March 17, 2013
Rated

3

out of

5
 by
atelierg
Good, but imperfect
I like this and use it daily, however, the following improvements would make it fabulous: There is a slight lip on the top edge of each cylinder. This prevents items from sliding out when you reach in. Annoying. If they were chemistry-type glass test tubes the cylinder wouldn't separate from the cup. This happens a lot, spilling my brushes. The connection is not tight enough. I also use this for my eyeliners and tweezers, nail scissors, etc. I wish the cylinders were a bit shorter so these would extend above the top of the cylinders. Many of them are a bit too long. Generally great, but a few design modifications would make it perfect.
March 10, 2013