Rated

5

out of

5
 by
Amanece1
Works well
I really liked that it is made of metal, less chance of it breaking. It was rather easy to install into the cabinet and it is very convenient to use when needing a lid. No more having to rearrange items to get the needed lid.
January 7, 2017
Rated

5

out of

5
 by
justwhelmed2
roll out holder
great under cabinet storage. also holds baking sheets and smaller fry pans
December 13, 2016
Rated

5

out of

5
 by
missrenee
Keeps Lids Organized
Lid holder keeps lids organized in one spot. Rolls out smoothly!
September 20, 2016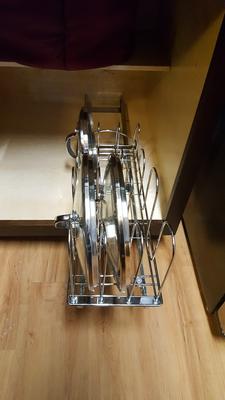 Rated

3

out of

5
 by
Sweetie46919
OK purchase but...
This product is built well, installs fairly easily and looks great in the space I put it. It advertises that it holds up to 18 lids. . . but I was lucky to get six or seven in it. If you have straight up and down lids it would be great but if your lids are domed with handles on the top not so great. I sorted through my lids and downsized but was disappointed in performance of the holder.
April 18, 2015
Rated

5

out of

5
 by
fengshuing
Love this!
Excellent quality, easy to install, easy to use. I attached it to a piece of extra shelving I had to make the placement of it more portable. I did not attach it to the cabinet base. Works beautifully. All my pans are All Clad and the covers were becoming a nuisance--not anymore!!
February 10, 2015
Rated

4

out of

5
 by
LadyLiza
Easy to Install & Smooth Gliding
After installing, then re installing this roll-out lid holder due to an operator lack of measuring, it was easy to install both times. From experience, be sure to measure/install exactly the location based on door closures, lids to be stored, and additional pots/pans being stored nearby.
February 2, 2015
Rated

5

out of

5
 by
ECTeach
Love this!
Purchased to organize a corner base cabinet in my kitchen...no more searching for lids! This is VERY well made, sturdy, holds all my lids and was easy to install (although I guess I should say that my husband installed it and he is a handy guy)
January 20, 2015
Rated

5

out of

5
 by
BearyPotter
Handy gadget
Easy to assemble. Clear instructions. Be aware it is made for a flat, even opening cabinet. My cabinets have a small raised lip at the front. I attached the roll out unit to two spare shelves to raise it to high enough to clear the raised rim.
June 24, 2014
Rated

5

out of

5
 by
Bird1
Sturdy and attractive
This is a well made and useful product. It didn't fit in the cabinet because of a big hinge right in the way of the pull-out handle so I returned it, but that wasn't an issue with the product.
May 3, 2014
Rated

5

out of

5
 by
DiegoNYC
A great item
The lid holder was easy to install and has organized the lids and baking sheets - including muffin tins - under my sink. It is huge improvement.
April 28, 2014
Rated

5

out of

5
 by
MelanieNYC
Great for small NYC kitchen storage
My boyfriend and I argued about whether we should get this product or just get a larger sliding drawer. We decided to go with the lid holder and an 11 inch sliding drawer and the two work perfectly together in our apartment. We will definitely buy these products again in the future but we will make sure to have a drill when we do.
April 25, 2014
Rated

5

out of

5
 by
Athina
Another amazing item
Easy to install, making my cabinet under the sink very organized. Pans, lids, and baking sheets fit perfectly. It is a breeze to install, if you can use a drill for the base part. I highly recommend it.
April 21, 2014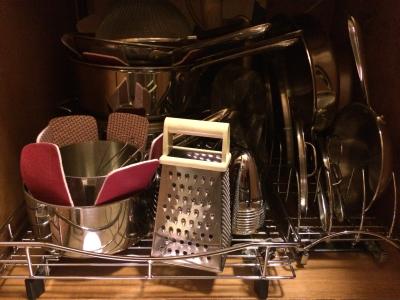 Rated

4

out of

5
 by
KLLund
Almost Perfect
This was a real help in organizing by cabinet, but I cannot fit the bigger lids in it because of the size. These racks are all wonderful, but they do take several inches of the vertical space in the cabinets. It is only with this rack that it makes any difference at all.
April 19, 2014
Rated

4

out of

5
 by
FMHahn
Lid and pans are finally in good order
sturdy looking and easy to install. Exactly what I need. I bought 2 elfa pot pullouts and this one. Fits my cabinet perfectly. I would install another one If a wider design is available
April 17, 2014
Rated

5

out of

5
 by
Tgrfan
Love this organizer and it was very easy to install.!
April 7, 2014
Rated

5

out of

5
 by
Lilee
Even better than expected
No more crawling into my corner cabinet to retrieve my large lids! Most slide-out drawers, etc., are too wide for my space, but this one makes six large lids easy to reach in an awkward location. The holder is very sturdy, rolls smoothly and keeps the lids firmly in place. I can also keep a large baking sheet in the space between the holder and the cabinet wall. Installation was easy and it feels like it will last forever. Worth every penny!
April 7, 2014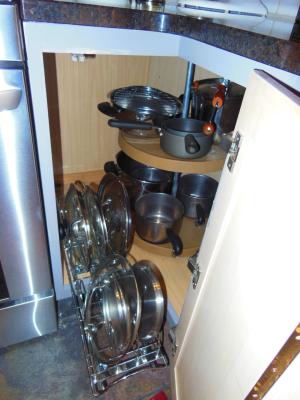 Rated

5

out of

5
 by
MotherT
Lid Holder
This roll out lid holder is awesome! Just what we needed to hold our corning ware glass lids.
March 18, 2014
Rated

5

out of

5
 by
JoeB
Kitchen Shelf
What a space saver. Looks great and very well built. Easy to install.
January 30, 2014
Rated

5

out of

5
 by
Stina44
This roll out lid holder put a big smile on my face. My boyfriend like's it even more than I do.
December 23, 2013
Rated

5

out of

5
 by
ErinL
Space saver and sanity saver!
This device is fantastic! Not necessarily hard to install but not easy if you're placing into a small space. We were going crazy trying to figure out how to deal with our growing pile of lids, and this saved us. Sturdy and high quality, definitely worth the money.
December 18, 2013
Rated

5

out of

5
 by
Twocedarsfarm
GREAT space saver
I bought this to put in a tight area to help with storage. It is great. It rolls in and put smoothly. Stores six lids.
November 24, 2013
Rated

5

out of

5
 by
Ikina
Perfect for baking sheets & cutting boards
I had a tall space in an old lower cabinet. I installed this roll-out to accomodate baking sheets and cutting boards for easy access for limited range of motion family members. Easy to install, perfect!
October 29, 2013
Rated

5

out of

5
 by
JohnT
Modify it
I put in a lid holder works great. Then I needed a frying pan holder. I took a second Lid holder and drilled two holes in the center of the rack and mounted three of the dividers and I had a pull out frying pan holder. They mounted side by side in my 15 inch door opening.
October 11, 2013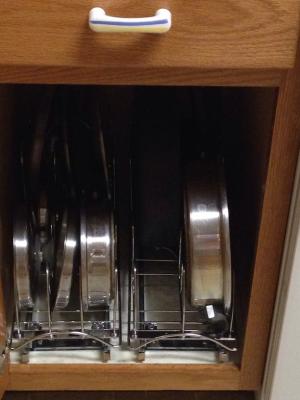 Rated

5

out of

5
 by
orbit
great organizer
This product is solid and heavy and easy to install. Way better than having lids all over each other on a shelf. The instructions have you check for clearance before installation. I did this BUT, be sure to try it out with one of your largest lids. My really large lid wound up projecting just a little too far out of the cabinet. You may need to install a little further into the cabinet than the suggested 2 inches. But instructions clear, all parts enclosed, even extras of the screws and nuts!!
September 3, 2013
Rated

5

out of

5
 by
Lishop
Excellent!
Excellent quality and storage ability. My cabinet has a lot of extra room now to store the pots.
August 8, 2013
Rated

5

out of

5
 by
CabingirlWI
LOVE this!
All my covers/lids fit in here perfectly. The best organizing product I ever purchased. Get one...you won't know how you ever lived without one!
August 2, 2013
Rated

5

out of

5
 by
AngelaR
Great Buy
I have lots of different style lids and they all fit perfectly.
May 4, 2013
Rated

5

out of

5
 by
Maggie2013
AMAZING PRODUCT!!
This product is the best thing since sliced bread!! Our lids to our pots and pans had become the bane of our everyday kitchen life. Then I wandered into the kitchen section of The Container Store and found this answer to my nightmare!! This is easy to install, and saves literally two thirds of the cabinet space I was previously using... not to mention calming all my OCD frustrations with those lids being in a jumble before! Great looking in Chrome and so easy to access with the slide out feature. This is a MUST HAVE product for every kitchen... now I know what to buy for housewarming gifts!!
April 30, 2013
Rated

5

out of

5
 by
Angel1177
It was Perfect!!
It was exactly what I was looking for and at the right price. I was so tired of my pot lids being all over my cabinet. This was the perfect size and all 7 lids fit perfectly!!
April 27, 2013
Rated

5

out of

5
 by
Whitie
Chrome Roll-Out Lid Holder
Very well made, rolls easily and fits perfectly in standard cupboards.
April 27, 2013