Rated

5

out of

5
 by
MontMartre18
Great Organization for Scarves
The loops are large enough for thick scarves and the design allows for easy viewing.
August 25, 2016
Rated

5

out of

5
 by
TXnCutie82
I have two
I love how this makes it easy to find scarves, keeps them from getting wrinkled, and it's very good quality. Too bad I bought them at the older price... the new prices is a bargain!
December 7, 2015
Rated

5

out of

5
 by
nerd1225
Nice product
I purchased this to organize our coat closet. Now our scarves are nicely organized and easy to see. The hangar itself feels very sturdy and the color goes well with our dark copper hardware furnishings. The double pronged hook adds for extra stability when threading scarves on or off the hangar, no need to worry about it falling. Now my husband wants an additional hanger for his ties.
February 16, 2015
Rated

5

out of

5
 by
rezina
Greatest Invention!
Best invention to help organize numerous scarves! I love this hanger because it makes it so much easier to find whatever scarf you're needing/wanting to accessorize an outfit. And it doesn't take up very much closet space (if you have a small closet).
May 12, 2014
Rated

4

out of

5
 by
Asha51
Convenient!
I have put a dozen or more scarves on this hanger. With this I do not have to be searching all over my house for them.
May 5, 2014
Rated

5

out of

5
 by
LauraJB
Got to have one
I got this, my mom saw it, loved it and I had to get her one.
May 3, 2014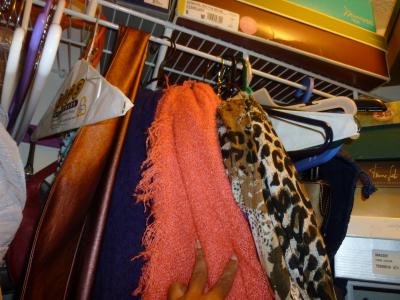 Rated

5

out of

5
 by
HeyJude48
Best scarf organizer!
I wear a lot of scarves, and I have already filled this one up. I will probably have to get another. The quality is great and the price was too hard to pass up. I wish I had bought more! These would make great gifts to any woman who has a scarf collection. You can give them this and a new scarf!
May 1, 2014
Rated

5

out of

5
 by
Cathab
Just what I was looking for
I desperately needed something to organize my scarves and this proved to be the perfect solution!
April 30, 2014
Rated

5

out of

5
 by
KD19
Sturdy and chic
This is a great scarf hanger. Unlike plastic ones it is sturdy and will stay nice looking for a long time. Love it.
April 26, 2014
Rated

5

out of

5
 by
redjadie
Perfect solution for scarves!
I knew I needed something for my scarves, and when I saw this I knew it would be perfect. It is very sturdy but keeps a slim line for space saving in the closet. There's no more hidden scarves in the "back" or all scarves falling when I grab for one. So much simplicity for so little money.
April 25, 2014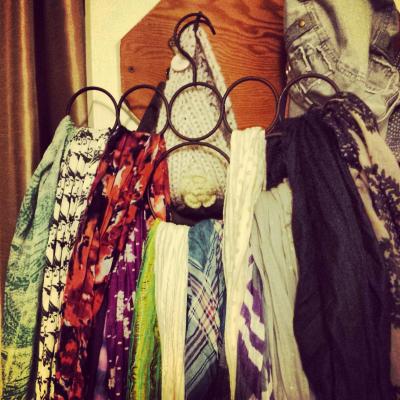 Rated

5

out of

5
 by
Babydoll
Great Find!
I have been in the process of decluttering and reorganizing my closet. Saving space is a must! I had my scarves folded on a shelf and I went to the store in hopes to find several organizers I needed, but it never occured to me to get one of these! I LOVE this piece, it not only helped saving the space taken up on the shelf, but it truly gave the scarves a special touch. I can truly appreciate how pretty they are now hung nicely on my new organizer and best part was the price! I got it on sale! :)
April 25, 2014
Rated

5

out of

5
 by
Greenygirl
Easy, Sturdy Organization for Scarves
Exactly what I was looking for... needed a way to organize all of my scarves in the coat closet. I like how the larger holes fit my infinity scarves (which are bulkier) and I can put multiple scarves through each hole for maximum capacity! The bronze metal looks better than other similar items I've seen.
April 23, 2014
Rated

5

out of

5
 by
MarianneWebdell
Great Product
I actually used this product to hang all of necklaces from:) Then I hung it on the wall with a big nail. It look great and is so organized. Thank you, Container store
April 21, 2014
Rated

5

out of

5
 by
Jfmill
Untangled
I purchased two scarf organizers for all the scarves I have. Didn't realize how many I had that were all tangled up! Now my scarves are hung neatly and available without much fuss. Went back to the store and.bought my granddaughter one as well. She was thrilled!
April 21, 2014
Rated

5

out of

5
 by
MiamiPatty
Great Scarf Organizer
I have searched for a way to organize my scarves, and this is it!
April 15, 2014
Rated

5

out of

5
 by
Ibby
Just What I Needed
This scarf organizer is perfect for any closet. I can easily hang all my scarves in the organizer! It's durable and you can't beat the price.
April 14, 2014
Rated

5

out of

5
 by
RMS6909
Great Product
I really like the bronze scarf organizer. The product is of good quality and holds scarfs of all different sizes. Since the product was on sale, I bought 5 of them. I have all my scarves organized by winter and summer.
April 13, 2014
Rated

5

out of

5
 by
babsie07
sturdy scarf hanger
This scarf holder is sturdy and not as cumbersome as some. After a very long winter, I can now hang all my springy looking scarves in one place!
April 13, 2014
Rated

5

out of

5
 by
LebbyLou
Great Find !
I love organization, and was torn as to how to store scarves ... nothing was "quite right" ... until now. The Bronze Classico Scarf Organizer is attractive, and holds plenty of scarves. I bought two for me, and three for my daughter (whose scarf collection far exceeds mine). I will be purchasing more of these as gifts for my family and friends!
April 12, 2014
Rated

5

out of

5
 by
KattyJ6
The scarf organizer...my new fried!
I recently purchased a scarf organizer and I truly do not know how I lived without it! I work for a school and many of the parents give me beautiful scarfs for teacher's appreciation day. I have so many scarfs I began to just stuff them away in a drawer, but along came the scarf organizer. Now my scarfs are neatly displayed in my closet and I can easily see what I have. I can grab a scarf and out the door I go! One of the best buys I ever made!
April 11, 2014
Rated

5

out of

5
 by
Jessie025
Smart Purchase
I like this product. It's very handy when you need storage but have limited space. It has 8 holes you can use but in the bottom three I can fit up to 2 or 3 scarves. I bought one to try out and found it works. Loved it but needed one more. I bought two and transformed it into mirrors.
April 7, 2014
Rated

5

out of

5
 by
AngieF
Cool Concept
This works perfectly for all those scarves and doesn't take much room in my closet.
April 3, 2014
Rated

5

out of

5
 by
jgkisnana
Scarf Organizer works well and looks beautiful.
The scarf organizer works well for all types of scarves and looks beautiful.
March 31, 2014
Rated

5

out of

5
 by
TradeShowWoman
Practical AND good looking!
I am always looking for unique ways to display scarves and other fabric items at trade shows. I use the the Bronze Classico Scarf Organizer works well for this purpose! Typically, I hang several scarves from the organizer and attach it to a hook on a grid wall. This way I can hang the organizer parallel to the wall to show off the scarves. When someone shows an interest, it's easy to grab the entire hanger and let them look at several scarves at one time! I think I'll be getting a couple of these for my personal scarf collection, too! And, the price is right!!!
March 17, 2014
Rated

5

out of

5
 by
h813c
great
i bought a couple of these not knowing what do expect and more as a trial but it turns out i really like them--can obviously hang more than 8 scarves, but you can also tie thinner ones around the top of the circle. Have them hanging in a shorter hanging space, keeps them off the ground and easy to see.
February 26, 2014
Rated

5

out of

5
 by
organized514
Excited to find!
I have seen this scarf organizer on TV. It was a great find in the Container store! i bought two and my scarfs now take up less room and hang great in the closet !
February 20, 2014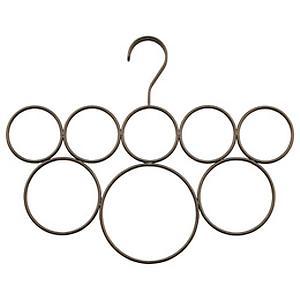 Rated

5

out of

5
 by
JMP1
Finally my scarves have a "place"
Instead of hanging my scarves on a coat hook, they can now hang wrinkle-free and less crowded. Gave one to each of my daughters, it's a perfect gift.
January 31, 2014
Rated

5

out of

5
 by
billmo
quite useful
What a space saver. You are able to hang a variety of scarves on this organizer and they glide easily on and off - no snagging. Sturdy and well designed.
January 14, 2014
Rated

4

out of

5
 by
McMBall
Good Purchase
Holds a lot of scarvess. Can fit larger, bulkly scarves in the smaller holes and can hold more than one scarf in each hole. I would recommend.
January 9, 2014
Rated

5

out of

5
 by
DianeT
Perfect Fit
This fits great in my closet next to the other hangers with clothes. It holds a ton of scarves and I love the color of it.
January 7, 2014