Rated

5

out of

5
 by
JenniferB
Perfect for the vanity
I love my two-tier jewelry organizer. It is the perfect size for on top of my vanity! I've also used the side of my Elfa baskets for hanging necklaces and extra bracelets.
January 9, 2017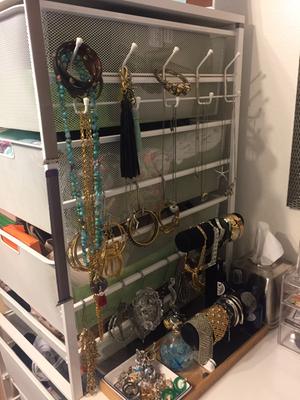 Rated

5

out of

5
 by
Beverly1991
This product was easy to find and use. The service and the people were very helpful.
November 6, 2015
Rated

5

out of

5
 by
DB365
Fantastic and functional
These are perfect. Super functional and very classy/professional looking.
December 18, 2014
Rated

5

out of

5
 by
golft
I saw this organizer at my nieces and had to have two...one for a gift. Delivery was prompt and well packaged. I love it! It displaces my jewelry for easy access and it fits on my closet shelving.
June 28, 2014
Rated

5

out of

5
 by
Joybelle1
Great product
I bought this for my daughter and her collection of bracelets. She loves this. It looks like a display in the store, and now she can see the jewelry she has. It makes it easier to find the right piece to accessorize with. This is well constructed, and the velveteen makes it look rich.
May 5, 2014
Rated

5

out of

5
 by
Janettnyc
Great way to store and display jewelry
This is just the product I needed for my jewelry armoire to store and display my necklaces and bracelets. I have my trinkets arranged by color and size so it makes it very easy to find things. Plus I love looking at how neat and organized my trinkets are!
April 26, 2014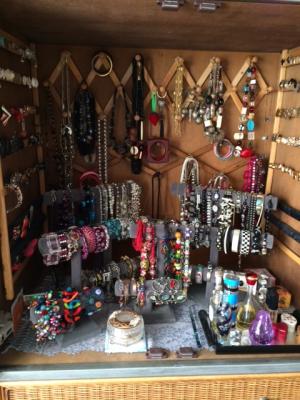 Rated

5

out of

5
 by
ChrisOtt
Tiered Jewelry Organizer
I had been looking for a jewelry organizer for quite some time that would allow me to store, yet see, and be able to use my necklaces and bracelets. I bought the 2 tier organizer (in black and on sale!) and am very pleased. The velvet cover protects my jewelry and keeps it from getting scratched or becoming tangled. I am able to see all the pieces and have great access to them. It holds a lot of pieces for me. And, the construction is simple and straight forward and serves it's function. I keep it on a shelf in the closet to avoid extra dust. I like the variety of products the Container Store offers in this, and every, category.
April 25, 2014
Rated

5

out of

5
 by
never2neat
Better than my own arm
Very well made. Heavy, substantial and won't tip over. Beautifully displays my arm candy. Will buy the whole collection. Purchased online and so worth the shipping cost. Arrived securely packaged and well-protected.
April 18, 2014
Rated

5

out of

5
 by
BDQUEEN
Perfection
The three tiered jewelry organizer could not be any more perfect for my store! We put colored bracelets on it and they are easy to see, look organized and beautiful and the color "pops" on the gray background. It is pure perfection and exactly what we needed. I loved them so much I went back for 2 more!
April 8, 2014
Rated

5

out of

5
 by
SAJF
Excellent ...exactly as expected
Works perfectly for bracelets and necklaces! I really like the gray color velvet (rather than black which would show dust/lint)
April 7, 2014
Rated

5

out of

5
 by
Lura
The most organized my jewelry has ever been!
I love these tiered organizers, they look so professional! I used to work in a Nordstrom, and these match any display I've ever seen in a high end department store. They don't take up a lot of space, and the velour finish is awesome for jewelry because it grips it and doesn't allow anything to slide off. I've organized all of my bracelets on it and the highest tier (which is also perfect for organizing necklaces) is great for displaying all of my headbands. Best purchase ever!
April 3, 2014
Rated

5

out of

5
 by
kibi
I can see all my bracelets in 1 place
I can see all my bracelets in 1 place organized by color families. The product is good quality and holds many different sizes of bracelets. You can even utilize the posts to place bracelets. The velvet prevents the bracelets from sliding off.
March 21, 2014
Rated

5

out of

5
 by
shopCS123
Great Space Saver!
This jewelry organizer looks nice, fits A LOT of jewelry and saves a lot of countertop space. I would highly recommend it!!
March 19, 2014
Rated

5

out of

5
 by
OrganizedShopper1
LOVE This
I bought a double tiered organizer for my bracelets. It is the perfect addition to my walk in closet. I can finally see all of my bracelets instead of them being stuck in a jewelry box.
March 15, 2014
Rated

5

out of

5
 by
Allie7
Elegant and functional
I bought one for myself and one for each of my daughters. We all love having an easy way to store our necklaces and bracelets. They are very soft and sturdy and really help organize our jewelry!
March 6, 2014
Rated

4

out of

5
 by
MsHernandez
I ordered the Tiered Jewelry Organizer and use it to organize my bracelets. Before, I kept all my bracelets in a bowl, making it hard to find the one I was looking for. With the Tiered Jewelry Organizer, I not only find the bracelet I want instantly, but am also able to organize by color! I would definitely recommend it to anyone looking to organize their jewelry!
January 27, 2014
Rated

5

out of

5
 by
RickiB
Jewelry Holder
I love the necklace holder; it's great for thin chains and beaded necklaces.
November 24, 2013
Rated

5

out of

5
 by
NGuerra
Great Buy
Great quality for the price; it doesn't look cheap and because it's velvet lined, your jewelry will stay in place. I would highly recommend it.
November 18, 2013
Rated

5

out of

5
 by
KCMO
Great Buy
I already had one of these and as I got more jewelry realized I needed a second one. Liked the first one so much because it looks good and can hold a lot!
November 4, 2013
Rated

5

out of

5
 by
Kate808
Great!
The jewelry display provided by this makes deciding which piece to wear much easier.
September 29, 2013
Rated

5

out of

5
 by
Lippy
Attractive and Useful
Perfect for bracelets and necklaces...easy to see and select.
July 15, 2013
Rated

5

out of

5
 by
Lamb17
Great for jewelry collectors
I purchased the 3 tier bracelet organizer and could not be more pleased. This is a great tool for holding your bracelets neatly and also letting you see them right in front of you instead of having to hunt though boxes and drawers. Highly recommend!
July 10, 2013
Rated

5

out of

5
 by
Janay
Bracelet Holder
Its great! The prefect organizer, I love the height and the fabric. It looks so nice with all my watches and bracelets on it.
June 16, 2013
Rated

5

out of

5
 by
KellyMM
2 Tiered Organizer
Recently I have been using a "Jewelry Tree" to hold my earrings and bracelets, but it just wasn't serving the purpose I needed it to. I began my quest at the Container Store for the perfect organizer and found it! I purchased the two tiered organizer for my bracelets and it worked out perfectly!!! I love it. I was able to put more than 20 bracelets/watches on the two tiers combined and it holds them beautifully!! I'm tempted to go back for the three tier version to have on hand as I am a collector of bracelets and watches and will need another beautiful display piece to house my finds!!! Love, love love it!! I have told numerous family members, friends and co-workers about my wonderful find!
April 30, 2013
Rated

5

out of

5
 by
Verified Reviewer
Fabulous!
Great product that really makes your jewelry stand out!
April 11, 2013
Rated

5

out of

5
 by
Prem
Wonderful display
I own the three tier display and use it for my bangles... They are quite heavy and this organizer is sturdy enough to hold them all. I love it.. I feel like I'm selecting jewelry at the jewelry counter.. :-) its beautiful and well made!
March 31, 2013
Rated

5

out of

5
 by
edge
Like a jewelry store
I love the look and feel of this jewelry organizer. It's like being in a jewelry store. And the velvet protects the jewelry. Most of all, it looks great on my dressing table.
March 29, 2013
Rated

5

out of

5
 by
Marmotbear
Best Way to store your bracelets and watches
I have the 3 tiered organizer and I absolutely love it! I use it to store all of my bracelets and watches. The stand itself is classy and looks great in my room. My boyfriend liked it so much he started putting his watches on it too!
March 28, 2013
Rated

5

out of

5
 by
TFNY
BEST PURCHASE MADE
I love this product it organizes my watches and costume jewelry better than anything I have ever purchased to do the same job. I plan on buying the double tiered and triple tiered version of it you can't go wrong. Even my boyfriend was jealous of my watch display so, I recently bought him one too.
March 25, 2013
Rated

5

out of

5
 by
iloveorganizing17
Awesome
I have the three tier organizer and it fits all my bracelets and looks nice enough to keep on my dresser! Love having all my bracelets on display so I actually know what I have.
March 25, 2013