Rated

5

out of

5
 by
Battgirl
Basic Stackables
I love these because they are sturdy yet light weight and are snag free as I store my Silk spinning fibers in them! I bought every color!! they stack marvelous!
September 28, 2016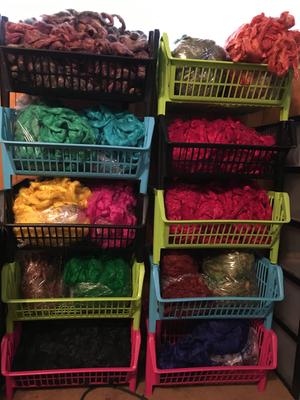 Rated

5

out of

5
 by
LuvMyShihTzus
Nice Baskets
I bought two of these to use in my pantry to keep things organized. I'm using one for snacks and the other for potatoes. They are very sturdy. Pleased with my purchase!
September 27, 2016
Rated

5

out of

5
 by
BingLin
Great organization tool!
These were a bit larger than what I expected so I was unable to use them beneath my bathroom cabinet as intended. But have found use for them in my kitchen pantry. Very sturdy. Holds 10 lb sack of potatoes effortlessly. Also great for keeping snacks all together. I did however purchase the mini baskets that I was able to use under the bathroom sink so it worked out well.
May 23, 2016
Rated

5

out of

5
 by
Crafts
GREAT !!!
I have over 60 of these containers, these are the best made. I am an arts and crafter. I use a lot of colors and need to be able to see those colors at a distance. With the White it does not distort the colors and with the open front you can see everything without it falling out... Most of all they stack and hold well, Better than using standard shelving that damages walls. I LUV THEM. Thank you.
November 14, 2015
Rated

4

out of

5
 by
MUFFIE
WORK WELL
I really like these stackable bins. I like the colors, the sturdiness and the size. However - they were very difficult to stack. I put one leg in , the other leg would pop out, and so on. I never thought I would get them stacked - I bought 4 of them.
June 29, 2015
Rated

5

out of

5
 by
MomsieNic
Great for Kitchen
I bought 2 of these to stack on top of each other in a corner on top of my kitchen counter. It's great because I can put all my onions, garlic, ginger, potatoes in these and all within reach whenever I need these items! And it keeps all these items ventilated too!
March 16, 2015
Rated

3

out of

5
 by
MMMS
You get what you pay for
These baskets are inexpensive and you get what you pay for. They are difficult to transport because they do not stack so they take up a lot of room. They are difficult to clip together yet they come apart easily. For the money, they serve their purpose and the colors are nice. You get what you pay for.
January 23, 2015
Rated

5

out of

5
 by
Dotte
Five Stars
I really love this basic basket. I purchase the pink one and it is really strong. I will buy an other one soon.
December 29, 2014
Rated

5

out of

5
 by
EricaSchmerica
Misleading Photo...But awesome baskets!
I ordered these for my baby's room. I love the colors, they're sturdy and well constructed, but I was disappointed to receive only half of what I thought I ordered. The photos show that these come in sets of 2- not 1. So instead of getting 8. I ended up with 4. Just a heads up! Otherwise they're awesome! =)
September 11, 2014
Rated

4

out of

5
 by
CEAghassi
The Kiddo Loves It!
I bought nine of the Basic Stack Baskets and wound up going back for three more. I got the green, blue, and pink for my daughter's room. It has really helped with getting her to pick up after herself. My only complaint is that they are a little difficult getting them to stack the first time; but I understand that plastic bins are just kind of like that when they interlock.
June 29, 2014
Rated

5

out of

5
 by
Nammothebest
This is the one I needed
Good price and this is the one I've been looking for.
June 15, 2014
Rated

5

out of

5
 by
Melindayt
I like it
This is perfect to get the bag of potatoes and onions off the pantry floor. Also, hold the acorn squash and all kinds of goodies. It works well.
June 13, 2014
Rated

5

out of

5
 by
tntf
Absolutely Love These Baskets!
I purchased 2 of these baskets and put them in my bathroom closet on the floor to maximize all the unused space that sits underneath the shelves. I can't begin to tell you how much I absolutely love these baskets. I keep my hair and beauty supplies in them. I would definitely buy more and put them in all of my closets on the floor to get better use of empty space!
May 1, 2014
Rated

4

out of

5
 by
BreeL
Love these stacking bins!
These bins are great both stacked and separate. I use them to hold some if my shoes. Sometimes they're a little tricky to stack but once you get them together they stay. Definitely recommend!
April 25, 2014
Rated

5

out of

5
 by
Msshanel
Helpful
I use these as drawers for my 3 year old grandson. I love them and will be getting more for my older kids and other things in our home.
April 25, 2014
Rated

5

out of

5
 by
ggtea
So useful!
These are great baskets for filling the space at the bottom of the closet - for shoes, snacks, towels etc. It's so much more efficient that just that big open space below the shelves! Love them!
April 25, 2014
Rated

5

out of

5
 by
Ajw21
Great for kids
Great place to keep all of my daughters toys. Love all fun colors they come in
April 13, 2014
Rated

4

out of

5
 by
redo1979
Great for children's Room
Great colors and loads of possibilities for these baskets. Some stack better than others however.
April 5, 2014
Rated

5

out of

5
 by
memoriesunltd
Extremely Versatile, light but strong!
Lightweight, great price point. Snap together well and are sturdy when stacked. Great colors - make storage stylish. Will definitely be purchasing more of these for my craft room in the near future!!
March 26, 2014
Rated

5

out of

5
 by
another
basic stack basket
Another excellent product from an excellent retailer. These baskets are very sturdy, they fit together well, the color choices are just fine, and the price is very good. Price-performance is A-1.
March 20, 2014
Rated

4

out of

5
 by
Alexis1045
Nice product for the price
I bought this product to organize my craft supplies. With the cheaper price, I was able to buy more of them to stack. They are a little flimsy and you have to really push them together so that they stack securely, but the quality is sufficient for storage and for the price.
March 11, 2014
Rated

5

out of

5
 by
krisbell514
Versatility
I have a large walk-in closet with plenty of space for hanging clothes up but don't have a dresser .. So these are really useful! They stack up so neatly and fit in compact spaces, also super easy for putting stuff away. Exactly what I needed.
March 8, 2014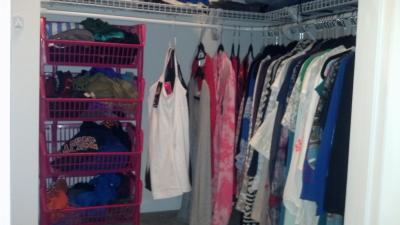 Rated

5

out of

5
 by
DE38
Love this!
I was looking for a colorful container to place my kitchen produce and this is working out great! They're sturdy, deep enough to keep bags of potatoes and onions and I love how I can stack them up if I need more space. Highly recommended.
March 6, 2014
Rated

5

out of

5
 by
VeryHappyShopper
Best Value Around!
These stacking baskets are wonderful! They can have so many uses! For storing toys in the kids' bedrooms, fresh veggies in the kitchen... you get the idea! They stack nicely, they're study and the major plus is that they're attractive too! With the bright colors to choose from, I don't want to hide these baskets away, mine are on display in the kitchen for all to see! Love these baskets; will be looking for an excuse to buy more!!
March 5, 2014
Rated

5

out of

5
 by
Rebecca555
Great Buy!
These baskets were just what I needed to make better use of the space in my small closet. I bought a few and stacked them up for extra storage. It was inexpensive and I loved the splash of color it brought to my closet. At first they seemed little flimsy when I stacked them up but with a little weight they have been very stable.
March 4, 2014
Rated

5

out of

5
 by
ElleC126
Works great
I'm using in the linen closet. It's the perfect fit.
February 18, 2014
Rated

4

out of

5
 by
Corc
Stackable Snacking!
I bought two of these baskets to go on the floor of my pantry to use up the vertical space between the floor and the first shelf to hold my family's snack foods. They fit perfectly in the space I needed them for leaving room on the other side so I could put cleaning supplies; and they're big enough to hold all our snacks. For the price they're an excellent value. They aren't easy to move once you have them stacked, but if you're using them without moving them around they're great. I just wish I bought more colors!
February 16, 2014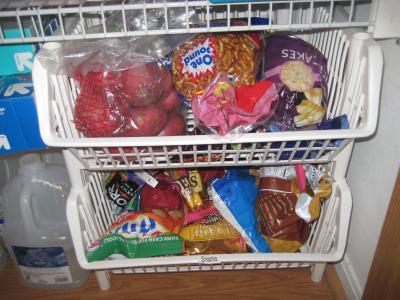 Rated

5

out of

5
 by
enbelgique
Good product for the price
I am using these shelves in bathroom and bedroom closets as well as for shoes by the door. They keep shoes, toiletries, and small objects in one place which is a tremendous help with clutter. The only down side is the extra postage required to have these mailed to your house if, like me, you live hours away from a store.
January 13, 2014
Rated

5

out of

5
 by
Thailandtravel
Perfect solution
In my pantry, shelf space is at a premium. I needed to create more space by finding a way to store my root vegetables elsewhere in the kitchen. These stacking baskets are perfect! We shop in bulk, yet our BIG bag of potatoes fits in one basket. Same thing with the onions and garlic. The top basket is great for even bigger things like pumpkin and squash. These baskets would be useful anywhere in the house.
December 23, 2013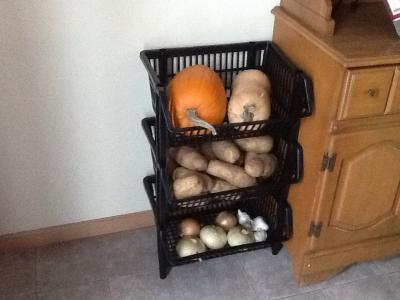 Rated

5

out of

5
 by
tiredmomma
Useful for everything
I have used these for years and recently came back for more! They have stored everything from outdoor toys in the garage to diapers and wipes in the nursery!
September 9, 2013