Rated

5

out of

5
 by
OrganizedLove
Perfect Media Storage
I purchased one of these large media storage to hold CDs that were in boxes from a recent move. My CDs took up too many boxes and were heavy to move. Not only that but accessing the CDs was not convenient and accessible. I came across this product at the store and fell in love with it. This product is clear which makes it easily to locate the CD you want, holds quite a bit (120 CDs), and easy to transport the CDs around. The container is solid and supports the CDs well. Some of my friends and family are interested in buying these for themselves. I hope others enjoy this product as much as I have.
January 21, 2017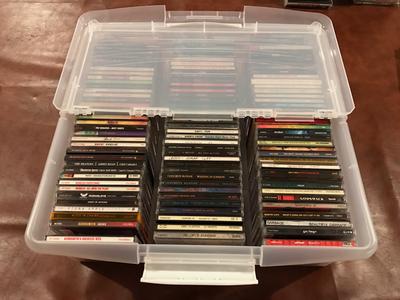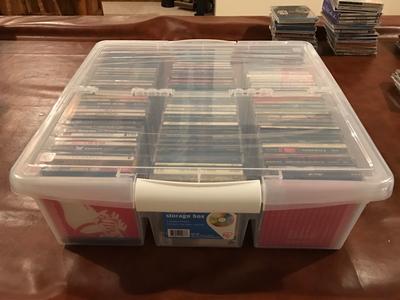 Rated

4

out of

5
 by
LovesContainers
Excellent Media Organizer
This media organizer is excellent however the packaging for my online orders weren't done well and many came in damaged.
January 9, 2017
Rated

5

out of

5
 by
Karinak1
Really good purchase at a really great price
I Absolutely love this media storage box I bought 2 of them and I love that when you want to pull out a cd you can easily do so because you can see the cd titles, before this box i had a difficult time getting out the right cd and you couldn't see the titles so i had to take out all of the cds just to find the right one because they were stacked a different way and the bag i had was getting holes in it near the zipper part and my cds would come out the bag was not purchased at the container store, and now I really love my storage box it's much easier
March 24, 2016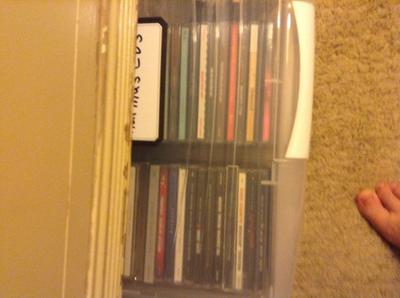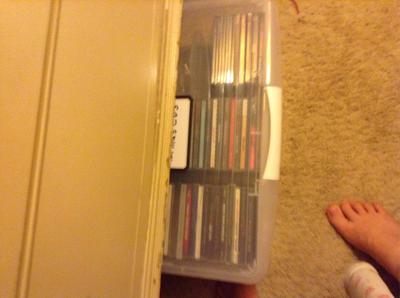 Rated

5

out of

5
 by
AngelainCO
Love my cd's!
In spite of the latest music downloading trends, I love my cd's. This box is perfect for organizing, easing viewing, and access.
December 2, 2015
Rated

5

out of

5
 by
upnorthminn
Great storage for videos and games
I had all my dvd movies and my son's games stacked in various places and was looking for a neater way to store and access them easily. I bought 3 of these large media boxes and I just love them! You can see the titles right through the cover. The cover is split with a hinge so you can open half of the box without having to remove the entire cover. One box will hold over 55 dvd or video game size boxes but it comes with dividers so you can store smaller size games and discs as well. They stack nicely too.
November 15, 2015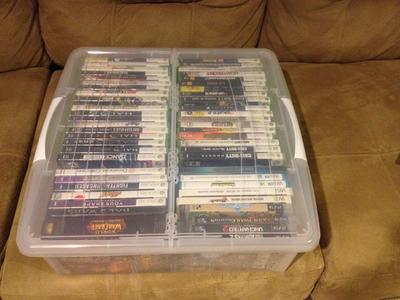 Rated

5

out of

5
 by
RuthAlicia
perfect media storage purchase
moving, needed sturdy media storage box that I could see inside of Jackpot ! this storage box is great!
August 29, 2015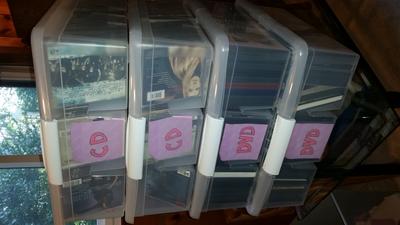 Rated

5

out of

5
 by
LorahR
Absolutely in Love!
Let's face it..having a CD and DVD stand in your living room is out dated. But I refused to get rid of them (call me an organized hoarder) but records are making their way back! I wanted to keep them to show my future grand children what I used to listen to and watch. These cases are perfect for that! Now everything is organized into the containers and I can see what's in each container.
June 19, 2015
Rated

5

out of

5
 by
artandjazz
This is the best
I bought this to try out for CDs and DVDs. I wanted to transition from the "towers" which are inconvenient. I thought this was excellent, dividers make it easy to contain CDs and organize, stores a ton of stuff and you can put in multi-CD sets. I also like the fact that you don't have to take the top off to access the CDs, like the locking tabs and the top is very clear to see inside easily. I am buying a couple more.
March 26, 2015
Rated

5

out of

5
 by
Marner58
Great product
I finally have all my dvd's organized in just two boxes. I use to have them in many boxes, never knowing what box held what movie. Now I can see whats in the box without even opening it. I collect Old Black and White movies and they were getting out of hand. Wish I had purchased these a long time ago. Getting organized has never been easier, and fun when you can get the right product.
June 23, 2014
Rated

4

out of

5
 by
Paladin
Good Storage Purchase
The large Media Box is great. I purchased 2. They hold all of my CDs. I have placed all of my music on my computer and on my ITouch. I do not need them out to play. This is a great container to house all of them. Wishes! I wish it came with more dividers then it does. It comes with three dividers as there are three rows. However within those 3 rows there are several slots where dividers could be placed. I wish the height of the box was just a little smaller so I could fit it under my bed or under my dresser. Right now have to make room for it to go in a closet somewhere.
June 18, 2014
Rated

5

out of

5
 by
Verified Reviewer
Big ol' box of media
This is a big media box, so big that I think I can stuff a network newscast in here. Holds cds, and is see through, so I can find the cd by seeing the cd spine. Clearness good for searching, bad if your musical tastes swing towards a "Polka tribute to AC/DC & Lemmy from Motorhead sings The Carpenters.
June 16, 2014
Rated

5

out of

5
 by
blue417
Great cd storage case. Fits my needs perfectly.
These cases are perfect for storing large numbers of cds. I have quite a few cds and needed a storage case that was large capacity, but that would also keep the cds accessible. This case fits the bill.
May 19, 2014
Rated

4

out of

5
 by
Raudhskegg
Great way to store optical media
The large media box is not glamorous, it's simply a clear plastic box. However, it does excel at allowing you to store DVDs and CDs easily and effectively. Moreover, I use sleeves rather than jewel boxes for storing my media and it works just as well for that method. As it is clear, it is easy to identify what media is in which box and the construction is such that it has enough strength to completely fill it with discs. My only criticism, and it is slight, is that it could do with a little more depth for Blu Ray discs and also the dividers do not fit as securely as I would hope. Overall, though, this is a great product that works well.
April 27, 2014
Rated

4

out of

5
 by
TMo3
Good Storage Solution
This appears to be a really good storage option and solution for storing media, such as CD's and DVD's. I am still trying to figure out how the spacing works, however, because I primarily want to use these to store my Blu-ray discs in the cases, which vary in size from standard DVD's. Any other suggestions will be much appreciated! Thanks!
April 25, 2014
Rated

5

out of

5
 by
MathCourt25
Great Product
This product is amazing! I have over 100 DVDs and Blu-Rays and this is a great way to store and protect them. Plus, being a college student, these containers make it easy to move my collection from place to place as I move around. I highly recommend this product for any person with a large collection of DVDs or CDs.
April 25, 2014
Rated

5

out of

5
 by
KrisJB
Thank god for organization!
This is one of my best purchases ever⿦actually 3 purchases ever. My CDs were disorganized in my entertainment center so I bought 3 to conquer the clutter. I love this media box for many reasons. I love it because I can stack these easily in my entertainment center and I love that the cover is hinged in the middle making it very easy for me to get to the CDs that I need. I also love how sturdy they are.
April 21, 2014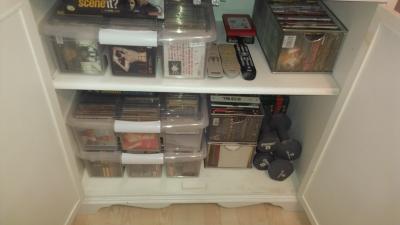 Rated

5

out of

5
 by
Mcatconn
Large media Box
This box is perfect for my daughter's DVD's! Previously, they were stacked up in a bin, messy to look at and not easy for my daughter to search through. Now they are all nice and neat in this box where my daughter can easily see the titles. Now she has rediscovered movies she has forgotten about!
March 18, 2014
Rated

5

out of

5
 by
MrsLee
Multi-use product!
I purchased 4 Large Media Boxes and plan on purchasing several more! My DVD's are now nicely organized and stored in 3 of these boxes, but what I'm most excited about is what I'm using the 4th box for. I make greeting cards using Stampin Up products, and I've been searching high and low for a storage solution for my ink pads. I have over 50 stamp pads in it already, and it has room for loads more. They fit neatly & securely, and I absolutely love it!
March 3, 2014
Rated

5

out of

5
 by
pinkiedeb
Tribute to the Store's "Scratch and Dent" section
I originally came into the Charlotte store to purchase a smaller capacity media box because of the cost. That was, until I walked to the back of the store and the "Clearance" area. I always check it for unique finds and have purchased quite a few products from that section. I found the large media box there, marked down to almost the same price as the smaller box, with only one handle missing as its blemish. It works perfectly for its intended use (office) and I couldn't be happier with the product or the price! Another 5-star Container Store!
February 25, 2014
Rated

3

out of

5
 by
ksho12
OK for VHS
I bought 2 of these and one small one. The large one says it will hold 30 VHS movies, but not really. In the regular slim cases you can really only fit 24 VHS movies, 8 in each of the 3 sections with 4 on top of 4. The additional 2 per section will not go in all the way because of the dividers that poke out for the other types of media that these can be used for. Yes you can technically squeeze in the other 2 down to the divider and the lid still closes, but then it is wedged in so tight, removing it is very cumbersome. This also negates the flip lid. Additionally, Disney movies and others with the big plastic cases do not work well either. But, you can make 12 fit if they are positioned right with 12 VHS in the normal size cases. Either way, it really holds 20% less than advertised for VHS. It works fine, but I wouldn't really recommend it for VHS as advertised, but it looks like it would be a good product for the other types of media.
February 20, 2014
Rated

5

out of

5
 by
MastiffMitchells
CDs FINALLY organized
These large media boxes are perfect. I finally got my 100's of CDs organized. The clear plastic makes it easy to see what is in each container. I alphabetized them and used a labeler to note which letters are in each container. I can finally get rid of mix-matched CD towers and random cardboard boxes. The provided dividers are great to hold the not completely full rows in place.
February 12, 2014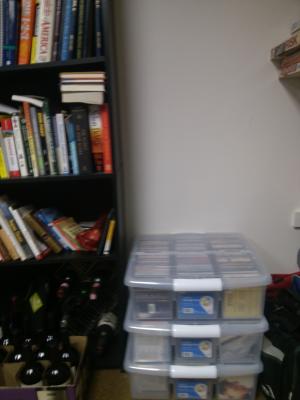 Rated

5

out of

5
 by
dpw1970
AWESOME PRODUCT
Ive been looking for ways to store my cd's, and dvd's. It has been extremely miss and nothing really worked out for me. Until I was looking for a Christmas tree storage box and came upon THE CONTAINOR STORE, and found the exact place for my storage needs. I have been back couple times for things. The LARGE media box is perfect, I have purchased 2 of these for my cd's, and will purchase more for my dvds when I start organizing them. One of the most important things on why I will continue to purchase these items, MADE IN THE USA on them.
February 1, 2014
Rated

5

out of

5
 by
cannes
Perfect DVD storage
These boxes are perfect DVD storage. Packed them up in their full DVD cases, and can see all the titles through the top. Hinged lid allows you to open only one side at a time if you choose. The boxes weren't too heavy when completely full. Good size for shelf storage. Clear sides also made it easy to put temporary labels (i.e., just notebook paper) inside the box with a general description of the contents.
January 28, 2014
Rated

5

out of

5
 by
GaryC
This product is perfect!!!
This media storage box is perfect if you have a lot of DVDs--which I do. I ordered another box because the first one impressed me so much.
December 14, 2013
Rated

5

out of

5
 by
jkatie2
Perfect!
Purchases elsewhere to find the right storage container for my various CD collection has been hit and miss. Nothing seemed to work. My CDs ended up every which way, loose, and rattling around in the container. Thought I would give my search one last chance. My efforts paid off. I found the Container Store and the perfect solution to storing my CDs. The container I bought is light weight, even filled with CDs in cases, and stores nicely under the bed. What a great find! Luv it! The store has some nice finds in it's many isles, great storage ideas and just a fun place to grouse around. Going back again, for sure!
September 9, 2013
Rated

5

out of

5
 by
Momstoresalot
Media box is great
I underestimated the amount of cd's, dvd.s and movies I own for storage. These are the perfect sized to fit and store all my items. Even my husband was excited about these containers and he never gets excited about this stuff.I will be going back for more and soon
August 18, 2013
Rated

4

out of

5
 by
LadyLoneStar
Great for DVDs
Love that it opens on both sides for easy access. The lid locks down so that dust bunnies can't get in. Great item.
July 24, 2013
Rated

5

out of

5
 by
Stuckonsushi
sturdy, perfect storage
I don't use my actual CDs much but am traditional and still like to have the hard copies (due to computer crashes and wipe outs), and this is a great way to store them. It fits lots of CDs and is convenient to see them all while all locked up. 120 CDs gets pretty heavy but the plastic this container is made from feels very study and like it will not just hold the CDs well but withstand moving them around when necessary. Love it.
July 17, 2013
Rated

5

out of

5
 by
Design1
Positively Posh for Notecards
I was thrilled when I found this media box! The box supports my multiple copies of 78 photography notecards that I designed. The dividers provide instant organization by categories, making it easier to locate the perfect card. When I transport my products to other businesses or events for sale, the storage box displays the notecards easily for others to view. The top also folds in half when it is removed, a great feature for compacting. This is an excellent product that has multiple uses for various collections! I highly recommend it!
May 1, 2013
Rated

5

out of

5
 by
jcooper
Great for all of my CDs
I have quite a CD collection and most of those are on my iPod, so I needed a better solution for holding my CDs since I don't need them readily available. This was the perfect solution. All of my CDs are now together in one place. I even had room for a couple of VHSs (yes, I still have some of those) that I needed to find a place for.
April 26, 2013