Rated

5

out of

5
 by
Kewmom
Love them
Awesome purchase drawers slide out effortlessly and the size was perfect. The only draw back was I wanted more!
August 29, 2016
Rated

4

out of

5
 by
Yarrowtalks
Useful product
Well made, sturdy, clear (so that you can easily see inside). Versatile
January 7, 2016
Rated

5

out of

5
 by
employeewannabe1
love these drawers!
Took advantage of 15% sale for curbside pick up. I should have bought more. I use these to store my rolls of ribbon, and many many other craft items. Already have about 15 of these.
December 30, 2015
Rated

5

out of

5
 by
Auspicious
Great for pantry
I also bought the dividers and use it for smaller items like pkgs for salad dressings, sauces, marinades. Also for kids snacks, snack crackers, etc
May 5, 2015
Rated

5

out of

5
 by
MisterAlex
Perfect for amiibo Storage!
This box is a great way to store amiibo figures. They're easy to get to (just pull out the drawer), and they're protected from dust. The box fits two dozen (24) figures easily, and the optional dividers let you set up separate compartments for them. The box is also stackable, so as your collection grows, you can just add on another one! For anyone concerned about the size, Pit fits in the box just fine.
April 25, 2015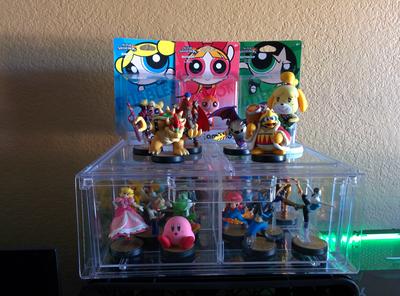 Rated

4

out of

5
 by
charmedtoorganize
Functional with Good Looks, but a bit too much $$
VERY nice - well made, albeit quite fragile. Adds a very 'finished' look to my closet. Stored Items can been seen without looking cluttered. The cost will add up quickly if you plan to use several of them to separate/organize lingerie, scarves and other accessories, hence the 4 instead of 5 rating. I will wait for them to go 'on sale' before purchasing more.
February 19, 2015
Rated

5

out of

5
 by
DianeY
Excellent
Everything arrived perfect and was packed carefully. Very pleased.
August 2, 2014
Rated

5

out of

5
 by
ruthac
Awesome organizer for tees
These are so perfect for the solution we needed for storing our tees at our printer. These are being used for business purposes and we've looked high and low for the perfect solution to keep organized and enormous inventory with size and style variations at our print vendor without damage or become dirty (all white tees). The dividers work wonderfully. There is ample rooms for over 10 kids tees ranging from size 3-6M to size 8 youth. The stacking of these are awesome. The area they take up is minimal compared to others drawers I've evaluated. We used a combination of the tee drawers and the men's shoe box drawers!
July 20, 2014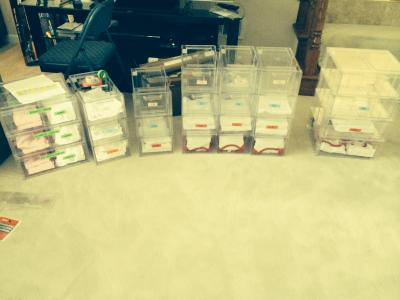 Rated

5

out of

5
 by
Buddy2Bunnies
Not just for clothes
I stacked this and the shoe drawers under my bathroom vanity for medical and cleaning supplies. Much easier access than the stacked lidded plastic bins they replaced and more efficient use of the space since they are nearly perfectly square. This size holds rolls of toilet paper too. Not a solid or smooth top (so they can nest together) so things stored on top must be considered carefully and then not sturdy enough for very heavy items to be stacked up there - like canned goods or large bottles of liquids - as it will warp and keep the drawer from closing completely. But that is pretty far outside its intended use. Wish they made a shorter version of each of these drawers too.
June 21, 2014
Rated

5

out of

5
 by
DixieC93
Wonderful Drawers
I own four of these drawer and I have drawer dividers on one of them, they both are excellent for my needs. These drawers work great in closet and/or cabinet spaces not so great for free standing. If you have limit space to work with like I do then I recommend these drawers.
May 3, 2014
Rated

5

out of

5
 by
kaellis495
Large space now usable
I had a spacious shelf, but it would be a disaster to just stack everything willy nilly. The shirt drawers stacked on top of the sweater drawers created a medicine cabinet that I did not have in my "modern" bathroom.
April 25, 2014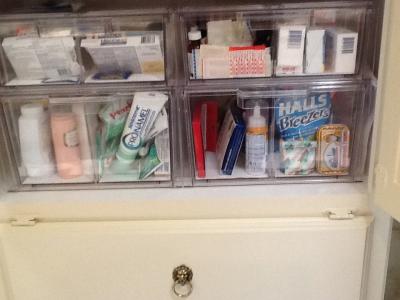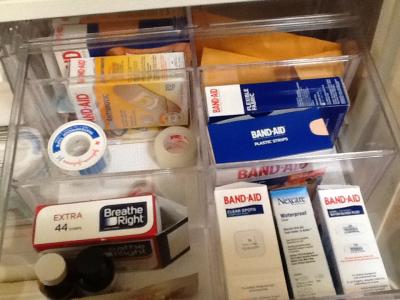 Rated

5

out of

5
 by
monkey1990
wanting more storage
I have enjoyed this product so much. I am a storage freak and try to put everything in boxes. But, the one thing I have enjoyed so much about this product is the fact of the split storage you can do. I love being able to have my socks all in one drawer organized, I have another with different types of cake tips in them. Also it is CLEAR! A lot of containers have an outside that is clear but in a way disrupting what you can see inside.
April 25, 2014
Rated

4

out of

5
 by
allison891
Great solution for maximizing unused closet space
I stacked two of these drawers in my son's closet and keep all of his washcloths, bibs and burp cloths in them. I'm sure it would work great as a shirt drawer too.
April 8, 2014
Rated

5

out of

5
 by
Pao1984
Great for makeup organizer
I purchased these items to be able to organized my makeup. The drawers are perfect because you are able to see what you have without taking everything out . The drawers are very spacious and strong. I would probably buy more of these drawers in the future.
March 29, 2014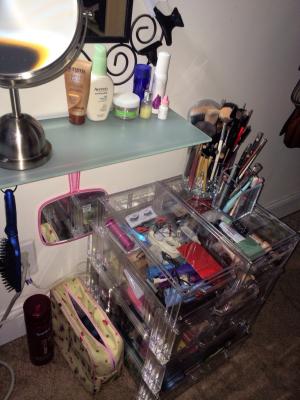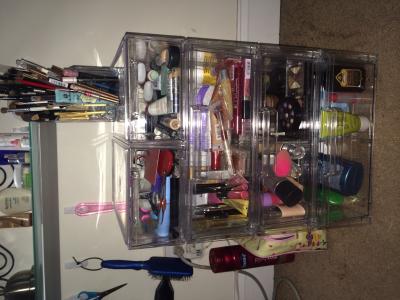 Rated

5

out of

5
 by
JLEM
Perfect for closet storage
Great for storing many different things in 1 space
March 28, 2014
Rated

5

out of

5
 by
cdbdbsbz
Functional and pretty
I love these drawers. I love that they can be stacked with other drawers in the product line. They look great and are easy to use. Drawers slide very easily.
March 12, 2014
Rated

5

out of

5
 by
chicorganized
LOVE LOVE LOVE
I've been on an organizational kick lately.. I guess you can say Spring cleaning. :-) I have a small kitchen so I have to make the best of all available space. I normally keep items on top of my microwave such as tea, honey, oatmeal, hot chocolate, etc. The current setup was getting Totally out of control! I had to do something!! I thought about The Container Store and took a chance. I am Thoroughly pleased with the outcome! These drawers are an Amazing life saver! I can see everything that I have now and I feel so organized! I am going back to the store this weekend to buy 2 more for another project I'm working on.
March 11, 2014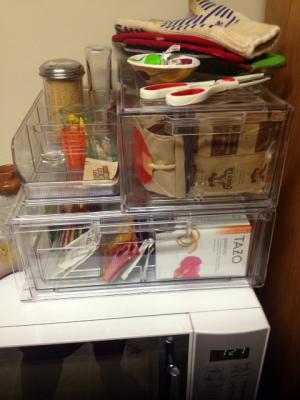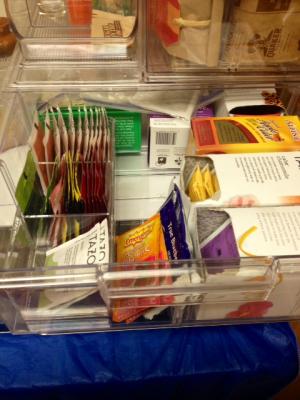 Rated

5

out of

5
 by
Txlinx
I can see all my accessories!
I recently downsized from our large family home to our ranch. The closet space is extremely limited. Because of these storage drawers and the shoe and sweater drawers I've been able to organize my consolidated clothes in a very small area but still see everything! Because there is no closet door., things need to be tidy and visible in an attractive way. It's wonderful!
March 7, 2014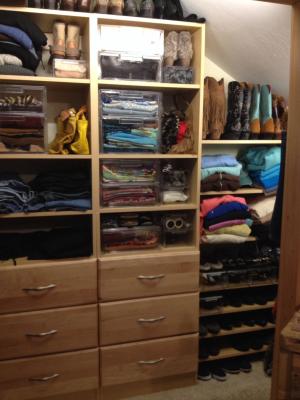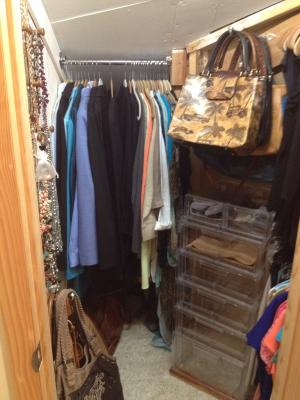 Rated

5

out of

5
 by
bobowha
Excellent in the Fridge!
Our apartment refrigerator is too small, and our landlord won't let us replace it. It was driving us crazy. We decided we needed another pull-out drawer, but the replacement drawers from the refrigerator manufacturer cost over $100! This drawer is the PERFECT size, and it works out beautifully! It's see-through, sturdy, and it slides smoothly. Even with a lot of weight in it, the drawer does not tip. We could not be more pleased! We also got a few FridgeBins from the Container Store. Now, we can finally access the stuff on the back of the shelves. Everything is easy to find, and our fridge looks great!
March 7, 2014
Rated

5

out of

5
 by
Marilyn41
Shirt & accessory drawers great for High Heels
I am using the shirt and accessory drawers for my high heels. They are large enough to put two pair in each drawer & stack nicely. Love them.
March 2, 2014
Rated

5

out of

5
 by
Lfesten
Excellent!
I love these drawers. They glide so easily and slip in and out with ease. I use them for office supply storage and to store misc items. The drawer separators are easy to install.
February 22, 2014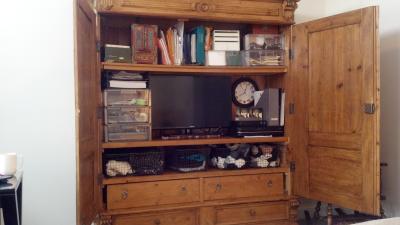 Rated

5

out of

5
 by
rainbows
wonderful
Love these drawers. I have toiletries in my closet in these boxes along with the shoe drawers I ordered with these. I also used them for scarves, hair accessories and lots of other things. I live in a small apartment and these are great space saving drawers.
December 8, 2013
Rated

5

out of

5
 by
Chopstx78
Perfect solution to organize my bras in my closet. I usually get dressed in my walk-in closet so the shirt drawer fits bras perfectly. I love how organized my closet is with all of the bins and drawers.
August 27, 2013
Rated

5

out of

5
 by
Loves2Stitch
Stores a ton!
I am using this product with its three dividers as storage for my over-dyed threads for my cross stitch projects. It holds a TON of thread baggies, and the dividers help keep them upright and the labels easy-to-read. Great storage option!
May 4, 2013
Rated

5

out of

5
 by
ShannahP
Great Storage
Love this item, use on closet shelf in walk in to store camis, bras and panties for quick grab in the mornings. Stylish and glides open.
April 23, 2013
Rated

5

out of

5
 by
LaurenHM
Multi-functional
These drawers are great! They're sturdy and perfect for almost any storage use. I needed a way to organize a ton of cables for our office in our tiny IT room and using these along with the dividers helped me complete a near impossible feat! I love them.
April 15, 2013
Rated

4

out of

5
 by
bl628
shallow + see through = easy organization
These drawers work perfectly for socks, bras, undies, larger jewelry items (bracelets, watches). Smaller boxes fit inside for smaller jewelry items. Here's a quick organization tip for you - deep, dark drawers are an abyss. These drawers work like a charm. They are a bit fragile. They will chip easily if dropped or banged on something. Also, drawers slide out very easily. I'll let you decide if that is a pro or a con. Buy these drawers!!!
March 18, 2013
Rated

5

out of

5
 by
eojewels
WOW
I had read other reviews when looking for clear storage containers, I couldn't believe what a great drawer this was.
February 2, 2013
Rated

4

out of

5
 by
courtneer
Great drawers for cubicle shelving
I was looking to add drawers to my cubicle shelves and these fit like a glove (I was able to stack 2 per cubicle). They stay securely in place (on top of each other) when stacked and I love the clear plastic so that my toddler can see which items are hers. Negatives are that the drawers slide out very quickly (surface/type of hard plastic is very slick), so my toddler sometimes pulls the entire drawer out and dumps all its contents out onto the floor. Also the plastic seems fragile/brittle (like glass almost). I can see one dump onto a hard surface and these could crack easily. Overall though I am pleased after 2 weeks of use.
June 11, 2012
Rated

5

out of

5
 by
LahG
My yarn looks beautiful
I love to buy yarn wherever I travel and I have accumulated too much so I bought these drawers and my yarn is not only organized but now it looks beautiful.
March 19, 2012