Rated

5

out of

5
 by
OneSweetLife
Great for the RV!!
These containers were great for our new RV! We went camping in it for the first time and these containers really kept things together without the usual sliding of items in the cabinets. I used 5 in the overhead cabinets in the dinette area to hold dishes, cups, etc. The others went into the fridge to keep food items together. So easy and the handle on the side are very useful!
June 10, 2016
Rated

5

out of

5
 by
stowit2day
Versatile and a Great Price
The baskets are so durable and lightweight! We have two small puppies with lots of squeaky toys. They bite the handle and drag the basket around, then flip it and dive into their toys. This has been going on for months and the basket still looks great. In the kitchen, I use one to store all of my liquid flavoring extracts (vanilla, almond, lemon, etc.) . The see through plastic and handle make it easy to pull out of the cabinet and not lose any of the jars. I plan on purchasing more of these baskets and I can see storage uses for make-up and first aid items in the bath, vitamins and envelopes of gravy mixes in the kitchen, gloves and mittens, belts and leather accessories in the closets. How often can you say that a product is both economical and useful throughout the house?
March 20, 2012
Rated

5

out of

5
 by
xscurlsbybdw
Create your own pantry!
I have a small house and while I love it, there lacks ample storage. I don't have a pantry, so I made my own in the cut out under my stairs. It's perfect and these storage bins really make it easy. The handles make it easy to grab an item!
January 9, 2017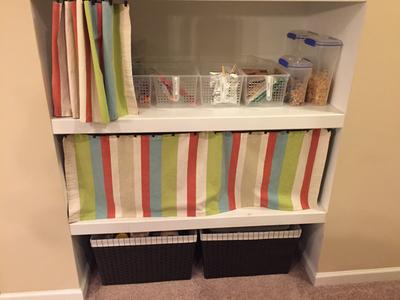 Rated

5

out of

5
 by
NWCowgirl
Get Organized
These baskets are great for organizing your pantry or your fridge. Taller than most baskets, and easy to add labels to. I will be ordering many more.
December 21, 2016
Rated

5

out of

5
 by
Casey6704
Repeat purchase!
We purchased one more to store a hand-held blender and its accessories in a deep drawer - the large basket keeps it all together and it is easy to identify the contents!
December 13, 2016
Rated

5

out of

5
 by
Clutterbuster60
Perfect size for upper kitchen cabinets
These baskets fit perfectly 4 across my cabinets. The handles in front make them easy to slide in and out. Love them!
November 22, 2016
Rated

5

out of

5
 by
chaefner
LOVE THESE
I adore these baskets, they are perfect for high pantries. I used them to organize party supplies (paper plates, plastic utensils, streamers, etc) and they're fantastic. Easy to see everything and now it's all separated by category, so when I host a party, all I have to do is pull down the basket and everything I need is right there. Brilliant!
September 27, 2016
Rated

5

out of

5
 by
AJM88
Best storage ever!
I use these in my kitchen pantry and in a deep drawer. Everyone that sees them wants them. I have given these as gifts for housewarming and wedding shower presents.
September 22, 2016
Rated

5

out of

5
 by
Organizationinprogress
These are awesome!
I have several of these in both sizes and I'm positive that I pick another one up on my yearly trip to the container store (The closest one is a few hours away)! I use the larger ones in my fridge to sort like items that seem to get lost in there somehow and I use the smaller ones in my craft room. The handles make it perfect to pull them out easily and I love that they are clear to see what is in there at a glance. Love being organized!!!!! Thankfully, a store is opening up super close to me later this year so I can go more often!
September 19, 2016
Rated

5

out of

5
 by
Knittingmom
Best spice organizers
I have used these for years to corral many things from washcloths to toiletries to pantry items. I love using them with my spice jars I have one for herbs one for chilies one for cinnamon and things like it. It really simplifies what I need when I cook. I label them so the cleanup crew can return items to their home. When the kids were little I labeled a container bottom for each then I could drop their misplaced items into the basket for them to handle. I use these all over the house, they're essential for order.
September 11, 2016
Rated

5

out of

5
 by
organizaholic356
Great purchase
I love these baskets! I use them under my bathroom sink to store toiletries and they work great!
March 19, 2016
Rated

5

out of

5
 by
Jkcones
Good for organizing
For meds, cosmetics, anything! You can label the handle.
March 19, 2016
Rated

5

out of

5
 by
kel78belle
Amazing little workhorses
These are great little baskets for everywhere! I use them in our pantry to hold oils and lesser used spices, in the bathroom to hold all the little beauty items and free samples I accumulate and in my craft room to store misc craft accessories. I love these amazing little workhorses.
March 17, 2016
Rated

5

out of

5
 by
Texastine
Clear handled storage basket
Because of the handle, it is the perfect basket for narrow and hard-to-reach shelves. Being clear also helps me see what is in the basket. Having a handle also helps prevent spills of the contents and saves one's hands. Great product!
August 1, 2015
Rated

5

out of

5
 by
shaykschneider
Love These
I absolutely love these storage containers. I use them in my pantry to keep all of my bagged items organized (rice, baking chips, nuts, sugar, pasta, etc.) I also use them to organize snacks for the kids so that I don't have tons of boxes in the pantry taking up too much space.
June 5, 2015
Rated

5

out of

5
 by
KristalM
Best basket ever!
I can't say how much I LOVE LOVE these baskets!! They aren't super strong to hold really heavy items, but as small as they are they work just fine. I use them to organize tuna pouches in my fridge, vitamin bottles in my pantry, medicines in my closet, they are really SO useful with the handle & I love that they are see-through.
April 7, 2015
Rated

5

out of

5
 by
Shak67
AWESOME!
I have both size baskets in my kitchen pantry (work in progress) and in my deepest cabinet. The larger size can hold a great amount of food. As others have mentioned, the handle will bend if the basket is loaded with heavy items like jars and cans. This hasn't been an issue for me since the ones that are heavy I slide them just to the point where I can take what I need out. I rarely lift them out at all. My kids can reach everything they need too. Great containers.
March 17, 2015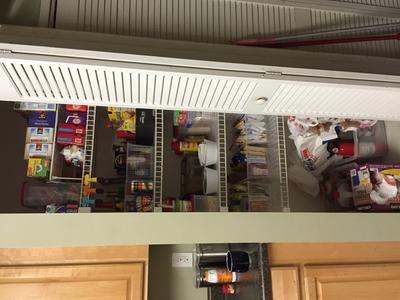 Rated

5

out of

5
 by
CoCosMum
EXCELLENT PRODUCT
My go-to product for organizing the pantry, bird food, hall closet, bathroom armoire.
March 5, 2015
Rated

5

out of

5
 by
csnme
excellent product
I love these storage baskets! I bought them to put in the frig to corral all of the single serving jello, pudding, etc that get lost on the shelves. Also, using one to corral all of my spices. Great price, great service.
February 11, 2015
Rated

5

out of

5
 by
ClassicMom
Great small basket/ multi use
I purchased a few of these to corral bath products around our jetted tub. They work perfectly and are exactly as I had wanted.
February 7, 2015
Rated

5

out of

5
 by
VickiF
One of our favorite organizers
We use bother the large and small handled baskets to keep like items together in cabinets or on shelves.
December 23, 2014
Rated

5

out of

5
 by
amy66
Perfect for what I needed
Looking for a neat way to store my stamp sets. Perfect and the best price. They are plastic so I wouldn't put anything too heavy in them (that makes the handles wobbly), but my stamps are a couple of pounds. Lots of room.
December 4, 2014
Rated

5

out of

5
 by
Sandy1211
Perfect solution!
I bought a couple of these bins last month and once I realized how functional and handy they were, I came back for more! I love storing my go-to seasonings in one basket that I can just pull and bring to the my prep area. It saves trips back and forth to the pantry. My pantry is now so organized and function! I love these!
November 17, 2014
Rated

3

out of

5
 by
BBStormLove
Wanted to LOVE these
As someone that browses kitchen organization ideas on Pinterest multiple times a day, I've seen my fair share of these bins in use by others. I was thrilled to pick up the large ones. Went to the store, picked up 5 of the large bins. Felt it in my hand at the store, and found no problems. I mainly got these to organize 3 things... The 15+ little boxes of Jello and pudding mixes that are small and awkward to stack and sort through... my baking basics (baking powder, baking soda, yeast, measuring spoons, vanilla, etc)... The 30+ Lipton Sides packets (another awkward package to store in my pantry)... So long story short - I put maybe 7 or 8 jello boxes into 1 bin (with enough room to fit 10+ more left), lifted it to make sure the handle was going to be OK, and no. I don't know why they make the handles so flimsy but it bends and the container flops forward and I had to initiate my super cat reflexes to support the bottom. I took out 1/2 of the boxes, and the handle STILL FLOPPED. I tried this same thing with the other 4 bins - same problem. This product has extreme potential. I'm short, and constantly have to call my husband from the other room just to grab things placed higher up (I have a phobia/paranoia of step stools). So I used 1 of the 5 to store dinner napkins, and placed that in the upper shelf... now I can grab that bin so easily with the handle (still have to tip toe a little). But for light weight paper napkins filled to the top on the large bin, the handle bent very slightly (not too noticeable). If you have light weight things to organize, this is great. If you're short and don't mind having to use a second hand to support the bottom as you bring the bin down, it could be great. I wish the handle was made better quality or at least with thicker plastic.
September 12, 2014
Rated

5

out of

5
 by
essead01
Great freezer basket
I got this basket to use in my freezer to hold bags of frozen fruit and it works perfectly. It holds a lot of stuff, but is still very easy to pull out from the shelf.
July 13, 2014
Rated

5

out of

5
 by
DNT4
Affordable organization
This helped to revamp the entire pantry. Got the inspiration from pictures of other reviewers. These and other translucent acrylic containers have kept all dried goods, condiments, baked goods, snacks in proper place. This has given our pantry so much space didn't think we had! Bought large and medium sizes for various tems.
June 7, 2014
Rated

5

out of

5
 by
bargainhunter
Makes Things Easy
I moved a little over a year ago to a house with no pantry. I've been adapting ever since. After painting the cabinets, I decided to treat myself to an organizational upgrade, but couldn't spend a lot. These handled baskets are perfect for establishing a "pantry" in my upper cabinets without spending a lot. Oh, and did I mention that I'm short? Reaching things at the back of the shelf was impossible until I got these.
June 2, 2014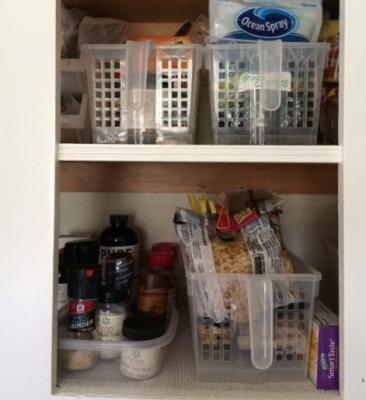 Rated

5

out of

5
 by
gracerob
great for high shelves!
I'm 5'4" and can easily reach the handle when the basket is on the top cabinet shelf. Makes great use of the full cabinet depth.
May 19, 2014
Rated

4

out of

5
 by
atlantaqueen
GREAT
I bought a number of these to organize my pantry and I like them a lot.
May 12, 2014
Rated

5

out of

5
 by
Lasa
Great pantry organizer
Purchased these to organize bottles and boxes in my kitchen pantry. The size is large enough to fit almost anything you'd need to store. The best part is the handle which makes it easy to grab for the basket when you need to pull an item out.
May 7, 2014