Rated

5

out of

5
 by
lilyp
Great storage!
I love these spacious crunch storage baskets! Using one to hold large items in my pantry, one in the laundry room and another to organize dog toys and towels. They double as a great carrier to picnics on the beach. They bring beauty to chaos.
July 20, 2015
Rated

5

out of

5
 by
KeepingUp
Excellent for soft storage
For corralling the blankets in the living room that never get folded. It's perfect, neutral, easy to move. I use these (both the round and rectangular) all over the house for laundry and storing objects to be moved from Point A (wherever the kids left it) to Point B (the proper location).
November 17, 2014
Rated

5

out of

5
 by
Rums
Convenient for it's large capacity, though when full I need help getting it down the stairs :-). I have had this size and one of a smaller size for years and they are well made and sturdy.
January 13, 2017
Rated

5

out of

5
 by
Brooksie
Stellar kids storage!
I purchased 3 of these for my sons' walk in closet reorganization and I'm more than pleased! They are lightweight yet very durable and hold a TON! And I love the fashionable, nubby chambray-ish material. I hung these off the ground and used for storing soft toys, costumes, and nerf/sporting equipment. My closet was organized in minutes! You won't be disappointed with these. Amazing value-I imagine these will be around my house for years to come.
January 13, 2017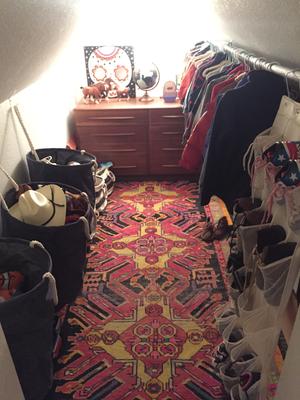 Rated

5

out of

5
 by
Mpatt311
Great for a toy bin!
I bought this to use as a toy bin and it has not disappointed! My toddler spilt water in it and all I had to do was wipe it clean!
January 8, 2017
Rated

5

out of

5
 by
BRMama
Umbra Laundry Bag is the Best
Sturdy, durable, holds a ton of laundry. No more ripping of mesh laundry bags. These very sturdy Umbra bags are the best - super strong handles that will never break.
October 18, 2016
Rated

5

out of

5
 by
Change
Good decision
A great improvement over my old plastic hamper. It's attractive, light, collapsible, and fits well into a newly renovated space.
May 18, 2016
Rated

3

out of

5
 by
Mallallory
Good for A While
I've had these about 2 years and I loved them at first; lightweight, flexible, collapsible. Then the frame started to bend, yesterday one of the cotton twill tape handles ripped away from the fabric and frame leaving a hole in the fabric and in the hem. I have two of them that I use to take laundry from my bedroom to the car to the laundry facilities and back, I wasn't carrying them long distances. Each basket holds about 2 loads of laundry and I wasn't over filling them; between the two baskets were clothes for two people for a week, two towels, a bath mat and a set of sheets. I was hoping they would last at least another year.
April 29, 2016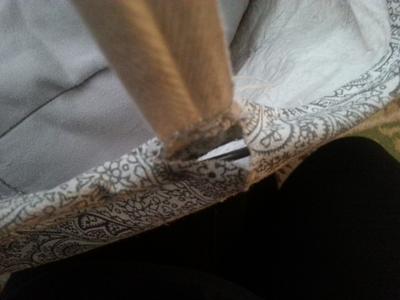 Rated

3

out of

5
 by
Thrifty1
Wonderful with One Disappointing Drawback
I have the blue large rectangular crunch can and love its color. With its waterproof lining, I thought it would be perfect for my pets' toys so that it could be wiped out, and pleasantly decorative. (One of my dogs has even made it her nap time bed.) Unfortunately, I tried to wipe off a smudge on the outside, and learned that the fabric is not colorfast. The large blotch on it defeated its decorative purpose. It's seems ironic (or not) that something lined in vinyl would not be colorfast. Really disappointed because it was attractive and could have served some other storage needs as well.
April 8, 2016
Rated

5

out of

5
 by
Maass
Best product ever made, love that it is water proof!
March 20, 2016
Rated

5

out of

5
 by
amysmom
Crunch can is the best
I use the crunch can as a laundry basket . It is perfect.
February 21, 2016
Rated

5

out of

5
 by
SnowAndSun
Exactly what we needed
The crunch can is a beautiful solution for our laundry needs. We wanted a laundry basket that we could easily carry to the laundry room, something light weight. This product delivers on all the levels I expected and more. It stays upright and to my surprise didn't collapse under the pressure of overflowing laundry. I absolutely love the grey color we chose.
February 8, 2016
Rated

5

out of

5
 by
GULLYGIRlLISA
Best Laundry Baskets ever
I have just purchased my second 2 baskets after 6 years of the first 2. My kids moved out of the house and took my 2 with them so I bought 2 more! They scrunch up to fit between the wall and the washer and pop back out when I need to fill them with laundry. The first 2 are still in really good shape and I am excited to have new patterns to change things up! Love Love Love
January 13, 2016
Rated

5

out of

5
 by
HappilyClutterFree
Great for many things
I first bought these for my car. It is great to keep items from rolling around the trunk and cuts trips into the house with multiple bags in half. I later purchased one for all my nieces and nephews as laundry baskets. They are light weight and since they fold flat, they take up minimal storage space. They look like fabric but have an easy to clean interior. Will likely buy more.
December 30, 2015
Rated

5

out of

5
 by
kelive
Great laundry hamper
I have 3, tan, blue, pink. I like being able to color code the laundry hampers to the members of our household. If you are trying to do the same, something to consider.. I originally wanted gray in place of tan but found it a little too similar to the blue. I have previously used the original crunch can in natural canvas for over 10 years and it is moving to a different room in the house as it is still in amazing condition. I am thrilled with the continued quality of these new ones and look forward to having them for many years as well.
December 29, 2015
Rated

5

out of

5
 by
TNLisa
great buy
My daughter bought this at the store and when we got home I realized I needed one too! Love the cylinder style, love the color scheme, love the handles. Perfect for me and my husband to share :)
December 27, 2015
Rated

5

out of

5
 by
JackieGetsOrganized
Great for recycling
I bought two of these for my kitchen to sort recycling. Very sturdy and they hold alot. The handles make it super easy to take them downatairs for sorting the recycling in our garage. They crunch down flat to store away when we have company over.
November 23, 2015
Rated

5

out of

5
 by
mamajones
Taller than most & very well made
I was wondering if I should get this just because I was thinking I could probably find something similar in a local store. Well, I'm so pleased that I did order this particular basket. Not only is it beautiful & sturdy, it is taller than any laundry baskets that I've seen around. I also like that I can fold it flat if I finally get caught up from all of this laundry that has been packed in boxes for months :D I'm sure I'll keep using it, though. As a former industrial seamstress, I'm also quite impressed with the quality of this product.
November 8, 2015
Rated

5

out of

5
 by
alliekat
Awesome Laundry Bag
I bought this for my son's room, and now I am going to buy another for my daughter's room. It is well made, and is very lightweight. This is a durable bag that is constructed well .It is also available in different colors which is nice
November 6, 2015
Rated

5

out of

5
 by
angfa
This item is very durable and is high quality. It carries lots of clothes but also not too heavy. Perfect for my daughter who is going to college!
August 28, 2015
Rated

5

out of

5
 by
Betsy01
Best purchase ever
So much easier to take loads of laundry down to the basement. I can actually take 2 at a time. With baskets that would never happen.
August 2, 2015
Rated

5

out of

5
 by
ClutterphobiaMom
Serves the purpose
This basket is lightweight, does crunch down to easier carrying size, and holds a large amount of clothes. Only complaint would be that it isn't the easiest to carry up and down the basement stairs. That being said, what heavy laundry basket is? We ordered one several months ago and really like it so ordered a second for another room.
July 25, 2015
Rated

5

out of

5
 by
RBInn
Perfect!
I own a small inn on the beach in Rosemary Beach. These crunch cans are perfect for my guests to drop their wet beach towels in before heading up to their rooms. And the fact that they crunch down for easy storage when not in use is a huge bonus.
July 18, 2015
Rated

5

out of

5
 by
Designer31
Very Useful!
I really like this laundry bag can it works great!. I use it for holding our dirty bath towels, I do like how it's lined on the inside with a plastic and how the circle part has a wire in it to hold it up so it doesn't fall down.
July 15, 2015
Rated

5

out of

5
 by
mchen891
Pretty way to store things!
I had purchased these originally to store books while I was shopping for bookcases in my new apartment, and it held a lot of books. Now, I use it to store my workout equipment, my magazines, and my purses. Love them. I also got them for my parents to store their grandchildren's toys.
July 5, 2015
Rated

5

out of

5
 by
summerlover97
Update to a previous review
I found a new use for these Crunch Cans. Is there anything they can't be used for? I have added them to my patio gardening this summer. They are actually out performing my whiskey barrels this year. I will keep the whiskey barrels for perennials, but will use the crunch cans for annuals and added color.
June 6, 2015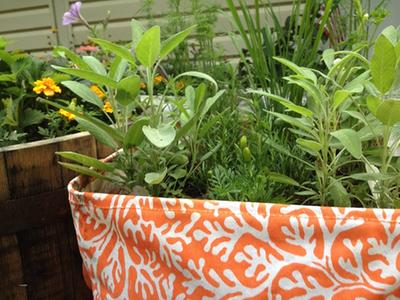 Rated

5

out of

5
 by
agentlpm
great laundry bag
This bag holds so much wet laundry I almost couldn't carry the bag- love that it folds down to store
April 1, 2015
Rated

5

out of

5
 by
MMM18
Awesome Product
This bin is perfect for hauling my laundry down to the laundry room. When I am done using it, it crunches flat for easy storage behind my dresser. This is FAR superior than the pop-up laundry totes, as I always had trouble with the wire poking through those. This only has a wire in the top rim to help it keep its shape. I love this product!
March 24, 2015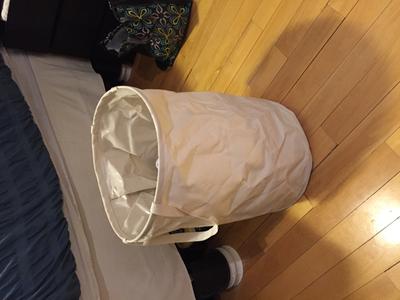 Rated

5

out of

5
 by
Lovingthebeach125
Gotta love it
I received one of these crunch baskets as a gift for my beach house and ended up buying several more. They are so versatile and decorative. I use one for laundry, one for beach towels, one for kids books and one to hold sport stuff. They wipe clean and are easy to fold and put under the bed when not needed. I thought the price was right and the variety of color and design choices were great!
March 16, 2015
Rated

5

out of

5
 by
Krya
Very Durable
I love these canvas crunch baskets! I have two that I purchased several years ago, and they are still in perfect condition. I leave them standing up in my closet for easy sorting, and use them to carry my laundry down to the laundry room in my apartment building. They can carry heavy loads of clothing and laundry supplies, and the handles have never ripped. The coating on the inside makes them easy to wipe clean, and the wire rim helps keep their shape. I would highly recommend this product!
March 16, 2015