Rated

5

out of

5
 by
MadzMushroom87
Used as a Bird Cage Tray & Carrier... Great!!!
The round casters on bottom make it easy to slide pet cages on carpet or laminate tables. I'm using the bottom section as a tray underneath our finches' cage. We used to use a cardboard box: BIG upgrade! It catches the errant seed hulls, and splashing water droplets from baths, and catches most of the feathers from molting. Measure your pet's cage footprint, while including extra space for any beveled/tapered sides on the cage, as this will affect your final measurements when selecting a storage box as a cage tray. I found the "Stor-n-Slide" line of boxes to be the sturdiest & had the best handles for carrying the cage around while it's still seated in the bottom half of the box!
August 18, 2016
Rated

5

out of

5
 by
Nevada88
Good
These will work perfectly for sliding under the bed! I'm going to need more! Solidly made & will keep critters out.
July 30, 2016
Rated

5

out of

5
 by
MaryDee12
Greatest thing since sliced bread
I cannot recommend these underbed storage boxes enough. They are durable, lock tightly and easily, and glide across carpet like a dream.
May 13, 2016
Rated

5

out of

5
 by
Nohomie13
Underbed boxes really work well
Very practical and easy open & close. They slide easily under the bed and are pretty sturdy.
May 11, 2016
Rated

5

out of

5
 by
DottieT
Perfect for my purpose!
I bought these because they were the perfect size to organize a craft closet that I need to fit a rooms full of stuff in. They are fabulous! Nice and sturdy very stackable and the blue accents are a great color.
April 22, 2016
Rated

5

out of

5
 by
Candy4
Good Purchase
Although, I stored the two underbed boxes in my closet instead of under the bed, I have to say it's a great item. It does the job and seals very well. Only reason I didn't store it under my bed is because I have all my shoes in plastic containers stored under my bed.
April 7, 2016
Rated

5

out of

5
 by
gmrm
great find
Great size - perfect fit under my bed frame. Big enough to store items and small enough to carry/move around when necessary. Love the gliders vs wheels as you can slide it in any direction.
March 30, 2016
Rated

5

out of

5
 by
Giovanni
Stor-n-Slid Underbed Boxes
We have been using Stor-n-Slide Underbed Boxes in large and small size, for over 8 years. We have over 18 of them. Why?? Because they are neat and durable. Also, they seal excellent, we use them for storing fine cloth, our storage facility is in a basement ...not the cleanest area Our cloth stays well protected, free of ext, dust and odors We can stack 10 large ones pilled up, no problem, they are super strong. Last moving the movers treated them rough and 2 lids got ripped ...Container Store replaced the 2 lids at no cost ...they stay behind their products
January 7, 2016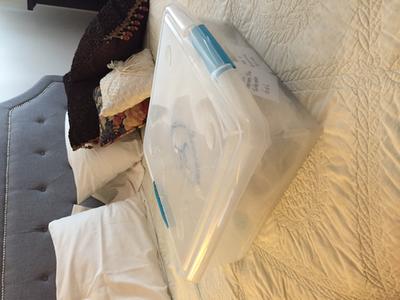 Rated

5

out of

5
 by
ceecee7
Excellent
Love all Iris products! My old under-bed box fit under my old bed, but it was too tall for my new bed frame. THIS ONE FITS! Love the latch and that it's see-through. I could fit about 6 of these under my bed if I wanted to, I have 3 now.
December 15, 2015
Rated

5

out of

5
 by
rg408009
Perfect for my needs
I bought two of these underbed storage boxes and they are perfect. I use them to store my scrapbook supplies which makes them easy to view and take out. Everything fit perfectly and slid right underneath my bed. I wish I had known about these before, they are great!
March 26, 2015
Rated

5

out of

5
 by
Ozzy
Perfect for Storing DVDs under the bed
The large box is perfect for storing DVDs under the bed. It will hold two rows perfectly.
March 16, 2015
Rated

5

out of

5
 by
tMizzy
These are great
We have hardwood floors and the sliders work beautifully. They move easily in any direction and don't scratch the floors at all. These boxes hold a ton - I thought I had a lot of clothing and bought seven, only to find that my winterwear will fit into just two! We now have five under the bed holding other things like robes and towels as well. Glad I chose these over the ones with the wheels.
September 13, 2014
Rated

5

out of

5
 by
KHDM
Second purchase
Excellent use of under bed space...moves easily on carpet.
August 27, 2014
Rated

5

out of

5
 by
CozyOnTheCoast
Great innovation
Love the sliders on the bottom of these boxes vs wheels that I have seen on all other under bed boxes. Easy to manuvor and position under the bed. Great size; fits a good amount without overloading which means the bin will not crack and break with stress over time. (I hope) Ordered two to test out and am ordering more.
July 14, 2014
Rated

5

out of

5
 by
KimberlyfromMD
Good Buy!
I have a queen sized bed and I was able to fit 6 of long ones and 3 of the small ones under my bed, which holds my entire winter wardrobe, blankets, and sweaters....and they slide out easily. An awesome buy!!!
July 11, 2014
Rated

5

out of

5
 by
Ajae
Great Storage Boxes
I bought one to make sure it would do what I wanted it to for under the bed storage. It was perfect in size, storage and slid under the bed easily. I returned to the Container Store and bought 3 more.
June 30, 2014
Rated

5

out of

5
 by
SLBCasey
Really easy to slide
I have limited storage in my home and rely on underbed spaces. I have many containers and dread getting them out because they always get hung up on the carpet. These containers slide like butter! I am replacing all the old containers with these easy sliders!
June 8, 2014
Rated

5

out of

5
 by
zer0girl84
Love it!!
I love the big underbed stor-n-slide boxes! They are a great way to save space and organize under my bed where nobody looks! I can't wait to get back and buy some more.
April 26, 2014
Rated

5

out of

5
 by
Michele333
Under the bed storage!
These are PERFECT for under your bed. They fit nicely and with the clear you can view which box you need without even pulling it out first!
April 25, 2014
Rated

5

out of

5
 by
vicar13
Smart design- making life easier!
I have used under the bed storage for years, however it was time for some new ones. These are GREAT. The bottom sliders take up only a fraction of an inch. The containers are clear, allowing for quick and easy identification of contents. I know where I will get my next boxes.
April 14, 2014
Rated

5

out of

5
 by
MellieA
really great purchase! such detail in the design
I loved these bins right away!I really like that they can go with either the long or short end facing out - cant to that with wheels! The size is great for decorations, off season clothes or anything really. The handle opening from the top(mentioned in another review) is also a great feature when transporting these bins around the house.
April 1, 2014
Rated

5

out of

5
 by
EJMINOR
Best Purchase
I moved some beds around and needed to store gifts that can be recycled... these held everything and went neatly under the beds..
March 20, 2014
Rated

5

out of

5
 by
zbikeracer
Easy to use
These storage containers are extremely easy to use and slide under the bed easily, even on carpet.
March 13, 2014
Rated

4

out of

5
 by
miltdog67
Great Under-bed Container
four of these containers fit perfectly under my queen-sized bed, in addition to my other suitcases. Anyone with a low bed with 6" of room should have these bins.
February 26, 2014
Rated

4

out of

5
 by
AccessibilityQueen
Inaccurate dimensions
This container is good. The closures snap toward the top, rather than the bottom, so are secure and cannot be accidentally dislodged when lifting the container. However, the dimensions given on the label are inaccurate. The box I bought said it was 18 inches square, whereas the interior dimensions range from 15-1/4 inches across the bottom to 16-1/4 inches across at the top. The exterior measures 18-3/4 inches at its widest part. Not that big a deal, but I bought the box to store a sun hat that has a brim 16-1/2 inches wide.
October 30, 2013
Rated

5

out of

5
 by
basil2
very useful
the nodes that make them stackable are good for using other than under the bed. But we have them under the bed, and they slide in and out easily.
September 8, 2013
Rated

5

out of

5
 by
Amber13
Best way to store crafts supplies!
These boxes are great to store craft supplies, scrapbook papers, home decor you're not currently using and Christmas decorations out of the way but easy to find. Love that they keep the dust out. Would highly recommend.
August 21, 2013
Rated

5

out of

5
 by
Jaekaby
under bed storage
this hard plastic box is so much better than the soft plastic I had bought originally. Glides in and out under bed easily and holds its shape unlike other. Can hold 6 pairs of shoes.
August 19, 2013
Rated

4

out of

5
 by
Edel
Great underbed storage box
These are exactly what everybody has been saying about them. They slide out easily because of the nice round feet. Works well on both hardwood floors and low-pile carpet. I am not sure about shag or high-pile carpet though. I originally got them to store my gift wrap. They didn't fit in them but it worked out fine because I put my gift bags and tags in them and the wrap in the long, underbed storage boxes (also from Container Store). I use the other two for clothes and to hide gifts from family.
August 15, 2013
Rated

5

out of

5
 by
Roesbud
Convenient Storage
I purchased these boxes for additional storage under the bed storage and love the way they glide so easily. I bought them on sale which made them a really good buy. I'll be buying the larger one which was on back order when I purchase the two smaller sizes. Great product.
August 12, 2013