Rated

5

out of

5
 by
KTinVa
awesome and sturdy
Bought a small square blue box and 4 box-insert to corral my boys' pencils, markers, scissors, etc. that they need to do homework. They love the box and actually use it. I love that it contains the mess, and they know where to look for their supplies! I just bought a pink version for myself to house my work-at-home supplies so i don't have to schelp it back and forth in my work bag.
July 28, 2014
Rated

5

out of

5
 by
belladella
Great for Planner Nerds
I'm a planner nerd, so of course I have tons of 'stuff'. This Square Smart Store Tote holds my binder clips, washi tape, adhesive runners and so much more. I love the various colors because I can color code my stash. This is the best gift for anyone into crafts and has tons of stuff they want to organize and have a place for.
March 26, 2016
Rated

4

out of

5
 by
AmyE1
Great Product, Larger than I expected
These are wonderful organizing products, but deeper than expected. They are also food safe--very versatile product.
March 12, 2016
Rated

5

out of

5
 by
SewAnnie
Best Storage Solution
I own several of these bins for storage of my sewing notions. I especially like this smaller bin for needles and bobbin storage.
January 31, 2016
Rated

5

out of

5
 by
balkan
Great product!
I donate cell phone chargers to local hospital waiting rooms and these Smart Store containers are perfect for the job! The places we donate to don't have a ton of room and these containers are easy to store on a shelf, under a desk or in a drawer. They are small and compact yet hold a ton. I have bought extras in case the hospitals need a replacement and haven't had to use them!
April 25, 2014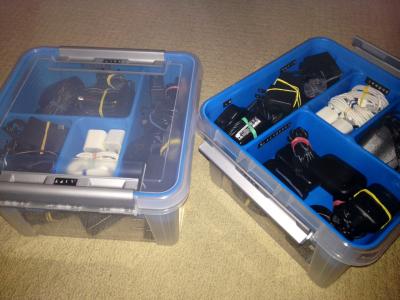 Rated

5

out of

5
 by
JessJV
Amazing for small spaces
Great for making small areas of clutter unto a bigger organized space. Everything is easier to find and spot with the clear plastic. The color inserts allow for mutilate tubs and personalization for multiple users (i.e. One color for everyone who has a box). Love this storage
April 25, 2014
Rated

5

out of

5
 by
Sherylfitz
Love these!!!
Bought these and some inserts for the kids to organize their Legos!!!! They love them and so do I. They are perfect for keeping them separated and organized.
April 23, 2014
Rated

5

out of

5
 by
Tayyyy
Perfect storage size
I went to the Container Store to buy bin totes to put all my things in and keep it under my bed. I bought different size totes but this square tote was absolutely perfect. For someone who reads lots of books, has DVDs and CDs just laying around, or even stationary such as envelopes, this tote was ideal. Everything fit in this square perfectly like tetris and I couldn't be happier. I was able to tape an index card on the side of the square to make it more organized. I have zero complaints about this product. I slide it under my bed and slightly less stressed with all the clutter than may surface in my room.
April 7, 2014
Rated

4

out of

5
 by
Sarai
Smart Storing Option
After moving into a small apartment, I had to get rid of my bulky desk containers. I bought one of these instead, and so far am really enjoying the easy access to all my supplies. It is small but roomy enough for even bulky supplies.
March 25, 2014
Rated

5

out of

5
 by
Creative500
Organizers Dream
I love to make tags and label everything! This "tote" is truly Smart and the most efficient way to store my label maker, tags, and tapes.
March 22, 2014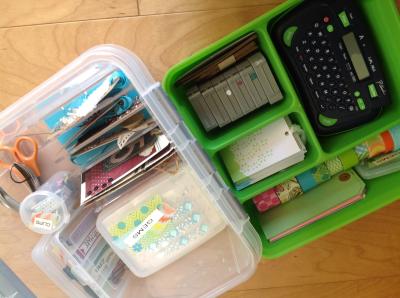 Rated

5

out of

5
 by
Sjrkop
Great organizer
I love this organizer for my beaded jewelry projects. Before I purchased this my work table was always messy and I spent more time looking for things than working on my project.
March 21, 2014
Rated

4

out of

5
 by
RobynM
Organized
This little box holds a lot more than I thought it would. It's a great way to store and sort my son's art supplies. It looks nice while being left sitting out in the open. The handles are def. tight to open and close. They do struggle a bit with them, so do I actually. Other than that, it's working out quite well.
February 12, 2014
Rated

5

out of

5
 by
helpfulmother
great craft box!
my daughter does art at school and this is the best organized box ever for her paints!
February 10, 2014
Rated

5

out of

5
 by
HiBonnie
Surprise Bathroom Organizer
Measured these out and 2 fit perfectly side by side in our bathroom drawers. As a family of 4 - we each have an assigned color and it holds our bathroom toiletries perfectly.
January 21, 2014
Rated

5

out of

5
 by
NMom
Best box for new teacher
I used this box setup for a "Just in Case" box for my son's teacher. It was absolutely PERFECT.
September 1, 2013
Rated

5

out of

5
 by
bjeans
Drawer Organizer
I'm using this as an organizer for a deep bedside table drawer, instead of in the tote system it's designed for. It works perfectly.
August 23, 2013
Rated

5

out of

5
 by
JulieM
No more searching for Barbie shoes!
We use these to organize Barbie shoes, necklaces, purses etc. No more sorting through a big pile of junk to find the perfect pink shoe. Our daughter likes not having a lid as it is easy to dump things back in their assigned spot in the bin. Works great for Polly Pockets too!
July 6, 2013
Rated

5

out of

5
 by
swan
Totally love this!
I really love this product. The insert holds glue sticks, glitter glue, scissors, etc. Underneath the insert fits items like short paints. The insert lifts out to easily access the items underneath it. It organizes my daughters art supplies well!
March 22, 2013
Rated

5

out of

5
 by
krox
So Helpful
I really cant wait to get this! my friend has it and i always want to take it from her!
March 6, 2013
Rated

5

out of

5
 by
JessD
Awesome Hobby Storage
This is a small storage solution to keep my craft supplies in. I also got the tray insert and combined I all of my supplies for making felt crafts. The lid closure is actually really easy to use and I have arthritis It is doubtful that any adult would actually pinch their fingers. A child might have more difficulties though. All in all try it out if you think it might fit your storage needs.
February 17, 2013
Rated

2

out of

5
 by
Wisconsin72
Design Flaw
This is a great little container however I have a few issues with it. I had also purchased the large tote and I had a few of the small inserts left over so I thought I could use them on the bottom of this container. Turns out that the inserts are about 1/8 inch to tall, so I can not lock on the lid. It seems strange that the inserts do no fit this container even though both items are from the smart store system. Not sure if this is a design flaw but it's disappointing that they do not work together. I also have to add that the locking lid on these containers is quite difficult to close. They do not close smoothly and you could easily pinch your finger when trying to close these.
February 2, 2013