Rated

5

out of

5
 by
OMATHEGREAT
POTATOE STORAGE
CHRIS AT THE SACRAMENTO STORE TOOK ME ALL OVER THE STORE LOOKING FOR SOMETHING TO STORE PRODUCE IN IN MY PANTRY. I BOUGHT TWO OF THESE AND THEY ARE PERFECT. LOTS OF AIR UNDERNEATH, ABOVE AND ON THE SIDES TO KEEP POTATOES AND ONIONS FRESH.
September 18, 2016
Rated

5

out of

5
 by
Krisbf
Great for a sorority kitchen
Purchased these large strong yet lightweight stacking bins to store onions and potatoes efficiently.
March 18, 2016
Rated

5

out of

5
 by
Pegu
Great for hats and gloves
I bought 2 of these bins, one for gloves, the other for hats. On a shelf in the mudroom, they contain and show contents while allowing easy access. I'll buy more.
January 31, 2016
Rated

5

out of

5
 by
Jennmac1
A must have
Don't waste your time on buying other bins or the cheap ones because you will regret it! I have tried many different ways to find the right amount of storage for hair products and linen items as well. They are deep and hold a lot more than you think! This product is sturdy, does the job well and I'm very please. Would highly recommend getting any of these for your storage needs!
March 16, 2015
Rated

4

out of

5
 by
Msunorganized
Great veggie storage solution
This was the perfect solution to hold my potatoes and onions!
May 20, 2014
Rated

5

out of

5
 by
Cherylmik
Perfect Container for the Job!
I bought these for my pantry to hold onions and potatoes. They work perfectly. They are substantial with no rough edges anywhere. I purchased the stainless steel and they look very nice with my other stainless appliances and very contemporary.
May 6, 2014
Rated

5

out of

5
 by
Gnome7
PERFECT
We used these in our pantry to keep potatoes and onions separate but easily accessible. They are the perfect size to hold the right amount of each and stack making it easy to see what you have on hand.
May 2, 2014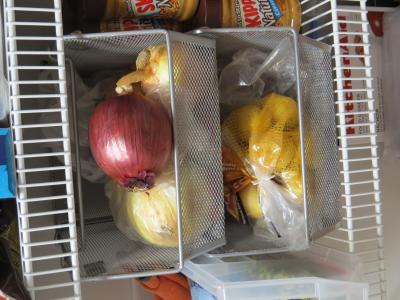 Rated

4

out of

5
 by
mv2144
Helpful in my closet
I bought these to replace wicker baskets so that I would have access to socks and stockings without unstacking/the trouble with lids on upper shelves in my closet. This was a great solution and helpful that they come in different sizes.
March 30, 2014
Rated

5

out of

5
 by
Backpacker
Doubled Our Sales
We are extremely pleased with the look and effectiveness of these baskets. We have doubled sales of the products merchandised at our counter in these baskets. We have decided to utilize them in other locations as a result of their success.
December 16, 2013
Rated

3

out of

5
 by
virg
not as nice as pics; snags you when you reach in
First let me state the positive. These bins fit perfectly 3-across on the closet shelf where I use them to organize all the winter gear. I have 2 rows of three and they stack great. BUT I was pretty disappointed in how they looked upon arrival. Kind of dingy metal, not bright and light silver like the pic online. Also, when I reach up there to grab a pair of gloves or whatever, the cuff of my sweater can get snagged on the mesh that is not quite smooth on the edges of the bin.
November 7, 2013
Rated

5

out of

5
 by
Verified Reviewer
Great!
I work in an office with over 30 employees and most are men, needless to say the kitchen looked like a bachelor pad when I first got here. This product really help organize the snacks (with the very little space we have) on the kitchen counter. PERFECT for office break rooms, stack nicely and have of room to store snacks in .
August 30, 2013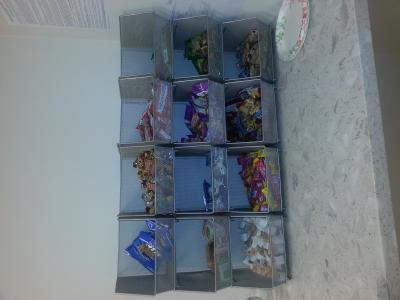 Rated

5

out of

5
 by
JudeRN
Just the right storage
Perfect for under the sink storage in each of my bathrooms!
August 4, 2013
Rated

5

out of

5
 by
sarahae
Great for the Pantry
Bought these while living in a small northeastern apartment that had no pantry. They were great for keeping the food organized and like items together. We have since relocated to Miami, and are now using them in our pantry. (1500 miles and 1 year later - they still look like new.) My husband is finally able to keep the pantry organized.
June 25, 2013
Rated

5

out of

5
 by
njmomoflittleones
Love Love Love!
I bought the small bins to organize my daughters crayons, paper, and coloring books in our built on wall unit. I needed something deep enough to fit what i needed but not too tall that I could stack at least three high. Because the nearest store is an hour away, I ordered these online...so was skeptical it would actually work...when they arrived, they were perfect! Well made so won't break or crack like plastic bins would...and they were even deeper than I imagined. The only thing I might change is to widen them a tad, as the coloring books and paper curl a bit on the ends but that's not a big deal. Otherwise I really do love, love, love these! And is is so nice to open the wall unit cabinet without paper & crayons pouring out.
May 4, 2013
Rated

5

out of

5
 by
juli2tg
Great bins
Using them to store shoes in a small corner where it seemed no bins or shelving would fit. These fit great and hold the shoes perfectly.
April 23, 2013
Rated

5

out of

5
 by
KLP12398
Great Under Sink Storage
Increased usable storage under bathroom sink! I purchased these bins with 4 larger ones, and now everything is neat and orderly and easy to find in my morning rush.
April 17, 2013
Rated

5

out of

5
 by
beachcombergirl
Love, love, love these bins!!!
I bought 2 medium sized bins (one for onions and one for potatoes) and stacked them in my pantry. The mesh allows the bins to "breathe" so that my veggies stay fresh much longer. Each bin holds a surprisingly large amount. I'm very happy with this purchase.
April 4, 2013
Rated

5

out of

5
 by
AllergyQueen
Great stacking storage bins!
I purchased these bins to hold my paper and plastic/glass recycling in my kitchen and as extra storage below the shelves in my kitchen pantry. When they arrived, I was so impressed with the quality of them that I promptly ordered some more to better organize my linen closet. Well made and very attractive looking. Highly recommended!!
March 27, 2013
Rated

5

out of

5
 by
AliGr
Perfect for yarn storage
i use this to store my natural fiber yarn. I have 12 stacking bins. It's great because I can see all of my yarn when I'm looking for something and I don't have to dig through a big tote and mess up my neat stacks to find anything. I recommend this to any serious knitter.
March 10, 2013
Rated

5

out of

5
 by
TrebleMaker
Pantry Organizer
I bought these to use in my classroom at school and loved the way they could be rearranged and used to fit various needs so I bought a set for home too and before long they became the basis for most of my pantry storage. They help to maximize what little food storage space I have as well as to make it easy to find the things I need.
February 26, 2013
Rated

5

out of

5
 by
Mirm
Great Organizers
My office clutter was driving me crazy. I bought 2 medium size bins and 1 small one. I was pleased to find out that all my printing paper easily fits in one of the medium ones and large cardboard envelopes and hanging file folders fit in the other medium one. Small envelopes and sticky notes go in the smaller one. I have open shelves and before I bought the bins things were always falling over. I have enough space so that I don't need to stack them and I love how they look. A few years ago I bought several of these bins to hold plates that I use for mosaics. Also a good decision.
November 23, 2012
Rated

5

out of

5
 by
StoreIt
Perfect for loose
Originally, I was going to use this to store sponges and other misc. kitchen items but after recieving, I have to agree with another reviewer - it's perfect to hold potatoes and onions in my pantry. I wish I had ordered more than 1.
August 26, 2012
Rated

5

out of

5
 by
Crose
Contain those gloves & hats
Great way to organize the top of the coat closet. Hats, gloves, scarves-fall no more!
August 5, 2012
Rated

5

out of

5
 by
Moksha
Just the Right Size
I ordered three large silver mesh stacking bins to organize my totes, purses, and related miscellany. The items fit perfectly within the bins, and they are easy to see and access. The bins, on the closet floor, take up very little space visually compared to the unsightly stack of totes in cloth bags (: So far, the bins seem quite durable. They are so useful that I ordered 4 more.
July 30, 2012
Rated

5

out of

5
 by
TheBaker
If I could give it 10 stars I would !!!!
I bought 3 to use in my commercial kitchen. They stack beautifully on the bottom shelf of a metal work table. I use them for white potatoes, red potatoes and onions. They are ideal because the air can circulate around the product, slowing decay. The opening is wide enough to easily remove whatever I need. The grid is small enough to catch most of the onion skins that fall. I'm going to search for a reason to buy more!
July 5, 2012
Rated

5

out of

5
 by
SW91
Great for Pantry
Bought these for my pantry since I loved the look. Can't speak to the stacking feature, but I use the large to store potatoes...works great, circulates air - love it!
April 27, 2012
Rated

5

out of

5
 by
Bethbb
Great for hall closets
Got to make hall closet more manageable - beach towels, extra blankets, etc. There's more shelf space now, which is great for being able to rearrange stored items. Will be getting more of these.
April 27, 2012
Rated

5

out of

5
 by
Andree
Great for corraling spare cables, etc
I hate having to dig through a tangled mess of cables looking for the right one. I put all my cables in labeled zippy bags, and stuck them in one of these stacking cubbies in my office closet. Another cubbie is holding camera accessories, and another one is holding power supplies and chargers. I have 3, but I know I will be back for more.
March 20, 2012
Rated

5

out of

5
 by
Corydon
Second purchase of this item
This is my second purchase of the Container Stores mesh bins. We use the bins for fruit and root vegetables that we store in a dark cabinet. The bins stack within a nice tidy "foot print". The mesh gives nice ventilation to inhibit rot and allows us to see what we have at a glance. Contents of the bins are easily accessed. We are pleased with the purchase.
March 17, 2012
Rated

5

out of

5
 by
vitta
Silver Mesh Stacking Bins
I like that I can see what's going on in my bins :) lightweight , but durable
February 19, 2012