Rated

5

out of

5
 by
nogr8rcin
Best Chairs Ever
I bought one of these chairs for my office and when I brought the chair in everyone want one. They are so comfortable to set in, the chair make you sit up straight. I have always had back problems before but now I sit all day with no pain. After about a week of owning this chair my boss came in and sat in it and bought 6 more for all of the other people in my office. We are all very happy I in turn took the one I=I bought home and now use it as my sewing chair.
September 18, 2016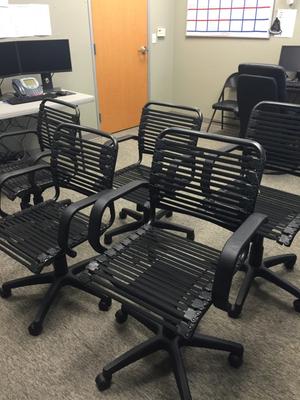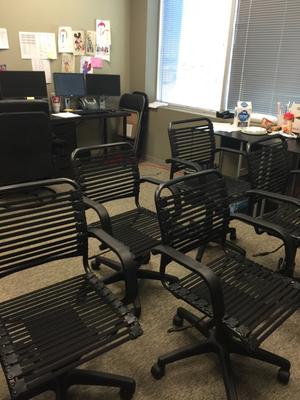 Rated

5

out of

5
 by
sinjin
Great chair for bad backs
I have a bad back and have had a hard time finding a chair that is comfortable to work in all day. This one has the best lumbar support I have found and is much cooler than comparable leather or fabric chairs that don't breath. It is also very attractive and lightweight. I appreciate the large color range that lets you easily match your office color scheme. My wife may get one for her sewing table. You have the option of leaving the arms off in the event you want the flat bundgee in the style of the round bundgee chairs.
August 28, 2016
Rated

5

out of

5
 by
Steve74
Great Chair
This is the most comfortable chair I have ever owned, I love it!
April 27, 2012
Rated

5

out of

5
 by
NerdNook
Perfect Chair for my office at home
I have a small space that is office by day and living space by night. It is all blue and white and this chair not only provides the comfort and support I need for a long day on the computer, it fits my style exactly. It is a great chair for the price and I couldn't be happier. It adds a little bounce to my day when I need it.
January 8, 2017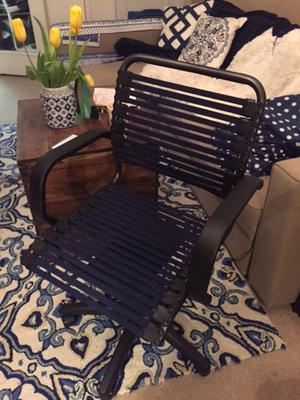 Rated

5

out of

5
 by
FloridaSunshine
Silver Flat Bungee Office Chair with Arms
We had large leather High back office chairs prior. The "Flat Bungee Office Chair" is not only more comfortable, but it supports my lower back better.
January 8, 2017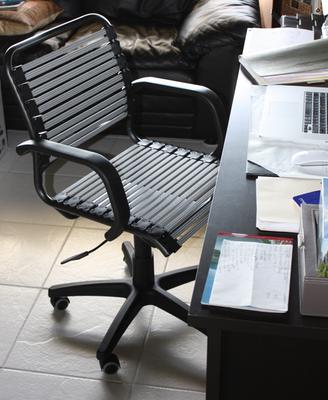 Rated

4

out of

5
 by
thebigr24
Easy to assemble
Great product. Assembled in 5 minutes and I'm disabled. Very Comfortable. I'm a customer for life.
January 7, 2017
Rated

5

out of

5
 by
DebbieD
Most Comfortable Chair
Love this chair. We have needed a new chair for our computer station for a long time, tried this out in the store and finally purchased. It is a very comfortable chair, wonderful for the back, sturdy and well built. It is also a nice size and not heavy. Would buy again and highly recommend.
December 13, 2016
Rated

5

out of

5
 by
jacqnbill
I love love love this chair!!!
I had already bought one (black) for my office. But I am remodeling my sewing/craft room in turquoise and I just had to buy this one. These chairs are so comfortable and glide easier than any chair I have purchased.
December 6, 2016
Rated

5

out of

5
 by
CraigS
Flat Bungee Office Chair w/Arms
A great product - well made, very comfortable, stylish and durable: our second one!
November 14, 2016
Rated

5

out of

5
 by
XanderNYCity
A godsend for those with lower back problems.
I have been getting treated for lower back problems for 3 years and this is the one chair that I can comfortably sit in for many hours and don't have to pay for it later in pain. It is in that happy medium where it offers great support while not being hard as a rock. Not even the absurdly expensive ergonomically designed office chairs at my work come close. Best money I ever spent.
October 11, 2016
Rated

5

out of

5
 by
Kake
Perfect Chair!!
After putting together a new office/craft room, I tried sitting in many office-type chairs from other stores. With lower back problems, this is the only chair I found that really supported my back as I sit. Hard to imagine that such a nice looking chair, could have the right support -- but sure enough! I love this chair! A bit pricey, but SO worth it!!Thinking about getting the round bungee without arms to go at my sewing table.
September 27, 2016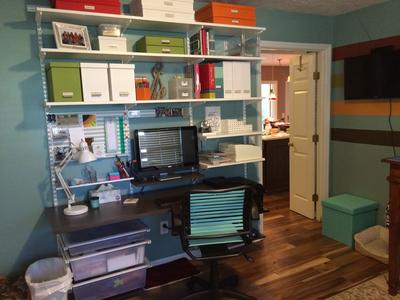 Rated

5

out of

5
 by
MDTX
Great chair for back problems!
I have two of these chairs now. They are great for people with back problems. Not difficult to put together, even if you're not handy like me. Smooth while spinning around. You can feel the quality, worth the relatively high price.
September 20, 2016
Rated

5

out of

5
 by
goldenrod
Office "Bungee Type" Chair
I love this chair. I was intrigued when I saw it in your store as it is different. I sat down and knew I had to have it. I had to have it sent since it was sold out and even I could put it together without any problems. Love it!
September 18, 2016
Rated

5

out of

5
 by
CleeC
The Best!
I love this chair. Worth the money for it's quality & comfort. I like the fact that I can bring it out when I need extra seating & it does'nt look like a traditional office chair.
August 27, 2016
Rated

5

out of

5
 by
JulesS
Perfect chair- FOUND
I must have purchased at least 6 chairs over the last few years thinking they would be the perfect chair, wrong. I am so happy to say I have finally found the perfect chair. I work from home and work long hours and I can now finish my work day without my back hurting. It is a bit spendy, but so worth the cost!! I highly recommend this chair
August 8, 2016
Rated

5

out of

5
 by
terryf
Great office chair
I bought this chair for my recently remodeled home office. It was modern looking and looked comfortable in the picture. It is VERY comfortable; the wheels glide very easily; the height adjusts easily. I was afraid to order it without seeing it, but I love it.
August 1, 2016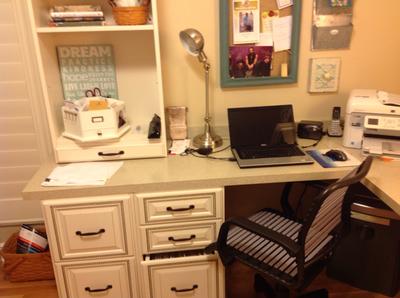 Rated

5

out of

5
 by
FilmProf
Excellent, compact and comfortable!
This is a fantastic chair, especially at this price point. It's extremely comfortable and supportive on the back. The splash of color is a nice change from the monochromatic black of many office chairs and it fits perfectly in our townhouse. It was kind of an impulse purchase for us but we are very happy we got it.
April 24, 2016
Rated

5

out of

5
 by
Beezie
Love this chair
This is the second bungee office chair we have purchased. The chair is comfortable, durable, and attractive. My husband has a brown one, and I purchased a turquoise one for me. I like the chair with the flat bungee cords and armrests better than the one with the round cords and no arms.
April 20, 2016
Rated

5

out of

5
 by
KappaDelta
Happy Owner
Great chair; love the firm, flat bungees. This chair is an excellent replacement chair for our family nook.
April 16, 2016
Rated

5

out of

5
 by
Cruiser
Very comfortable chair
I've had two major back surgeries for several herniated discs. My back is a worse case test for this chair. Sitting down for extended periods of time hurts my lower back and extremities. This chair is very comfortable and does not hurt my back after long sittings. It was very easy to assemble. I highly recommend this chair.
April 1, 2016
Rated

4

out of

5
 by
JayT
Almost Perfect... but still enjoying it
It was easy to put together. I love the way it feels and the instructions were almost perfect. If you are missing 4 screws they are attached to one of the components. Just unscrew and attach to base of chair facing the right direction and re-screw. Didn't think it deserved 5 stars because one of the arms keeps getting loose no matter how many times it's tighten. Over all it's a great chair with that one exception. Thinking about going to the container store and asking them if they have another screw that is similar to replace it with.
March 14, 2016
Rated

5

out of

5
 by
lvan47
Love the Chair
Simple to order, quick delivery & easy to assemble BUT the best part is the comfort
March 5, 2016
Rated

2

out of

5
 by
Katmandu
Solid, but hard seat--unlike armless bungee
Since I don't have a Container Store where I live, I tried the armless bungee in the store where I was traveling. Loved it! So when I needed a new office chair, I ordered the bungee WITH arms, thinking it would be the same. Let me say, they are not the same bungees, and the armchair cords are hard. The armless chair has single bungees, whereas the armed chair has flat wide bungees. They have a little give, but not much, such that my legs cannot be higher than my seat at the back, which causes "crunching" of my low back if I don't get a foot support. Additionally, it doesn't tilt back easily--you can't just lean back, you have to push back with your legs in order to lean back. If I could lean back, my low back could be "uncrunched," and the seat would be more comfortable. Oh, and if you wear shorts while sitting in the chair for a couple hours, the impressions from the cords can hurt for a while after you get up. Positive points: The chair is solid, and with my 29-inch inseam, my feet touch the floor flat while I'm sitting straight up and the seat height is at its lowest setting. The armrests are at a good height for me, but I'm only about 5'2".
February 27, 2016
Rated

4

out of

5
 by
RontheHRguy
Bungee office chair
I bought this chair to replace a 10+ year old bungee chair. They're exceedingly comfortable and offer good lumbar support. Better than you think when you look at them if you've never sat in one. My old one had a higher back which I liked but the new one is still very comfortable to sit in for hours at a time. The arms on the old chair were higher than the new model, so it seems the entire chair is a scaled down version of the previous iteration. But as the room I now use the chair in is smaller than where I used to have it, the smaller size has turned out to be a plus. Overall, a very good buy that I'd recommend to a friend.
February 13, 2016
Rated

5

out of

5
 by
Salediva
Comfortable office chair
It seems unlikely that a bungee chair would provide enough support but this is one of the most comfortable office chairs I have used. I work at home 4/5 days and love it. Easy to assemble.
February 7, 2016
Rated

4

out of

5
 by
PetuniaToo
supportive, good quality, but not for short folks
I'd advise any other short folks to try the armless model, the seat can go a little lower, is a little less deep, and your elbows will remain liberated. I just assembled my chair and am sitting in it. at 5'4" I'm too short for this nifty piece of furniture. I know I'm too short for this chair because: â¿¢ my elbows are repeatedly hitting the armrests as I typeâ¿¿if I had a longer spine, my elbows would clear. â¿¢ I'm loosing circulation in my legs where the bungees are pushing into the backs of my thighsâ¿¿if I had longer legs they'd sit a bit higher and therefore rest more comfortably. If phone books still existed I could sit on one and put one under my feet and I'd have a better ergonomic situation (albeit less bungee-fied). The store models felt fine on my legs and elbows, so this is a surprise for me. Maybe the bungee cords stretch with use? Maybe I imagined my desk surface is higher than it actually is? I'm not sure what to do with this awesome new chair that's unexpectedly not as comfy for me as the ones I'd tried in the store.
January 18, 2016
Rated

5

out of

5
 by
Perfeshinal
Great chair
I have owned this chair for over 4 years now and still sits like it did the first day I got it. Extremely comfortable and durable! I was concerned the bungee cords would eventually stretch and sag, but they have not. The plastic connector on one of my bungee assembly broke and I replaced it with a brand new one. The old one was still about the same length as the band new one (unstretched) once I removed it. Be warned if you do have to replace one, these things are extremely tight and require the strength of 10,000 Spartans to stretch it across and screw back in to the frame. So grab a friend or two to help out as it is not an easy one person fix.
December 22, 2015
Rated

5

out of

5
 by
HappyQuiltmaker
Love My New Chair
I'm using my wonderful new Flat Bungee Office Chair With Arms at my sewing machine that is in a cabinet and I am very, very pleased with this chair. As a matter of fact, I'm so pleased that I am glad that my old chair broke. :-)
December 15, 2015
Rated

4

out of

5
 by
pattysh
Satisfied
I ordered the Flat Bungee chair for my office a few weeks ago. The chair is comfortable and not bulky. The price was a bit high, however, comfort is worth it. I loved the curbside pick up at the store. Great service.
November 9, 2015
Rated

5

out of

5
 by
JHutch
Love it
This is the best chair ever. No more back or neck problems since using it at my sewing machine. My 13 year old granddaughter has already requested it!
October 15, 2015