Rated

5

out of

5
 by
christine2
I love the 4-tier rolling cart. I use it between my washer and dryer to hold my laundry things and other things that wont fit in my storage above washer and dryer. it is easy to move so I can clean also. I would recommend this to all my friends.
April 25, 2014
Rated

5

out of

5
 by
OrganizeMe17
Terrific cart!
I truly believe, if you don't see it you won't use it, so this spacious kitchen cart is perfect for what we needed. We have a slim space between a cabinet and the wall, and limited cabinet space for pantry use. I needed somewhere to corral all the stuff that has been taking up valuable space on our kitchen table and in the pantry. This slim cart is strong and sturdy enough to hold many canned goods on one shelf, with enough height between shelves to store boxes of pasta, crackers, etc. Also, I am doing the "40 bags in 40 days challenge" where you clean and organize different, small, manageable spaces over 40 days with the goal of throwing away, donating, or selling 40 bags worth of "stuff" that is cluttering your home and your life. The Container Store opened in my town just in the nick of time!!
March 9, 2014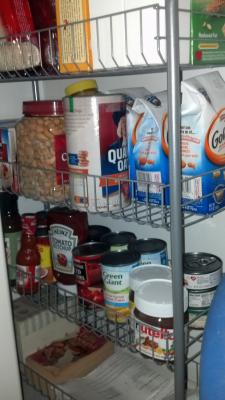 Rated

5

out of

5
 by
Girlorganized
LOVE this product!
This slim cart has been a tremendous help in my small kitchen. It has provided me with lots of extra storage for canned goods, boxed items like pasta and ziploc bags and keeps everything contained and easily reachable. The cart is simple to put together and study enough to handle a good amount of canned goods. The wheels make getting to the items a snap, and the slim size allowed me to slip it between a cabinet a the stove, thus keeping it out of sight but easy to access.
January 23, 2010
Rated

5

out of

5
 by
bayadere
Easily assembled by someone all thumbs!
I bought this to hold bottled water and wine as well as small sauce pans and a small frying pan for which there was no accessible space in my poorly planned kitchen. It was exactly the right size to accomplish all this and not take up valuable floor space. I am very relieved that my kitchen now works for me, not against me.
November 17, 2016
Rated

2

out of

5
 by
MoSpoonbarger
Waste of money
This is incredibly cheap and flimsy. Only thing about it that works is the size, but I'm pretty sure it's going to collapse under the few things I have on it. Going to return it and get something sturdier.
December 24, 2015
Rated

1

out of

5
 by
Pseudonym
Oof. Not good.
This cart was pretty easy to put together, but that's the only positive thing I can say about it. Extremely flimsy and doesn't roll, even when there's nothing in it. Once there IS something in it, it seems poised to fall over. This one's going back! Not the kind of quality I expect from Container Store.
December 11, 2014
Rated

5

out of

5
 by
PEXHEAD
Great and functional
This is the second time I have bought one of these carts. Very functional and useful especially in the laundry room! Good price and easy to put together.
April 11, 2014
Rated

3

out of

5
 by
MrsDogood
It fits our needs, but no more
Our bathroom closet is a strange dimension: very deep (36" deep# but very narrow #10" wide# too. With a ton of space going unused, we had to find a cart that would fit in this space, that would fit our misc bathroom stuff. This cart is the perfect size for this space. I saw it online and went to the nearest TCS to grab it. The sample they had set up was wobbly and cheap looking. The associate helping said I'd do a better job assembling the pieces so mine wouldn't be wobbly. I did assemble it better, and it wasn't as wobbly, but not all that sturdy either. The pieces are made of very cheap aluminum #maybe not even that#, and the casters are super cheap plastic. I would have liked an upgraded option, but there was nothing else with these dimensions. With a little bit of weight on it, the cart holds up well and doesn't wobble as much as I thought it would, but it doesn't navigate well. Good thing it hardly gets moved.
March 31, 2014
Rated

4

out of

5
 by
clcarro2
handy little cart
the cart look great and fits perfect. I would not recommend it if you want to roll it a lot but otherwise great investment.
March 27, 2014
Rated

4

out of

5
 by
lialexgma
Amazing amount of storage
This cart fits perfectly beside refrigerator and holds a ton of pantry items. I just started using it and am concerned about the durability with the weight of canned goods I've stored, thus the 4 stars in stead of 5. I'm very pleased so far. Looks nice, too.
March 6, 2014
Rated

4

out of

5
 by
NoviceOrganizer
Nice cart!
This is a nice cart, and was pretty much what I expected to get. The wheels aren't very good, so the cart doesn't roll well, but I expected that from reading reviews. Otherwise, this cart was exactly what I needed for my kitchen.
January 28, 2014
Rated

4

out of

5
 by
CheeseWheel
Nice Mobile Storage Option
This cart is a great alternative to the slim laundry cart. This cart is a little bit wider, so you can fit wider items. I use it next to my washing machine. The down side is I can only fit my large laundry detergents on the top shelf of the cart. The up side is that I can fit my Oxyclean, dryer sheets, garbage bags, water filters etc. on the lower shelves of this cart. Using the cart has freed up a ton of space on the shelves above my washing machine and dryer.
December 20, 2013
Rated

4

out of

5
 by
mustlovedogs
Slim rolling cart
Intended to use this cart in my bathroom and ended up using it instead for my laundry soap/supplies, etc. My only minor complaint would be that the wheels don't glide smoothly.
September 26, 2013
Rated

4

out of

5
 by
DianaCinDC
Remarkable space-saver
My fiance and I live in a studio, and though it's decently sized, space obviously comes at a premium in the kitchen. Though the kitchen is a separate room and not a galley, we have no pantry, and I didn't want to take up precious cupboard space with pantry items. So I was in the market for some shelving. This 4-tier cart was the perfect thing for the space I have, scenically fitting right under our kitchen window, next to the fridge. I especially appreciated the ratio of depth to width: I didn't want the shelves to intrude too far into the kitchen, but there's a good amount of space on the wall. I actually didn't install the wheels, because it was unlikely that I'd be rolling the shelves around; and, as a stack of shelves, the unit stands very stably, bearing a fair amount of weight quite well. We actually have enough room to tuck another one of these units into our kitchen, perpendicular to the one we already have. So we're definitely going to get another one, probably more for kitchen equipment, but we're not sure. And, as a final note, assembly was quick and easy. Moreover, I can't think of any downsides. Well worth the money for a very smart purchase.
September 24, 2013
Rated

4

out of

5
 by
Mrs125
A good fit
Would not use elsewhere as it is not as sturdy as some others.
September 22, 2013
Rated

5

out of

5
 by
mamabear1932
Best puchase ever
Almost 81 ears old and I had no trouble putting it together myself. Does a beautiful job and easy to clean up for future use. Already recommended to all my friends. Hope they take my advice.
July 20, 2013
Rated

5

out of

5
 by
mooder
wonderful
had to fit in tight spot in bathroom. exact measurements perfect-daughter thrilled
May 1, 2013
Rated

5

out of

5
 by
lin97
perfect for small spaces
This cart is just perfect for small spaces that no other storage cart works in! Other carts are either too wide or so small they just don't give enough storage space. Perfect.
April 26, 2013
Rated

5

out of

5
 by
as4194
Extremely Handy Cart
Bought this cart to organize some things in my dorm room, and it was absolutely perfect for the job! It's perfect for storing lots of little things and keeping it all in one, visible place. And it was so easy to assemble! The wheels are not the absolute best; it's actually easier to just pick the entire cart up and carry it when I need to move it. But I only leave it in one place so this is not an issue.
April 26, 2013
Rated

4

out of

5
 by
FluteGirl
Cute and Practical
I bought this cart in the lime green color and love how it looks next to my washer/dryer. It seems pretty sturdy and took no time at all to assemble. Like other reviewers have mentioned, it doesn't seem that the wheels are actually functional--which is fine if you don't plan on having to move the cart around too much.
April 26, 2013
Rated

4

out of

5
 by
Riley86
Good buy!
I purchased this after moving into my new house. I discovered that I had only one small area in my laundry room to store things, so I needed a cart that was less than 12 inches wide. Turned out perfectly! The wheels are a little cheap, so it doesn't roll very well on uneven surfaces. Other than that, it's great!
March 18, 2013
Rated

1

out of

5
 by
SwellGalMary
Why bother with wheels
I wanted a slim rolling cart and thought yippee here it is. And it works great as long as you don't put anything on it. I put cleaning supplies on it and it didn't roll ... I had to pull it along.
March 10, 2013
Rated

4

out of

5
 by
Jozyp
Concernedat first but ok
Initially a was concerned that this cart would be flimsy, but once it was assembled it was durable and holds a good amount of products. I buy large containers of detergent and it fits well on the shelf.
February 28, 2013
Rated

5

out of

5
 by
pirategal
fits perfectly between Washer and dryer!
This cart fits perfectly between the washer and dryer without taking up too much space. I am able to keep everything I need on this cart: bleach, dryer sheets, detergent, anti-static spray, and stain spray. It rolls out easily to reach things in the back and is a great product for small spaces
February 20, 2013
Rated

1

out of

5
 by
TexCelt
Flimsy & Unstable
Very disappointing product altogether and would definitely not recommend for any purpose that I can think of. I had intended this for laundry supplies but laundry soap bottles are too tall for the lower shelves and they wouldn't take the weight anyway, and the whole thing would not take the weight of all laundry supplies, with the possible exception of filling it with dryer sheets!
October 17, 2012
Rated

4

out of

5
 by
jmax
Fits Perfectly
Cart is easy to assemble, fairly sturdy and fits into an odd shaped space. The casters don't roll as well as I'd like, and it would be nice if the bottom shelves allowed for taller items
July 5, 2012
Rated

2

out of

5
 by
Cspencer
You get what you pay for
This item is pretty flimsy. It sways if you put more than 5-10 pounds per shelf, and the wheels are pretty cheesy. If you are looking for a sturdy item, look elsewhere. If you are looking for something to hold only light-weight items, then this might fit the bill for you.
July 2, 2012
Rated

3

out of

5
 by
bren10bren10
Good for short stuff
This was super easy to assemble. All by myself. Usually I leave the assembling to my husband. My large fabric softener Downy only fits on the top shelf. It's the same for my stain remover. It fits nicely between my washer and wall though. I wanna remove one shelf but then what was the purpose of buying a 4 tier cart right
May 15, 2012
Rated

5

out of

5
 by
PlanoRLC
Great Product
This cart is perfect for between my washer and the wall. I removed the third shelf in order to store cleaning supplies on the bottom rack. I love it.
April 27, 2012
Rated

5

out of

5
 by
Preetha
Space saver!
My bathroom counter top had a million items on it. I bought this slim cart to fit between my bathtub and sink and it looks like it was made for that spot! My sink looks so uncluttered and the cart carries all my stuff and still has room for more! I love that it has wheels so I can just pull it out to reach the stuff in the back or for cleaning the tiles behind it.
April 26, 2012