Rated

5

out of

5
 by
Salmee
Good product, good price
Apparently I was born with little, if any, skill for assembling shelves, tables, lamps, and such. But I was able to asemble this shelf/cart in less than 7 minutes! The cart is light-weight but sufficiently sturdy to hold small to medium irems, and it rolls easily on its casters. I am using it in my laundry room, but it would work well in a pantry that has space for moving, an office with metal decor, or even a family room for toys, games, sewing baskets, etc.
February 21, 2011
Rated

5

out of

5
 by
TGHudson
Excellent storage on wheels
I bought this cart to organize overflow from the kitchen cabinets. I find that I can fit in about twice the amount I thought when I bought it. It's sturdy, easy to put together too. Fits perfectly into my utility closet.
May 17, 2010
Rated

4

out of

5
 by
therapist
I teach with this item every month.
I am an Occupational Therapist providing home care to patients and this item makes patient visits with me. I use it as a "show-and-tell" item to teach transport of materials safely often when a patient walks with a walker or cane, and teach energy conservation techniques with its use. It steers with a walker, and rolls very easily (not as a weight bearing item for balance). It is so light weight that its benefit is deceiving, and can help transport dishwasher emptying, gather cooking supplies for meal preparation , or carry laundry to a table to sit and fold, then pack back up on cart and put away with one trip. It is sturdy enough that I have used the same cart for patient training, and loaned use, for 8 years.
September 18, 2016
Rated

2

out of

5
 by
peachykeen
Could be much better
On one hand, this cart was the perfect size and very easy to assemble. (I did not have any issues with the casters as other reviewers experienced.) On the other, the metal wire baskets are extremely low grade. There is no way you could put the amount of weight implied in the product image without having the wire mesh sag and distort. To give an example, the product came out of the box with one wire bent out of place, and to my surprise I was easily able to bend it back into shape using two fingers. It's almost as malleable as crafting wire, which is not great for a utility cart.
September 5, 2016
Rated

2

out of

5
 by
LongDragon
Nothing Grande about it
Bought this cart to store dry goods in my micro kitchen - dimensions are perfect. Assembly was a snap, but the quality of the materials is seriously lacking. The wire grid shelves are not at all sturdy. Extremely flimsy & wobbly when rolling. Very disappointed in this purchase -- not up to The Container Store's usual high standard.
May 31, 2014
Rated

4

out of

5
 by
EIgnash
Perfect for our needs!
The rolling cart was perfect for our professional needs! We took the cart intended for the kitchen and utilized the mobility it offers in the spa treatment room. The cart allows for more efficient and sanitary services. The structure is a bit wobbly so we take care when moving it around the room but this has not been a problem so far.
April 12, 2014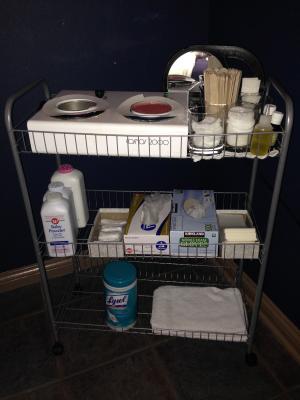 Rated

2

out of

5
 by
dtandmt
Disappointed in cart
Cart is a great size and seemed like the perfect solution to hide my dog treats and a few other items, but when I put it together, I quickly realized it's unstable. It wobbles and can tip over easily. It is NOT sturdy at all...
March 10, 2014
Rated

3

out of

5
 by
ssg3368
Wheels are Difficult
The cart is lightweight and holds a lot of "stuff", however, the wheels were so difficult to attach. After bruising the heels of my hands i decided to leave them for my husband who also could never completely attach them. After about 2 hours of putting items in the cart, we heard a crash and, sure enough, two of the wheels had broken and fallen off. My husband just removed the wheels and put rubber covers on the feet and the cart is fine. We love it and it's a great storage unit.
January 15, 2014
Rated

3

out of

5
 by
consumerinaz
Hard to put wheels on; would have preferred white
I never could get the wheels to properly attach and know that some day they will fall off and dump all my stuff on the floor. I even went into the store to ask for advice, but all they could say was to just push harder to attach the wheels. I bought the grey metal color but would have preferred white. I don't know why the store doesn't sell the white. The manufacturer makes that color. But I do like the light weight, although I worry about moving it because of the wheels not firmly attached.
September 30, 2013
Rated

4

out of

5
 by
k8gris
Wheels hard to put on
This was indeed easy to assemble - until I got to the wheels. Impossible. I tried pushing in. I tried screwing in. I tried gentle pounding with rubber mallet. I tried vise grips pliers. Finally, I gave up. Luckily it fit in my car in almost-assembled state. I went to store to return it, but they offered to put the wheels on for me (not surprising, given service at Container Store), so I kept it. Now, only remaining question is durability - I plan to use for newspapers & other recycling. But aside from assembly, it's a perfect fit for my small space.
August 11, 2013
Rated

4

out of

5
 by
Plainbrown
Easy to assemble
Just moved into a townhouse with less storage space. This cart was part of my solution and was extremely lightweight and easy to put together except fr the caster wheels, which were a it more of a challenge. Holds lots of stuff.
March 4, 2013
Rated

5

out of

5
 by
Mugsy
Great for storing folded clothes
I bought this to store excess clothing that wouldn't fit into my closets and I wasn't ready to commit to purchasing another dresser right away. I like that I can re-purpose it when I'm no longer using it for clothes. It's fairly easy to put together and take apart and store when not in use. It's also pretty sturdy considering how light-weight it is. The color is a very light silvery gray and is subtle enough that you don't really notice the cart at all, but the stuff stored on it instead. I like that.
April 27, 2012
Rated

4

out of

5
 by
OrganizedIntentions
Just what I expected!
This cart is great for lightweight storage and transportation; for the price the quality is good. Wouldn't use it for heavy or oversized items, though. Convenient siz
April 22, 2012
Rated

5

out of

5
 by
ddbfamily
So glad I got it!
This cart is a wonderful additon to my laundry room. I am able to keep all my laundry/cleaning supplies snugged up against my washer. They are handy, but out of sight. Just slide the cart out a little and i have access to everything. I really appreciated the ease with which this cart went together. A few "snaps" and it was done!
April 15, 2012
Rated

5

out of

5
 by
Starhodes
Perfect storage cart
This storage cart was easy to assemble and is the perfect size to move around, yet hold plenty of items.
March 5, 2012
Rated

3

out of

5
 by
ktm89
Great Laundry Cart
Kind of a pain to put together by oneself, but I got it together in less than 15 minutes. Overall, it's not the strongest cart you'll buy, but it has stood up to big heavy laundry products sitting on it. Price is a little steep and I don't know if I would have bought it without the gift card.
December 28, 2011
Rated

3

out of

5
 by
Wren
Nice but a bit flimsy. If you're using it to store light things it should be fine. Good height though. Wheels work well.
September 3, 2011
Rated

5

out of

5
 by
Maskins
Exactly What I Was Looking For
Cleaning my house has always been a big chore, especially with having to lug all my supplies from one end of the house to the other. Now, with the Jumbo Wire Cart, all my cleaning supplies are conveniently stored in one place and can be rolled easily from room to room. Housework is now a much easier and efficient task!
February 16, 2011