Rated

5

out of

5
 by
Shak
Classed Up Storage
When you have thrown just about all your junk that you are willing to part with, something always remains and somehow it ends up in an old, tattered cardboard box. This Baroque Latte Fabric Storage Box is the perfect replacement. Very sturdy construction holds a hefty weight while keeping its shape. Zipper and velcro closure keep any hint of dust away. The classy print is easy on the eye.
August 23, 2015
Rated

5

out of

5
 by
HHHinKY
Great collapsable storage boxes
These are beautiful and very well made. They are lightweight and sturdy. There is a solid bottom and strong wire support bars that slide into to place to create a stable box shape. The lid is fabric and attached to the body of the box. Zippers on either side and velcro in the front secure the top in place. I bought them to store my sheet sets in my walk in closet - but I'm looking at other uses because of their attractive styling and functionality.
July 6, 2013
Rated

5

out of

5
 by
LindsayM
Great storage boxes
I love these storage boxes. I live in NYC, so I know if I ever move, these will make life a lot easier since things are already organized in an easily move-able box.
December 5, 2011
Rated

5

out of

5
 by
Hon3
Reisenthel Fabric Storage Boxes
These heavy canvas storage boxes have a heavy- duty wire frame within to maintain their shapes. Though they have a "heavy" performance capability, they are light in weight; so, pragmatically speaking, whey really only weigh as much as what you choose to store inside. They look neat. They are easy to load, easy to close, easy to stack. They come with labels to display in a see-through front pocket. The have very forgiving boundaries when there is just a little bit of an overload. Think sitting on your suitcase to close it! The top sides close with Zippers and the flap at front closes with Velcro. Great storage!
January 8, 2017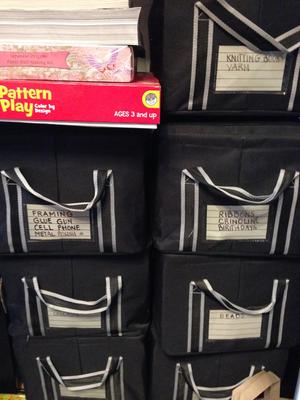 Rated

5

out of

5
 by
newtoapartmentliving
Storage and Style
These boxes are stylish and practical. They shrink down to about 1/2 in high but are sturdy enough when setup (easy!) to hold tons of stuff to get it out of sight. I have these on my apartment guest closet shelves to hold winter items, extra hangers, light bulbs, everything! You can make labels so you know where to look. The multiple sizes make them quite versatile. The zippers and velcro make the easy to open and close and protect the items from dust and moisture. Great purchase!
December 17, 2016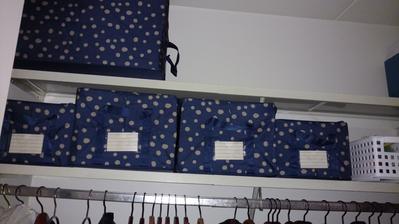 Rated

5

out of

5
 by
Zz22
Best find ever
Love the neutral color & the fact that the boxes have a true structure. The sides stand up and don't collapse like others I saw. It's sturdy, light weight and the handles make it easy to get to. The labels are a plus. Went out and got an extra one for winter scarves & gloves.
November 12, 2016
Rated

5

out of

5
 by
Miamots
Spotted Shelves
It fits perfectly on my shelves, gives my walk-in closet that subtle bulk/color that was needed to balance the ambience...
April 8, 2016
Rated

5

out of

5
 by
GreatBox
Beautiful and Roomy Box
I love this series of boxes, small, medium and large. They are roomy and most of all so pretty on my shelves. It keeps my room organized but fun.
March 10, 2016
Rated

4

out of

5
 by
EllaBethNYC
Nice for small room storage
I live in a small NYC apartment and have to store lots of things in my living room, but I don't like to have them sitting out. This box is great for that. It looks classy and holds a bunch.
January 16, 2016
Rated

5

out of

5
 by
soyelisa
Great product!!
Bough some of these a few years ago. Theyre still standing strong about to buy 10 more! Use them for when moving out and storing extra stuff. Can be folded flat and stored else where. Made of though canvas too. (can be painted on with acrylic paint if you so desire) =)
January 15, 2016
Rated

5

out of

5
 by
shellyskis
Very nice
Soft-sided and light but sturdy due to wire frames that fold down to collapse the container when not in use. I might get a few more for the higher shelves in my closet.
December 27, 2015
Rated

5

out of

5
 by
dlbrock
Cute Storage Boxes
These particular storage boxes are cute, girly and fun. I'm an organized person and wanted something to freshen up my closet. I like the fact it has a zipper and Velcro, double protection. They stack well providing you have filled the box, otherwise, one box can sink into another. Go figure. Overall, they are attractive and the fabric is sturdy.
January 9, 2015
Rated

5

out of

5
 by
Creative4life
Great Deal!
I purchased the large size and was shocked at the quality and durability of this fabric storage box. Sadly, I will have to return it. It was way to big for my shelf, but I will be exchanging it for the medium sized one.
November 6, 2014
Rated

5

out of

5
 by
Mercedes
Excellent Storage Units
These Boxes were the best purchase I've made regarding colorful storage units. I bought two large and one medium reisenthel Storage Boxes. I am going to purchase a few more in the coming weeks. I purchased one Red/White and two Black/White. They add so much color to the storage spaces in my apartment. My Vinyl Record collection will be stored in the Black/White Storage Box. I am purchasing a medium Red/White one for my cookbooks and recipes. Thanks Container Store. See you again soon:-) Mercedes
September 11, 2014
Rated

5

out of

5
 by
Mercedes
Excellent Purchase
Recently I purchased three Reisenthel Fabric Boxes, two large, (1 Red/White and 1 Black/White) and one (Black/White) medium. Thus far, I have used two of them; however, I will be purchasing more in the next few weeks. They certainly help organize areas in my apartment and conceal clutter that I have yet to discard. The medium holds magazines, one large box will be the carrier for my 50-60 Vinyl Record collection. I have yet to decide where the other large box will be used. Thanks Container Store. I am a satisfied customer for life. Mercedes.
September 11, 2014
Rated

5

out of

5
 by
ContainerLover101
Great
I really like this box. Great to store seasonal clothe and blankets away. I use the large size to store the comforters. The medium size is used to store seasonal clothes.
September 5, 2014
Rated

5

out of

5
 by
Jschray
Great storage and pretty to look at
These fabric boxes are durable and easy to stuff with extra sheets, towels, books, etc. I love the way they stack and look so nice and I know I will have them forever.
August 2, 2014
Rated

5

out of

5
 by
SpringChick
Most Versatile
They are great gifts for anyone who has children. Great for saving clothing to pass down. Use them for every purpose from storing seasonal clothing to packing for a weekend getaway or a long car trip. Leave one or two in the car to hold and hide purchases. When not in use the boxes fold and store in small spaces. They have a waterproof lining, are easily cleaned and strong. If you're looking for something that will last and is worth the investment, seriously consider these versatile boxes
July 21, 2014
Rated

5

out of

5
 by
Mzpl
Ruby Dots Fabric Storage Boxes
Sturdy, attractive, functional. Love them; have lined closet shelves with them. The labels on outside make for easy identification of contents. So glad to have discovered these boxes!
July 17, 2014
Rated

5

out of

5
 by
JenSD
Love these!
Used these to tidy up my bookshelves in my home office, and I absolutely love them! The small sized ones fit perfect on my shelf; nice, sturdy boxes -- that little metal bar inside really makes a difference. The zippered top/velcro make for easy access of your materials. Definitely recommend!
July 5, 2014
Rated

5

out of

5
 by
movielover
Great item!
I bought these for DVD storage, as I have hundreds of movies and nowhere to put them. They turned out to be perfect! I put two layers of DVD's, packed full, and they stand up awesome, even with all that weight. They stack great, too. Will buy more when I have the chance.
June 1, 2014
Rated

5

out of

5
 by
Poetisa
Great Value
I needed a deep, covered container to store winter & summer clothing on the bottom of the closet floor. I didn't want plastic but also needed something relatively inexpensive. These colorful, wire reinforced containers fit the bill! I bought two of the large sizes, and was surprised how many items they hold. Will have to consider smaller sizes for accessories!
May 21, 2014
Rated

5

out of

5
 by
dmkb1996
Awesome product
I love the Reisenthel storage boxes! I own several of these. They can be used for just about anything. I store my travel items and bags, extra sheets, mementos, off season clothing, you name it these boxes can store it. They are sturdy and best of all they are collapsible when not in use! They also come with a place to label. You can wipe them down if need be.
May 2, 2014
Rated

5

out of

5
 by
ContainstoreGirl
Sturdy and Really Nice Looking
I bought a few of these to organize holiday items - ie things we only use once or twice a year. The labeling on the side is helpful, they stack nicely and hold a lot more than I thought. Very glad I picked these out on a whim!
April 29, 2014
Rated

5

out of

5
 by
eyeloveUD
Bulldog Puppy Tested and Approved!
This product is amazing! It is used to store dog toys for our little bulldog puppy. It is gorgeous, strong, and easy to open with either velcro, the zippers, or both. He hasn't figured out how to destroy it or open it yet, so that makes it money well spent!
April 25, 2014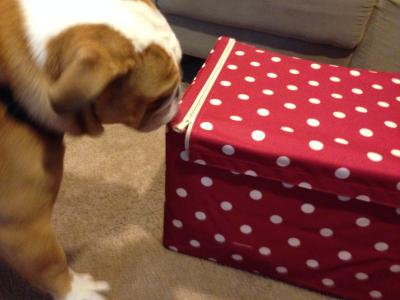 Rated

5

out of

5
 by
sp566
Useful AND Stylish
Bought one small bag to hold all my travel accessories over a year ago. Keeps everything in easy reach, yet beautifully hidden away. Just bought another small and medium to hold smaller blankets and throws - keeps the dust out and much nicer to look at than the see-through bags. Oh, and they look wonderful in my new Elfa closet :) Love them!
April 12, 2014
Rated

5

out of

5
 by
msdiznee
Outstanding storage!
I now own 10 of these storage boxes in all three sizes. I love them! My grand kids and I are avid Lego builders and the medium boxes are perfect for storing the little blocks and sets. I also use them for craft storage and purses and off season clothing. The list goes on! They are so very sturdy and I love that they store flat when not in use...which is seldom! The price point is great and the quality excellent! I am a happy organizer since finding these containers!!!
April 12, 2014
Rated

4

out of

5
 by
Boxit
Nice boxes
Fabric is not true to color (more burnt red and cream instead of bright red and white) but otherwise great boxes and just as expected
April 5, 2014
Rated

5

out of

5
 by
uwsmom
Great Storage Solution
I purchase a few of these and ended up going back for more! These are great to store extra linens, clothing and whatever else you don't need everyday. They stack easily and hold a lot more than you think. I used the label areas and now know what is in each and since they have the metal frame to hold them up, it does not matter if they are not filled to the top! Also, they are waterproof on the inside, so if they get wet on the outside, everything inside stays dry. I like the red with the polka dots, but do wish it came in black or a solid color
April 1, 2014
Rated

5

out of

5
 by
KennedaleBuyer
Ruby Dots boxes
As soon as I saw these boxes, I had happy thoughts. I bought 6 to go above my laundry room cabinets and they fit perfectly. Now, when I go in there, I look up, see the happy, happy red boxes and the chore is no longer a chore!
March 24, 2014