Rated

5

out of

5
 by
DebbieGrey55
Not just for CDs!
I live in an RV; space is at a premium. Storage hardware takes up space, so it has to pay back in efficiency. My collection of these CD boxes is 8 and counting, 2 fit precisely into one kitchen cabinet. In the photo they are holding hot tea boxes and MRE packs. Others hold spices, vitamin bottles - all the things that otherwise would rattle around, and leap out at me at my next stop after a drive!
September 26, 2016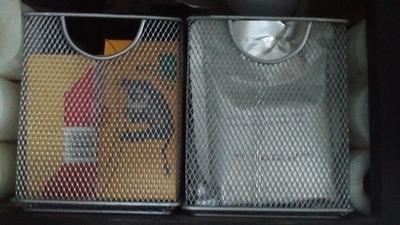 Rated

5

out of

5
 by
TooManyCds
Great CD Storage
These bins are excellent for storing CDs. And they're stackable.
January 28, 2017
Rated

5

out of

5
 by
Lidabit
Just What I Have Been Looking For
I have been looking for the perfect holders for our music collection. Nothing looked good and everything was so expensive. These are PERFECT. Look great on our book shelves. Holds 25 CD's in their cases. Easy to read along case spine. They are neither flimsy nor too heavy. Now I am thinking of all kinds of things to store and organize with them.
January 18, 2015
Rated

4

out of

5
 by
AVTrudeau
Good, Sturdy Storage
I have used these mesh CD Bins for years with my home collection and have now bought more, recently, for CD's I use at work. The quality is still there, but sometimes there is a rough edge where they solder the mesh together. I wasn't able to check for "quality control" when I purchased these online, so beware of that one issue. It wasn't bad enough to send them back, but it did require a little work on my part to smooth those rough edges.
September 16, 2014
Rated

5

out of

5
 by
givbld61
Looks good and functional
Very substancial. Can fit 25 CDs as advertised but a little tight, we are putting in 24, but still like the product.
August 21, 2014
Rated

5

out of

5
 by
Benchwarmer
Well-made!
I purchased 4 of these for a desk re-do. I subsequently hijacked one of them for music CDs next to my Bose. I am very impressed with how well these are made -- nice and sturdy. The stacking feature is great and just right for putting 2-high on a shelf in my computer desk hutch. Who knows? I may even purchase more, because this size is really useful!
May 9, 2014
Rated

5

out of

5
 by
Maye
Very nice --- especially for the price!! Looks great.
May 2, 2014
Rated

5

out of

5
 by
stitchlady49
Mesh Cd holders are the best
I have Many CDs and every time I would pull one out they would fall all over the place. Now that I have organized my workroom with many of these mesh bins along with other items from your store, I can get to my CDs with no problem. The Container Store is the best thing added to the Philadelphia area. I love all the options and ideas that you can get just walking through the store. These mesh bins are also great for many other things too. Use your imagination and you'll be organized in no time and enjoy doing it.
April 30, 2014
Rated

5

out of

5
 by
Vianni
Sturdy bin
I bought these silver mesh cd bins, to organize our dvds, with 2 teenage boys in the house, we have a lot of dvds. I took the dvds out of their cases, and put the dvds in a plastic sleeve, the dvd cases took up to much space....I sorted them in different categories....comedy, romance, action, etc.....I put a colored label on each plastic sleeve, for example, red for romance, blue for action, etc....so it is easy to find, and put the dvd back again. Just love these mesh bins, there can be about 125 dvds in one mesh bin, if they are in a plastic sleeve....perfect bins for out dvds.
April 28, 2014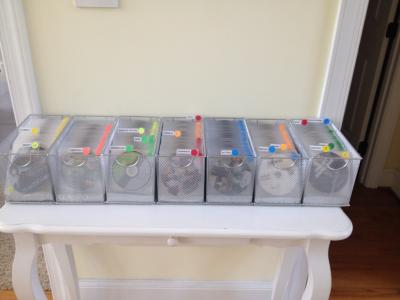 Rated

5

out of

5
 by
Biskel
Fantastic Modern looking organization!
Bought 48 silver mesh CD holders and put on 3 book shelves in our dining room. Gave a very modern clean look. We get complements all the time. Most people don't even know that they are holding CD' s because of the clean design.
April 26, 2014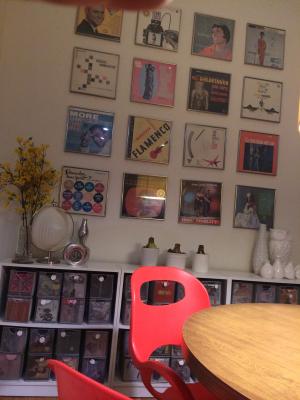 Rated

5

out of

5
 by
PhotoBuff
Great CD Storage
I have several of these CD storage bins to separate specific types of CD's. Great size, shape, and easy to store.
March 19, 2014
Rated

5

out of

5
 by
Leens
practical and just the right size
Convenient way to store CD's without taking up too much space
March 15, 2014
Rated

5

out of

5
 by
PilatesPaula
great fit for cds
We love these boxes for cds. It makes organizing our collection of 1500 cds so much easier!
September 29, 2013
Rated

5

out of

5
 by
geoffery
25 disc silver mesh tray
Excellent===product quality, packing, shipping and price. Highly recommend this product and The Container Store.
September 27, 2013
Rated

5

out of

5
 by
DMIKE
EXCELLENT PRODUCT
I bought this product to hold my CD's.They fit nicely in this bin and store them under my CD player for easy reach. I would recommend this product to anyone looking for a CD bin..
June 4, 2013
Rated

4

out of

5
 by
Katq
Great product
I have a whole set, these mess bins are great ! Light weight and durable.
April 26, 2013
Rated

5

out of

5
 by
lgsap
CD BIN
as my collection of CD's has grown, i have purchased more and more of these. they are great. strong but light weight
April 25, 2013
Rated

5

out of

5
 by
BillP
Good value
I purchased this product to store some loose kitchen gadgets instead of CDs. The quality of construction is very good for the price.
April 8, 2013
Rated

5

out of

5
 by
GaryM
Excellent all purpose storage container
I purchased 5 wire mesh CD bins to use for general storage. They are an excellent size for smaller items. They are large enough to hold a reasonable quantity of items, but small enough to keep individual items from getting "lost" the way they would in a larger container. Becasue of their size, the bins conveniently do not require much shelf space. The quality and sturdiness of the bins is excellent and I can't imagine them ever needing to be replaced. they are also attractive enough that I don't feel the need to keep them out of sight in my home.
March 19, 2013
Rated

5

out of

5
 by
TravelGurl
Not just for CD's
I don't think I have CD's in any of my CD bins. I have one on my bathroom counter that holds my hair products. I haven't had any issues with rust, fyi. I also use them in the pantry to hold bottles. I have food storage in the garage and I keep glass bottles in bins so they won't just tip over or get knocked over onto the concrete floor. The 'handle' can be used to attach a tag to label if so desired. A tag can also be threaded through the mesh if you are so inclined as well.
March 18, 2013
Rated

5

out of

5
 by
PJ6565
Thinking "out of the box!"
I love organizing and using the mesh products in more unusual ways. I have a cocktail paper napkin collection and I organize them in the mesh CD bins sorting by holiday, theme, color, etc. They are stackable and it is easy to see through the mesh so I don't have a mess with my many napkins that I use constantly for entertaining. I find it is fun and useful using Container Store products for storage, other than what it was intended.
March 18, 2013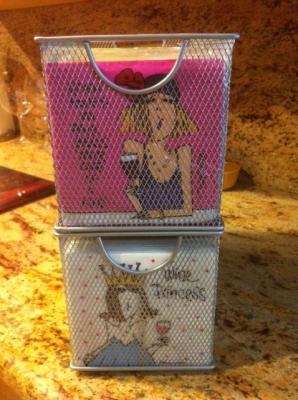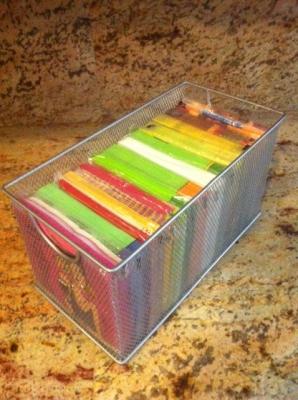 Rated

5

out of

5
 by
k9lvr217
Best CD shelf storage system!
I have dozens of these mesh boxes that I have collected over the last decade for storage of my CD collection. They are perfect for organizing and accessing my CDs. They stack neatly and look great on an exposed shelf. Because they are metal, magnetic labels attach to them conveniently so it is easy to see what is stored in them without taking them off of the shelf.
March 17, 2013
Rated

5

out of

5
 by
GenieGal
Corralling all my CDs
I had previously bought the Silver Mesh CD Bin before and they worked out so well I bought more. They are handy, easy to clean, and stack able. I only wish they had a place to label on them.
February 18, 2013
Rated

5

out of

5
 by
chirpy
Multipurpose!
Purchased two new ones to hold extra music CD's, but have others around to hold office "stuff" - like pads, boxes of extra Scotch tape, packages of Post-It-Notes and the like. They look good lined up on an office shelf, and they hold a lot! !STURDY!
July 21, 2012
Rated

5

out of

5
 by
Sarandella
Great
I bought several of these baskets for my sons and myself to corral all the lose CD's we had around the house. Once the music is in our iPhones and iPod's the CD cases are safely put away in these baskets, which are made of strong mesh metal material.
April 25, 2012
Rated

5

out of

5
 by
HoosierJill
Awesome item
It's always been difficult to keep CDs organized. But not anymore! This CD holder does the job and looks great, too! I really love this product.
April 20, 2012
Rated

5

out of

5
 by
DesertDiva
Very functional and good looking
These CD bins are just the right size for storing lots of CDs in my home office. They are good looking too. The cut-out for the handle on the ends makes it easy to pull a bin down to search for a CD or carry the bin to another room.
March 20, 2012
Rated

5

out of

5
 by
notpollyanna
Awesom
I have four of these to hold my CDs. This CD basket looks good, it is sturdy, it stacks very nicely with others of its own kind, it is a good price. It does what it is meant to and it does it well. I'm pretty sure it will last me forever unless it befalls some terrible fate, like being run over by a truck.
March 20, 2012
Rated

5

out of

5
 by
Boots1981
Love these!
How much do I love these? I own 20. They are perfect for my CDs. They keep them orderly and protected. They also stack nicely and can hold approx. 25 CDs in a relative small amount of space which is good for a large collection. I also like the fact that theyblend in with the decor. They give a neat look to my shelf unit. I'm sure I'll be buying more as my collection grows.
March 19, 2012
Rated

4

out of

5
 by
goofy
A Handy storage for CD's
The one I received was defective so am getting a replacement mailed to me..The side of the bin was not finished properly and sharp edges could cause a scratch or cut...
March 1, 2012