Rated

4

out of

5
 by
Kk786
Perfect bins for bathroom
Bought three of these bins for bathroom storage on the shelf under our sinks. Perfect size, they look great, and are study.
June 5, 2016
Rated

5

out of

5
 by
PaperCraneGal
Rustic and useful!
Love these rustic, yet classy baskets. No complaints I can think of!
February 4, 2016
Rated

5

out of

5
 by
Hanagram
Great looking storage bins
I love the look of these on my new desk. They keep everything neat.
March 17, 2015
Rated

4

out of

5
 by
Stephmanning
Bathroom vanity bins
I bought these baskets for the open shelf of my vanity and I love then! I put toilet paper and some of my daily supplies in them. Because I use them daily, I did line the bottom with felt to protect the wood of the vanity. Now they slide easily and I know they won't scratch!
May 2, 2014
Rated

5

out of

5
 by
cory
High quality/sturdy bins
I have purchased several of these over the last few years, and I cannot say enough wonderful things about them. They are high quality, attractive, modern bins/baskets that serve a multitude of organization/storage functions. They look good enough to keep out in the open for all to see, though they are also great for closets. I have used and reused mine in many different areas. I have gone back on at least 3 occasions to purchase more. Highly recommended!
April 27, 2014
Rated

5

out of

5
 by
ThiftyDecorChick
Great decorative bin
I bought these bins to replace broken top drawers of an old bureau I rehabbed. They are gorgeous! work great, fit perfectly, and well built. I would recommend these bins for use as a catch all on shelves, etc because it looks fantastic. I ordered online - and had it shipped to me, so I waited anxiously to see if they were fit for the job. I was very happy to see they were perfect.
April 12, 2014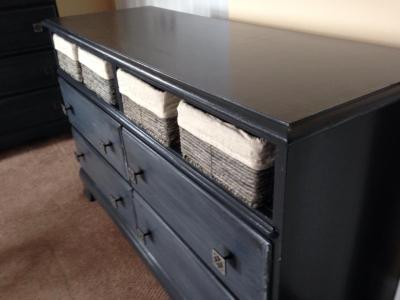 Rated

5

out of

5
 by
JannyS
Just what I was looking for
These bins were perfect, exactly what I was looking for. The color was accurately shown, very nice quality. Will likely be purchasing more.
March 1, 2014
Rated

5

out of

5
 by
Nyc222
Form and function
Look great above kitchen cabinets. Useful for storage and keeping clutter contained.
February 26, 2014
Rated

5

out of

5
 by
PaigeGTX
I bought these storage bins for my mud room and laundry room. The quality is great! They are a chic way to keep all my laundry essentials out of view on the shelves and make the whole room look more put together. I also used the x-large bins underneath the bench in my mud room to hide/store dirty shoes when everyone comes in the house.
February 20, 2014
Rated

5

out of

5
 by
GeauxMama
Such a Cool Box
I bought these boxes to use in my work. I love the aesthetic look and they are the perfect size for my needs. The Container Store always has SOMETHING to fit my needs!
October 27, 2013
Rated

5

out of

5
 by
Norma
Very nice!
I bought an XL to store extra utensils on top of our fridge - this makes the crazy clutter look neat and tidy. Love the material and it seems very sturdy and durable. I will be buying more!
April 15, 2013
Rated

2

out of

5
 by
cchecat
Looks great but poor quality
I was really excited to get these bins, they were the perfect size/fit and I loved the look. My plan was to use them in an open shelving area, no an off white shelf. However, each time these bins are pulled in/out, they shed significantly and create a real mess. If the shedding weren't an issue, I wouldn't have returned these.
April 9, 2013
Rated

5

out of

5
 by
Verified Reviewer
Great for storage
This item is great for storage in my closet, and looks very nice!
April 1, 2013
Rated

5

out of

5
 by
sewknitgrow
Sturdy Good-Looking Bins
These bins are attractive and super sturdy. I like having the fabric liners, as they can be washed if needed. I am using these with some dark wood closet organizers. I decided rather than buying the organizer with drawers, it is more cost-effective and flexible to instead buy bins. I bought this bin in both available sizes. It was a good choice. I will buy more of these in the future.
March 17, 2013
Rated

5

out of

5
 by
GadgetMom
My office is organized and pretty!
I used an assortment of sizes when organizing a new office space that had open shelves along an entire wall. The captured the right amount of stuff and looked much nicer than any other option I considered. I agree with a previous poster - they're a bit pricey, but worked great for me!
February 20, 2013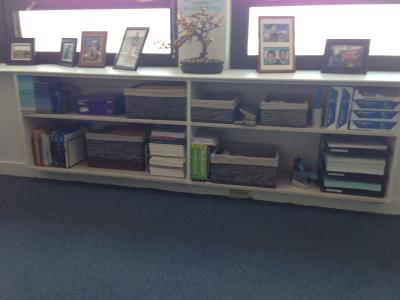 Rated

4

out of

5
 by
vkay
My Best Friend
These bins can be found all over my house. I use them in my closets, in the office and anywhere clutter tends to hang out. Plus they look nice.
February 17, 2013
Rated

4

out of

5
 by
Gizmette
Perfect for Art Display
I just increased my art bins from 2 to 4 with this purchase. As an artist who participates in festivals and studio tours, these bins are used to display my smaller, unframed work. Because they are lightweight, they travel easy and their attractive, natural materials are a great foil to my art and studio/tent set-up.
September 8, 2012
Rated

4

out of

5
 by
amandat1001
a litle pricey, but pretty
These baskets were pricey (hence the 4 stars), but very functunal and pretty.
September 5, 2012
Rated

5

out of

5
 by
StellaBOS
I purchased a bunch of these for my bathroom shelves and I love them! Love look so nice and are very lightweight so they aren't cumbersome to grab quickly if you use them often.
May 6, 2012
Rated

5

out of

5
 by
mollywtx
Perfect Size
We wanted a large, low-profile bin to go on the bottom shelf of our coffee table. The extra large was the perfect size, and great looking.
April 30, 2012
Rated

5

out of

5
 by
bwhit321
chic storage
Great color that will match anything. Nice mix of gray, tan, ivory, and linen.
April 27, 2012
Rated

5

out of

5
 by
ericam
Great looking bin
These bins are great. They look really well-made, and the color is great. They have been holding up nicely too.
April 27, 2012
Rated

5

out of

5
 by
freeway
Nice looking and great size
These bins were the correct size for built in shelving in our mud room. They look nice and keep things organized in this area. They are a little pricey but I needed a specific size. I like the fact that I can add to the collection as I need more of them.
March 20, 2012
Rated

5

out of

5
 by
JustLana
Great buy
I bought several of these to house my burgeoning handbag collection. Perfect! Now the bags are hidden but within reach. I like how sturdy they are as well.
March 19, 2012
Rated

4

out of

5
 by
elles1201
Chic storage basket
These are definitely worth the price and look very chic in any room!I love the grey/blue color of wood!
February 29, 2012
Rated

4

out of

5
 by
Katar
Maize Bins
Just what I was looking for, However a little on a pricey side.
January 1, 2012
Rated

5

out of

5
 by
Tchkids
Just what I was looking for and couldn't find!
These were just what I needed and in a color I had a really hard time finding anywhere. They are sturdy, very attractive and work perfectly in the area I needed. The measurements were right on which was helpful. I am using them in our family room on two sets of glass and metal shelving and they look great.
September 26, 2011
Rated

5

out of

5
 by
Coffebeans
Looks great!
I feel totally comfortable putting this out on a table or bookcase for everyone to see. It's sturdy and looks great. Not cheap at all. I'll be using this at college to sort things in.
August 15, 2011
Rated

4

out of

5
 by
thecarolinagirl
Attractive storage basket but expensive
I tried several baskets out in my new closet that has grey wire shelving. This is the only one that looked good, and it fit well on the 12 inch by 16 inch shelves. It seems sturdy enough and is very attractive. I downgraded a star as I felt it was very expensive and wished I could have got the three I needed on sale. I was also surprised that if you search for baskets, it does not come up, it is listed as a bin for some reason, but in my mind it is a storage basket!
December 20, 2010