Rated

5

out of

5
 by
lafcom
Like this so much I bought it again
This bin is very well made, sturdy and easy to use with handles built in front & back. Great as a box to hold files or for magazines or papers. Color is a nice copper neutral, especially good with rattan furniture, but blends easily with most any decor. This is the most practical bin I have found in the store.
March 9, 2016
Rated

5

out of

5
 by
kadisme
Lovely! Great bargain!
I love these baskets. The quality is honestly a bit better I expected with this price point. Just the perfect depth to store DVDs in my entertainment center.
December 16, 2015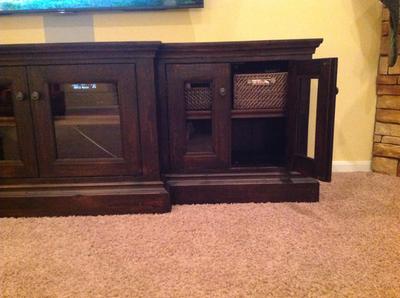 Rated

5

out of

5
 by
JFST
Strong, neat, and dimensinally uniform
These baskets provided the solution to messy looking shelves. The high product quality and consistent measurements provided a good fit between shelves, essentially acting as rattan drawers. I am using them to store computer CDs and accessories and the computer room now has a much cleaner look with very little effort. The wire frame provides rigidity and the baskets are space efficient, i.e., the compact sides and bottom do not unnecessarily occupy storage space.
March 12, 2014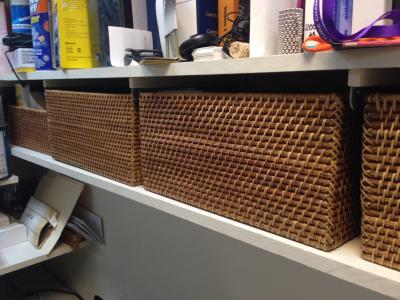 Rated

4

out of

5
 by
RainyDayRoses
Nice boxes for top of closet
I am using these boxes to organize stuff on the top of my closet. The color is nice and they feel sturdy enough. They are obviously handcrafted and each one is unique. That can be a pro or a con, depending on your preferences.
April 30, 2016
Rated

5

out of

5
 by
CPHVettegirl
Great Baskets
Well made & attractive baskets, made the perfect storage solution in my sewing room.
February 21, 2016
Rated

5

out of

5
 by
frglvr
Sturdy baskets
I bought these to fill the slots in my entertainment center. A perfect fit! Stylish and sturdy. Really look great!
November 26, 2015
Rated

4

out of

5
 by
cbny
Be wary of inconsistent sizes
I bought three online. I photographed in store, decided on style when I returned home. Should have chosen at the store and had them shipped. Two are alike, the third is about 1/2" taller and has a wider handle area. They look okay because the taller one is in the middle, but Container Store should be more careful when picking orders to ship. Now that I look at them, all three are different!
June 1, 2015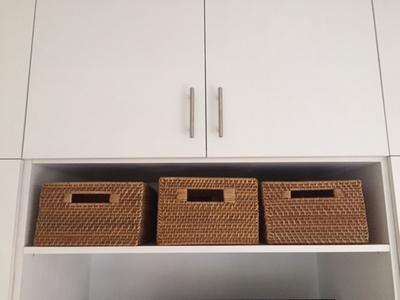 Rated

5

out of

5
 by
Pele
Great look in living room
We bought six of these to fit in a media console. They are lined up in the space under the top of the console, and ganged together, side by side, look terrific. The amount of storage is amazing. We found five at our local store and had to order one to be sent to us. Hated to pay the shipping, but really needed the sixth one. For some reason it couldn't be shipped to the store for pick up.
November 22, 2014
Rated

3

out of

5
 by
Cvillemom
Hand made, well made but irregular
I ordered six of these large bins online to fit in side by side cubbies. Four are perfect. One is almost an inch taller than the rest and another has angled walls. Clearly handmade and irregular. If buying at a store is an option, I would skip online purchase to see them in person first.
July 15, 2014
Rated

5

out of

5
 by
RonnieOrganizer
Excellent
I am using these on my desk to store loose papers. They are the perfect size, lightweight and easy to grab with the open handle. My desk is oak, so these go very well.
May 17, 2014
Rated

5

out of

5
 by
eileenontrees
Great basket
Well made, looks great, and available in convenient sizes. I used them to organize our pantry. Very happy with the splurge over plastic bins because they look so great every time I open the door!
April 15, 2014
Rated

5

out of

5
 by
Rochester75
Good Baskets
These are great - just what we wanted! Best selection of any place we looked. Ordered online and the ordering, tracking & shipping were great!
January 23, 2014
Rated

5

out of

5
 by
Suez
Fits perfectly under my coffee table to hold things. It's nicely made and sturdy.
June 18, 2013