Rated

3

out of

5
 by
Betterthanmama
Nice but handles hurt
I needed an upright basket with handles because I needed one hand free while bringing laundry up and down stairs. The basket look nice, but the handles are oval in the wrong direction where they cut into your hand (when the handles are flat, it lays better, but too skinny and hurts). There are not many options of an upright basket that hold their shape so even thought I can only carry this for a short amount of time before it starts to hurt I still found it better than nothing. I also like that it was made in Japan instead of China. Hopefully if they update it, they make the handles rounder.
January 10, 2017
Rated

5

out of

5
 by
fengshuing
Handy dandy!
I am using this basket to hold the bits and pieces of my Sebo vacuum so I can easily take the parts to my second floor and vice versa. It holds a lot so I just toss in the things I need for cleaning, and off I go!!
February 10, 2015
Rated

5

out of

5
 by
Msluxlife
Love!
I absolutely love this basket and wish I bought it sooner. It fits nicely in my apartment bedroom and is extremely sturdy. Don't even ponder this purchase it's a MUST have!
February 1, 2015
Rated

5

out of

5
 by
Leone
Farmlifer
I needed 2 laundry hampers to sit side by side in a narrow but long area. My old ones were tired and the sides were braking. These 2 are attractive from any angle, sit well were I have them. Hold enough items for a full load, but can be piled for a large load which my Washer /Dryer is good at handeling. I find it easier to lift the the items out of this style with the handles as they add strength to the sides of the hamper. I can see that I could easily have a someone move one near the machines if I wanted. I am happy with these items.
September 13, 2014
Rated

5

out of

5
 by
neongranny
love this!
Recently, I got the "organizing bug"...doesn't everyone go through that at times? I ordered approximately $140.00 of plastic containers, under-bed containers, etc., etc. I live in a VERY small apartment and I'm reconfiguring everything to make it look more spacious. I'm using this as a laundry basket and storing it in my bedroom closet. It's replacing a thirteen-gallon plastic, drawstring garbage bag that, of course, just flopped all over and keep getting in my way. This works great for my purposes. It holds a whole week's worth of laundry. When I get ready to take it over to my sister's house to wash, THEN I move it to a plastic bag. You wouldn't think such a small thing could give you such satisfaction, would you? But getting rid of a constant irritant does wonders for your day. My suggestion? Look at things with a new eye. Just because a product is designed for one purpose, doesn't mean it wouldn't be perfect for another!
August 3, 2014
Rated

5

out of

5
 by
MirandaB
Helpful with Steps
My mother-in-law, who is in her mid-70's, got these from me and has been a big fan. She has to take some laundry up and down stairs, and this basket's handles lets her grip the handrail while still managing the basket. It's made it much safer and easier for her to transport clothes to and from the laundry room.
June 7, 2014
Rated

5

out of

5
 by
Essee
Useful
I use several of these baskets around the house for laundry, toys, etc. I like that they are tall, have handles and take up less floor space than a traditional laundry type basket.
April 28, 2014
Rated

5

out of

5
 by
Designerifica
Not just for laundry!
The size and unusual shape of this basket make it perfect for so many locations around the house: in closets, under counters, in the garage. It's easy to carry through narrow halls and doorways, and safely goes up and down stairs. It fits on the floor in the back seat of my car and leaving the handles up make it a snap to remove. I put my shopping bags into it and can bring most things into the house in one trip. This basket has been on picnics, trips to the beach, and to many kids' sporting events. And with a trash bag liner, it helps clean up at the end of the day.
April 26, 2014
Rated

5

out of

5
 by
cstar172
LOVE THESE!!!
I purchased 4: 2 for recycling, 2 for laundry and they work perfectly. The handles are sturdy and the baskets are the perfect size. Getting some for my mom next :)
April 19, 2014
Rated

5

out of

5
 by
AMarieR
best purchase ever
love this product. handles are soft and move easily. holds enough. the whole thing is sized well for holding while walking down a flight of stairs-- and the cellar stairs in my house are awful- small and twisty. I needed a laundry basket that would make going down my cellar stairs with laundry safer and this is it. I bought 6, I may buy more. Also, the whole process was great. The web site was easy to use, the baskets arrived quickly----AND THEY WERE PACKED WELL SO THEY DIDN'T GET BROKEN AND THEY WERE CLEAN. I had expected to have to wash them but they were completely clean. No dust or pieces of plastic or cardboard. I love TCS. Don't waste gas driving all around looking for a well designed laundry basket. Just buy this one. oh- the best thing is that there are no sharp parts that would snag and ruin your clothes.
April 14, 2014
Rated

5

out of

5
 by
Chgoboys
Exactly as pictured
We use it to house all the bath toys. Easy to lift in/out of bathtub and toys can drain so they don't get mold.
March 2, 2014
Rated

5

out of

5
 by
scworx
Perfect Basket for Under Sink Cabinet
It is the only basket with dimensions necessary to fit our under sink cabinet. We always had to bend our other laundry baskets to fit this cabinet and they would eventually break. Bought extra ones for the kids rooms.
November 15, 2013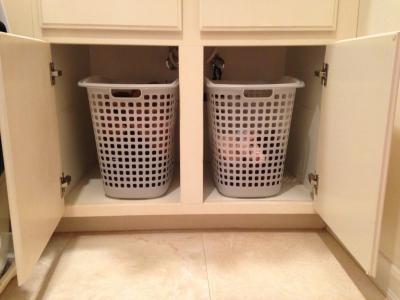 Rated

5

out of

5
 by
MD30
Amazing Product
Strong, Sturdy and it does the job very well. Love it!
June 28, 2013
Rated

5

out of

5
 by
sgowans
great basket
This is a well made, light, attractive and functional basket. Everything is rounded and smooth so it doesn't snag anything, the size is perfect - when its full I have a good medium load to wash. Vertical height saves floor space and handles make it easy to use.
April 27, 2013
Rated

5

out of

5
 by
Organizzer
Great Multi Use
This basket was a smart buy. It works well as a laundry tote, taking clothes up and down stairs with ease. It also is a nice size for picking up toys in the play room and storing them until next time.
April 26, 2013
Rated

5

out of

5
 by
maman
Subtle and modern
I purchased two of these to go under the overhang of my kitchen countertop -- one for recycling, another for dirty kitchen towels. What do I like so much about these? (1) Aesthetically-pleasing: I like that these looked so good. I didn't think that the little cutout square shape along the sides of the basket would make such a difference (and hence the "Modern Feel Basket" name) but it does! There is another white basket in TCS that has linear cutouts, and I have to say that I liked this MUCH better. Also, I like the soft, frosted-white color -- it makes me feel like it won't turn yellow / grey as it ages, or show any scratches. (2) Upright: I like the upright shape for my purposes, as it allows me to have a space for the two kitchen uses I mentioned. (3) Well-made: I like that the plastic doesn't feel too cheap or too heavy. The handles might feel "stiff" to some, but in hindsight I think it's a brilliant design because that means that they won't collapse on me when I have to set it down for a moment. Many might think that it's not worth spending more than $5 for a laundry basket, but given that I could see several other ways to use this basket in the future it was worth spending $15 for it. Overall, I could see myself purchasing more of these for other uses around the house (e.g., laundry baskets for each room, recycling in the study, etc).
March 19, 2013
Rated

5

out of

5
 by
Lilly1205
Great for everyone
All 4 kids have in their bedrooms for dirty laundry. Upright style conserves space. Handles are great. Have extras in laundry to carry up sheets & towels
March 19, 2013
Rated

4

out of

5
 by
Pittsburgh
Very Handy
Bought two. Using them as baskets for dirty cloths. Easy to pick up to take to wash/dryer.
August 27, 2012
Rated

5

out of

5
 by
penguin44
great size
I purchased one of these a while ago because it was the perfect size to fit under the laundry room sink as a hamper I love the size and look of it so I just recently purchased a few more to use for paper recycling, a home for my kids school bags/papers and other such uses. Great product, stacks nicely and doesn't take up too much floor space.
May 7, 2012
Rated

5

out of

5
 by
Tidytitch
Perfect laundry basket
Holds just the right amount of laundry for a load in my front loading Bosch washer. Easy to stack when empty. I have 6 of them so I can sort, fold, carry up and down the stairs. The handles allow for a more natural and safer way of carrying the laundry so you can see what is in front of you and feel balanced when going up and down stairs. Shocking - but my husband (who usually doesn't say much about much) - told me he really liked these baskets!!! I will get a few more so I can keep one in every kids room (I have 5). I do over 23 loads of laundry a week and these baskets are the best part.
April 1, 2012
Rated

5

out of

5
 by
scheck79
Great space Saver
We bought this basket to put in our bathroom cabinet for dirty towls. It is great. I had been looking forever for a basket that would fit. Durable and holds enough for a full load.
March 20, 2012
Rated

5

out of

5
 by
ImNotFlyLadyButClose
A unique laundry basket with eternal potential
I love this laundry basket for several reasons. 1) The handle. The handle is wonderful for toting and is easier on my back than traditional laundry baskets. One-handed function is easier to maneuver through small spaces without bumping into things. 2) Space management. It's narrow and tall, so it takes very little floor space for storage. I have several baskets and when stacked, they are very compact and fit into space conveniently. 3) Practicality. May used to transport clean laundry to the folding station. I use mine to sort laundry prior to folding--T-shirts, socks, and underwear. Use one in each family member closet for a hamper. 4) Family systems management and legacies. The handle is an suggestive motivational device for family members to do their part on wash day--bring their clothing to the laundry center. Inspires creative family-centered activity, bonding, and memory-making, especially if...the last person to bring their laundry is the one who does the laundry, second to last person, get's to fold it, third to last person gets to put it away--whatever rules you want to make. Imagine if laundry baskets as family system organizers like this led to a family togetherness, connection, and generational legacy! 5) Pass the legacy AND the basket on to the next generation (It was my great-great grandmother's!). 6) Consider the archeological value someday when it is unearthed and future people can understand how we lived right now. Imagine if it is then connected with the ContainerStore! No end to fun and imagination with this product that makes life more meaningful and fun!
February 26, 2012
Rated

1

out of

5
 by
bluebell
Loved it until the handle broke...
Part of the plastic snapped off after a few months' use. Otherwise sturdily made but now with only one handle.
July 17, 2011
Rated

5

out of

5
 by
PinataParty
Great laundry basket
I wish I had a reason to buy more of these baskets. I have one for baby laundry, and when it is full it pretty much fills the washer sufficiently. The handles are great - They will stay up by themselves, and when down, they rest on the basket rim.
February 15, 2011
Rated

5

out of

5
 by
Outaplace
Thrilled to find these baskets!
I have been looking for a basket, which could not only hold my laundry in my closet, and that I could manage the size and weight of the laundry, to carry down 2 narrow flights of stairs to the basement , where the machines reside. These are absolutely perfect for this task, and they look good. Can see many uses for these baskets!
February 15, 2011
Rated

5

out of

5
 by
savyshopper81
GREAT BUY!!
This laundry basket is both stylish and functional. The vertical design, the pearly-white color, and the handles (not to mention the reasonable price) all contribute to why this laundry basket is a great buy!
February 8, 2011
Rated

5

out of

5
 by
cincyshopper
So Nice
Been looking for a handy carrier for my laundry. So many of them are flimsy and too short. This one is sturdy and just the right height to place on the floor with the handles upright & reach it without bending over. Exactly as pictured & just what I wanted.
September 22, 2010
Rated

4

out of

5
 by
CityGal
Very Mod Laundry Basket
I am not sure if anyone remembers the days of hauling your laundry to the cleaners in green trash bags, but I do. Wow, did I just date myself? This is the only way to go to the neighborhood Laundromat - in style. It holds a bundle of clothes and carrying them to and from the car is easy with the tote handle. Love it. Also works well for going to the local farmers market and carrying your goods back home. Add a few sunflowers to you tote and you are very boho-chic!
July 30, 2010
Rated

3

out of

5
 by
frenchy
disappointed
The baskets are much smaller than they look, howevr they are useful, just not as laudry baskets.
July 18, 2010
Rated

4

out of

5
 by
Forest
Functional & Lean
This is a great basket that stores items more vertically and allows you to easily carry items with handles. It is less back breaking than traditional horizontal baskets. I wish that it were a few inches taller and more translucent because the actual color is more of a pearly white semi-translucent color. I was excited to see vertical baskets, so I purchased several of these. Laundry work is much easier and the neutral color blends in with everything.
July 8, 2010