Rated

5

out of

5
 by
Shopper18
Recycle With Ease!
This trim little container helps make recycling a breeze! Its small footprint allow me to keep it right in the kitchen where I need it most. I keep a brown paper bag from the grocery store inside the container and when it's full I simply pick it up by the convenient white handle and empty it into my larger container that goes out by the curb.
April 28, 2014
Rated

5

out of

5
 by
BesselBoo
Perfect for apartment
Needed a recycling bin for our kitchen that did not take too much floor space. This one fits perfectly under the sink and it's easy to carry to the large recycling bin in our building. It surprisingly holds a lot. I make sure to rinse out any bottles and cans to keep it clean
January 9, 2017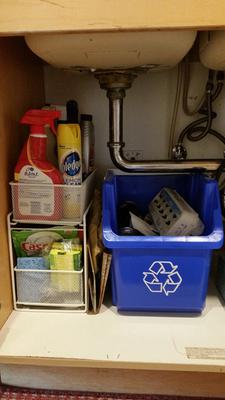 Rated

5

out of

5
 by
MrsCoop
Helps me remember to recycle
We don't have a big place so there is not enough room for a recycling can next to the regular garbage can. The options are recycling stacks up on the bar or I just throw recyclables into the regular trash. The latter is especially the case for mail and paper. Now, I keep this by the back door which encourages me to recycle even the small stuff. It's easy to carry this out once a day on my way out and dump in the big recycling can outside.
December 27, 2016
Rated

5

out of

5
 by
kchamp2691
Great Freezer Organizers
Ever have trouble reaching the bottom of your Freezer? Order some of these and just reach for the handle and the trouble is all gone. I just got my first freezer chest. It's 7.1 cubic feet and 4 of these fit perfectly.
November 22, 2016
Rated

5

out of

5
 by
Ruthfree
Small but Mighty
When I took them out of the carton my first impression was that I would have to return them because they looked too small. But now that I have been using them I have changed my mind. They hold quite a bit! Good purchase!
May 6, 2016
Rated

4

out of

5
 by
Martie
Nice investment
I purchased 4 of these to organize my chest freezer. I seen it on a how to YouTube video. They are nice bins but didn't fit like I was hoping. Still using them, the handles make them very easy to use.
February 28, 2016
Rated

4

out of

5
 by
MP44
Recycle Bins
I purchased two of these because they looked pretty small - good thing I did because they are actually very small. They will serve their purpose though and are well made.
February 2, 2016
Rated

4

out of

5
 by
Chozabeth
smalll but functional
Small (I knew this), but I am surprised who quickly we fill these puppies up! Easy to transport to the recycling place and perfect for small places (like my kitchen!)
July 27, 2015
Rated

5

out of

5
 by
ShenyLeigh
Freezer Organizers
I bought these to organize my deep freezer. The handle helps with he bins on the bottom. They do not stack very well for me but I watched videos on YouTube about them and they did not seem to have a problem.
July 8, 2015
Rated

3

out of

5
 by
Uribella
recycle
I had to return them they were a little small for my project. For smaller space they would have worked.
January 22, 2015
Rated

4

out of

5
 by
Heylady
Perfect fit
I purchased four on these to organize my deep freeze. They fit perfect right in the deep freezer and I still have enough room to purchase a few more. There stackable with a sturdy handel to lift them up if need be. They hold a lot in them and can with stand the cold temperature without cracking container. I will be purchasing a few more to finish off organizing my deep freeze.
November 25, 2014
Rated

5

out of

5
 by
Cm4812
I don't hate my freezer chest anymore!
I bought four of these containers after seeing a pinterest post that it could solve my freezer chest dilemma of not being able to find anything in it easily. I was ready to sell the freezer and be done with it but I'm glad I didn't. These four containers fit perfectly and separated the different food categories so that I knew what I had in stock. Whew, a lifesaver!
September 24, 2014
Rated

5

out of

5
 by
Dolphinlover523
Fits perfectly next to the fridge!
I looked for these online after seeing them used for organizing a chest freezer on a youtube video. I have a small narrow space between the fridge & wall and thought these would work well for my recycling. I was using plastic bags hung on magnetic hooks & attached to the side of the fridge but that was messy looking & inefficient. I checked the size to make sure they would fit & placed my order. Love the features of this Stack & Carry! Bright blue in color with a white recycling logo, easy carry handle & stacks four high perfectly! Will purchase more for the chest freezer organizing project soon!
July 17, 2014
Rated

5

out of

5
 by
Love711
Great way to organization my chest freezer
I just bought a small chest freezer, thought 4 would fit but could only use 3 so the forth will be used to carry the frozen food to the house from the garage as I need it. They are very handy.
June 24, 2014
Rated

5

out of

5
 by
Regia
Bought three tubs to make it easier to sort items in our chest freezer. You can stack 2 and close the freezer lid without problem. I can easily lift a tub to get at the tub underneath.I will be buying 1 more. So good to keep like items together.
April 25, 2014
Rated

5

out of

5
 by
Getting2Organized
Perfect
My daughter chose this for her father to make taking out the recycled garbage easier. Daddy loved it! Perfect size for a small space.
March 25, 2014
Rated

5

out of

5
 by
Oasia
This piece is the perfect size to fit under my kitchen sink. I also love the handle since it allows me to carry the garbage bag in the other hand. No need to make two trips down to the garage now!
March 18, 2014
Rated

5

out of

5
 by
jlevy51290
Great for a condo!
I purchased two of these recycling bins for our condo on many floors up. Although there is a trash chute, there isn't one for recycling so we bought 2 of these to temporarily store our recycling as well as carry them downstairs. They are very sturdy and aesthetically pleasing. Great purchase.
February 16, 2014
Rated

5

out of

5
 by
Deedles
Great for freezer organization
Bought these to increase organization and accessibility of our chest freezer. Able to stack 2 and close the freezer lid without problem, leaving enough room for 2 pizza boxes on edge in the front of the freezer. Now able to easily lift out a tub to get at the tub underneath instead of shifting boxes and having frozen items all over the place. Will be buying more for our upright freezer, too. So nice to keep like items together. This was a great idea seen on a blog that really works well with these bins.
January 18, 2014
Rated

5

out of

5
 by
Elysheva23
Perfect for kitchen!
These stack nicely, they are the perfect size for a kitchen (not too big that they are too heavy when full yet big enough that they don't need to be emptied every day) and the handles make emptying them a breeze.
December 27, 2013
Rated

5

out of

5
 by
Thailandtravel
Perfect under the sink.
I needed a compact but roomy recycling bin for the space under my sink. This did the job.
December 23, 2013
Rated

5

out of

5
 by
Stephev
Nice container
We have a small/tight garage. The city-supplied recycling container took up too much room, so we were looking for a smaller one. This is perfect. The handle is nice for carrying outside to the larger container. The only thing that stinks is, I paid just as much in shipping & handling charges as I did for the container!
December 16, 2013
Rated

5

out of

5
 by
KerriB
Great indoor product
Love this product to keep recycling organized inside the house, and is easy to carry out to the can at the curb.
November 13, 2013
Rated

5

out of

5
 by
Allice98
Excellent!
We needed some smaller ended containers for recycling in our new building and the handles are a great plus! We had been used to bagging our recyclables and this new location you dump them into a community container so this its the bill perfectly. The bins are a tiny bit difficult to stack because some people just don't understand what part to try to connect together. The bins are sturdy though and a great fit for our needs at least.
October 21, 2013
Rated

5

out of

5
 by
chellectic
Wish it was a liitle bigger...
I love this bin! Especially the handle. Perfect for a multi level home, we can take out recyclables without it building up in main kitchen.
October 14, 2013
Rated

4

out of

5
 by
CrBHB
Great for freezer organization
Saw these recommended for organizing a chest freezer. They work great! Food is now sorted by type and it's very easy to lift the top container out to get to the one below.
August 21, 2013
Rated

5

out of

5
 by
MaxsMom
A little larger than expected
These are sturdy and stack well. They are a little larger than expected, I ordered three but could have order two and combined some of my recyling until taking it out.
August 1, 2013
Rated

5

out of

5
 by
AMCMama
Great purhase
I bought these to organize my chest freezer. I am super excited about the results. I was always having to take out tons of stuff to get to the items on the bottom of the freezer. I was also forgetting about items in the freezer because they were not easily seen. I bought 4 6 gal stack and carry buckets and they fit PERFECTLY. 1 box is for frozen fruit, 1 for veggies, 1 for meat and 1 for misc. It made meal planning much easier because I was able to see quickly what I had leftover. It is also really easy to remove the top boxes to get to the bottom ones. I am very pleased with my purchase.
July 12, 2013
Rated

5

out of

5
 by
Rocket
Great purchase
I bought 2 and they are great. One is for recycling and one is for my returnables. Nice size--not too big to get too heavy.
July 7, 2013
Rated

5

out of

5
 by
Adams1
LOVE!!!
These fit just right in my SMALL pantry and now I can get my husband to recycle without a big fight.
July 3, 2013