Rated

5

out of

5
 by
Angela20
Excellent product
I've bought several of these and use them for storage, for holding produce and for recycling. They are easy to stack - hold a lot and look nice in their various places. And they are made of recycled materials. What's not to like!
January 31, 2016
Rated

4

out of

5
 by
catloverd
Great Space Savers
Only gave it 4 stars because I wish they were just a bit bigger, but otherwise love them! I got 2 in order to sort our plastic from paper. These have a big enough opening when stacked so you can easily put cereal boxes in the bottom. Also, glad that these don't have holes in the bottom.
August 26, 2015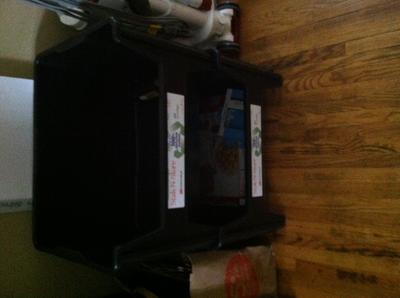 Rated

5

out of

5
 by
Plumber
Perfect for my van
We were organizing the vans to be more job specific. This van was to be used for doing a rough job on new homes. Since any business owner will tell you the more time the guys spend looking for what they need the more money I loose. I bought these for larger fittings and bolted them to the walls we made. They are perfect, strong, sturdy, and deep. They have made our day so much easier.
March 29, 2015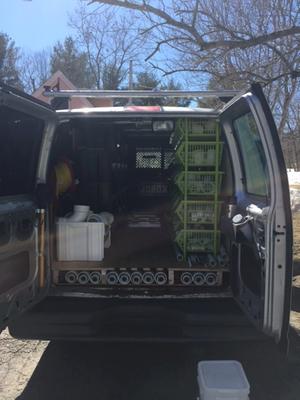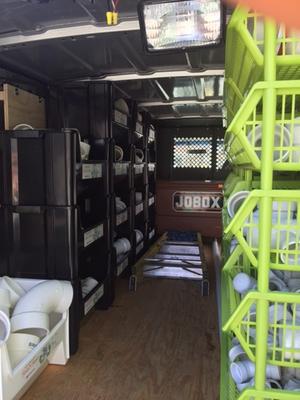 Rated

5

out of

5
 by
ProjectCleanUpTheClutter
Nice enough to be inside
This is sturdy enough to stand up to crashes from my two young boys. We use it for our 5 cent recycling bin. It looks tidy in the house. When it is full of glass, it is still light enough to pick up and put in the car to recycle. It's a good choice!
April 21, 2014
Rated

5

out of

5
 by
cajunscorpio
Perfect garage storage
I bought these for my garage so I can setup a permanent 'donate' and 'give' station. Two high will fit perfectly on my garage shelving. My parents liked them so much they got some for their recycling.
March 31, 2014
Rated

5

out of

5
 by
JenniferGFinGA
Garage storage at its finest
I purchased these bins to use in my garage, but not for recycling storage. I use them to store my daughter's shoes, beach/swim stuff, and outside toys. These sturdy bins hold a lot and don't take up a lot of room. I kind of wish there were a bit wider, but they keep things off the floor and accessible.
March 25, 2014
Rated

5

out of

5
 by
Bmak
Placating my OCD
Sturdy, easy to carry, compact- great use of space for recycling Love it.
March 11, 2014
Rated

5

out of

5
 by
cpal
great all purpose bin
I bought these bins to use on the floor of my pantry to hold bags of flour, sugar, potatoes, etc that I didn't want to put on the shelves. They are large enough to hold a lot of items and are very accessible. I don't see ever having to replace them.
January 21, 2014
Rated

5

out of

5
 by
88keys
White Stacking Recycling Bin
Great for storage of garden items in garage i.e. peat moss, potting soil, rock salt for the winter, watering cans, etc
August 22, 2013
Rated

5

out of

5
 by
SVBee
Stacking is the way to go...
And these are the bins to choose. They're sturdy and easy to clean, fit together very well, and maximize floor space. I use them for paper, plastics, and cans.
August 12, 2013
Rated

5

out of

5
 by
Melissa31
Durable and sturdy
These are easy to clean, hold a lot, and very easy to stack. They are sturdy even when stacked and very durable. Very pleased.
April 29, 2013
Rated

4

out of

5
 by
YviS
Great for organizing
My recycling area was always a giant mess and recycling day a disastrous chore. Depending on how your town does the recycling will determine how many you need. We have 3 but need to get 2-3 more. Thanks!
April 26, 2013
Rated

5

out of

5
 by
KMP123
Durable
Great durable containers. I originally purchased 3 for recycling items. Now that we've moved to an area that does not require sorting of recyclables, we use them to store kids outdoor toys and other items in a corner of our garage.
March 19, 2013
Rated

5

out of

5
 by
Kreigh
Functional, light, inobtrusive
I purchased three black stacking recycling bins for news- and scrap paper to put in my garage. Pros: they add barely any weight to load when filled; their design makes for a snug fit when stacked; they hide the majority of the waste, calling no attention to themselves (when stacked). Cons: a tad pricey. Still, an excellent purchase.
February 21, 2013
Rated

5

out of

5
 by
supplynerd
Even better than expected
These containers were larger than I expected (which I'm happy to report). I read the dimensions, but without getting a ruler out, I'm horrible at estimating what they actually mean. I've had a very disorganized office for years and part of the problem would be that I'd have a small trash can and a small box that would be used for recycling. They'd both be overflowing in one day an I'd either empty them out constantly or stack things on them until they'd tumble down. Also since the box was cardboard, I'd kick it sometimes and knock it over. I finally (I'm 33, so this has been going on for quite some time!) decided to invest in a better option. I love that they stack, so they now take up the same space as my other containers did. They, however, hold at least 3 times what my old method did. So, I'm glad I finally made the purchase.
February 17, 2013
Rated

4

out of

5
 by
Anonymous315
Perfect Funtionality (But Not Beautiful)
These are EXACTLY what we needed for the recycling under our bar in the kitchen. One thing to note that you can't tell from the pictures very well is that these bins ship nested and stack with a little stagger to them. I like this because it makes it easier to put stuff in the lower bins. My only qualm is that they aren't that stylish. Recycling bin and stylish don't seem to go together in all my research, but they are at least available in black (which matches our appliances).
April 15, 2012
Rated

5

out of

5
 by
HelpMeOrganize
awsome
recently moved to a condo complex that strictly enforces recycling. my husband and i didn't recycle before so we had soda cans and water bottles everywhere or in plastic bags until we were ready to take them out. these bins are such big help and now our kitchen is not taken over by cans and bottles.
March 20, 2012
Rated

5

out of

5
 by
ContainerZany
Still great after all these years
We bring our recycling to the dump (um, I mean Transfer Station), so I lug these to & from my station wagon frequently. I decided to purchase white rather than black, as our basement is dark enough, and while I thought that was risky, it ended up not being risky at all: they wash up very well, and look great after 8 years or so. They hold a lot, and are easy to handle. Great purchase.
September 19, 2011
Rated

5

out of

5
 by
MarcJ
great recycling bin
This is a heavy, sturdy bin perfect for collecting recycling in the kitchen. Just the right size and weight.
July 7, 2011
Rated

5

out of

5
 by
GenieGal
Recycling Bins - Best Purchase Ever
These stacking recycling bins are great! Put one on top of each other and they take limited space. They are also easy enough to lift apart and separate them to take your returnables in, then easily stacked back together.
May 27, 2011
Rated

5

out of

5
 by
NatureNerd
Great recycling bins!
I bought two of the black stacking recycling bins to use in our house for recycling paper. I had been using a paper bag but it looked trashy so I got these bins. They are perfect! I use the bottom for general paper recycling and the top one is for paper that I can re-use on one side. My daughter generates mountains of paper from her school work so we recycle it all here and re-use it if it is still has one side to spare.
February 24, 2011
Rated

5

out of

5
 by
LillyLou
I'm addicted
We use these bins to store just about everything in our stock room. I think we've purchased about 50 of them at this point - worth every penny.
November 22, 2010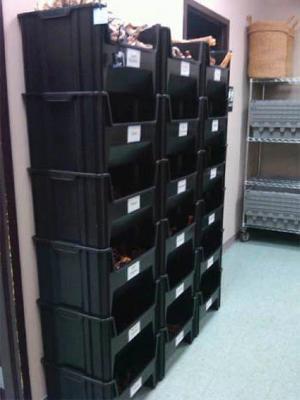 Rated

5

out of

5
 by
camo3
great recycling bins
I originally purchased these bins because recycling in my town was voluntary and you had to make a trip to the recycling station across town. These bins made everything much easier. I would just load the full ones in the car and dump them on the way to wherever. I have since moved several times and I'm still using them to sort my recyclables, even when I had curbside recycling. Now I'm back to having to take my recyclables to the recycle center on my own again, so I'm really glad I've kept them all this time. They are indestructible! Very large and heavy duty.
May 18, 2010
Rated

5

out of

5
 by
roxie0102
great recycling solution!
Sturdy and versatile! I put newspapers in the bottom bin, there's plenty of room to lay them flat and still accomodate lots of additional paper items. I stacked a second bin on top which holds two paper grocery bags side by side for glass, plastic, etc. So much easier to manage recycling!!
April 20, 2010