Rated

5

out of

5
 by
LEANCoachMichele
Beautiful storage solution in our laundry room
We recently added Elfa shelving to our laundry room. That, plus these Mantauk baskets has easily quintupled the storage space and "WOW' factor in this formerly overlooked room. Thank you to the Container Store employees who helped us design the perfect solution!
September 9, 2016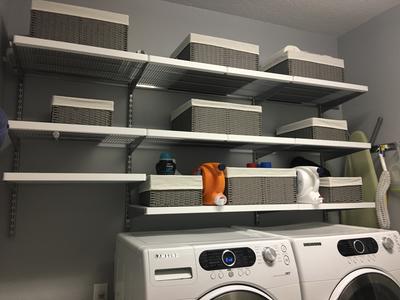 Rated

5

out of

5
 by
Kzellars
Unconventional user
I really like the versatility of products sold by TCS. I purchased this product, not for the intention of using it in my closet but for making gift baskets. When making baskets, I enjoy using items that people can use in their homes for years to come and this is one of my favorites. I am looking forward to purchasing more for my home and personal use. Thank you TCS for such a great product, one of many!
November 30, 2015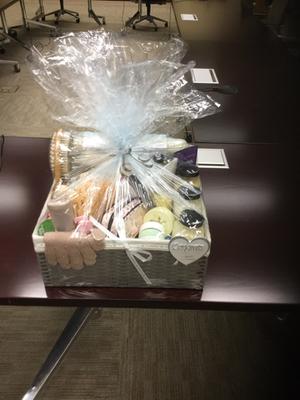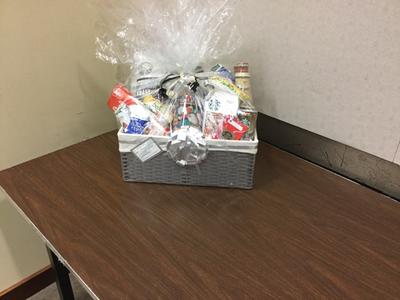 Rated

5

out of

5
 by
AliC
I love these bins!!!!
I love to use these bins, I can use this as a neutral Basket. The basket can be versatile and used for different needs for storage. I love the Montauk Rectangular Bins I will definitely be getting more for my bookcases.
January 8, 2017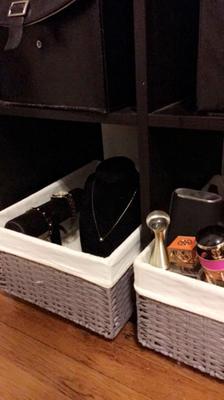 Rated

5

out of

5
 by
a96aggie
These Bins Get it Done
We all want that perfect look for our personal spaces, but the truth is real life often gets in the way. These bins are being used under my wife's new makeup area and give her a place to sort laundry from dry cleaning. We needed something that would fit the aesthetic she tried so hard to create, yet also be practical, durable, and easy to access.
January 8, 2017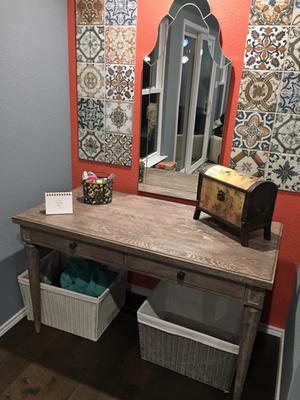 Rated

5

out of

5
 by
nicole131313
Keep the closet clean!
These are perfect for our his/hers scarves and gloves. We like having our own bin of warm accessories to dig through... and we also like that it does not create an explosion in our closet when we do so! I ended up going back and buying more for other closets.
January 8, 2017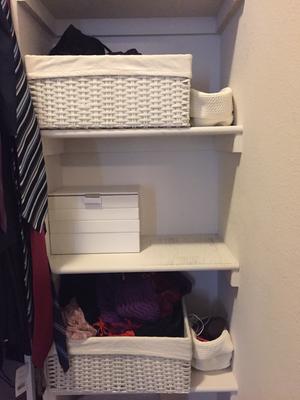 Rated

5

out of

5
 by
NeatMethodMeg
Beautiful Neutral Basket
These baskets are beautiful in almost any space. I used these to organize a linen closet in all whites & neutrals and it produced a stunning result. I love the option to utilize the basket with or without the linen liner. With the variety of sizes these baskets can fit almost anywhere. I love the medium sizes to fit sideways on shallow shelving. Very useful and will definitely purchase again!
December 29, 2016
Rated

4

out of

5
 by
SC86
Great for Organizing
I really like these baskets. I usually do no buy plastic containers and prefer rattan/wooden baskets - but those usually shed over time and can get pricey. These look great for being a plastic weave. Also because the plastic is more flexible, it's a bit easier to squeeze into smaller spaces/shelves. I like that these have straight sides to maximize storage. I don't have an elfa closet but they fit my 14'' and 16'' shelves nicely. The liner is nice, though I wish it was white and not cream colored! The only thing I don't like about it is that the bottoms of these baskets are not very stiff - if you pick up this basket with items standing straight up (e.x. shampoo bottles) they will fall over. This is better for organizing shelves/closets or items that don't need to be moved around much.
September 1, 2016
Rated

4

out of

5
 by
Bettie27
Not quite as sturdy as I would like
These bins are the perfect size for our shelves in the master bathroom. We use them to keep drug store supplies. When I pick up a bin containing bottles of shampoo, soap, or other relatively heavy liquid, the bottles tip over because the bottom isn't rigid. Still, I love the look of the bins. I originally bought 6 of them and I've just purchased two more.
December 9, 2015
Rated

5

out of

5
 by
Littlemanmom
Great addition
I love these baskets. They are sturdy, well lined and store well in book shelves. I will buy more.
July 25, 2015
Rated

1

out of

5
 by
Squared
Poor Design
Great looking, but fall apart within days! Bought several for a pantry and within one day most baskets were losing their weave. Very disappointed!
July 21, 2015
Rated

5

out of

5
 by
AndieMorgan
Super happy with this product
I was hesitant at first so I only bought one to see if it would fit into my decor. It fits perfectly and you can't even tell that it's plastic. I'm going back for more!
April 21, 2015
Rated

5

out of

5
 by
SJPNYC
Fit great
I had a custom shelving unit made and these baskets look like they were custom made for it. For me they fit perfectly and look really nice. Overall they seem well constructed.
October 27, 2014
Rated

5

out of

5
 by
ttorr1127
Beautiful basket
Bought if for my baby's changing table. So stylish and fits perfectly with my home decor. Perfect for babys's clothes, diapers etc.
July 20, 2014
Rated

5

out of

5
 by
Beth120482
Awesome baskets!
I got these to use in my pantry but they were so nice I wanted to leave them out. I now use them as storage on top of my refrigerator!!!
July 20, 2014
Rated

5

out of

5
 by
MetooMetoo
Great storage
These are really helping me organize. They look so good
April 8, 2014
Rated

5

out of

5
 by
Finocchiona
Tasteful and neat
I love how neat these bins look in my Elfa closet. The canvas lining is a nice touch and makes it easier for me to see what is in the basket. Thanks Container Store!
March 16, 2014
Rated

5

out of

5
 by
JaneH
Beautiful and practical basket
This basket is attractive, sturdy, practical and the sizes are ideal. I am using it on the top shelf of my closet to store scarves, handbags, belts and misc loose items. I originally purchased 2 and quickly ordered 4 more. I plan to use several in the family room for magazines, knitting supplies and miscellaneous items. Highly recommend this basket
March 15, 2014
Rated

4

out of

5
 by
avg21
desk bins
I love my new bins! They beautify my desk area and keep it organized. I no longer have a bunch of junk thrown everywhere. It is neatly put away in my bins, and they add a cute touch to my desk area.
March 12, 2014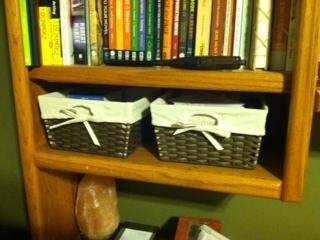 Rated

5

out of

5
 by
southerngirlnc
Excellent storage solution
I love that this beautiful style comes in different sizes. They look great on a book shelf or in cubbies. Yay for organization that is pretty!
October 22, 2013