Rated

1

out of

5
 by
GothamOrganizers
Total fail
I love the concept of a staple-free fastener. Nothing to refill, no waste and it makes paper easier to recycle. When my old one broke, I was excited to try this model. The window to watch the process seemed cool. However, the mechanism jams most of the time and gets totally caught if you try to staple 4 sheets - see photo with stuck gadget
January 14, 2016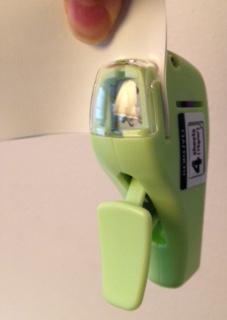 Rated

4

out of

5
 by
LoveTheBeach
Gift for teacher
This is a gift for teacher. She has gone through 4 or 5 staplers and it's the half Year point. Hope this works now. I tried it, and I thought it did quite well with four pieces of paper.
January 3, 2015
Rated

5

out of

5
 by
AlisaGofAccounting
Neat
I love this stapler. Just wish it could stapler more papers together than it does.
July 22, 2014
Rated

4

out of

5
 by
2joyful
No staples
When I first saw this online I was hesitant to buy it but I decided to buy the small one and all I can say is that I love it. I don't have to worry about staples. The only thing is that you can't staple a lot of papers so I still have to use a regular stapler but it's still great.
April 26, 2014
Rated

5

out of

5
 by
homeuser
Better than expected
This staple-free stapler is great. I like that I never run out of staples and that I can put old documents directly into my small home shredder (no staples to remove). It REALLY holds the pages together as well as metal staples. Only down side is that once pages are together, if you want to separate them to make copies it is more difficult to remove and re-attach than it is with metal staples. Very happy with this purchase.
April 25, 2014
Rated

5

out of

5
 by
SHMN
No more staples!
No more staples to remove before shredding.This staple-free stapler works really well! Sturdy, sleek and best of all...green!!
April 23, 2014
Rated

5

out of

5
 by
Buckwheat
Amazing Invention
This actually works! It is very slick and clever how it "staples" paper together. I plan to get many more to give as gifts. It is unique, and I marvel each time it does its thing. Very cool!
April 12, 2014
Rated

5

out of

5
 by
messymarvin
clever and green
clever idea, easy to use. best for few sheets of paper.
March 22, 2014
Rated

5

out of

5
 by
Joahn
So far so good
Works like it should. No issues so far. The previous no staple stapler broke down after a few months. This one appears sturdier so hopefully it'll last.
March 16, 2014
Rated

5

out of

5
 by
JanetK
Best buy
This little staple-free stapler works like a gem. Don't have to worry about all the different staple sizes for all my staplers with this one-size fits all product.
March 6, 2014
Rated

5

out of

5
 by
Maria5
Works Great!
I purchased this as an impulse buy, and intended to give to our school secretary. I ended up opening it to try it out, and it never made it to her. I love it, works great, and it's safe for the kids to staple things. I can carry it around in my purse, and I won't have to worry about staples either running out or falling out. Going to buy the larger version for the secretary!
February 24, 2014
Rated

5

out of

5
 by
flacoral
Going Green
Like the fact I don't have to purchase staples ever again...just press and it clips and snips. Easy to take apart and doesn't damage my files.
January 1, 2014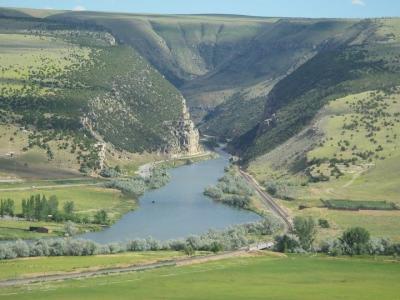 Rated

5

out of

5
 by
rhysjm
Unique tool
I have to remove staples before shredding so this was perfect although I was a skeptic. It works quite well! It doesn't hold more than 6 sheets but that is reasonable. My co-workers were also very impressed!
December 29, 2013
Rated

4

out of

5
 by
Ayecee
Not bad
I like the concept behind this; I try to be as eco-friendly as possible. It's easy to use, but I just have to make sure the papers I'm stapling are touching the end of the slot (or else it'll hole-punch the edge off your paper instead). This is great for those who shred documents at home since there are no metal staples to worry about. However, the handles of the stapler are spread out pretty wide (my fingers aren't that long) & there's some resistance when squeezing them together. They're almost like hand grippers, but not as intense, lol. Lastly, you'll have to handle your papers carefully. I used this to staple some homework a few times. After they were graded, my professor gave them back to me with some pages unattached. So beware: other people will not be as gentle as you at handling papers.
December 15, 2013
Rated

4

out of

5
 by
smallpotatoes
Reliable and Safe
Good purchase for a classroom. Don't need to worry about the children getting pinched or cut by real staples. Had trouble using it with seven pages. Worked best for smaller amounts. Children love using it.
December 13, 2013
Rated

5

out of

5
 by
PizzaGuy
Very impressed!
I expected this to be more of a novelty item, but it really works GREAT!! Easily "staples" multiple documents together without having to refill with staples ever! I'm very impressed with the overall operation and I would DEFINITELY recommend it to others! Great product!
November 6, 2013
Rated

5

out of

5
 by
bch123
Terrific stapler! Holds very well.
I have now bought 3 of these wonderful staplers that don't use metal staples. I bought one of the larger models and 2 of the smaller ones. They are ingeniously designed so that a tiny piece of the paper is cut out, folded back and tucked into a slit. The "stapled" papers hold very well. This new style is awesome. No need to buy metal staples ever again.
April 26, 2013
Rated

5

out of

5
 by
BXVMom
Excellent Gadget
Love this product - You don't need to buy staples every - it makes a hole and folds the paper over on itself! Great way not to injure yourself.
April 26, 2013