Rated

2

out of

5
 by
MelCel
Does not meet specifications listed
Yes, it is a great container. However, do not rely on the measurements listed on the website (12" x 4" x 3-3/4" h). My intended use needed it to be close to these dimensions. However, it is more 11.5" x 3.5" x 3.5"h.
January 14, 2016
Rated

5

out of

5
 by
MonkeyMama
tall box for headbands
We use the tall handy box to house my daughter's headband collection on her dresser. Good product for the price. Buying another for my niece to stuff with pretty hair things for Christmas.
December 6, 2015
Rated

5

out of

5
 by
RainbowsUnicorns2014
This is excellent to dry your acrylic nails
I may be using this for something no one would think of, but I think this works for people with curious cats.:-) After I paint my acrylic nails, which I do this with the nails off, I put them on a tissue and dry them in the plastic box. It works great.:-)
June 12, 2014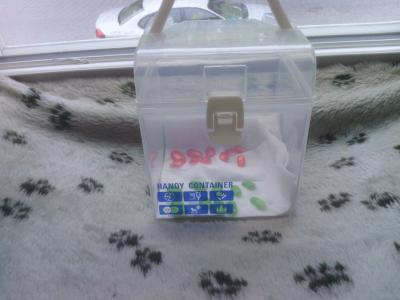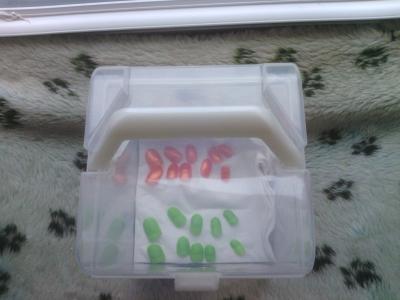 Rated

5

out of

5
 by
TerriLG
Handy boxes as spice storage on our boat
Handy boxes and the resealable 4x5 plastic bags have become my new spice rack. We needed to reduce the space our spices took up. We also needed something that wouldn't break and not spill when the sailboat was rocking in waves. I have about 100 spices in 5 boxes. This has been a lifesaver.
May 4, 2014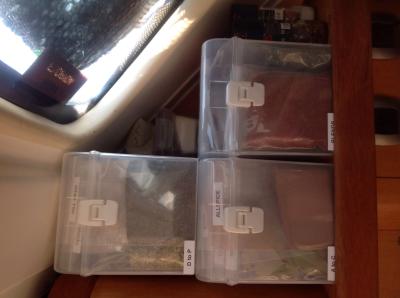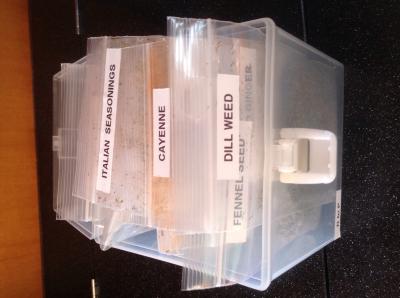 Rated

5

out of

5
 by
NovemberKid
Love these boxes!
I have two of the Handy Boxes and just love them. One is used to hold the foot pedal and cord for my portable sewing machine. The other is home to my dogs grooming brushes and combs. They are just the perfect size!
April 29, 2014
Rated

5

out of

5
 by
Michelle0728
Medicine Box
I used this as a medicine box for the kid's bathroom. Very cute!
April 7, 2014
Rated

5

out of

5
 by
orderly1
Repurposeful gift
I got this handy carryall as a gift box to hold a larger gift certificate for a friend. I crumpled up cute tissue paper inside,which looked adorable through the clear exterior. It is such a handy size carrier for so many things. It created a gift within a gift and no gift boxes were wasted.. My friend liked it as much as the gift certificate!
April 2, 2014
Rated

5

out of

5
 by
Kolt
Fabulous
I recently purchased the handy boxes. I loved the way the boxes helped to store first aid supplies, cosmetics for my triplets as they used these handy boxes for college. I would recommend these items to purchase!
August 26, 2013
Rated

5

out of

5
 by
Mmonas
Sturdy box
I bought this container to store crayons and markers. Advantages: Perfect size, can see contents of container, very sturdy, and the handle makes it easy to carry.
July 16, 2013
Rated

5

out of

5
 by
author01
Handy Boxes
I am using these for card making supplies. They work great..can see what you are storing, and the clasps are very good.
June 7, 2013
Rated

5

out of

5
 by
MyasIrishGrandma
LOVE, LOVE, LOVE These Handy Boxes!!!
Bought 2 of these in the standard 9" x 5 3/4" size & I absolutely love them. I wanted one for my DSi gamer...& it's perfect! I'm able to store my DSi inside it's protective hard zippered case, my DSi stand, my extra stylus & my hard plastic 24 slot game cartridge holder & still have room left. I can even fit my game chger in it, as well. The box is very compact, nicely made, closes securely & all my gaming equipment is nicely stored in one place. I like that it's clear so u can see at a glance that everything is where it is should be. The other box will be allocated for some of my crafting supplies. I will definitely be buying more of these little treasures & would highly recommend them to others.
May 20, 2013
Rated

5

out of

5
 by
Irchik007
Love these
I use them to store my nail polishes. But they are great for storing practically anything.
May 4, 2013
Rated

5

out of

5
 by
iheartpolish
So Handy
I bought the tall handy box for my manicure items I just love it very compact and I can tote it anywhere
April 30, 2013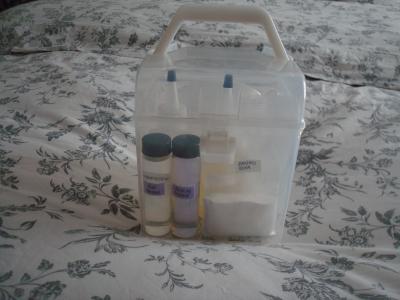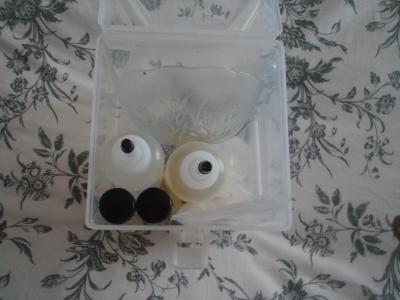 Rated

5

out of

5
 by
Scorpio08
Great for beading threads/wires
The Long Handy Box holds 17 spools of beading thread/wire. It's great to have them all in one spot!
April 4, 2013
Rated

5

out of

5
 by
Misp
Great size
This box is a great size and nice quality. It would be nice for all kinds of storage.
March 27, 2013
Rated

5

out of

5
 by
BoxinaBox
Love Long Handy Boxes
I love the Long Handy Boxes! They are the perfect size to store bangle bracelets upright. I have hundreds of bangle bracelets and with the Long Handy Box it is easy to store dozens by color. Since the box is clear, I can see what I want at a glance. I have two and will be buying more for sure.
March 18, 2013
Rated

4

out of

5
 by
1nonblonde
Works well
I purchased the Long Handy Box to store my Tim Holtz Distress Ink Pads. The Long Handy Box makes it so convenient to store my stamp pads! I added the name of the ink color on a label to the edge of the stamp pad and placed them in the box. I can see the pads through the clear plastic. The box also allows me to store the pads in a "stack". I simply turn the container on it's end & open the lid for quick access while I'm working. The only draw back to this box, like another reviewer mentioned, is the latch continually popping off every time it's touched. I'm working on a way to prevent that. But otherwise, I'm very satisfied with the box - especially that it has a handle!
March 18, 2013
Rated

5

out of

5
 by
LMax
Handy Medicine Box!
I'm in love with these boxes for all kinds of uses, but my favorite is as a medicine kit for my toddler. It's sturdy and the handle is great. I can easily fit two bottles of medicine, an ear thermometer with covers, baby menthol rub, and various other necessities in here--more than you'd think! It's easy to grab in case of emergency, and even on a normal day when he's not feeling well, it's great to have everything in one handy spot to take from room to room. I also use these for crafts, toys for the car, even as a snack box from time to time. Love it!
March 9, 2013
Rated

5

out of

5
 by
EKC1
Great for dental models
As a dental student, I needed a box that was sturdy, big enough to fit dental models/casts, but small enough to squeeze into my locker. These are great!
March 7, 2013
Rated

4

out of

5
 by
Kiwis20
Just what I needed but...
I purchased the long handy box to store my make-up brushes and it worked well, however, the latch at the front of the box keeps coming off. It's easy to put back, but it just gets a little annoying when you have to do it over and over again. Other than that, the box worked well for me.
April 27, 2012
Rated

5

out of

5
 by
BBCrafter
Favorite item at the store
I own over 25 of the handy boxes although the tall one is my favorite, I use it the most in the craft room to hold my pens, markers, paints, die cuts, stencils and my card examples. However, it is also a great container for the office as it perfectly fits CDS.
March 28, 2012
Rated

5

out of

5
 by
GoldieBaker
Long handy box = nail polish storage
The long handy box is perfect for keeping a few bottles of nail polish and some nail files/tools. After buying one for myself, I decided to order several more for gift-giving.
March 26, 2012
Rated

5

out of

5
 by
Drmrs
Very versitile!
I bought the tall box and put various Amac boxes in it to make a multicolored first aid kit. It's a great size and I love that it has a handle!
March 21, 2012
Rated

4

out of

5
 by
ShortandSassy
A handy box
I purchased this box after carefully measuring, as I had a specific need in mind. It is a tight fit for my need but it works just fine. It does hold what I needed it for. Seems sturdy and will be used in all kinds of weather so it seems to be just what I needed.
August 26, 2011
Rated

5

out of

5
 by
WildHeaven
Great First Aid Box
I bought the standard box to keep our first aid supplies together. Before we had bandages, neosporin, wound cleaners, etc in so many different places. Now it's all together. You can see exactly what you have in it, without opening it. I keep the box in our linen closet. When my son gets a ouchie, all I have to do is grab it, fix him up & he's ready to go. I want to get another one for first aid supplies to keep in my car. But the great thing about these boxes.....you really can use them for anything!
July 15, 2011
Rated

5

out of

5
 by
HollyGoLightly
Perfect Size & Very Handy!!
These make GREAT portable "make do" first-aid kits!! They're clear so you can see the contents, and light weight, and extremely HANDY!! Thanks!
July 5, 2011
Rated

4

out of

5
 by
JDtwo
Handy Carrying Box
This is a very light weight clear plastic box. Great for carrying small items. I bought seven of these boxes.
February 15, 2011
Rated

5

out of

5
 by
rdaniel
Lightweight box
I purchased the standard box ($3.99) to give to my two year old granddaughter. I wrote "art box" and her name on it and loaded it with stickers and some crayons. It was very easy for her to grasp and carry and she could see what was in it. Perfect.
October 22, 2010
Rated

5

out of

5
 by
speedie
Just what I needed!
I wanted something simple to store computer software CDs, just in paper sleeves (not jewel cases). I have 50 in mine now (Tall size), could probably hold 75. I keep it on a shelf and know exactly where all the software is for 4 computers. Just excellent! Holds exactly 12 jewel case CDs if you want to use it for that.
May 29, 2010
Rated

5

out of

5
 by
Aileen
Fantastic price!
I love versatile things! These boxes are so wonderful for storing and carrying anything. I use the long shallow one to store all my nail polishes. I use the tall one to store markers for my daughter. I use the medium one to store knitting needles. Tons of uses!
March 2, 2010