Rated

5

out of

5
 by
Pally34
Awesome as a headboard!
Love these as a make-shift headboard! Great low cost and really makes an impact in my guest room! I used black upholstery tacks to put them up. Easy!!
June 10, 2016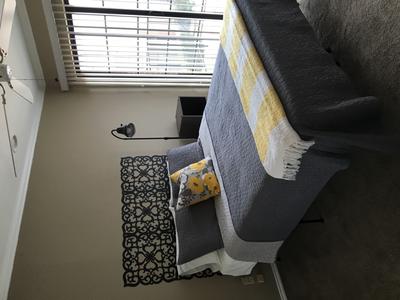 Rated

5

out of

5
 by
Zeester
Screen Panels
LOVE THESE! I have bought 3 packages. Used them as a makeshift headboard for my bedroom.
July 1, 2015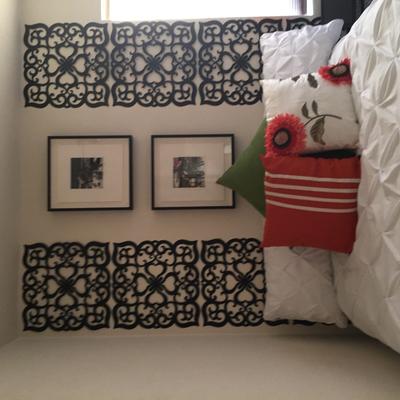 Rated

5

out of

5
 by
BD50263
Surprising purchase
I saw these in the store and wasn't sure what I would do with them but for only $10 I didn't care I would figure something out. I put them in a square and hint them above my bed, looks great and easy to assemble.
January 9, 2017
Rated

5

out of

5
 by
Nrose61
Best Purchase
I bought these to add a little flair to my displays. Not only did it succeed in that area, it also attracted many customers with positive feed back.
July 18, 2014
Rated

5

out of

5
 by
Beccilynn
Decor Screen Panels
I went to the opening day in Seattle (Southcenter Mall) Wa. I had to go through EVERY isle of course ! I wanted EVERYTHING ! But these panels were the one thing that I really could not live without that day. I had NO idea where I was going to put them, as all my wall space is set up nicely. They actually sat for 2 weeks until FINALLY it came to me! I hung them on my bedroom door and it was a great idea !! I would recommend these, they are lightweight, easy to hang and add such a dramatic effect !!
April 25, 2014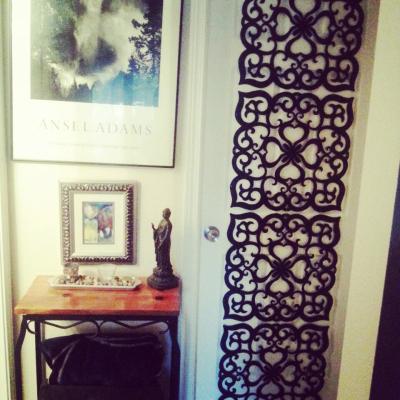 Rated

5

out of

5
 by
Sarahgrace
light weight wall hanging
I hung these up on the 20 ft high wall of a room with a valted ceiling. Although I needed a ladder to put them up, it was realitively easy since they are so light. I didn't like the idea of having something heavy hanging above our heads, and these were the perfect answer..
March 31, 2014
Rated

5

out of

5
 by
mrsbdavis
Love love love
Simple, cheap, fast, and easy. Decorate a wall in 2 minutes with the panels. They look very elegant. I just wish they had more color options.
March 12, 2014
Rated

5

out of

5
 by
Melina
I love these! They're so versatile; you can hang them all vertically, horizontally, or in a square. Last year, I didn't have a headboard, so i hung them horizontally behind my bed. And now, I'm hanging them vertically and putting pictures in the different slats to take up some empty space on a wall. I do suggest that if you're going to hang them vertically with thumbtacks, put two tacks at the top and two in the middle, because it is a bit heavy and may fall down with only two tacks at the top.
March 12, 2014
Rated

4

out of

5
 by
Anginsan99
Great accent piece
These panels will make any place pop! The design is beautiful and they're easy to put together. I just wish they came with something to hang them with and/or with instructions recommending how to hang them.
February 1, 2014
Rated

5

out of

5
 by
chilione
Large and strudy
These are a great addition and are fast and easy to use. Made of good sturdy plastic. I used them to make an easily removable cover over an electric panel box (they aren't fastened permanently to the wall, just hang in front using Velcro). They're light so the lift to gain access to the panel box.
January 20, 2014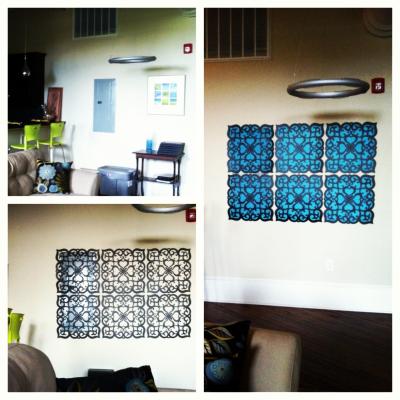 Rated

5

out of

5
 by
chikafreska
Cost effective way to decorate
Have small guest room, to minimize space I don't have a headboard for the guest bed, thought this would go great hanging off the wall acting as a faux headboard. Worked!!!!! Looks great and did the trick!
January 16, 2014
Rated

5

out of

5
 by
kla708
Love these decor screen panels
A very unique product that can be used for so many things. I am having trouble deciding where to use the, because they work in so many locations
January 6, 2014
Rated

5

out of

5
 by
camperchick
easy way to decorate your camp site
bought these colorful, easy to hang, space saving decor panels to hang from our shade tent at music festivals. love these happy flowers!
August 25, 2013
Rated

4

out of

5
 by
sass30
Great for a bland room!
I bought the black design to add a little something to my white bedroom walls in my apartment. I got a ton of compliments and everyone wanted to know where I made the purchase. I would give it 5 stars, however when I was moving out and removed the panels, it left a black residue on the white walls, which was extremely hard to remove with soap and water.
July 30, 2013
Rated

5

out of

5
 by
create25
LOVE THIS!!!
Such an unexpected purchase from the Container Store!! The minute I saw these decorative panels I knew what I was going to do with them. I hung 3 above the bed in my guest room. Absolutely finishes this room with such a special touch! I have one left over that I think I will also hang on wall across the room. The price was awesome and so easy to attach to wall(I used little nails).
July 8, 2013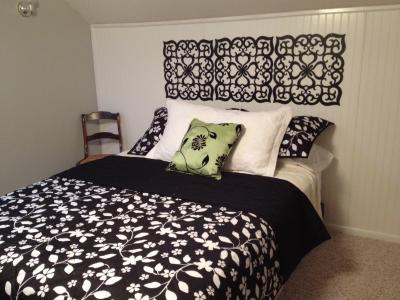 Rated

5

out of

5
 by
jennac
Screen Panels as Curtains
This was a great purchase. I have a small, rectangle room with a long window. Putting curtains on would hide the great view and make the room seem so much smaller than it already it. I bought a few of these packages and hung them on the sides as curtains. The go great with the theme and add such a unique style! They are super easy to put together and take apart too.
May 7, 2013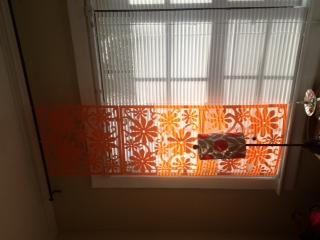 Rated

5

out of

5
 by
YawningDog
So many uses
There are so many things you can do with these. I'm going to spray-paint them copper and use them as a backdrop on the wall where I hang my pots.
May 6, 2013
Rated

5

out of

5
 by
Melanie91
Beautiful Decoration
The black panels are my personal favorite. They are a perfect backdrop for a bedroom. They are versatile, you can choose how many panels you want in each row and are easy to put up yourself. These are awesome!
May 3, 2013
Rated

5

out of

5
 by
Antonisha
A little umph for little money
I purchased the black decor screen panels and absolutely love them. There are a number of things that you can do with the panels. I ultimately decided to hang them above my headboard as a little extra umph :).
April 29, 2013
Rated

5

out of

5
 by
Verified Reviewer
Stylish and Super Cheap!
I bought the black panels and have them hanging in my kitchen window in a 2x2 arrangement. I thought they were a stylish, more contemporary alternative to curtains, and I love the way they play off the decals I have on my wall. I've had them for a couple of years now and get tons of compliments. Highly recommend!
April 26, 2013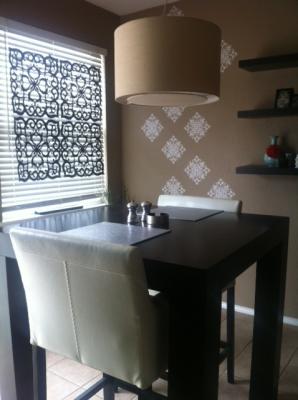 Rated

5

out of

5
 by
LES37043
Inexpensive bold decor
These panels are great and the price is what I'd expect at a thrift store. They are fun and provide such impact. I prefer using them separately to give punch to a drab area hung directly on a wall or dangling from a window opening. They can also be used outdoors on a patio.
April 5, 2013
Rated

5

out of

5
 by
heathorxleigh
Absolutely gorgeous!
I bought the green panel with the intentions of putting it in my daughter's room but quickly decided that it was meant for the dining room. It's the finishing touch the room needed. Very easy to put together and hang!
April 4, 2013
Rated

5

out of

5
 by
ggsmom
Great deal!
I bought 3 sets of the panels in black and put them in my teenage daughters room. They look beautiful and make such a statement.
March 29, 2013
Rated

5

out of

5
 by
Leslie21874
Decor panels
a simple product but adds so much "pop" to an area. Looks like contemporary artwork hanging on the wall.
March 23, 2013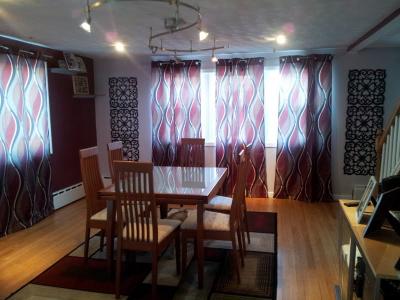 Rated

5

out of

5
 by
Lizbeth
Wow
Terrific way to brighten up a room. Hung them up on a wall to add color and freshness.
March 20, 2013
Rated

5

out of

5
 by
rmcq
Decor Screen Panels
Easy to hang, it looks great and very nicely priced.
March 19, 2013
Rated

4

out of

5
 by
MrsClark
Great as a room divider
I purchased three packages of the orange panels as part of a plan that I didn't really know would work--but it turned out great! We moved into a new place and I work from home, so I needed a way to divide my office space from my bedroom space. I used an old clothes hanging rack that wasn't being used anymore and attached the panels to the top with zip ties. It actually turned out really well! Pros: even though there is a lot of "negative space" in the pattern, you don't really "see through" the panels once they're up, it sorta tricks the eye. It does let light through though! Cons: The little connector rings to string the panels together were REALLY DIFFICULT to get the hang of--my fingers were a little raw afterward.
March 18, 2013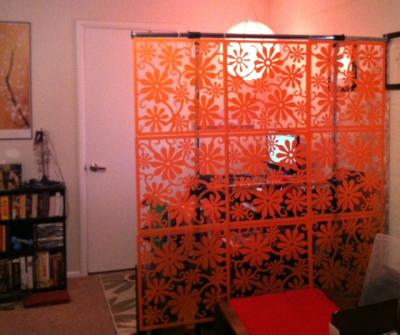 Rated

5

out of

5
 by
Designerwannabe
Instant Elegance
I have 3 sets of french doors that on the one hand bring in lots of light & on the other hand no privacy. I purchased the Decor Screen Panels & it immediately gave the room instant elegance at a fraction of the cost curtains would.
March 18, 2013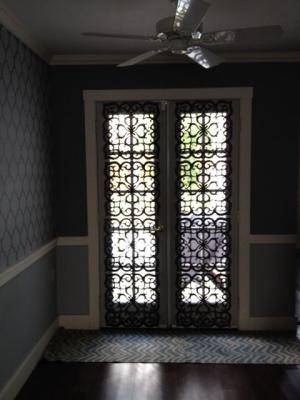 Rated

5

out of

5
 by
easy4you
Cute and Affordable
I purchased these panels in white (daisy) to brighten my cubicle at work. They're easy to hang (I used extra long push pins) and they really brightened my space. In fact, everyone I work with had to come by and see how they looked once they were installed and I received many compliments! This is really a great value and will add a lot of style for just a little bit of money.
March 16, 2013
Rated

4

out of

5
 by
Edel
simple fashion
i got the orange and the green color. It has put some pop of color in my drabby office and bedroom. The owner of our house has hooks hanging from the ceiling. I wasn't sure what they were for, but the panels hung nicely from them to accent and separate my reading area of the bedroom. The orange ones I clipped between my shelves in the office - great idea, huh? I don't have to paint the walls!! I only gave it a 4 because 1 of the panels was peeling of shaved plastic off the edges which I pulled out individually. I got these on sale, so not a big concern,
March 13, 2013