Rated

5

out of

5
 by
SimpleStyle
Perfect Dessert Carrier
I own 3 of these sets and use them all the time to carry my baked creations to events and family members. What I love most about them is the insertable tray. It is reversible for a variety of uses. I carried 96 cupcakes in 2 1/2 sets this weekend by nestling them in on the smooth side of the trays. For a usual batch of 24 cupcakes, the cupcake side of the tray is perfect to keep them safe for transport. The height of the containers allow for a generous application of frosting. I've carried dozen of iced cookies by putting a layer on the bottom of the container and standing the tray up on its handles to create a second layer. You can hold 4 layers of cookies, by covering a bottom layer in parchment, with another layer resting on top, then the tray with two layers on it as well. I carry 9-inch pies in these containers as well. This isn't an airtight fit, but for most baked products you don't want completely air tight or they get gummy. I find that the boxes keep my goods fresh for a few days at room temperature. I have frozen and refrigerated baked goods in these containers. They withstand the cold under normal circumstances, but I did drop a cold layer once and the plastic cracked. They are fairly indestructible at room temperature. The handle on top is sturdy and the latches hold firmly even when being lifted from the top, but I always just place a hand under the bottom to be safe.
February 20, 2014
Rated

5

out of

5
 by
aaalfonso2000
Great Product
This is a bakers dream product just be careful of tilting it to the side. They will fall over. Otherwise, I use this all the time.
May 20, 2013
Rated

5

out of

5
 by
JimmyJoe
Great carrier
We already had one of these carriers and needed a second in order to store enough deviled eggs that we were preparing for a party. They are well made and are excellent for both storing and transporting deviled eggs without the eggs moving around and becoming messy. Glad we found the product.
May 3, 2013
Rated

4

out of

5
 by
MissMittens
Works like it should!
I purchased this cupcake keeper for my high school daughter. It serves the purpose! I like that the inside trays are reversible so you can transport cookies, brownies, etc also. After only a couple of uses, one of the outside clips broke, but I returned it to the store for another and have used it for a couple of years with no problems. After it went to college with my baker daughter,I purchased one for me! I would recommend this cupcakes keeper!
February 13, 2013
Rated

1

out of

5
 by
kgosse1
A waste of money
I needed a carrier for the cupcakes I baked for my office holiday party. This is cheaply made and poorly constructed. The inserts for the cupcakes are not deep enough so the slightest move will send the cupcakes tumbling on top of each other. Also, had I not placed the holder in a larger bag, my cupcakes would have been all over the floor because on several occasions, the bottom collapsed. I would have done better keeping my cupcakes in the original muffin tins and decorating them before the party. Save your money because this carrier is not worth it.
December 14, 2012
Rated

4

out of

5
 by
SJRE
Good but needs improments
I like this cupcake carrier but the cupcake holder/base need to be a little deeper to hold the cupcakes. You have to hold the carrier very careful otherwise the cupcakes fall of their base and bump into each other. I think if the base was each cupcake was deeper the cupcakes would stay in place. I guess it would not matter if the cupcakes don't have decorations or frosting but how likely is that.
November 1, 2012
Rated

2

out of

5
 by
XYY15MOM
Great concept, disappointing execution.
I really wanted to love this product, but it didn't work out. I love Snapware's products, and this is the first one that I've ever been disappointed in. I bought two of these carriers, and have returned them both for different reasons. On the first carrier, the small tabs that hold the lids down cracked off upon first use. With the second carrier, I found the construction to be flimsy. It was fine while empty, but once I'd added the weight of two dozen cupcakes, the long sides of the carrier began to bow and sag open. (Only the short ends have support clips.) It was so unsteady that I gave up using the top handle and carried it from the bottom. Certainly, I would never have clipped on any additional trays or weight to the the bottom of this carrier. Kudos, as always, to Container Store who took back both carriers with no problem and apologized for the inconvenience.
April 16, 2012
Rated

5

out of

5
 by
Ceelie
Awesome!
I've put off buying a cupcake carrier because I didn't want to spend money on one, but when I saw this one, I knew I had to have it. It is awesome! It's sturdy plastic and easy to clean, plus so easy to use. The interior design with the cupcake tray is very clever, and the locks to hold the two levels together work great. I don't have any problem fitting the cupcakes into the cupcake wells, as some reviewers said. I'm sooooo glad I bought this!
April 15, 2012
Rated

5

out of

5
 by
Verified Reviewer
Sturdy
This Cupcake Caddy is sturdy and has little indentions to keep the cupcakes from sliding around. Next time I bring cupcakes to school for my kids the frosting will remain intact!
March 30, 2012
Rated

5

out of

5
 by
HelpMeOrganize
baker
i have recently found the love of baking ... i especially love making cupcakes. this is a great way for me to bake my cupcakes and know that i can take them anywhere and they will still look as good as they taste. love it!!!
March 20, 2012
Rated

4

out of

5
 by
DesireeNYC
Where Was This When I Was in Grade School
This is a baking mom's dream. I wish this had been around when I was in 2nd grade and bringing cupcakes in for my birthday! I love that you can flip the trays around to keep flat items like cookies and tarts. This would be a 5 Star Item if it had a way more secure strap. Right now, it feels very precarious. My solution has been to get 2 large rubberbands and put them over both ends to keep it from popping open. It's worked out great!
March 19, 2012
Rated

5

out of

5
 by
mrtwo
The Best
I have tried other containers out there and this one tops them all. I have made at least 4 batches up cupcakes in the month I have owned this container and not once have I had one tip over with all the transporting I have done. I love the fact that it is so versatile also-- will be great for brownies and cookies! The handles for the trays make it sooo easy to lift out the cupcakes. I HIGHLY recommend this.
March 19, 2012
Rated

5

out of

5
 by
OrgAddict
Best cupcake carrier ever!
This cupcake carrier is plenty sturdy, and holds 24 cupcakes. I love how the "shelves" work. You can flip the shelves over and snap the handles down to make two shelves per bin (4 total) which is nice for cookies. The handles hook on the sides of the bin to raise the cupcakes for folks to take them. The cupcakes are spaced well, so it's easy to pick one up without touching the others. I do recommend loading the cupcakes into the holes while warm and decorating in place... the cupcakes wedge into the holes better when warm! I have had mine for over a year, and used it many times! It's perfect!!!!
March 10, 2012
Rated

5

out of

5
 by
spc17
Fantastic!
I find myself making cupcakes more frequently than cakes and was struggling with storage & transporting them until I found this product. It easily holds 12-24 cupcakes (can be used with just a single level) or small cake or cookies/brownies, etc. I've been very pleased with my purchase.
March 9, 2012
Rated

5

out of

5
 by
MaryRene
Looking for more for gifts
Bought a tripple tier when they first came out. Everyone loves the container and ask me where to buy a set for themselves. I never have problems fitting my cupcakes in them. If your cakes are too wide at the bottom, then you are using a muffin pan. I scout out all of the estate sales and garage sales for Mirro or other made in the USA aluminum cupcake pans. I now have 7 pans-- and all of the cupcakes fit in my carrier. Chilled or frozen cupcakes can take a beating on a bumpy road in this carrier! Yes I haul them in my 4x4 truck!
July 8, 2011
Rated

4

out of

5
 by
Mom11
Good, but not great
I was a little disappointed in the cupcaker carrier. It is well built and easy to carry. However, the circles for the cupcakes to fit in, are a little bit small. So, you have to jam them in and then get frosting on your fingers. Good basic design, but needs to be modified.
June 10, 2011
Rated

2

out of

5
 by
husker
Not so durable!
Couldn't wait to get it, I make cupcakes all the time! I only got to use it once - I took cupcakes to my sons school, at the end of the day we were gathering all our things. My son set his backpack on top of the carrier - the lid cracked in 2 places!
April 16, 2011
Rated

4

out of

5
 by
froggy
Mostly awesome
I was so excited to get this! We don't have a Container store where I live & the nearest is 3 hours away so I always go when I'm near. When I bought this and took it back to the hotel before leaving the next day, one of the little plastic pieces broke when I was snapping it together so I had to take it back the next day to exchange. Now, 3 weeks later, the same thing has happened with the new one! That's the only complaint though. I love how useful these are. It's so hard to find a 24 cupcake holder.
March 28, 2011
Rated

5

out of

5
 by
kjorg
Perfect!
This is so versatile, it's perfect! I was looking for something that would hold 24 cupcakes. Not only does this accomplish that, but there are other options. You can flip the tray inside and create a double decker for bars & cookies. The tray can also be a serving tray. It's easy to carry. I could go on...but bottom line this product is great!
January 26, 2011
Rated

5

out of

5
 by
pr3c1ou5
Excellent carrier!
Love, love, love this carrier! I had a Wilton Ultimate 3-In-1 Cupcake Caddy and Carrier before I bought this one, which only carries 12 regular cupcakes or 24 mini cupcakes. It's nice for a 9x13 cake, but it's way too bulky, and the holders are too big, so the cupcakes aren't secure. This carrier is on the opposite end with the holders being a bit on the tight end, but it's minor. Just gotta nudge it in there.
January 12, 2011
Rated

5

out of

5
 by
michey
yummy
Great product, sturdy snaps & carried 2 doz. frosted carrot cake cupcakes on the mbta for 1.5 hr + walking. Yes, the holes are a little snug: it's so the darn things don't pop out from all the jostling around. I just gently twisted/smooshed them back in & they arrived looking great. recommended. :-)
October 25, 2010
Rated

5

out of

5
 by
Hausfrau
Clever Design; Made in USA!
I live in Germany, land of cakes and confections. All the women in my German husband's family bake fantastic cakes for every get-together. Fortunately, cupcakes (especially decorated ones) are a bit of a novelty for Germans, so they are one way I can impress people. Now I can handily bring my American cupcakes along and offer something unique and attractive. The plastic is good quality, very clear and sturdy, and the fasteners all work well. I'm also proud that it's made in the U.S.A.
September 27, 2010
Rated

5

out of

5
 by
talkativeT
Perfect for my needs
I ordered two of these cupcake holders when I found out that I needed to pick up the cupcakes for the rehearsal dinner 2 days early.. I chose these because they each hold 24 cupcakes and they are freezer and dishwasher safe. Not only were they perfect, but the inter-locking feature allowed me to lock all 4 bases together with one lid/handle. This saved space in my freezer and made it easy to carry them all at once.
July 9, 2010
Rated

4

out of

5
 by
Rafi
loved it, but....
we loved using the 2-Tier Cupcake Carrier. the snap together worked better than I thought. Was great to take to the park. the only thing is that the bases of the cupcakes don't fit in too well and you need to wedge them in -- not so easy when they are iced....
July 5, 2010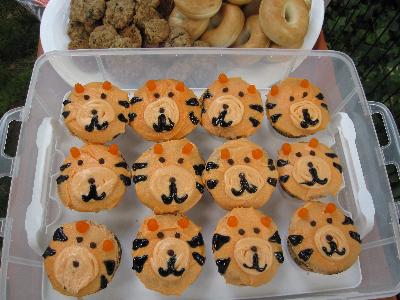 Rated

5

out of

5
 by
theorganizer
best purchase ever!!!!!!!!!!
I just love the cupcake carrier. It holds 2 dozen cupcakes very neatly and it is very impressive when you bring them into a room! The only problem I have is that sometimes the base of the cupcake does not fit into the slot. Other then that, they arrive beautifully!
May 17, 2010
Rated

5

out of

5
 by
mpee
Great cupcake holder
This was the best cupcake holder I have found yet. It has two levels so you can one or both and the inner holders can be flipped over to carry low cakes or cookies/brownies. This item is much more versatile than other carriers I have used. Great product!
April 9, 2010
Rated

5

out of

5
 by
anotherorganizer
best cupcake carrier
after looking around at all the available cupcake carriers, I found that this one was best. you can just use the top tray to carry 12 or snap both together to carry 24. I like that the trays move so that you can carry cake, or turn the trays upside down to double the shelves to carry cookies. and you can raise the trays too, so that it's easier for people to get the cupcakes out, without getting frosting on themselves.
March 29, 2010