Rated

5

out of

5
 by
Verified Reviewer
invaluable
these are great for left-over paint that would dry up in their original beat-up cans.
April 29, 2013
Rated

5

out of

5
 by
LeStressMD
So Many Uses
Every day I find another use for these tins. At Christmas, I filled them with homemade cookies and gave them as gifts. More recently I've used one to store my colored Sharpie pens...easy visual access. And they hold up well.
April 26, 2013
Rated

5

out of

5
 by
chelsir
Crafty way to show gifts
I used these to make candy gifts for the kids at school and decorated them. They loved them! They are so much more adorable in person than in the picture! I appreciate the store associate who listened to what I need, what I was using it for and took me and gave me so many options!
April 26, 2013
Rated

5

out of

5
 by
Mamaandthekiddos
for the garage
used this to store my hubby's knick knacks in his garage. It's functional as a organizer and to decorate his 'Man Cave"
April 19, 2013
Rated

5

out of

5
 by
Rslondon1
Paint Cans
These paint cans are Awesome. They are a fun creative way to store or display things!!!!
April 18, 2013
Rated

5

out of

5
 by
Pammlla
Great Flower container!
I use these clear paint cans to store and display my paper flowers used for scrapbooking. Not only do they allow for a lot of flowers to be stored, but I can see exactly what I've got and I don't have to dig around for various colors etc.
April 16, 2013
Rated

5

out of

5
 by
collegestudent176
cute!
my roommate and I like to use these to store candy in our room. Our favorites are skittles, twizzlers and m&m's. colorful and fun! so many uses-definitely not just for paint.
March 25, 2013
Rated

5

out of

5
 by
Morganizing
Endless Possibilities
Endless Possibilities as in SO many different uses! I have recommended these to a friend and she bought 3 of them. I have several of these and use them for a variety of things. I use one for "heel socks", another for shoe scent balls (plastic balls you drop in your tennis shoes to deodorize them). I also have 2 other ones I use for my multi media stuff, one has computer/ipod cleaners in it and the other one I keep my Flash drives, Earbuds and USB cords in which are wrapped around your bombino cord organizers/brackets. Lastly I have one that I keep paint ball gum in. I have one of your plastic scoops in there as well. These canisters look like paint cans so I though it would be a fun and cute idea to put paint ball gum in it.
March 20, 2013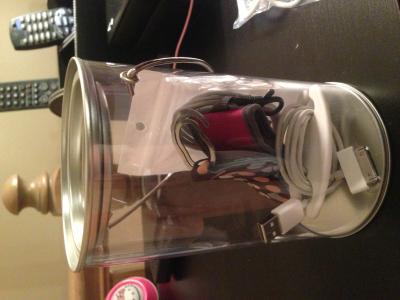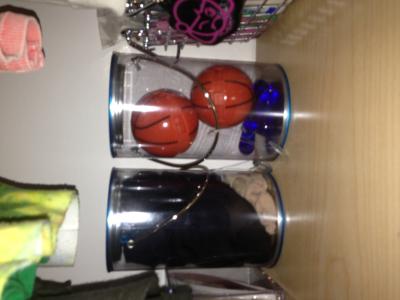 Rated

5

out of

5
 by
PseudosoccerMom
So many wondeful uses!
The paint cans are delightful ! I used them to restore order to my master bath, and since they're clear, it's difficult for smaller items to hide in them. They come in so many sizes, I use them for toothbrushes, make up brushes, tweezers and all manner of things that USED to clutter up my vanity !
March 18, 2013
Rated

5

out of

5
 by
altheajj
Multitude of Uses
These 'paint' cans are not only nice to look at they are practical too. The only thing limiting what you can do with these is your imagination. Pick some up, I think you will be very pleased.
March 18, 2013
Rated

5

out of

5
 by
Jocelyn
Fun for gifts, Great for projects
I've used these unique containers to package gifts for my nieces and nephews and I've also used them in my art studio for a fun way to organize my supplies. I love that they come in different colors and they have a sturdy handle. I even bought extras (they're a great price!) because I'm sure I'll find an exciting project to use them for.
March 18, 2013
Rated

5

out of

5
 by
KKelsey
Small Clear Paint Can
I love this product for gift giving. It shows off my cookies or cake balls beautifully and I don't have to add much else besides a tulle bow. You can see what you are getting, you don't have to put too much in and they lid is very easy to open and close!
March 18, 2013
Rated

5

out of

5
 by
mediaenthusiast
Super cute storage
Perfect size, shape, and "theme" for all those little screws, bolts, nails, and clutter in the garage. I love them!
March 18, 2013
Rated

5

out of

5
 by
TigerMom
Excellent Storage
I absolutely love these Paint Cans. They make the best storage for little items both in the kitchen and cute in the art room. I have also used them as gift boxes for little gifts to Teachers.
March 18, 2013
Rated

5

out of

5
 by
Lovesciencesoccer
Paint Cans Great as Gift Containers
I bought these to hold gift cards. I don't like buying containers that are not useful and that get trashed so these seemed like a good choice. Saw an idea in a magazine where the gift card on these containers was a paint swatch from a hardware store. Our daughter gave them to her teachers who loved them and thought they were very creative. Plus we could choose colors that were customized... gecko green for the science teacher, Mizzou colors for the Mizzou alum, etc.
March 18, 2013
Rated

5

out of

5
 by
Byrun
Containers
These containers are the best storage items I have ever bought!
March 2, 2013
Rated

4

out of

5
 by
plumbunny
Adorable
The "paint can" was adorable and even had a washer to use like a paint key to open the lid. I was just a little surprised that it was such a flimsy plastic. I thought it would be more durable. Still loved them though. And the colors were very bright!!!
December 26, 2012
Rated

5

out of

5
 by
DarciD
Good container
Good container with cute colored lids. The opener is easy to use but it's a good thing the cashier thought to explain it to me, otherwise I would have been fiddling with it forever.
April 30, 2012
Rated

5

out of

5
 by
b747stew
Great product!
I used this product during Christmas. I made chocolate covered pretzel rods, and used the small paint cans to "wrap" the and give as gifts! The pretzels fit great In them!
April 27, 2012
Rated

5

out of

5
 by
Scribeswindow
Winning package for gift
I sent all of my clients tea at the beginning of the New Year, and used the paint cans, and crinkly gift paper for the packaging. A big hit with everyone!
March 19, 2012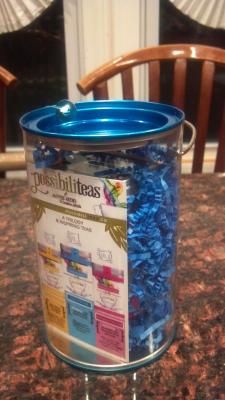 Rated

2

out of

5
 by
medusathina
flimsy construction
The plastic is very flimsy and bendable, not rigid as expected for the price
February 2, 2012
Rated

5

out of

5
 by
Boss
Fun gift choice
I purchased these cans for my staff on Admin. Day. I filled them with M&M's and the were a big hit. I got different colored lids for different departments.
April 27, 2011
Rated

4

out of

5
 by
Felisha
Very cute
I like the canisters alot, over all(i got one in blue and fuchsia). I ddnt realize when ordered that the clear part is plastic. The plastic is not very thick as it is very flexible and seems like is would be moderately easy to break if it were stepped on or if something very heavy were dropped on it. but i still gave 4 stars because it doesnt effect the purpose that i needed it for.... also i think these would be great for a kids craft room to hold colored pencils paint brushes etc.
February 26, 2011