Rated

5

out of

5
 by
Authorkate
Mesh Letter Tray
I bought 4 for my kitchen office! The quality I excellent, and the price is right! I recommend these mesh trays as one more reason that I love The Container Store!
March 28, 2016
Rated

5

out of

5
 by
HomeGoodsBuyer
Sturdy and Clean-Looking
Bought several of these trays. They look and work great.
May 12, 2014
Rated

5

out of

5
 by
Lolita
Multiply user Piece
I don't use this item to store my papers in the office, Oh No. I am organizing my cables under my desk, I wish i had a chance to take a picture of it, but it's not ready yet :) It took me a while to find the right piece and I have found it :)
May 3, 2014
Rated

5

out of

5
 by
Profesora
Sturdy and goodlooking
These arrived in good shape except for a small dent on the lower back of one. It won't be seen and doesn't change the functionality of it. With four together, it is a very sturdy addition for my students to place their work.
April 6, 2014
Rated

5

out of

5
 by
Profesora
Goodlooking and sturdy
They arrived in good shape except for one scratch on the front of one tray. I just used some Wite Out, and now you can't tell. They fit together well and are very sturdy.
April 6, 2014
Rated

5

out of

5
 by
tmw925
Very tidy
These stack easily, and the open mesh means no dusty bottoms-of-trays to try to clear out. My goal is to empty them -- when I can see THROUGH the stack, I'll be so happy! A fun motivation.
April 2, 2014
Rated

5

out of

5
 by
wennie
Great tray
I bought these to keep my quilting paper templates sorted. Works great and allows them to be stored flat, keeping them neat and organized.
March 12, 2014
Rated

5

out of

5
 by
dcarroll
Letter Trays
I liked the look of these White Mesh Letter Trays when I saw them in the store. When I got them home, I liked them even more! I put them in my "craft room" to help corral all the papers I had piled up from recent projects. They connect together well and securely. Just what I needed!
March 11, 2014
Rated

4

out of

5
 by
DeidreG
Great for Boss' piles
Got 2 of these set up on my desk and magically he has stop placing piles all over my desk.
February 26, 2014
Rated

5

out of

5
 by
joanpone
orderly stacks
Perfect organizers for my cluttered apartment desk. I may be slow in filing, but at least I look more organized. Spring cleaning in the winter.
December 29, 2013
Rated

5

out of

5
 by
ClearWay
Versatile
I used a dozen to sort different types of paper. They are almost high enough to hold a whole ream, but not quite. Whole reams can go on the top of the stack. Perfect when using multiple colors or weights of paper. Clip together nicely. Lots of bang for the buck.
October 12, 2013
Rated

5

out of

5
 by
iilxmichelle
I have 6 trays stacked on top of each other and they stay in place perfectly.
April 28, 2013
Rated

5

out of

5
 by
Jagster
Perfect!
These were perfect color, size, construction and overall usage. More sturdy than I could tell from the picture. I had purchased them at a much higher cost at a local store and these were the exact same product at that perfect price. Highly recommend!!
April 25, 2013
Rated

5

out of

5
 by
J9Kzoo
Great office organizers
I bought these to clean up the mess in my home office. I use different reams of paper and these hold them very well. In the bottom one, I have my MiniMac cpu & wireless router. I can thread the wires through the side of it and it looks so much neater. These trays are very sturdy. I searched online and these were the cheapest price on these particular trays. I love the "landscape" design....as my work surfaces are wider than they are deep. Great product
April 7, 2013
Rated

4

out of

5
 by
MidwestElle
Good Buy
I have two trays and stack them in our home office. They look great and work well even though the bottoms of the trays have imperfections like a small dent and a couple areas with bumps that are a bit scratchy. For $3.99 each on sale...good buy.
March 18, 2013
Rated

5

out of

5
 by
LolaB
Great Product
Variety and colors to ascentue the decor. Great price...
March 18, 2013
Rated

5

out of

5
 by
CalabasasFlowerGirl
Love it!
I looked everywhere for this container and some places had the exact same container for $30!!! I am thrilled with the product and the prices I found at The Container Store :)
March 8, 2013
Rated

4

out of

5
 by
Veri
Easy to use, just what they say
I love that these stack so easily, but I do wish their "footprint" was a little smaller. The mesh is decently sturdy, but will bend. The ones I received were in very good condition, but I have seen this same product inside retail stores and they can get decently banged up and bent. I would recommend them, but not for hard duty. They were perfect for my printer stand and I have four stacked up to hold reams of paper.
February 22, 2013
Rated

5

out of

5
 by
Abbey
Great Stacking Storage Solution
I purchased several of these to stack. I store various office needs like paper, mailing envelops and file folders. They are sturdy but light weight and I love the industrial look of the silver metal. An excellent bargin as well. I have matching magazine files and they look great together.
January 21, 2013
Rated

5

out of

5
 by
RyeGirl
Perfect!
These are sturdier than I expected and the price is great! They fit perfectly inside a cabinet in my office and I love how they lock together on top of each other. I've stacked them five high to sort my labels and printing papers. This has made my life SO much easier!
December 20, 2012
Rated

4

out of

5
 by
SPark
Serve the purpose!
Great trays that stack easily and hold my son's preschool workbooks, art and drawing paper easily!
November 8, 2012
Rated

5

out of

5
 by
Diane54
Alternative use!
I love these trays for organizing my cloth napkins! They are visible and accessible, and they stay neat and tidy!
September 23, 2012
Rated

5

out of

5
 by
Groovenboy
Great For loss papper
I think they are great. The connect together easily and they stay together. They are sturdy. I have them stacked 5 high. Great to hold folders, or loss notes and lists you have laying around. Great price. They fill my needs.
May 12, 2012
Rated

3

out of

5
 by
margw
Design could be improved
Design of this product could be improved by including mesh on sides rather than potentially bendable metal poles. Such an improvement would make it sturdier and more stylish.
May 7, 2012
Rated

5

out of

5
 by
Lmbiscrz
Great item!
I'm using this as a temporary fix to my messy unorganized desk. I like that it's stackable, but even more so that it's not super expensive! Great for college kids like myself!
April 30, 2012
Rated

5

out of

5
 by
MONK
Perfect Additin to theSuper Sorter
The Mesh tray is a perfect addition to the Mesh Super Sorter. These trays organized my files and important documents that I use daily. Stacking the trays saves a lot space on my desk top.
April 21, 2012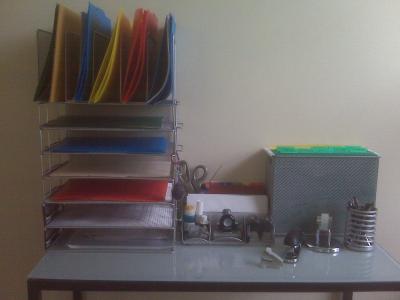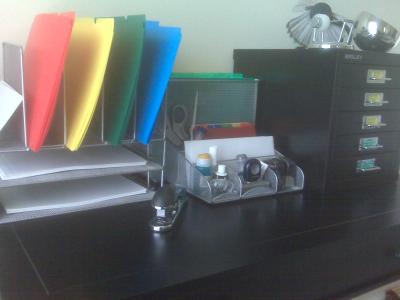 Rated

5

out of

5
 by
kyoung43
I bought these along with the sorter and stacked them up and I use them for my Scentsy materials! They are fantastic! I put all my unopen packs of catalogs and order forms to keep them all in one place!
April 12, 2012
Rated

5

out of

5
 by
coldplayer
jealous coworkers
I purchased several of the silver mesh letter trays after searching for a style that would fit amid the modern styling of my office building. When stacked together, these letter trays are beyond sturdy. The mesh trays are unobtrusive sitting on my desk and recede into the back ground amid blonde wood and glass finishing. They keep me organized without screaming 'HEY, I'M AN INBOX'. They are simple to stack and 'lock' into each other. At first, I expected some issues because of the mesh. I'm pleased to say I couldn't be happier with these trays. They keep my neat and clutter free, but allow me access to the things I need during a busy day. Oh... and my coworkers are so jealous. :-)
April 7, 2012
Rated

5

out of

5
 by
alliegd
Perfect for Dorms!
These trays are absolutely perfect for my dorm! They act as my in/out baskets and keep my university life a bit more organized.
March 23, 2012
Rated

5

out of

5
 by
Spish
Best Purchase Ever
Very sturdy I have 4 of them stacked together, they look really nice and the price is right.
February 28, 2012