Rated

5

out of

5
 by
Tercsi
Best ever item for organizing files
Very pleased with this item as it takes a minimum of space, is light and easy to handle. A highly recommendable item for organizing files in an easy way.
June 16, 2015
Rated

5

out of

5
 by
JaLin
Professional
Great quality product for a great price! These silver mesh files add a little something to an office - so much nicer looking than the plastic. Ordered 10 this time and may be back for more.
October 13, 2014
Rated

5

out of

5
 by
minnie6998
Organize My Tasks
I needed a way to sort my mail and organize projects. The mesh desktop files I bought are perfect for the task.
May 2, 2014
Rated

5

out of

5
 by
PalmBeach
The 'Go To" tool to organize current documents.
For organizing 'bills to pay", "mail to read", "documents to file" and "invitations for events to attend", the 'White Mesh Desktop File" is the answer.
April 25, 2014
Rated

4

out of

5
 by
BrightStuff
Scrapbook Storage
I bought one of these to store my scrapbooking paper and it works nicely. I am able to flip through the papers and see everything I have all in one place!
April 25, 2014
Rated

5

out of

5
 by
ArchitectinChestnutHill
Great for filing and keeping my projects organized
I'm a 'Piler' not a 'Filer'. I make piles of paper and samples. So this bin helps me stay organized. I used to have one pile with everything regardless of project. Now I have one bin for each project in process! After a project is done, the folders get moved to another bin organized by year! During the span of the project from concept through final photos I collect a lot of paper- schemes, correspondence, meeting notes, final drawings, construction photos, etc. as well as samples of anything from paint to tiles! And often there are 5 projects going! I can toss into the proper project bin current papers and stay organized. Now I need a wider bin for the projects with multiple bins!!!
April 25, 2014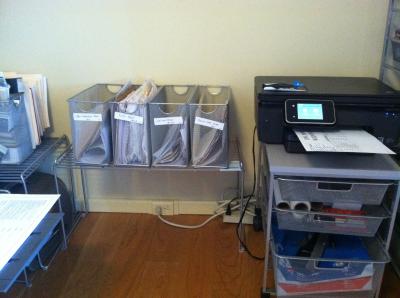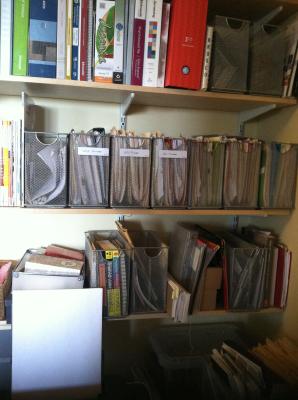 Rated

5

out of

5
 by
AMoney
Adorable desk orginzation
I have been struggling to find a system at work that is not only aesthetically pleasing but functional, practical and affordable. I love that these are white so if you paired them like I did with container stores fun and colorful hanging file folders it's easy to change out and bring color into cubicle. (I've attached a picture of a before and after for reference).
April 25, 2014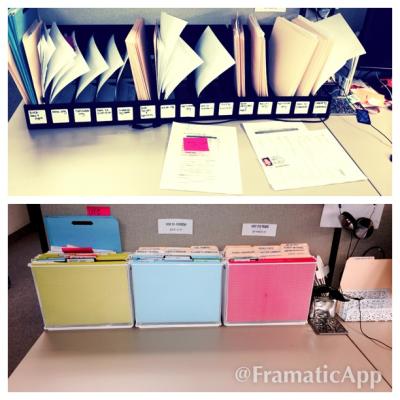 Rated

5

out of

5
 by
PacificNWHouseWife
Great for my office center
I purchased this product to use for my mail sorting and billing paying center. I have several files labeled incoming, outgoing, action, to file, and coupons within this and it is super helpful to keep things organized!
April 14, 2014
Rated

4

out of

5
 by
Bees
Attractive Desktop File
I own 4 of these which I use to organize my cardstock (for paper crafting). They are attractive and lightweight. It's easy to move them from place to place. My only concern is that the mesh walls seem to dent easily. It doesn't affect their use but it doesn't look as nice.
March 31, 2014
Rated

5

out of

5
 by
Rocky2
Using it to store hair products not files but it's working out great!
March 22, 2014
Rated

5

out of

5
 by
Danie
Silver Mesh Desktop File
These desktop files are very easy to store, don't take up very much room, and are great to use with the Container s=Store hanging files.
March 11, 2014
Rated

5

out of

5
 by
tieru
Mesh file keeper
Got this on my last trip to the container store, what a great organizing tool. Rugged and stylish and helps you organize. What more could I want!
March 11, 2014
Rated

5

out of

5
 by
OrganizingGuru1983
#1 Desktop File.... Excellent value for the price
This desktop file is an my #1 choice because it is sturdy, lightweight and an excellent value for the price. I always have a couple in my trunk because my clients love it.
March 9, 2014
Rated

5

out of

5
 by
rebezina
I love how clean the look is, and the diversity of file folders you can put in it. It will be as organized as you are.
March 5, 2014
Rated

5

out of

5
 by
EmilyT
Functional and Attractive
Filled with the stylish file folders available from The Container Store, this looks fantastic sitting on my shelf! It's a great option for keeping organized until I'm ready to transfer everything to the big filing cabinet in the basement.
March 5, 2014
Rated

5

out of

5
 by
EmBnowN
Versatile, sleek, and great value
I purchased this desktop file for my work office and I could not be more satisfied. I love the gray color and sleek look. I purchased colored hanging folders to place inside, so it became not only a tool for organization but a nice decoration along with my other décor. Hanging files fit perfectly and slide back and forth with ease. I can slide the desktop file across my desk and it will not leave any scratches! The handles on the sides make it nice and portable if I need to move it with me anywhere. This item is priced reasonably and is well worth the cost. I love it!
March 4, 2014
Rated

3

out of

5
 by
MBMOM
Eh.
I ordered two of these. The purpose was to use them to hold my 12x12 scrap booking paper. According to the dimensions, the paper should have fit perfect. My mistake in thinking the dimensions were for the opening, not the complete diameter. It's dimensions were based on end to end, so the opening for the paper was a shy of 12". I made them work, but I was very unhappy that they didn't fit the way I had hoped. These two things are stored on my white shelf...sadly, if you don't grab it and pick it up, it will leave a silver track where you've dragged it. I will be putting on some kind of felt bottom to avoid this.
February 22, 2014
Rated

5

out of

5
 by
JenNiemann
Great look
Great looking file for storing folders. And durable.
February 19, 2014
Rated

5

out of

5
 by
sababy420
perfect for shelving and looks great and professional
May 9, 2013
Rated

5

out of

5
 by
BlueBird
Great file organizer
I bought two of these and when I filled them, i was happy to be able to go back and get another one. So you can use the number that you need, which is a real advantage. They are not too deep, so I have them on a relatively narrow shelf and they fit just fine. They would look good one in front of the other, though. I use them with hanging folders and everything moves with ease. They look neat and light, since they're mesh and not solid. I guess i will get more, as my files expand.
May 3, 2013
Rated

5

out of

5
 by
cainwm
sturdy and useful
I purchased this item to have on my desk to use for a holding area. I have files for each family member as well as a "to be filed" file. Keeps my desk from becoming cluttered with papers and everyone's things.
April 28, 2013
Rated

4

out of

5
 by
kmkt
Great way to organize frequently accessed files
This was a great purchase that helped me clear up my desktop in an organized manner that makes things easy to find. It does this without taking up a lot of space. This contrasts with those traditional horizontal desktop trays which take up a lot of both vertical and horizontal space. The construction is sturdy and the file is balanced even when partly full. Luckily I bought 2 of these while they were on sale :-). Just hope it doesn't rust over time!
April 17, 2013
Rated

5

out of

5
 by
Chicks
Use mesh desktop file in your pantry
I use these to store packages of Asian noodles, pasta, beans, rice, chocolate chips in my pantry-one for each. I can see what type of product is in each file & pull it out & reach in for the product I want. Nice & neat.
April 11, 2013
Rated

5

out of

5
 by
crollpoz
Perfect desktop file
I prefer a clutter free desk. But there are papers you simply must access on a regular basis. The clean lines and silver mesh of this desktop file all but disappear while holding quite a lot of files. Sturdy. Just right. Great price. Has several matching pieces.
April 3, 2013
Rated

5

out of

5
 by
lordog
Just the right size!
Made up files such as: Incoming mail, Outgoing Mail, File etc. & placed in this desktop file. The file is just the right size to use as my mail center.
March 27, 2013
Rated

5

out of

5
 by
MidwestElle
Great for Office Product Organization
I use this desktop file to organize mailing envelopes & labels, CD labels, legal size note pads, etc. It was the perfect solution and fits on a narrow shelf below my desk.
March 23, 2013
Rated

5

out of

5
 by
jejo
Great organization!
This was an inexpensive way to organize my paperwork using hanging folders!
March 18, 2013
Rated

5

out of

5
 by
lucyo
Good Buy
This was perfect for my desk at work, holds a lot, seems well made and it was a good price. Might come back for another.
March 10, 2013
Rated

5

out of

5
 by
happy
organization at its best
the silver mesh file is very attractive and well made. great for filing bills, receipts, etc. makes filing simple. will definitely buy more of these.
March 7, 2013
Rated

5

out of

5
 by
Calendula
Just bought 3 more ...
I've had one of these file holders on my desk for several years. So handy. So attractive. It has the fresh, clean industrial vibe that I like. It makes it easy for me to keep my papers organized. So I just bought three more. I've already filled one and a half and I'm happy to have one to spare.
February 22, 2013