Rated

5

out of

5
 by
Amber88
Useful
This basket is very useful. Its small so it fits most place, but its compartments let you separate and organize alot of things. A must have for any business desk or for students.
March 17, 2014
Rated

5

out of

5
 by
Beckers
Very Handy to Have
It helps me keep stuff in order on my desk & just the right size to have on the corner of the desk. Sits flat and don't slides around.
March 1, 2014
Rated

5

out of

5
 by
NANCHZ
Great for students
Great looking, overall functional item to keep even the smallest thing available on your desk.
September 5, 2013
Rated

5

out of

5
 by
JoiLT
Excellnt for holding makeup
This is excellent for holding tons of make up needs. I use this for my everyday makeup items. It can hold a lot of palates and still leave room to setting sprays, mascaras and pencils, bb,cc,dd creams and foundation. I did not nor do I need expensive holders this works just fine. Besides I rather spend $50 on more eye shadow palates.
July 18, 2013
Rated

5

out of

5
 by
LauraO
great desk organization
holds all the little things on my desk. great organization piece
March 18, 2013
Rated

5

out of

5
 by
Blackbird62
Versatile & Professional Appearance
This has been by far one of the best desk top organizers I've used over my 30 year span in office work. The spacing is perfect for the items I use on a daily basis. It neatly and effectively holds a small assortment of pens, variety of XStampers, a large circular magnetic paper clip holder, a hand held calculator, scissors and a 4 X 6 Post It portfolio......and each in their own desiganted space. Getting to what I need fast is key and this 'station' sets it up perfectly. AND, last but not least - it looks very nice & professional, not cumbersome or out of place. The manufatcurer even went so far as to install no scratch pads at each corner, after 2 years of use, these are all still attached. I love it!!!
March 18, 2013
Rated

5

out of

5
 by
nelly
excellant organizer
I absolutely love this desktop organizer it has the perfect amount of cubbies to hold just what i need out on my desk.
March 14, 2013
Rated

5

out of

5
 by
bionic
desktop organizer
This desk organizer is just right to keep smaller and medium sized items handy and easy to find
February 27, 2013
Rated

5

out of

5
 by
B0xgurl
This is great!
It holds everything that was cluttering up my desk
July 31, 2012
Rated

5

out of

5
 by
Akelley
Well organized
I was very impressed with this office organizer! My desk never looked better!!
July 22, 2012
Rated

5

out of

5
 by
MONK
This is the missing link to my desk.
This mesh Desk station works well for keeping my desk accessories in order, and also easily accessible.
April 20, 2012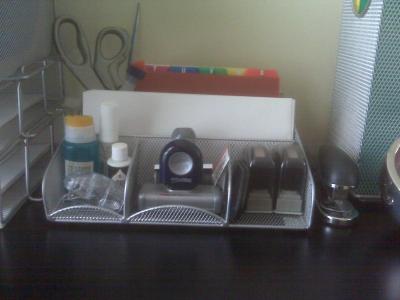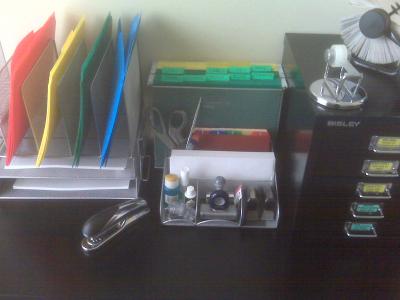 Rated

5

out of

5
 by
Dotti
Clean and Versatile
The Mesh Desk Station provides easy access to my most frequently used items on the desk top. Post-It notes, flags, paper clips, clamps, markers , and tape are right at my fingertips. I even put more than one thing in some compartments. A ruler, pencils, and markers can all fit together. But what I love most about this item is the fact that it does NOT gather dust like plastic or solid metal stations do! My desk looks clean even when it isn't.
March 19, 2012
Rated

5

out of

5
 by
Cuqui
Big and very usefull desk station
I finally end the search for a big desk station that would hlod my post-it's envalopes, stamps, pens, clips, business cards and more. It goes perfect with the rest of the mesh collection (garbage can, pencil holder, etc, etc).
March 19, 2012
Rated

5

out of

5
 by
Amberbam
I am so happy with the Mesh Desk station. My desk is organized and it was also on sale, thats amazing!!
March 12, 2012
Rated

5

out of

5
 by
vickielynn
Small, space saving but holds so much!
I have this mesh desk station on my craft desk and it is perfect. It doesn't take up a lot of my workspace but it hold more pens, markers, scissors, and tools of crafting than I ever imagined it could! I have put in this over a dozen marking instruments, scissors, a ruler, wire cutters, glue pens, and on and on. The wonderful thing too, there is room yet for more! What a great item.
February 15, 2012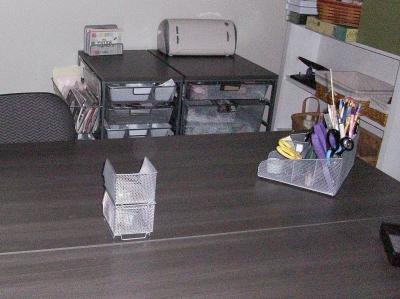 Rated

5

out of

5
 by
sarahd
Great Desk Organizer
I bought this for my home office and I'm very pleased with it. Its very sturdy, and it has lots of places to put things like staples, thumbtacks, paperclips, rubberbands, etc.
May 17, 2010
Rated

3

out of

5
 by
CShopper
Not Bad But...
This is a nice item, but it has the usual problem of the different compartments not always being the size you need for the things you want to store. Either know exactly what items you plan to put in, or think about getting the mesh "bins" for your desk so that you can buy the ones that will fit what you need to put into them. Otherwise a good product. (Guess this review is more of a warning to organize before you buy the organizational products! :o)
May 17, 2010
Rated

5

out of

5
 by
daisy1220
Versitle Organizer
This organizes lots of the little things that float around on a desk nicely. The two openings on the left front have a small 'catch" in the front which makes it nice for loose articles like binder clips, pencil refills, etc. The one on the right is the perfect size for post it notes. The only thing I would change would be to swap the middle and the rear compartments so that longer/taller things would be in the back and the pencils, scissors, etc would still be accessible. But that is a minor thing. Also has good size rubber protectors on the bottom so that it won't scratch any surface.
May 1, 2010
Rated

5

out of

5
 by
lisaloo
Sturdy and Very Functional
I bought two of these for my office. One to sort out my ordinary office supplies, and one to organize my stationary. Very useful.
March 10, 2010
Rated

5

out of

5
 by
Midgey
Very versatile - Can be used anywhere for anything! I actually use it on my vanity!
March 3, 2010