Rated

5

out of

5
 by
daisykc
Great for all my flats...
These worked great for organizing my flats. They allowed me to put 2 pair of flats in 1 of the drop front shoe boxes.
July 25, 2016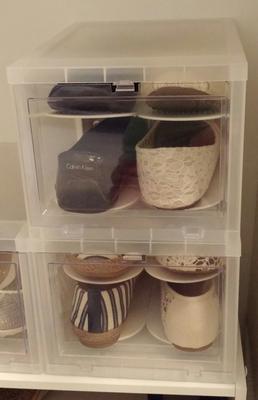 Rated

5

out of

5
 by
newtoapartmentliving
Great shoe storage for men's and women's shoes!
If you keep your shoes on a shelf, these Shoe Space Savers are PERFECT for shoes of all sizes. I started out with 10 and plan to add another 15 to our closets. You can see the shoes to make your daily choices and they are separated and clean in their stacked holder. I wish I had invented these!
December 17, 2016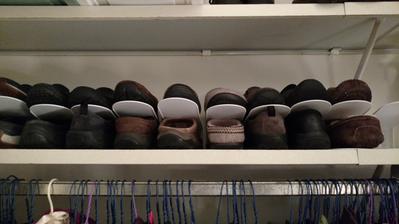 Rated

5

out of

5
 by
yorkeemommee
Great shoe storage
Recently had our closets redone and needed a way to store my shoes on the shelves as efficiently as possible. These are exactly what I needed. My closet looks very neat plus I can find the right pair quickly.
July 16, 2016
Rated

5

out of

5
 by
KMElaine
Great space saving option for some shoes that fit.
Not all shoes will fit in these space savers. They are limited because they are not tall enough to hold tall or bulky shoes. However, for some shoes, they are a great option to save shelf space in the closet. You can see the shoes because the one on top is still clearly in view. They are sturdy. I have more but just have not yet gotten the time to get my shoes rearranged into them.
February 7, 2016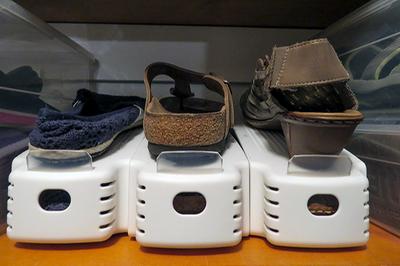 Rated

5

out of

5
 by
Granted
Great space saver!
I have small closet, limited space. Have been having trouble for years finding a way to put shoes in bottom of closet so they would be neat as well as so I could find the pair I wanted, always ended up with a pile of shoes. With theses simple holders I now can fit ten pairs neatly on two small shoe racks where before I could only fit a couple of pairs!
November 10, 2015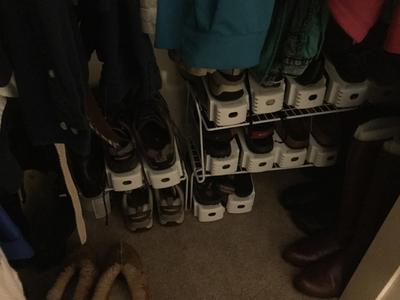 Rated

5

out of

5
 by
Phanatical
A Lifesaver!
I cannot express just how amazing these little shoe space savers are! I live in an old row home and our closets are very small and shallow. My shoe boxes were absolutely overrunning the entire closet and then some! I bought 3 packs of these and brought them home, desperate for a solution. I could not believe how quickly they cleaned up my closet! I am a US women's size 8 (give or take a half, sometimes) and my flats fit on these perfectly. They hold my Toms, Sperry flats, and even my Nike athletic shoes and keep them nice and tidy. Because of these, I was able to stack multiple shoes in rows side-by-side on top of a few other boxes I have in my closet and save majorly on room and headaches! Nice and lightweight so I could imagine you could use them on a shelf without incurring a major weight load. They are also extremely easy to clean in the instance dirt from the soles gets on them. I ran right out to buy more. They are so affordable, especially for two in a pack! Every closet needs these.
August 11, 2015
Rated

5

out of

5
 by
Tatting
Wonderful space saver
I am very excited to have these shoe space savers. The protect my shoes while taking advantage of every inch of space. My closet is small by today's standards and these are a real asset.
April 29, 2015
Rated

5

out of

5
 by
anchorage
great item!
Was having shoe storage issue. Needed something to organize and display shoes and looked great in my customer closets. This item was a great solution. Simple. Functional. Affordable. Strongly suggest.
January 26, 2015
Rated

5

out of

5
 by
Humpbackgal
I LOVE these
I have a very small shoe shelving unit in the closet on our boat, and it was overflowing. These came to the rescue; now all my shoes are neatly displayed and easy to get to. I can fit twice as many shoes in the same space. Now I'm getting these for the closet in my home!
November 8, 2014
Rated

5

out of

5
 by
Sassy101
Great way to maximize space
What a wonderful way to double up shoe space! There is more than enough space now for all my shoes.
September 4, 2014
Rated

5

out of

5
 by
theorganizedmind
fantastic
Doubled my shoe options. You can see what you are looking for and keep fresheners in the shoes. I purchased a single package of two to start with, then another 5 and now I need another 5. They look good too.
July 8, 2014
Rated

5

out of

5
 by
LisaHou
Very Practical Use of Space
I have a nice custom closet with built-in cubbies for shoes but have grown out of space. These double my space for flat sandals, Mary Janes, ballet slippers, houseshoes. They keep straps, toes and shape tidy without squishing them. I stock up when they're on sale. They don't seem to need dusting. I highly recommend these.
June 10, 2014
Rated

5

out of

5
 by
Sgirl
BEST spacesaver ever!!!
LOVE these shoe spacesavers!!! I FINALLY have an answer to shoe storage and to keeping pairs of shoes together. A VERY small investment for a great big return!!!
April 18, 2014
Rated

5

out of

5
 by
ChickTower
Where have these been all my life?
These space savers are fantastic! They are great at keeping shoes organized and allow one to maximize a small space. I have cube shelves built into my closet that allow for 4 shoes wide, which used to mean 2 pair. Not any more! Now I have 4 pair on each shelf. Whoopie! I highly recommend these as an inexpensive way to maximize that precious space in your closet.
March 31, 2014
Rated

5

out of

5
 by
TexasTOMSFan
AWESOME PRODUCT
All I can say is that I use to only be able to get three pairs of shoes on that shelf and now I can get 6 or 7! It's amazing. I tell everyone about them. Completely economical and it's a great way to show my cute TOMS collection since those shoes are so fun and colorful. I think they're the best kept secret! It's time to spread the word!!
March 20, 2014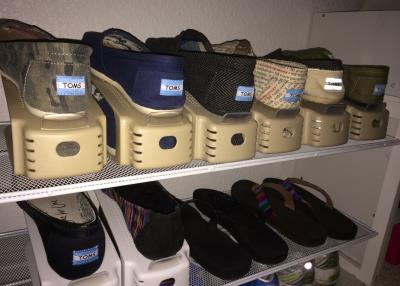 Rated

3

out of

5
 by
xiaoywowie
I like the idea, but did not exceed expectation
I bought one pair to test it out. It didn't come with this end piece that was clearly stated on the packaging to stop the heel of your shoe from sliding downwards. Perhaps I just got a defective one? It can hold flats, but heels higher than 2.5 inches is a no no. I returned it because of the missing piece, and wished that it wasn't white in color as well.
March 7, 2014
Rated

5

out of

5
 by
thebeachlady
A true space saver!!!
This product is a fantastic spacer saver for your shoes!!! I can finally get all my shoes onto my shoe rack. Before I could only get 3 pairs of shoes on one shelf, but with these space savers, I get 5 pairs on a shelf. No more shoes on the floor!!! I plan to purchase more of them for our summer home.
February 23, 2014
Rated

5

out of

5
 by
WildBill
Great for expanding closet
I bought 15 pairs to expand shoe storage in our custom-designed closet. By stacking shoes, we doubled the capacity. Now, if they came in more than one color, the shoes would better blend into the cherry shelves.
February 6, 2014
Rated

5

out of

5
 by
CharlieD
A why-didn't-someone-think-of-this-earlier product
An essential product for anyone with limited closet space (or loads shoes!) The Shoe Space Saver really only work for flats, of which I have several pairs. They have effectively cleared a lot of closet space so I can go and buy more shoes. This is a why-didn't-someone-think-of-this-earlier product. My closet will never be without them again.
January 28, 2014
Rated

5

out of

5
 by
Dustybell
Terrific!
These absolutely worked beautifully. Will purchase more.
January 21, 2014
Rated

5

out of

5
 by
orgdiva
great space saver
I have a couple of pairs of heeled ankle boots that just don't fit in my standard shoe box organization system, and I was sick of them taking up space on the floor of my closet. I got a couple of these and now the shoes are out of the way in my walking space. Great purchase.
January 20, 2014
Rated

5

out of

5
 by
Scuzie
Wish I'd bought more
I bought 10 packages which is enough for 20 pairs of shoes. I could use a few more so next time I'm near a container store I'll buy about 5 more packages. I don't have a large closet but it does have some shelves. My shoes where just piled on these shelves and all over the floor to the point that I could hardly get to my clothes. Now all of the shoes are on the shelves with room to spare. It's amazing how much room I have recovered sense I've been using these. They are perfect for any style of shoe except boots. It's so nice to be able to find the shoes I want without plowing through a pile.
December 30, 2013
Rated

5

out of

5
 by
Containerphile
Fabulous Shoe Storage Solution
Not only do they keep shoes neat and organized in less space, the shoes are visible and they are easier to move around when needed. I saw these in the store and immediately knew I needed them. You do need to consider the vertical space usage, particularly with high heels, but that isn't a "con", just a factor. My teenage daughter and I have dozens of pairs of shoes and very little space. These work with every type of shoe we have. I can tell they work so well because I no longer need to think about solutions to our shoe situation.
November 1, 2013
Rated

5

out of

5
 by
MessyGradMom
Shoe space savers - Best Idea Ever!
I can't buy enough of these! What a simple yet genius idea. I discovered them one day in the store and bought several. I fell in love and went back for tons more. Where have they been hiding all of these years?
August 20, 2013
Rated

5

out of

5
 by
Bernice
Awesome Shoe Space Saver
I like the other reviewer bought two, and now want more! I was wondering if they really worked! THey do!!! I will have to order them off of website, as I am over an hour away from a store! Need to come to my area or find out who else sells them.
May 19, 2013
Rated

5

out of

5
 by
Lizz1
Shoes/Shoes/Shoes
I bought 2 sets of these on a whim, figuring i could just take them back if they didn't work out. oh, i went back alright, but it was to buy 6 more sets. I would definitely reccomend to friends.
April 25, 2013
Rated

5

out of

5
 by
ALC65
Great Idea!
This is such a great way to store shoes in a fraction of the space. I bought some for my side of the closet as well as some for my husband's shoes. Now we can see what shoes we have and it keeps them neat and not laying in piles on the floor getting squished. If you have a really large shoe size, you may need to try a set just to make sure they fit. They work fine with a size 11 men's shoe. I'd like to see these offered in some colors other than the taupe. Great idea--I wish I had thought of it!
April 9, 2013
Rated

5

out of

5
 by
Janko
Finally all my shoes are organized
Wow... I have so much more space with these shoe space savers. At first I bought 5 and then returned to the store the same night to buy more. I can see all my shoes and the space looks great.
April 7, 2013
Rated

5

out of

5
 by
AJ880
Love the Shoe Space Saver
My shoes were looking messy on the bottoms of my closet, and the shoe space saver does a great job of keeping my shoes looking neat and in order. I can't wait to order more!
March 29, 2013
Rated

5

out of

5
 by
CTlefty
A savior for my closet
I really wanted to organize my closet and still be able to see my shoes. The shoe space saver was better than I expected. I am now able to put 4 pairs of shoes on a shelf where I was only able to put 4 shoes. Now it is easy to see what I have and wear all of my shoes because now I know what I have.
March 19, 2013