Rated

5

out of

5
 by
luv2shop2
Very Handy
This organizer freed up extra space in my cabinet. Organizing my spices in the corner was just what I needed. Would highly recommend it.
May 9, 2015
Rated

5

out of

5
 by
ShannahP
Great Corner Piece
Needed to organize my 1/2 of our vanity and this has proven perfect for the corner replacing a basket I had been using. It's well made, sturdy & holds many items displaying so that you can see everything easily. Looks very nice & organized.
March 27, 2015
Rated

4

out of

5
 by
Annietea
Odd corners
I used this corner piece in our pantry. It gives a good view of the spices but also uses all the space in that "odd corner" My husband likes it as well.
October 10, 2014
Rated

5

out of

5
 by
oddiva
Linus Corner Cabinet Organizer
My husband and I recently moved into our custom built home. I purchased (2) 1 for my pantry and (1) for master closet and we love.
May 2, 2014
Rated

5

out of

5
 by
Deborah76
Perfect Solution!
Bought these to organize corner hanging wall cabinets. The shallow shelves in the cabinets were always overflowing and stuff flew out when doors were opened. These fit perfectly and the tiered shelf makes it easy to find everything. I love it! The Container Store is my all-time favorite, go-to place for organizing.
April 25, 2014
Rated

5

out of

5
 by
BonnieB
Perfect!
I bought three of these for my corner lazy Susan. They fit perfectly and all my spices fit perfectly. Since they are tiered, everything is in sight so I no longer have lift each bottle until I find the one I'm looking for. Love it! Great purchase! I love organization.
April 6, 2014
Rated

5

out of

5
 by
Mamatubs
Lazy Susan or corner shelf
I bought 4 of these an placed them around a lazy Susan corner cabinet. It worked beautifully. They hold spices and other small kitchen items nicely. They are sturdy and durable.
April 2, 2014
Rated

5

out of

5
 by
ClosetLady
Great for corner cabinets!
These worked perfectly for our pesky corner cabinets! Because the back of the cabinets were hard to reach and see, we were not making use of the little space in the back - but these allowed us to see and reach the back of those cabinets and maximize the space. We bought one to try and ended up returning to buy several!
January 7, 2014
Rated

5

out of

5
 by
Gobot
I'm in love
Our house came with two lazy susan cabinets that have been the bane of our kitchen existence. Items were constantly tipping and falling off the sides, never to be seen again. With two of these corner organizers, I was able to and organize all of my spices, regaining valuable counter space, making much more efficient use of the top layer of a lazy susan, and eliminating the toppling problem.
April 28, 2013
Rated

5

out of

5
 by
cely
amazing!!!
Once I bought this for the top of my station for work, everyone loved it so I got 7 more for everyone!! An since im a hair stylist I find It fits hair products so well! Great choice for anything you need as well, I even have them im my kitchen cabinets!!! Along with half the other containers from the store!!! =) a must buy!!
April 26, 2013
Rated

5

out of

5
 by
heroner76
Wonderful Organizer
This product is great to store small cabinet items in the kitchen or bathroom. I also use it to show my collection of owls. It stores the small figurines perfectly in the corner of the bookshelves I use for showing my owls.
April 21, 2013
Rated

5

out of

5
 by
2Borganized4ever
All Spiced Up
This corner organizer really helped transform a spice space in my pantry. The spices are now so much easier to view...no more fumbling and knocking things over trying to find the spice I need. Planning on getting some additional organizers for a couple of other cabinets where I store additional spices.
April 8, 2013
Rated

5

out of

5
 by
lyrycj
Best Purchase!!!!
I was looking for a way to organize my nail polish and they suggested using a spice rack. I found this product and it works perfectly! I am really happy with how it worked out and my nail polish looks great!
March 28, 2013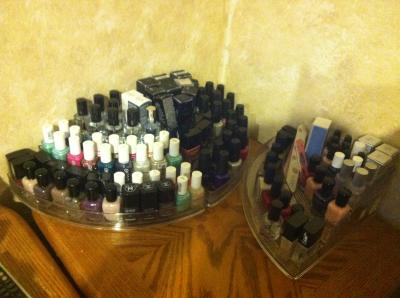 Rated

5

out of

5
 by
Pleased
Great for spices
This is perfect for my spices - I can see all of them, and also the raised lip keeps me from knocking them over every time I reach for one.
March 25, 2013
Rated

4

out of

5
 by
grafixgrl
Great corner organizer!
This product is listed under kitchen cabinet organizer, but I believe it can be used anywhere in the home. I use it on my vanity to organize makeup, perfumes and nail polishes. It gives me easy access to everything and keeps them all in a corner space.
May 6, 2012
Rated

4

out of

5
 by
Lindseybelle
Nice idea, but other options may be better
I bought this to organize my spices. I had a turn table type of spice storage before and I thought this might hold a few more and make them easier to see. I was wrong. I couldn't see any of my spices except the ones in the front, and it held far fewer than the turn table. This probably works great for other uses, but I had to return this and go back to the trusty old turn table.
February 28, 2012
Rated

5

out of

5
 by
catlmom
Space Saver
This spice organizer held so much I had space left in my cabinet shelf.
August 29, 2011
Rated

5

out of

5
 by
homeschoolmama
Sturdy and neat!
I love this tool for organizing my spices! Only I have so many spices, I should have ordered 2.
February 15, 2011
Rated

5

out of

5
 by
hs41
great organizer
Great for storing spices. Makes everything easy to see and get to.
February 14, 2011
Rated

5

out of

5
 by
luvia
perfect fit
My cupboards are all too small to hold a small turntable for spices, and I have very little shelf space in my kitchen. This corner organizer fits perfectly in the corner right next to my stove. My spices are now easily accessible, neatly organized, and attractive. I have been looking forever for exactly this type of product.
August 28, 2010