Rated

5

out of

5
 by
DeeVa
Stylish Clean Office
I just did my entire home office over in the Elfa pewter with driftwood tops. It is S-T-U-N-N-I-N-G if I do say so myself! In a 10 x 15 foot space I was able to comfortably design three desk areas and storage for all of us! I highly recommend these systems. So easy to install, change around if necessary, and cleanly store and organize everything. I put everything on rollers so that I can access wires easily; roll a file to another room if I need to; as well as clean under/around everything too. I only wish I had thought of this sooner!
March 3, 2014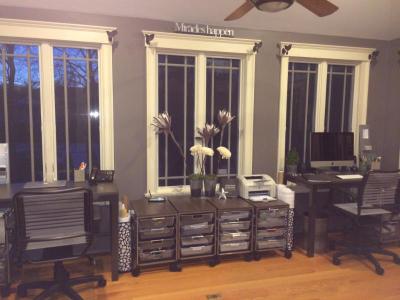 Rated

5

out of

5
 by
vickielynn
Great Color for craft room desks and drawer units
I was talked into a white top for my 2 craft desks at first but am I ever glad I switched to this driftwood. It is great for any room color. It cleans like a dream and is much easier on the eyes. Not to mention-it just looks classy! Driftwood is also on the drawer units in the room. I would recommend it in an instant.
February 7, 2012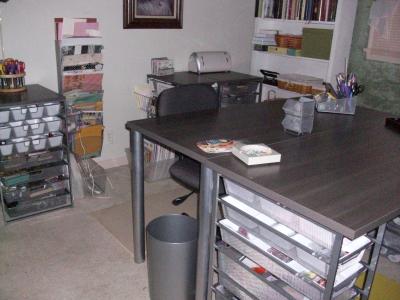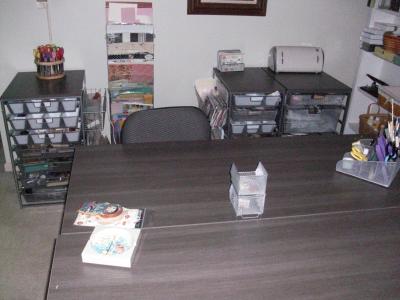 Rated

5

out of

5
 by
eflorence
Extra goodness --
Adding a top to your drawers makes an extra surface for storage and adds strength to your assemblage. Although not necessary, it's a good choice. The driftwood color works especially well with the platinum elfa drawer frame. It is a nice neutral, doesn't show dirt or scratches and a good choice if your drawer frame will be out in the open. When you assemble this top to your frame make sure you have it lined up before setting it in place -- the double sticky tape is meant to STICK FOREVER and if it isn't lined up you will just have to live with it! :)
January 28, 2017
Rated

5

out of

5
 by
TXnCutie82
It Completes the Look
While I don't think it's truly necessary to have this (as some items you may want to just have in a basket you don't have to pull out), I like that it completes the look. It also makes it easier for me to put things on top (such as the Linen Drop-Front Shirt and Linen Drop-Front Shoe Boxes).
December 6, 2016
Rated

5

out of

5
 by
AtlantaPeach
My Closet Looks Gorgeous with this addition!
I purchased four melamine tops to go with the runner frame and mesh drawers to organize and hold my purse collection. This was the best investment I could have made. I was encouraged to clean out and downsize the amount of handbags I have, rediscovering purses that I'd forgotten I had. Love this!
January 28, 2016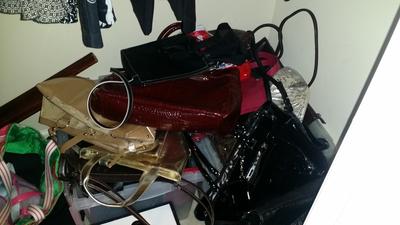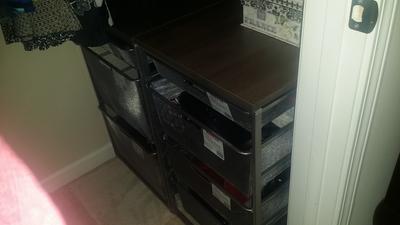 Rated

3

out of

5
 by
intx
functional, mediocre quality
This works well and the color looks nice with the platinum frame. However it is tricky to line up just right and the edges are poorly finished.
March 23, 2015
Rated

5

out of

5
 by
OSVAdmin
Excellent
Great for use with the elfa runner frames, creates a storage center top for all your needs! The container store may be on the pricey side at times, but you pay for quality!!
January 5, 2015
Rated

5

out of

5
 by
Barbiebee
Maximize space
This is now my 10th set of Elfa drawers, three in my kitchen, one in my office two in my closet, narrow set in my bathroom, one for laundry and now this to set next my messy spouses recliner so I can organize his mail, laptop and more junk than you can imagine. We downsized and this is an easy way to mazimize the reduced space we have.
August 25, 2014
Rated

5

out of

5
 by
Hoarder1234
Perfect for me
The mesh drawers and driftwood top look great in my bedroom. The single depth top drawer holds small items and the wide double depth lower drawers are perfect for folded knit tops. I plan to keep out of season tops in the bottom and switch them to the upper drawer when the seasons change.
July 4, 2014
Rated

5

out of

5
 by
sporto
Driftwood Melamine Tops and elfa drawer frame
Perfect for my daughters needs. The sales woman at The Container Store advised us how to assemble the drawers and the trick to putting the top on without a problem. (you need two people) It was simple. For the money, its a bargain and perfect.
April 21, 2014
Rated

4

out of

5
 by
harlequinbeetle
Customer service terrific!
We had a great experience at our local Container Store. The associates were extremely helpful and went out of their way to assist me. They even put together the units I bought. Thanks so much to the Container Store. The unit is as expected. It performs and looks good. It is an assembled product, so within that genre, I think it is one of the best looking products out there.
April 20, 2014
Rated

4

out of

5
 by
queenofelfa
A little tricky to attach
I've now assembled several of these drawer units, so I have the hang of it when it comes to putting these tops on. But it was frustrating at first. They are held on by double-sided sticky (VERY STICKY) squares. If you don't have it lined up perfectly with the drawer unit and it touches one the squares, it's adheres instantly. Best to have two people, and take your time. Also, it would be nice if they offered the top in the walnut to match the elfa Decor trim for the closets. I used two of these drawer units as an island/folding surface in my master closet. Everything has the walnut trim -- but not this unit. I had to go elsewhere to get something to match in that room.
April 12, 2014
Rated

3

out of

5
 by
dogmom956
Good but not durable
Love the color and pattern but the edges chip almost right from the start. Wish they had some protective edging or something on them.
April 9, 2014
Rated

5

out of

5
 by
fitntied
Terrific organizer
This organizer is perfect for various functions. We use them in our closet and office.
March 28, 2014
Rated

5

out of

5
 by
ChestnutHillShopper
Storage everywhere
I live and work in a 1-room studio, and decided to purchase Elfa shelving to help increase the storage in my space. Elfa is sturdy and very modular, so it fits in every space. In this case, I purchased the driftwood color tops to match my front door. All around good quality.
March 9, 2014
Rated

5

out of

5
 by
kathyh
great storage
adds drawer space to your closet when you need it! Takes minimal space and gains huge space for folded clothes, socks, underwear, etc. in a very convenient location.
March 7, 2014
Rated

5

out of

5
 by
alexa
Love the color
We bought these for the tops of our drawer frames to add some warmth into our closet. I love the color and the feeling it gives off.
February 24, 2014
Rated

5

out of

5
 by
hananh
great storage unit in closet
It was very easy to select parts I needed and was easy to assemble. I love that they have variation in width, height, and basket sizes. It perfectly fits into my closet. These are much better than other cheap storage unit or plastic storage units. Stronger and durable. Driftwood melamine top shelf makes it look sleek!
February 20, 2014
Rated

5

out of

5
 by
Dollar
Elfa metal mesh stacks
I have purchased 3 sets of Elfa mesh drawers to replace plastic hobby drawers that were broken in my move. They are sturdy but easy to construct. I love the fact that you can have different size drawers in the same unit. Also, the drawers glide in and out very easily.
February 8, 2014
Rated

5

out of

5
 by
pupmom
Needed Topoff
Allows further utilization of storage system and breaks up cold image of baskets/shelving.
January 30, 2014
Rated

5

out of

5
 by
Lilly1205
Versatile storage unit
Easy to assemble. Comes in a variety of finishes and wire basket styles. Very sturdy. We are using this latest set in the study for storage.
January 10, 2014
Rated

5

out of

5
 by
DashingDiva
Good buy
Last year I brought an elfa unit that contained slides for hanging files. I brought a file cabinet recently and no longer need the runners for the files. What I needed was an additional drawer and a top to put on my elfa unit that would stay in place, be sturdy enough upon which to write, inexpensive and blended in well with my office decor. I looked into a glass top, but that was way more than the budgeted amount I had in my mind. The Container store came to rescue with the Driftwood Melamine Top. It is part of the elfa system and it fit all of the above stated needs perfectly. I'm happy....
December 9, 2013
Rated

5

out of

5
 by
peregrin53
great product
I have many of these.. They are always easy to assemble and good quality.
September 17, 2013
Rated

5

out of

5
 by
J0728
Nice
This works great on Start a Stack and I plan on putting my printer on it for school and keeping my other office supplies in the drawers provided
July 24, 2013
Rated

5

out of

5
 by
Gramof7
I bought this for my granddaughter and when I asked her about it she said "I love it".
July 23, 2013
Rated

5

out of

5
 by
AliDeeTexas
Organized and Clean!
I placed this just outside the door in the garage to hold shoes. Three boys can track in a lot of dirt so I have them take their shoes off before they enter the house. I added casters so I can easily roll the unit and sweep underneath. Finally, no more tripping over shoes and screaming... each of us has our own drawer. Mommy is happy!
July 21, 2013
Rated

5

out of

5
 by
EmilyE
Awesome
These tops are great. They add some style to an otherwise purely functional item. So glad I got them.
April 29, 2013
Rated

5

out of

5
 by
MD82
Great addition to drawer frame
I use the top as an additional storage shelf in the closet.
March 20, 2013
Rated

5

out of

5
 by
NANU1983
i LOVE THIS TOP!
I used to have the drawers without the top, but it did not look good, so I went to the store and I purchased the top. It does not only look good, but it looks more organized.
March 18, 2013
Rated

5

out of

5
 by
AmyLynne
Classy
I love the way this tops of my drawers in my closet! It looks clean and just really looks great!
February 19, 2013