Rated

4

out of

5
 by
Lb85
Great for more than place mats
My dad gave me a very large box of 10X14 wax paper sheets. This rack came in handy to put in the pantry and hold a large stack of wax sheets. I use them all the time and it's so easy to grab and cook!
September 19, 2016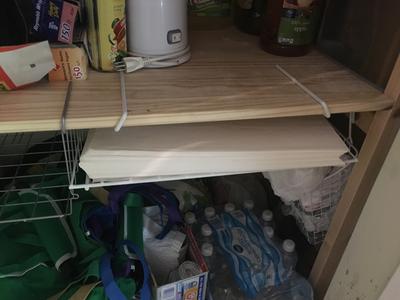 Rated

2

out of

5
 by
SahRN
Unfortunately did not fit
Unfortunately inside our cabinet it didn't fit well. The placemats we have hang over the rack therefore preventing the cabinet door from closing. It would work better with an open shelf with no doors.
November 22, 2015
Rated

4

out of

5
 by
tidytink
more tidy storage
took advantage of a little open space to keep things easier to find
March 28, 2015
Rated

4

out of

5
 by
addquilter
Beware before you buy
I love this rack unfortunately it does not fit in one of the locations planned for use. What the pictures do not show: the bottom "shelf" of the rack sticks out further than the bars that support it. If placed on a normal kitchen shelf the bottom of the rack sticks out and prevents the door from being closed. It can only be used in my pantry where there is a gap between the edge of the shelves and the closed door.
May 30, 2014
Rated

3

out of

5
 by
Subukai
Flimsy and ill-fitting
I have kept this item because it serves the purpose for which I bought it (not for placemats, but to stow my Nespresso capsule chest). Problem number one: it doesn't fit on my shelves. Maybe this is meant for a free-standing shelf and not a cabinet? In any event, the door won't close with this thing on the shelf, so I turned it around - this leaves more of its footprint on the shelf above, but at least the cabinet door closes. Problem two: it only comes in white, so it really stands out. Problem three: it's flimsy big-box store metal shelving material - I know i'm using it for an off-label purpose, but it would be nice if it was a little stronger.
May 25, 2014
Rated

3

out of

5
 by
kejones02
Cabinet Won't Close
I love the idea of this product but the hangers are round wires (not flat) preventing a cabinet door from closing over the holder. This means the holder can only be hung under a shelf without doors.
March 19, 2014
Rated

5

out of

5
 by
sewnsew
Great Pantry addition
I use this in my pantry to hold rolls of plastic wrap, aluminum foil, etc. The rolls are easy to reach and keep organized. It uses space above other containers that would have been wasted.
February 7, 2014
Rated

5

out of

5
 by
jonesy
very clever
i bought 3 of these on a whim, and placed 2 of them in my linen closet for placemats and napkins. great organizers! the third, i placed in my art closet to hold sketch pads neatly. i love these things. kudos to the person who thought them up!
January 3, 2014
Rated

1

out of

5
 by
Cassia
Worst purchase ever
Doesn't fit in a upper kitchen cabinet. Very Good idea but need changes: - wrong size. - Shelf opening very narrow. If changes are made I will buy one. I am trying to find where to use the one I got.
November 18, 2013
Rated

4

out of

5
 by
OCDC
Undershelf Shelf
I have a touch of OCD and hate that I have set shelves that I can't utilize all my storage space. This undershelf shelving has helped me maximize otherwise wasted storage space, allowed me to move items from one area of the house to the area of the house that it actually belongs and has freed up some room in an otherwise overstuffed linen closet down the hall. Keep the fabulous organization coming.
September 20, 2013
Rated

5

out of

5
 by
catwhit
EXACTLY what I wanted
Lightweight, yet sturdy placemat storage solution. I am also using for my tablecloths and cloth napkins. I will be ordering more!
May 8, 2013
Rated

5

out of

5
 by
Maflo
Great Product-
Best thing ever!!! it doesn't take a lot of space, I finally found a product where I could keep my placemats organized.
April 26, 2013
Rated

5

out of

5
 by
LoriP
Spacesaver
I can't believe I didn't see this sooner. This freed up a whole drawer for me. Love it!
April 24, 2013
Rated

5

out of

5
 by
Tiredofclutter
Great for paper bags
I bought this originally for storing placemats. After putting my placemats in it, I had some room left. I have some paper shopping bags that were laying on a shelf in my pantry taking up space. So I put these in with the placemats. This worked out great and looks much neater. I will be purchasing another one.
April 23, 2013
Rated

5

out of

5
 by
MEfromDUBAI
Love it!
Very versatile...not just for placemats. And because its not so high, doesn't take up as much shelf space. Get it!
April 5, 2013
Rated

5

out of

5
 by
SephChicago
Placemats and Cutting Board Storage - GREAT!
I bought two of these in hopes that it could hold both my placemats and my lightweight plastic cutting boards - success! They are rather large contraptions (measurements are listed accurately on the website), but they create a great amount of additional space. Given the way they are built, they cannot hold a ton of heavy material, but they hold 4 light-weight bamboo placemats along with 8 cloth placemats or 5 flexible-plastic cutting boards with ease.
March 19, 2013
Rated

5

out of

5
 by
annosabe
Smart Idea!
I have always struggled with storing placemats because they usually end up in a large drawer under other items and then It's annoying to have to disturb those things to get to the placemats. This takes up very little room and does not get in the way of other things in my cabinets. I love this product!
March 18, 2013
Rated

5

out of

5
 by
Padela
Great for many things
While the intended use for this product sounds great I used it for something different. I placed it under a laundry room shelf and use it to store my foil, plastic wrap, wax paper, etc... Works great!
March 2, 2013
Rated

5

out of

5
 by
JillD
Perfect solution
This was the perfect solution to store my place mats and thin cutting boards, since none of my drawers or cupboards were deep enough. I bent the hangers down a little so that the whole shelf fits snugly to the shelf above it when weighted with the mats.
July 17, 2012
Rated

5

out of

5
 by
lmarie
Love this!
I love this product! It's amazing how something so simple can make such a difference. This keeps all my placemats neatly in one place.
March 19, 2012
Rated

4

out of

5
 by
Brownie09
Great idea... if it fits in your cabinet
I have a relatively small kitchen, and I was looking for a place to store place mats. This organizer seemed perfect, but my cabinets are not deep enough to accommodate it. With that said, I still HIGHLY recommend the product; just be sure to measure your cabinets before you purchase it.
March 19, 2012
Rated

5

out of

5
 by
sewsherry
perfect shelf for electric griddle
I have been looking for something to use to have a scratch free & safe place for my electric griddle....this works perfect in my pantry!
March 19, 2012
Rated

4

out of

5
 by
FeelingOrnery
Good for extra storage
I bought this to fit under the shelf in my pantry. In my previous apartment, it worked great for placemats and napkins. When I moved into my house, I put in my pantry to store boxes of aluminum foil, plastic wrap, and sandwich bags on. It works wel for that purpose, especially the boxes of sandwich bags which I store upside down so that I can reach up and grab a baggie from between the bars of this placemat holder. The biggest drawback is that it keeps my pantry door from closing properly, since the pantry shelves directly abut the door. The other drawback is that that two bars which hold the placemat holder into place on the shelf above it create an obstacle to setting certain items on that shelf, like jars or anything else that might be prone to tipping over. I just slide these items over so they're not sitting cock-eyed directly on the bars. It's not a big deal, but it would work better if these two bars were flat and a little wider, rather than rounded and thickened by their enamel coating.
February 15, 2012
Rated

2

out of

5
 by
Verified Reviewer
Doesn't work with wire shelves
I thought this was a great idea, but our pantry has wire shelving which is also about an inch thick and the part that clips on to the shelf doesn't work well with a wire shelf and won't expand to fit our shelf thickness.
November 8, 2011
Rated

4

out of

5
 by
jltl
I used for other things
I needed space for some cake pans, so I hung it above my baking pans I store vertically.
June 11, 2011
Rated

3

out of

5
 by
Aniceto
Disappointed
I was expecting more from this product. It does not slide easily onto any shelf, as it is shorter in the end. It depends on how thick your shelves are. It did not work in my cabinets. It is a great idea, though!
March 9, 2011
Rated

5

out of

5
 by
megswdw
Handy helper
This placemat storage works great. Measure carefully though. It was too deep for my standard upper cabinets, but fit perfectly in my pantry.
November 13, 2010
Rated

3

out of

5
 by
Renovator
Measure your space before your buy this.
I had to take it back. Could not get it to fit anywhere in my kitchen. Great idea, though!
September 18, 2010
Rated

5

out of

5
 by
ElfaRocks
versatile...be creative!
I clipped this on the shelf in my pots and pans cabinet and put cookie sheets on it. Such a space saver!
August 23, 2010
Rated

5

out of

5
 by
bugs2
great product!
I have been looking for something to hold my placemats and this is it! I have a small pantry and it fits on the shelf above my trashbags and such. I have a lot of vinyl child's placemats too and it holds them all. (I must have at least 10, if not more...I didn't count!) The placemats now have a home and are easily accessible!
July 28, 2010