Rated

4

out of

5
 by
Karen3
Good rack
I like the rack, even if I did not like the price. Unfortunately, it was the only rack that would fit in the space, it was intended for. It would have been nice if the rack came with instructions. The online instructions were seriously lacking and were not specific to the clothes racks. I did figure it out and was able to put the rack together on my own with some difficulty. The plastic shelf holders do not do a great job of keeping the shelves in place. They kept slipping off their intended positions as I raised the rack to a standing position. However, now that the rack is in a standing position, the shelves can hold heavy weight without slipping--I placed heavy items, such as text books, on the bottom shelf to test it out. Overall, the rack is of good quality but I have owned larger racks that were a fraction of the price that were of equal quality. However, no one else had a rack this small for sale, so bit the bullet on the price.
February 25, 2016
Rated

5

out of

5
 by
SummerBaby
Love It! Perfect Fit!
Bought this for my guest room, which does not have a closet. It was so easy to order, pick up and assemble. It is the perfect size. I dropped the top shelf down a few notches and put my extra blankets up there. The display is shown with wheels, but I returned them because I didn't need them - the unit is placed in the corner where it will remain. The wheels were chunky and expensive - so I was happy I could return them and save some money.
April 7, 2015
Rated

5

out of

5
 by
Janoux
Great Little Rack for Small Spaces
It really is just 24", but it holds lots of things.Mine probably has 15-20 things hung on it right now. Perfect for those long garments that don't fit well in the closet. It is tall enough to double hang a jacket and pants. I have dropped the top shelf down a few notches to enable storage up high as well as on the bottom shelf. Assembly is so easy I did it without help.
February 3, 2015
Rated

5

out of

5
 by
Annie10
Perfect
Perfect size and fine quality. Sturdy and easy to move around when needed.
April 24, 2014
Rated

5

out of

5
 by
RemelRebecca
This is perfect!
I needed a way to hang my fabrics and finished products for my bridal business, and have a very small area (30" wide) to put a rack in. Had to be on wheels and look clean so ordered in white. The adjustable top shelf also was a plus, I put a basket up there for small items. This was so easy to assemble, and while there also bought pants hangers that have 4 swing-out bars with non-slip grippers for fabrics. Cheaper than next lowest retailer I was going to next, so saved me a trip. SO HAPPY!
October 21, 2013
Rated

5

out of

5
 by
Bebe45
My washing machine and dryer are stacked in a hall closet opposite the guest bathroom so I hung clothes on door facings to dry them including bathroom doorway, etc. It seems there were always clothes hanging there. I had searched for some type of hanging system to put in the small space that was remaining in the closet. I was so excited when I found the InterMetro® Narrow Garment Rack. Now I don't have to remove clothes from the bathroom doorway or the shower rod when company comes and the damp clothes have a place to dry. I had never ordered from the Container Store before and I don't live near a store. This was a great first purchase. It has made laundry chores so much easier and it looks so much better. Now I need to order the clothes hanger storage unit.
April 26, 2013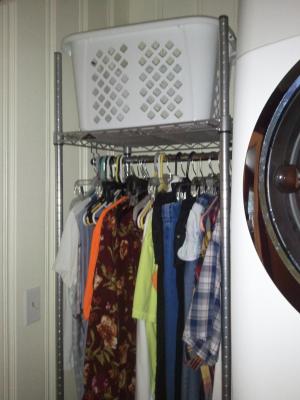 Rated

5

out of

5
 by
Dhayana
Great Product!!!!
I keep this garment rack in a spare room to hang extra garments that I don't want to put away...I have about 15-20 pieces hanging on it and can say that the rack is incredibly sturdy and so easy to put together...I love it and would re-purchase again if I need another one...best garment rack ever!
March 20, 2013
Rated

5

out of

5
 by
TerryM
Convenient
I truly appreciated this hanging rack with bin holder. This easily slides into my laundry room without the bulkiness of a typical hanging rack. I have found this rack so convenient and a "life saver" for articles that need to air dry. Thank you and bravo again!!!
March 18, 2013
Rated

5

out of

5
 by
bonk
Great Purchase!
I'm very pleased with this purchase! I'd been looking for a smaller garment rack that would fit in my laundry room space and this works great! I also purchased a large Robusto Bin to place on the bottom shelf - (fits perfectly) - to keep the overabundance of socks that my husband and son have accumulated. It was fairly easy to put together, but it would have been nice to have some sort of instructions included. The rack is very sturdy and I would definitely recommend!
March 13, 2013
Rated

5

out of

5
 by
Collegemom1
Great for the dorm
Bought this for my daughter. College dorm had tiny wardrobe that was too short for her dresses. She had a tiny nook corner next to a support column only 28" wide. I googled 24" clothes racks and this came up. Shipping took more than a week, which is slow by todays standards considering I paid for shipping. She was able to put it together by herself and she loves it. Also sent her a shoe organizer and hangers. She went from having a shoe pile to a second closet. Dresses hang nice. Wheels will make it easy to roll to the car when she goes home and back again in the fall.
January 26, 2012
Rated

5

out of

5
 by
Krissie
Great storage!
I, too, have both sizes and wish they would make a cover for the small size. Keeps clothes from getting dusty and can put a moth proofer inside. Please bring back the cover!
January 24, 2012
Rated

5

out of

5
 by
SarahNewlife
PLEASE BRING BACK THE CANVAS COVER!
I have InterMetro racks and shelves in several sizes and I love them all. They're super strong and easy to assemble, but it's the large wheels and canvas cover that really set them apart. It seems InterMetro doesn't make a canvas cover for the narrow rack/shelves anymore. PLEASE BRING BACK THE CANVAS COVER! In fact, you could make canvas covers for all your shelving sizes. They hide clutter and work wonderfully well with many different decors.
May 4, 2011
Rated

5

out of

5
 by
ApocalypticKitty
Easy Clean Moveable Wardrobe
This was a breeze for me to assemble by myself, although to get the top piece on I had to stand on a chair. It's the perfect size to put all my coats in with room for storage boxes on the bottom. I purchased the cover for it as well so this wardrobe looks clean and sleek in my apartment. Easy to move around to get to my snowboard hidden behind it. It's the perfect size as well. Not too big and not to small. I'm so glad I purchased it.
January 24, 2011