Rated

5

out of

5
 by
myoffice
Cool shelf
Got this to put in a narrow space (30") between bed and wall, too narrow for a bookcase. Installed it myself! Mounted a shallow (7 1/4") shelf at neck (rather than shoulder or head - ouch!) height with rounded edges and it works great. Holds current reading, a storage cube, clock, etc., and I have more floor room - and compliments on my stylish shelf, too.
June 5, 2014
Rated

5

out of

5
 by
WashingtonJill
Perfect
These brackets were easy to hang and adjust, and they look simple and elegant. They were exactly what I needed for my application, where there was no space underneath for traditional brackets. They come with a chart for how much vertical space they need, but for my 12" shelves I needed about 12" above the shelf. A narrower shelf would require more vertical space.
May 4, 2014
Rated

5

out of

5
 by
Relda
Awesome shelves
I had a handyman put them up and he said it was pretty easy - they look great and hold a lot of stuff. Love these shelves!
February 26, 2014
Rated

4

out of

5
 by
Donatello
Could have been useful...
...except the most critical piece of information was not included in the product description: how long is the cable and can it be adjusted? I wanted to hang this shelf, 6" wide, below another shelf. Because the cable can't be shortened, the higher shelf has to be 16" or so above, which didn't work for me. I'll use the apparatus somewhere #and pickup at a local store was easy#, but I wouldn't have ordered it if the dimensional information, which came with the item, had been in the product description!
February 18, 2014
Rated

5

out of

5
 by
Verified Reviewer
Awesome and Versatile - like me
These shelves are awesome for aesthetic ambience especially in the workplace. be very mindful they have sharp corners and hang them above eye level so a distracted engineer doesnt kill themselves while dumping their trash. pricing is a steal! make sure to hire someone to hang them right otherwise it wont work!
October 31, 2013
Rated

5

out of

5
 by
Mominburke
Great and elegant
I like it! it give a touch of simplicity and elegancy. Simple and pretty. I have one in my bathroom and my in my office. They look great!
March 18, 2013
Rated

5

out of

5
 by
EGee
Clean Look
We used these brackets to add glass shelving over my husband's desk. Since he is a private pilot, we thought the brackets looked like furnishings for a plane and its hangar. We love the results!
July 12, 2011
Rated

3

out of

5
 by
Hopp
Cable Shelf Brackets
Brackets are of decent quality. This shelving system is a bit hard to adjust, but overall pretty sturdy.
February 15, 2011
Rated

4

out of

5
 by
Verified Reviewer
Easy to hang
Great alternative to traditional shelving and allows for a number of options. Definitely for a more modern decor. Minor issue: The wires end up taking up a large amount of space if you use shelves with a typical depth (8"). Not so good if you are trying to consolidate space.
January 16, 2011
Rated

5

out of

5
 by
ImContained
Reminds me of the Golden Gate Bridge
I just fell in love with these shelves the first time I saw them. They were so easy to install. I installed them into drywall using the Elfa 1/2" Dry Wall Anchors. I placed them over my bar that is in between my kitchen and living room to hold cookbooks and glass jars containing candy for decorating cookies and cupcakes. They are amazingly strong and great looking. I was really surprised at how fast it they went up. You will need a drill with 3/8" drill bit, phillip's head screw driver (preferably electric), hammer, pencil, ruler or yard stick, and level. I plan on buying some more of these shelves for my dining room as well.
June 30, 2010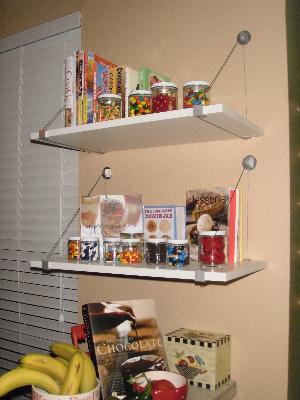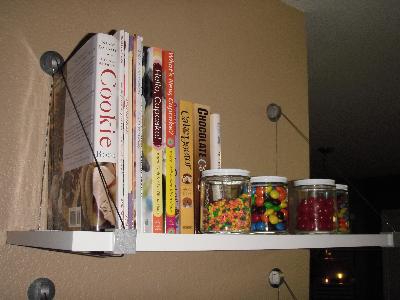 Rated

5

out of

5
 by
TneeLilSupaGuy
Surprisingly sturdy shelf
So I wanted a shelf for above my bed to put my Epson moviemate projector (something else I highly recommend) on. It fits it perfectly and the shelf, to be hanging from wires, is surprisingly sturdy. I catch myself reaching up and jiggling or trying to jiggle the shelf. I can't get over how it doesn't move at all. I am easily entertained I guess. Besides that, it just looks awesome.
May 22, 2010
Rated

5

out of

5
 by
Rock23L
Sturdy Shelves
We used 2 of these shelves, one above the other, to hold our computer and printer. It made a great desk in a tight space and we never had trouble with them. Easy to put up and sturdy!
March 5, 2010
Rated

5

out of

5
 by
seattlite
Love These Sturdy Shelves
We hung these shelves a few years ago, and they are terrific. We keep all our liquor on the shelves, and have never had any problems with them staying up. We have them mounted above a buffet, with wine glass holders mounted to the bottom, so our wine glasses hang down from the bottom of the shelves. I'd recommend to anyone.
January 21, 2010