Rated

5

out of

5
 by
Bchplum
Just what I needed.
Excellent quality, very sturdy. Generous size for storage. I placed it in a lower kitchen cabinet for extra space and easier access. Perfect for my needs.
August 30, 2016
Rated

5

out of

5
 by
spaces
A great improvement
We got just the one LARGE size shelf, not the double. It rests on the floor in a coat closet. We can now store a couple of items under it, as well as using the top for frequently used items like a throw and small pillows for TV viewing on couch. No more pile on the floor.
May 1, 2015
Rated

5

out of

5
 by
Vouracei
Best stacking wire shelves for the price...
The original maker now sells theirs for twice or three times the price. While they so seem to have a patent on the dimensions of the these babies, the ones at the Container Store work nicely with a little ingenuity and seem to be just as sturdy. Go for it!
January 12, 2015
Rated

5

out of

5
 by
HappilyOrganizing
Just What I Was Looking For
I needed something to put in the top part of 3 wardrobe cabinets to provide shelving so I could sort out my folded clothes more use-ably. I didn't want to drill holes, etc. so I purchased 3 of these grid shelves and they work perfectly. They are sturdy and just the right size.
September 16, 2014
Rated

5

out of

5
 by
FoxxyAmber
These Things Are Super Neat!
I was looking for a way to organize all the Clear Storage Boxes I bought to put my toddler's "crafts" in. Instead of just stacking them, I was hoping for something like those things you buy for your cabinets to stack plates. When I walked into the store, I found these, which look like large versions of that. Only these bad boys actually hook to each other! I bought two each of the long and the large, stacking the long on top of the large. They are PERFECT.
July 8, 2014
Rated

5

out of

5
 by
JosiO
Perfect size
I bought several of these to stack and store sneakers and flip-flops in my garage. They are the perfect size for shoes and take up minimal floor space. When stacked, the construct is very sturdy and stable. Just went back and bought 2 more.
May 14, 2014
Rated

5

out of

5
 by
Coop22
oh so good
Initially was concerned that these would be wobbly or too lightweight to hold heavy serving pieces. They are working perfectly, and are in use for china, serving piece, cupboard and bedroom closets. Home Run!
April 25, 2014
Rated

5

out of

5
 by
Dallasmom
Best purchase ever
Amazing product ! We use them for shoes in the garage ! Best purchase ! Great quality easy to use & makes putting shoes away easy & tidy.so so happy with it . I have 6 and plan to buy more for other garage odds & ends !
April 20, 2014
Rated

5

out of

5
 by
pickyguy
good stacking shelves
good space saving shelves that stack easy on each other
March 21, 2014
Rated

5

out of

5
 by
ShaunaBishop
Doubled my china space
I have a large walnut server that I use as a china cabinet. This Large Grid Stacking Shelf doubled my space.
March 20, 2014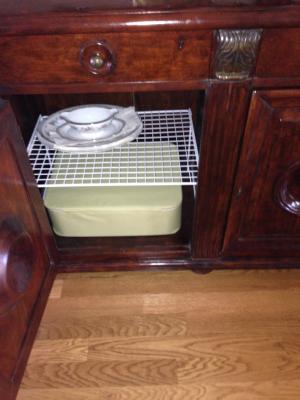 Rated

4

out of

5
 by
LoveAndOrganization
Strong Shelving
Holds a lot of weight- I have some smaller ones that actually bow in the middle from holding the same weight. Really stack well- the feet have a "spring"-like feel to the interlock. My only criticism is that they don't fold so you're stuck with this huge permanent shelf.
March 17, 2014
Rated

5

out of

5
 by
Larry123
a very good product but didn't fit into the my space.
March 17, 2014
Rated

5

out of

5
 by
52smiley
White Grid Stacking Shelfves
I selected two of these white grid stacking shelves for my home office desk. I use them to get the clutter off of my desk and therefore have more desk surface area for other items. Great purchase!!!
February 27, 2014
Rated

5

out of

5
 by
Jodi12345
Excellent product
These were very inexpensive stacking shelves and they were easy to assemble and fit right into my closet.
January 5, 2014
Rated

5

out of

5
 by
Pris
White Grid Stacking Shelves
I purchased these stacking shelves to use in my lower kitchen cabinets. It works very well for what I needed. The product helps give more space for pots and pans and keeps everything organized. I would recommend this product.
November 21, 2013
Rated

5

out of

5
 by
MooreWife
cheap and easy solution
I went looking for a solution. We take our shoes off before we walk around our home as we have light carpeting in some areas, and just don't want to trail everything from outside in. So we had our shoes piled by the side of the door. I looked at several shoe shelves, but nothing seemed to fit the area. This was perfect! it was simple, and when I looked at the price I was surprised to see how cheap it was. It still looks good, the white goes with the surrounding items, and works for the shoes we have. It is six pairs of shoes total from size 13 in mens, to size 8 in womens.
November 13, 2013
Rated

4

out of

5
 by
GrammieS
Just what I needed
I make jewelry and I needed a place in my closet to put my containers without stacking them. Now I can remove just the container I need.
October 4, 2013
Rated

5

out of

5
 by
Isabell333
Great shelf
These work great in my tall cabinets. I don't have to worry about everything coming crashing down on me.
April 7, 2013
Rated

5

out of

5
 by
Skynyrdfan
kitchen organization
I love these in my kitchen cabinets. It helps we keep things separated. I have bowls on one shelf and the plates underneath. It makes it easy to get the items out of the cabinets
April 3, 2013
Rated

5

out of

5
 by
Pammlla
Great Portable Shelf
I use one of these to take with me when I do crafts at a friends house. It allows me double the amount of table space. I then fold it up and take it home.
March 20, 2013
Rated

5

out of

5
 by
JoshV
Stack these for a perfect hallway shoe rack
We shopped all over for shoe racks for our apartment hallway. Lots of options, but they all seemed like they were trying so hard to be "pretty" that they didn't do a good job doing the basic job of holding shoes. Then we remembered that we had one of these white stacking shelves under our kitchen sink, and realized that a tower of them would be perfect for our shoes. And we've added both shoes and extra shelves to the tower over time. Highly recommended.
March 2, 2013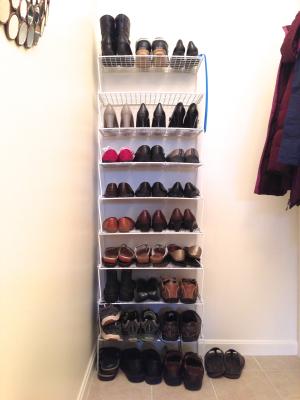 Rated

5

out of

5
 by
SukiG
Love these!!
I just moved into my apt and my closets are sectioned off and have smaller cubby's. These came in handy to break up the big open space in each cubby to give me more room to stack and divide. I will need to purchase some more for another closet!
March 1, 2013
Rated

5

out of

5
 by
debs39530
Great fot a small item
I make flower pens and I use the racks to plae the pens upright for travel and for display at shows. This is a perfect solution because at home I have them stacked 4 high, and I can carry them by the top rack! At the shows for more visibility I take them apart, and plalce the back on top of each other for the way home. An excellent solution for a different problem!
February 27, 2013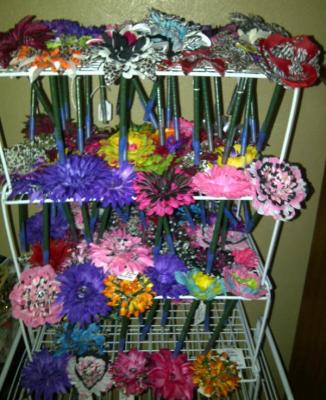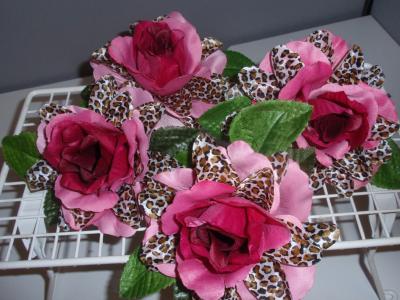 Rated

5

out of

5
 by
StudioDweller
Maximizes Cabinet- Space
These work wonderfully if you have cabinets with tall shelves and want to maximize what you can store on them. In the kitchen I use these to stack dishes. Dinner plates go underneath; small plates and bowls, above. In the bathroom, I put folded towels above and toiletries below.
February 24, 2013
Rated

4

out of

5
 by
Robinsmom
craft room
these stacking shelves worked well for my purpose which is to stack and see fabric for a craft room I looked at many bins but most bins have side walls limiting your vision
February 13, 2013
Rated

1

out of

5
 by
nycny
Sag in the middle!
Do not buy if you are going to put heavy items on the shelves. They bow in the middle and then the sides expand outwards - ie the shelf gets longer when the middle sags down. The mesh stacking look to be built the same way and would also sag with weight. If you don't have items of weight, not a problem. The regular cabinet shelves are built differently and don't sag. For my purposes, like books, they are best.
December 25, 2012
Rated

5

out of

5
 by
MountainTime
Versatile and Solid
I have had some stacking shelves very similar to these for years, so I know how well they work. These are even better quality than the ones I already have. The depth is perfect for the shelves above my bedroom closets. I will be ordering more of the same.
June 11, 2012
Rated

5

out of

5
 by
Lchen
useful all around the house
I am using three of these on my computer table to organize vertically. It's quite sturdy and doesn't move around once things are on it. I keep my scanner on the top, hard drives and misc office supplies in the middle and more hds and cds on the bottom.
April 28, 2012
Rated

5

out of

5
 by
AHan
use for everything
I have these stacking shelves in my pantry, garage, clothes closets and kitchen cupboards. They are useful everywhere in the house
April 27, 2012
Rated

5

out of

5
 by
ekosman
Great Space Saver
Really happy to have purchased this. Moved into a smaller place with tall cabinets and this has helped me to fully utilize the space I do have. Solidly built, really good bang for the buck!
April 27, 2012