Rated

5

out of

5
 by
Sharlet
Workspace Wow!
I'm a real estate professional and real estate comes with a world of documents, files, notes, and a ton of other odd ball items that you have to keep up with. I was drowning in it. Next: You've all seen the clunky, typical office. Large chunky furniture that is cumbersome and makes a small office seem claustrophobic. Enter solution: The Elfa Office. Versatile, flexible, organized, clean, spacious. After a little customization, with features to fit my needs, the unit was perfect. Installation is always a breeze. Now there is plenty of floor space and my clients are more relaxed. There's no desk separating me from them. No barrier to conversation. In real estate, conversation is important. It's how I figure out how to solve my customer's problem. And since I've solved my organization problem with Elfa, now I can focus on theirs. My home is an Elfa advertisement, as well. When my clients want more examples of how Elfa can help solve their organization issues with a new home, I take them to mine. They can see the endless possibilities, with Elfa. Closets, pantry, laundry, home office, craft areas, even the swimming pool room has it's own Elfa system.
February 20, 2013
Rated

5

out of

5
 by
Hsiao
I convered it for my 9 years old's room!
My 9 years old daughter has a 120 square feed tight room, I set up this system for her (12X9" ) almost take over her entire wall! now she has two working desks for her project and home work (sometimes one for her playmates...). And floor to ceiling shelf system for all her toy, photo, projects, books, everything ⿯ I like it! because not till she gtraduate from the college, I probably don't need to do anything anymore! ;-)
March 16, 2015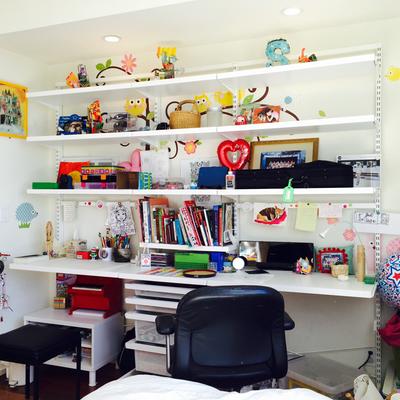 Rated

5

out of

5
 by
kyley67
Awesome!
The freestanding double desk is awesome! Took up a minimum amount of space and gave my wife a desk space she has never had before. Typical desks are one person only and take up way too much space and you don't get the benefit of have 2 pepper who have there own place. We love it!!!
April 26, 2014
Rated

5

out of

5
 by
BarbieMac
Amazing organization!
I have a small bedroom I needed to convert to a home office. I tried various furniture options and configurations, finally settling on the free-standing Elfa. Best decision! Doesn't take up much space in the room, can be moved to suit room, looks great and has lots of organization options. I'm just amazed.
March 23, 2014
Rated

5

out of

5
 by
metrodcmike
Great Home Office Transformation
We could not be more pleased with this office system. It gave us two spaces for working at home, added a good deal more storage and organization, and looks great. It was not inexpensive, but the quality is great and assembly was easy. This freestanding unit is very stable and is a great option if you don't want to or cannot drill into your walls. I was able to put the whole thing together by myself in under two hours (from unpacking to complete). We were amazed at how light the shelves were, too. For assembly, also see the videos the Container Store has put out there - a couple of them were very helpful in clarifying things for me... As you can see, the bungie chairs are a great complement.
March 20, 2014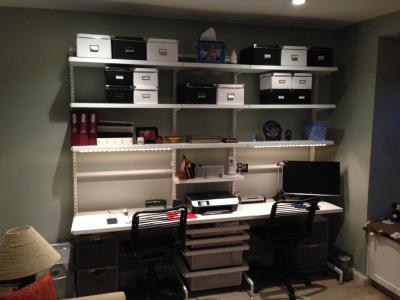 Rated

5

out of

5
 by
Travis144
Cozy Elfa office
We installed Elfa office in our new home. With limited space, we couldn't find any office furniture that matched our need. Elfa appears to be the best solution for a very functional office in a limited room. We installed 2 Elfa stand offices. They did look cozy and were easy to install. We didn't know what we needed at the beginning, so we kept adding more drawers and shelves later. Finally, they looked well together and matched our working style.
March 1, 2014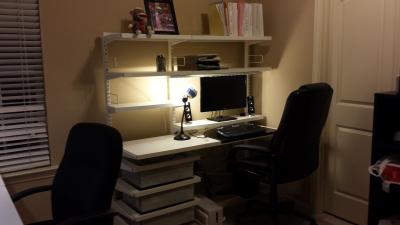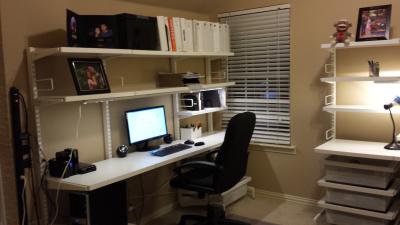 Rated

5

out of

5
 by
Bobfarock
Great functional office
I saw this office in the cataloge and knew that I wanted it. We went to the Sixth Ave store and ordered it and had it shipped. The instructions were great and the setup was easy.. I would recommend this to anyone. So very very happy with it
July 13, 2013
Rated

5

out of

5
 by
personaloptimizer
Closet turned Study
I've long been a fan of The Container Store and Elfa products. When I moved 3 years ago, there was very little closet space in our apartment, so I purchased Elfa free-standing shelving, rods, and drawers to contain my clothing in a polished and streamlined way, albeit in our living room. I figured I would find a way to reuse at least some of the products when we relocated. When The Container Store catalogue arrived this January, days after we moved into our new space (thankfully with more plentiful and appropriately-placed closets), I thumbed through the pages, looking for inspiration. I landed on this image of the study with two desks and great shelving. I figured I'd put the much acclaimed evolutionary and adaptable Elfa to the test. I managed to use many of the former parts and saved the others for my next project. The proof is in the pictures and I am once again a happy customer. I enjoy the satisfaction of a good DIY project and assembled both versions myself in a few hours. I would highly recommend and will purchase Elfa products again.
March 18, 2013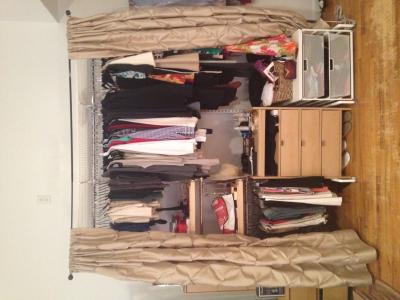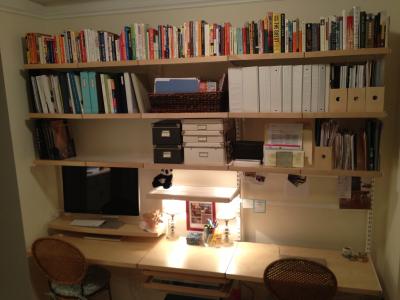 Rated

5

out of

5
 by
Motz
Homeschool organized at last!
After years of stuffing reference materials, computer, printer, binders, folders, supplies, etc. pretty much anywhere, none of us could stand not finding any of it again! With Elfa designers, we designed a four-column, 5-shelf w/desk space, free-standing system to hold everything from art supplies to printer to PC to day-to-day binders, boxes, books, papers, reference books, CDs, DVDs, hole punch, etc. Easy access under legs to clean floor. Conclusion: saved our sanity and most importantly my temper.
April 27, 2012