Rated

5

out of

5
 by
JNHK
Walnut elfa decor Bracket Hook
We had initially bought the gliding tie and belt rack to hold both my husband's ties and belts. However, his belts were too long and were hitting the shelf below. So, we bought this bracket to hold his belts, and it works perfectly. We love the look of the walnut finish; it adds a touch of sophistication to our closet. I also considered getting this bracket for my belts, but the hooks were too wide for my skinny belts, so i opted for the 10-hook bracket instead.
April 30, 2014
Rated

5

out of

5
 by
BonVivant
Elfa decor bracket hook
This is not only functional but beautiful and well made.
April 24, 2014
Rated

5

out of

5
 by
HappiestGirl
Excellent product!
This rack looks great and couldn't have been easier to install. The hooks are sturdy and make efficient use of space. Love this!
March 8, 2014
Rated

5

out of

5
 by
Laurie3
Much more than a belt hanger
This is a get end piece for all closets. I use it to hang my cami's and scarfs also.
February 16, 2014
Rated

5

out of

5
 by
dogh
great purchase
I love this - it saves space and looks great! wonderful product
January 22, 2014
Rated

5

out of

5
 by
persephone
Great for belts and scarves
I added these on to my new Elfa closet. This solved the issue I had with a place to put my belts and scarves. I have a few hats on it as well. They look really nice and are very sturdy. It was very easy to install. Just pull up the plastic piece that locks the shelf in place. Then snap the bar holding the hooks on to the end of the shelf.
March 21, 2013
Rated

5

out of

5
 by
windprince
That's a wrap!
Best way to hang belts so that they are easy to find and easy to get to, compared to the old way I used to do it... have them all around my waist... just kidding! But I used to wrap them around the closet rods and almost invariably lost them in the mess of shirts... that is until I installed elfa and everything had its place and everything was in its place... Zen!
March 18, 2013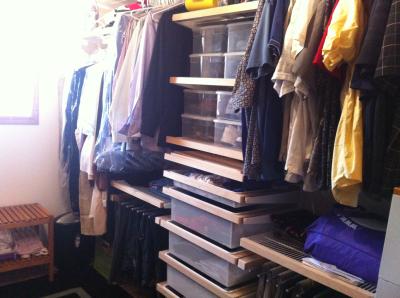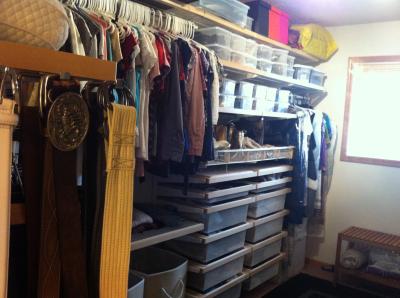 Rated

5

out of

5
 by
annmjl
works great! Love how the hooks stay put...I exchanged the tie/belt rack for this item and it works better for me. (Didn't like the belt/tie rack because it wobbled if each side didn't have the same number of items/weight.
February 7, 2013
Rated

5

out of

5
 by
COmountaingirl04
Great for accessories
I bought this to maximize space. I now have a place for my belts, my favorite scarves, and a necklace or two. It is a great organizer. Cannot recommend enough.
April 27, 2012
Rated

5

out of

5
 by
julsy
belt rack addition
This is a wonderful addition that clips right onto your elfa shelf. It gets belts organized while at the same time out of the way and not taking up unnecessary space! I no longer have to keep my belts on the back of the wall behind all my clothes!!!
April 27, 2012
Rated

5

out of

5
 by
angelp
Perfect for making use of every part of the closet
I love that this fits right on the side of the shelving system in what would usually be dead space. Keeps the belts all easily accessible while still out of the way.
April 16, 2012
Rated

5

out of

5
 by
jmc12
useful!
I added 5 of these to my closet design and they are most useful. Purses and belts are much easier for me to see utilizing these!
March 26, 2012
Rated

5

out of

5
 by
SusanH
Handy and helps solve issue with views from side
I like the utility of this piece but also use it to have a wood look on the brackets I face from the side as I enter my closet. I would buy similar bracked covers in plain wood that matches and is compatible with the fascia.
March 19, 2012
Rated

5

out of

5
 by
TBT1160
Useful and accessible
Very useful makes it easy to see all your belts at once and not have to llok for them.
March 4, 2012
Rated

5

out of

5
 by
CleanandOrganized
Awesome for hats, belts, robes.
I have three of these in my Elfa closet and I LOVE them! Great for robes, hats, and belts.
August 2, 2011
Rated

5

out of

5
 by
Chaservie
Best Belt Hook
Bought this piecemeal with many other pieces to build an elfa closet unit in our master closet. My husband has many belts and this works wonderfully. Keeps them hanging straight and easy to pick out the one he wants for the day. Very minimalistic and hardly takes up any space.
April 21, 2011
Rated

5

out of

5
 by
Tulcyn
Great elfa add-on
Perfect for taking advantage of every little space with the elfa system. I put mine in the laundry area.
February 14, 2011
Rated

5

out of

5
 by
JazzyPoet
Love these for necklaces
I put these on the side of my 'dressing area' and hung necklaces on them. Perfect! along with the jewelry boxes I have everything organized and easy to see.
January 23, 2011
Rated

4

out of

5
 by
LSatt
Supurb with classy detail. More options please.
So neat we need more options. Though it is perfect in design and function, there are closets that will not allow only 16". My husbands closet is an example: to maximize space, his right wall has 10" or 12 " shelves, and needs the deco components to go with it. Sad it can't happen. This wall just doesn't have the class of his perfect Elfa left and middle walls! His closet looks like it isn't finished! Please consider options for the the smaller than 16" shelving. I do like this look and function. I just can't make my husband's closet look like you would want it to look, and like I pay for it to look! Thanks TCS for thoughtful attention to detail with the Elfa line, also for great customer service. Just now I cannot provide a picture as an example; though soon,. I will be happy to do so once I've worked through a couple of design issues and can call it Elfa/TCS worthy.
October 3, 2010
Rated

4

out of

5
 by
Verified Reviewer
Great for purses and hats too!
I know the picture shows belts, but this thing is so great if you have only a few purses or a few hats.
May 18, 2010
Rated

5

out of

5
 by
Melinda111
Good Extra for shelf
The bracket hook is a nice extra to add to the ventilated shelf. I thought it might be cheap, but it's quite sturdy and good quality as well as adding a nice elegant touch.
March 3, 2010
Rated

5

out of

5
 by
Foopy
Great option for belts and hats
This little piece was just a quick afterthought to the whole elfa closet that I purchased but such a great and convenient option. One can't even see this when it's hanging off the elfa Platinum shelf yet it saves so much space.
March 3, 2010