Rated

5

out of

5
 by
RIM0622
I CANNOT LIVE WITHOUT THIS!
It's amazing how a simple product like this can make you feel so different about your space. Nothing slips thru those wire shelves. The liner helps keep it all nice, neat and organized. There are a lot more products here to tidy up your space but this is the fundamental basic needed for a wire shelf. Even the price is perfect so there's no excuse not to buy this.
September 18, 2016
Rated

5

out of

5
 by
Trish00
Perfectly clever fix
They fit perfectly in my pantry and fixed an annoying problem with ventilated shelving. Love your store and honestly it's hard to contain myself!!!
August 25, 2015
Rated

5

out of

5
 by
jpcs
sturdy clear liner
protects shelf and does not take away from the furniture shelf appearance.
June 5, 2015
Rated

4

out of

5
 by
Knitter1
Small price great benifits
The shelf liners were inexpensive but are perfect! Now all the items stay where they should and don't fall through. Also, the small items balance better on the smooth surface
January 5, 2015
Rated

5

out of

5
 by
SheilaB3
Translucent Elfa ventilated shelf liners
I brought these for my pantry organization and to make little items stay put on the wire shelving. They work perfectly and give it a smooth clean look! Highly recommend them to anyone wanting to keep things nice and tidy in your pantry on the shelves!
October 30, 2014
Rated

5

out of

5
 by
Tito
Nice and clean
Did 2 closets and my wife will have me do every closet in my house. The Container Store gives you everything you need , including a design for your closets. Prices are great and the quality of the product is excellent. If you have any closet that looks like a mess, measure it and go to the container store. Great way to get rid of unwanted items and organize what you are keeping.
April 30, 2014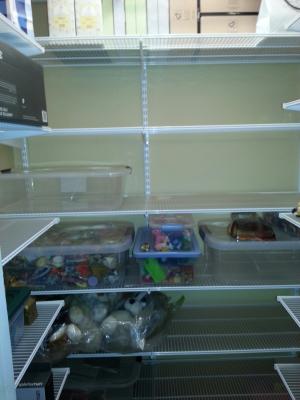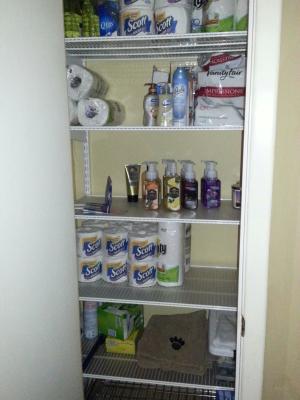 Rated

4

out of

5
 by
queenofelfa
Indispensible! A few tips for a good fit...
These liners make the ventilated shelving so much more useable. No more lines on the clothing, no small things falling through. A FEW TIPS, THOUGH: - When using with elfa Decor trim, place the liner on first, then the trim piece. Otherwise, it won't fit well front to back. - When using two on a 4' shelf, you have to overlap them a little bit in order to fit the bracket covers on. Sometimes, with the bracket covers and the decor trim, it buckles a bit so you have to fiddle with it a bit for a good fit. - I was told I'd have to cut them to fit between dividers on a basket shelf, but I found that the decor dividers fit fine right over the liner.
April 12, 2014
Rated

5

out of

5
 by
JeffBaer
A Must For My Wife
I have put in Elfa shelving in 6 closets in our house now. My wife insists on the shelf liners in all of the closets. The shelf liners make it much easier for clothing and towels to slide them in and out. I did not use them in the mud room for the detergents and cleaners or in the game closet. The rest of the closets have them, and to her credit, they are very nice to have.
April 12, 2014
Rated

5

out of

5
 by
KelORGANIZE
Great Shelf Product
I purchased these shelf liners to use with my existing pantry shelves and they are fantastic. Pre-cut depths fit most standard shelves. The width wasn't an exact match but I just bought two liners for each shelf and overlapped them - it worked great. Such an improvement, nice for my smaller boxes and items to sit firmly on the shelf rather than toppling over because of the space between the shelf wire.
April 2, 2014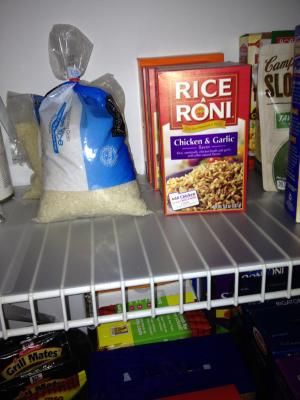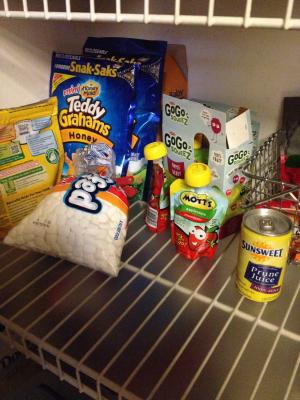 Rated

5

out of

5
 by
Tracy17
Finishing touches
I recently installed an Elfa Closet system in my bedroom. Have been haunting my husband for a few years to do this. I finally won! It came out great and we both love it. The final finishing touches were fun shopping for as well. The shelf liners are great cause they prevent the line marks from the shelves and prevent straps from handbags falling through the grids or getting stuck when pulling them off the shelf.
March 8, 2014
Rated

5

out of

5
 by
bonbon1227
wire shelf liners
Just lay them on top of the shelf and no-more wire lines on your sweaters and clothing. Also terrific in the pantry to keep items from falling through the shelves. If you have an area that doesn't require the liner just skip that space. Easy, clean and works terrific!
February 21, 2014
Rated

5

out of

5
 by
jski
worth it
i originally didn't buy these liners because i thought it was an unnecessary extra to get liners for the ventilated shelves, but after purchasing a couple, i think i'll go back and buy more. it allows the shelves to let light through and to see the contents of higher up shelves without worrying about things falling through the shelves.
February 19, 2014
Rated

5

out of

5
 by
Mia1123
Dressing Up the Shelves
I had purchased an elfa shelving for a pantry in November and since it wasn't on sale, I opted not to buy the liners, but it just made the shleves look unfinished and small items where falling through, so after purchasing 2 closets while the sale is going on I went back and ordered the ones for the pantry. I love the finish look of the all the closets now. Mia
February 18, 2014
Rated

5

out of

5
 by
MsT1993
Easy fix!
We purchased the shelf liners for our current wire shelves in the pantry and throughout the house. They made it easy to give an inexpensive make-over to several closets with those wire shelves that are impossible to stand bottles on. You can still see through the liners enough to tell what is on the upper shelves when looking from below. Would have loved to do the entire elfa system, but with a student in college, this will do for now!
February 12, 2014
Rated

5

out of

5
 by
sms262
Shelf Liners
I got these for the two shelves in my new ELFA bedroom closet that hold my sweaters after reading a review that said they would prevent "lines" on the sweaters. They are just a very nice finishing touch and as with all the ELFA product I couldn't be happier!
February 12, 2014
Rated

5

out of

5
 by
domerwife
Great product. A must for those of us who stack clothing direclty on elfa ventilated shelving.
February 6, 2014
Rated

5

out of

5
 by
alicep5720
Great improvement to Pantry!
These shelf liners fit perfectly on regular 12" wire shelving that was standard our new home. It make the selves more useable since objects set more stably on the shelf and small objects don't fall through or tip over. The liners are very inexpensive too! Unfortunately, they only come in lengths up to 3' and my shelves are 4' You can put two 2' next to each other, but will have a seam in middle of shelf and double the price (which is not much).
February 6, 2014
Rated

5

out of

5
 by
SFGENT
Worth the wait
I looked a very long time for this product. I didn't like the wire shelves in my pantry because things kept falling over. Voila' I stumbled onto these at a local store. Very pleased with them, easy to install and clean.
February 5, 2014
Rated

5

out of

5
 by
Pheebers
Inexpensive and very useful
I bought these on the recommendation of a Container Store rep -- he said they'd keep my towels from getting lines -- and I have since bought many more as I continue to find new uses for them. I have found that they not only keep my towels from getting lines, they make it much easier to slide items in so tallish stacks don't bunch up as I put them away. Using them in conjunction with Elfa baskets has made it very easy to get hairbrushes, etc put away. Just throw them into their spot in the closet, no care necessary. My newest favorite use for them is in the kitchen -- for cake layers! They are invaluable for stacking layers and preventing breakage as you move from pan to cooling rack, and particularly if you torte cakes (cut the layers into multiple thinner layers). I cut them into squares first. Two tips: If you have Elfa basket dividers, you must cut the liners around the dividers. The dividers can't just go on top. This makes it a bit more cumbersome if you're frequently moving dividers, but they're still completely worth it. I've found it's easy to cut a perfectly perpendicular line by placing the sheet of liner on my kitchen counter next to my stove. The groove between the stove and counter is an easy guide for scissors and if you line up the front edge with your counter you're guaranteed a very neat cut.
April 16, 2013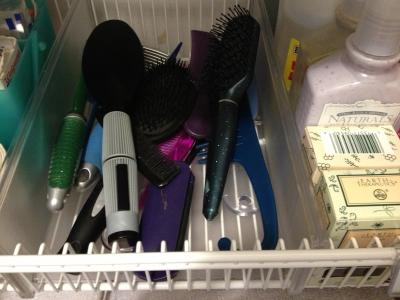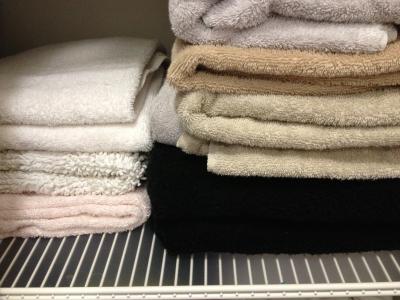 Rated

5

out of

5
 by
Cinesuz
perfect solution
I have another brand of wire shelving in my pantry I was about to have my husband replace. I was tired of everything falling over and thru. This liner is the perfect solution. It is much thicker than most shelf liners, and items slide well on it.
March 19, 2013
Rated

5

out of

5
 by
scole1
Pantry so much more efficient
Finally something to fix the wire shelving in my pantry.
March 18, 2013
Rated

5

out of

5
 by
Soozi28
Shelf Liners - Great for the little things
I love these shelf liners; they are great to keep all the little things from slipping through the ventilated shelves. Get them for each shelf!
March 18, 2013
Rated

5

out of

5
 by
Veet
Not just for Elfa
While I use this liners on our Elfa closet shelves, we have found them to be excellent shelf and drawer liners in our kitchen....much better than many of the roll products sold. They are soft enough to conform and lay flat. They are also easy to cut to size. Plates and glasses slide easily over the rougher surface and they don't tend to slide around on the shelf or drawer bottom. Moreover while we have not been using them all that long, they will probably last for years. They do cost more, but the quality is worth it. Highly recommended for surfaces you don't want to get banged up and scratched. The larger size even works great for rolling out dough when baking. Good quality products prove their worth in more ways than one.
March 11, 2013
Rated

5

out of

5
 by
Suzan
Translucent elfa Ventilated Shelf Liners
I bought this product not to line shelfs with. But to use as cutting mats for my Silver Bullet Cutting Machine. They are so awesome. The mats we have to purchase for our machines are around 20 dollars a piece for a 1 x 12 mat. I was able to get to cutting mats out of these for under 2.00. They hold up so well. I love them. I will be buying lots more and have recommended them to several friends for have purchased them also.
February 22, 2013
Rated

5

out of

5
 by
MAK1
Shelf liners are multi-use
I LOVE these shelf liners. I have used them for years and carried them from house to house as we have moved. And, I use them in many places, not just as liners for my metal closet shelving. I also cut them to fit in my kitchen cabinets where I store heavy items. So, they are in my cabinets that store my pots and pans as well as under my sink where I store cleaning supplies. They prevent scratches and marks and wipe up easily. I even cut one to put it on the corner of my granite counter top, so that I could put a basket of fruit or a pineapple on it without worrying about the surface of my granite. I also use them on my garage shelves where I store flower pots and plant chemicals. There is no comparison on the market!
February 18, 2013
Rated

5

out of

5
 by
crazydogladyaz
not just for shelves
bot this to fix a basket problem with out repairing the original item had a hole in the bottom and I used this shelf liner, I custom cut to fit, doubled it for strength and SHAZAM PERFECT repair
December 11, 2012
Rated

5

out of

5
 by
MoreHintsfromHeloise
the Versatile Vinyl Ventilated Shelf Liner
Although I initially bought this shelf liner for the Elfa shelves in my closet, I have since purchased and used them as a boot tray during the winter, as a floor protector under my cat's eating area, and even fashioned a kitty litter enclosure under a small bathroom sink area that would not have accommodated an enclosed kitty litter box. I have also used it to protect the tops of kitchen cabinets from dust. I find it much easier to work with this semi-structured material rather than soft liner paper. Easier to clean also.
May 3, 2012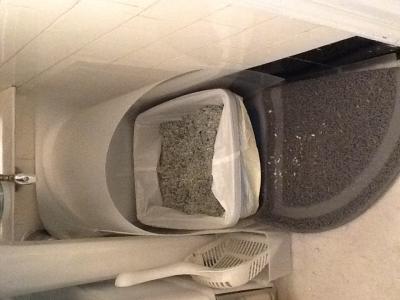 Rated

5

out of

5
 by
jopritch
Good for Storing Small Items on Shelves
These shelf liners work well with the elfa ventilated shelving to keep smaller items in place.
April 25, 2012
Rated

5

out of

5
 by
angelp
Keeps dust down
I bought these for our ventilated shelves. I love that it helps disguise what is on the shelf and makes the closet look cleaner. I also like that it will help keep the dust from falling through the ventilated shelf onto the items below. I did think the price could be just a touch cheaper for something that is just a piece of plastic that sits on a shelf.
April 16, 2012
Rated

5

out of

5
 by
onelilypad
Great for keep small objects from falling through while letting the light in.
March 27, 2012