Rated

5

out of

5
 by
DesertDiva
Doubled my storage space
Love these shelves! Now I am using space that was previously wasted. They've expanded my food storage which was badly needed in my small kitchen. The shelves are sturdy and will be easy to clean.
September 26, 2016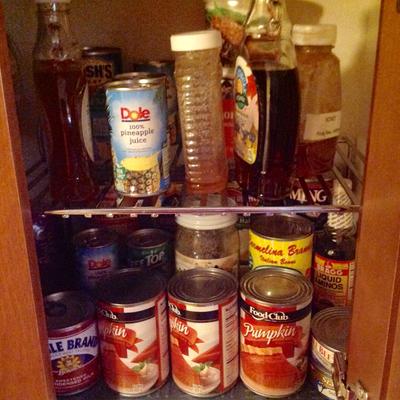 Rated

5

out of

5
 by
Lisa55
Extra counter space
This product is exactly what I've been looking for. I have a very small kitchen and this allow me to stack the things I use all the time vertically. Thanks Container Store!
September 18, 2016
Rated

5

out of

5
 by
Mysterywoman
Helped me make use of wasted space!
These shelves work quite well in a space that is taller than normal. I used them in a area to store canned goods and the space between was quite high. They have really helped me utilize space in my small kitchen.
March 1, 2016
Rated

4

out of

5
 by
efs3
Love the Items I purchased
Just love your selection, if you could see my with list... it is long. My problem is shipping. I can only purchase small amounts at a time, but the shipping is prohibitive. There are none of your stores in my area, so on-line is my only option. I just wish your would offer free shipping coupons periodically. Or reduce the amount of purchase for free ship. If you had a store in my area, I would be in all the time.
September 26, 2014
Rated

5

out of

5
 by
Flojo
Very sturdy
I'm using this to make more room in my cupboard. It works well and creates more space.
March 19, 2014
Rated

4

out of

5
 by
Lv2Org
Finally!
I have looked everywhere for a shelf organizer that is taller than 6"! Finally! I should have looked at The Container Store first! Love the sturdiness of it. Now, if only they would make some that are tall enough to put linens and other big items under, such as a 15" or 18" high!
March 15, 2014
Rated

5

out of

5
 by
violetplum
Sturdy second shelf
I Needed to put a second shelf in my cabinet over the sink, I store a lot in there and it was a mess, it is a tall cupboard so a regular cupboard shelf would still waste the space. I ordered these and was pleasantly surprised when they arrived, they are sturdy and stable, no wiggy flimsy stuff here. They work perfectly!!
March 10, 2014
Rated

5

out of

5
 by
JJinCT
solid, attractive
these are staples in my cabinets. very solid and attractive and make the space much more usable. Also used these in last apartment for seven years to vastly expand my usable counterspace--couldn't have made it without them.
February 16, 2014
Rated

5

out of

5
 by
CindyLS
Perfect!!
I bought this shelf for a buffet cabinet I inherited from my Mom. It is an absolute perfect fit. Great quality, great price, on time delivery, very satisfied customer. Will definitely return for purchases in the future.
February 9, 2014
Rated

5

out of

5
 by
organizedfrenzy
great product
I used this in a store bought cabinet with awkward shelf heights. Works great! Now I can use all the space that I have in my small apartment!
April 7, 2013
Rated

5

out of

5
 by
Organizer1234567
Great organizing solution
We used 4 of these to organize the long shelf over our washer and dryer, sealed bins below and taller bottles on top. The area looks clean and organized. The only reservation I have is that the tiny little feet on the shelf have made light grey marks on the white painted shelf. They come off with rubbing, but they shouldn't be making marks.
April 6, 2013
Rated

5

out of

5
 by
IDgirl
Great for pantries
I bought two for my pantry and am ordering more. Crock pots, small appliances and cake carriers fit well underneath, and they are sturdy enough for the larger items to go on top.
March 17, 2013
Rated

5

out of

5
 by
LemonMeringue
Really adds space to your cabinet
I'm not one for overstuffing cabinets, but not only did this allow me to store some more dishes than I would have been able to without it, it also did it in a tasteful way. Makes it so much easier to just reach in and grab the dish I want rather than lift up a stack of dishes to get to the one on the bottom of the pile.
March 12, 2013
Rated

5

out of

5
 by
K80NYC
Doubled my Apartment Cabinet space
A combination of these racks literally doubled the cabinet space in my NYC apartment. Brilliant!
April 7, 2012
Rated

5

out of

5
 by
babyfishmouth
Exactly what we needed
We bought this for our cupboards to make better use of the space. It really is exactly what was needed. Now everything looks uniform and there is less wasted space. Love you container store!!
March 19, 2012
Rated

5

out of

5
 by
GabbysDad
Another use!
I was looking for a computer printer stand that was sturdy and high enough to place some organizing drawers under in my home office. This is it! It does not look like a "kitchen shelf: just used differently...looks great...works great.
February 27, 2012
Rated

5

out of

5
 by
Aparogirl
What a difference!!!!!!
I don't know how I lived without these shelves!!!! I have a painfully small kitchen in NYC and needed to maximize my space. These shelves did the trick allowing me to stack tall wine glasses, etc. on to on each other using this shelf. After buying 2, I ended up buying 3 more! I'm happy to report I now have extra space in my cupboards! AMAZING!!!
August 17, 2011
Rated

5

out of

5
 by
ajpro
Extention (up) shelf
This is a sturdy yet unobtrusive way to increase shelving space. High enough for larger items to fit underneath. The lower version is not as useful.
July 5, 2011
Rated

5

out of

5
 by
mandalyn74
Great Shelf
This shelf was perfect for use in my buffet stand which didn't have a shelf. I was able to double my storage space and I wasn't worried about it not being sturdy enough to hold my good china. And I love that the bars are flat instead of round so items stay put.
February 14, 2011
Rated

5

out of

5
 by
ADBMom
Best shelf ever
This was the perfect solution. I have new larger/taller cabinets in my kitchen with no shelf! This holds my large platters on top with the bowls underneath maximizing the use of the available space.
November 13, 2010
Rated

4

out of

5
 by
angie4
Tall Chrome Cupboard Shelf
seems fairly stable. but tall, thin legs make me leery of putting anything really heavy on top of it. works great for my laundry room shelf needs b/c it is tall enough to fit over a large jug of laundry detergent. raised lip on one side lets you decide whether items should slide off or be held by the lip.
May 31, 2010
Rated

5

out of

5
 by
Organizediva
great storage saver
This product really helps save space in my cabinet. I like the fact that it is super strong and fits perfectly in my cabinet. Definitely worth buying if you need to maximixe space in cabinets
March 3, 2010
Rated

5

out of

5
 by
Tedesa
Great for added storage
This item works great to maximize the capacity of my cupboards
March 2, 2010
Rated

5

out of

5
 by
TangerineKim
Under the Sink Storage
I actually use this for some extra surface area under the sink, which it's awesome for. The product is what-you-see-is-what-you-get. I like the flatter bars so little lotions and such don't tip over as easily.
February 22, 2010