Rated

5

out of

5
 by
Kellygirls
Durable, long lasting...functional.
I've had my Skandia bookshelves for over 12 years. Believe the statement that they are sturdy and hold a lot of weight. We recently renovated my house, and in moving all of the items off the bookshelves I can't believe how much it can hold in terms of quantity and weight. I have extremely heavy photo albums (10) weighing more than 15 pounds each on one shelf, and a hundred+ books, games, and pictures on the others. After removing everything i was astonished at how much I had on one bookcase. No warping or damage after 12 years, and my kids are not exactly gentle with them. Now, i need another bookcase and after seeing how well these hold up, I am definitely ordering another one from TCS.
October 19, 2015
Rated

5

out of

5
 by
LuAc
Versatile & Beautiful Skandia
Sometime in the mid-1990⿿s, when we were still living in a 2-bedroom townhouse, we needed to save space for all our ⿿stuff.⿝ After reviewing different shelving systems extensively, we decided on the Skandia because of its versatility. We could choose from four Skandia shelf heights: 35", 50", 67" and 82". We could combine three shelf widths: 20", 32", and 40." We could also decide on a shelf depth of 12⿝ or 16⿝ depending on our needs. We began with a basic library set using 82⿝ tall and 12⿝ deep uprights to hold two 32⿝ wide shelves. We were so delighted with the functionality and good looks of our 64⿝ x 12⿝ x 82⿝ bookshelf that we quickly expanded to a full set of storage shelves in the dining room. Because of the Skandia⿿s versatility, we also decided to set up a computer work station in the living room using the 16⿝ deep system ⿿ which is perfect for computers and other electronic equipment like printers, scanners, and stereo components. The results were amazing! Our computer work station was very functional, and the dining room shelves looked like they had been part of the original townhouse design! In fact, when we tried to sell our townhouse, several buyers wanted to make sure the shelving would stay. Naturally, the shelving was going with us ⿿ it was going to be perfect for my husband⿿s office in our new single-family home. In our new home, we began with the Skandia components we already had and added drawers, saloon doors, and another 20-inch section to complete the shelves for one wall of my husband⿿s office. For the other wall, my husband improved his work station by adding two 12⿝ shelves as pull-out keyboard tray and document holder. Then he added other components to create additional shelving space. We are so delighted with our Skandia purchase over the years and would recommend the system to everyone. The Skandia system is durable: we⿿ve had different iterations of our Skandia furniture for about 16 years, and it has withstood heavy loads, multiple tear-downs for home moving and flooring change, and multiple rearrangements to suit different needs. The system is versatile: we⿿ve made so many different modifications to our Skandia furniture to suit different needs ⿿ add a printer shelf here, create space for a scanner there, put some doors here, shove a filing cabinet under there, install some drawers here, adjust shelves for DVD⿿s there, make a storage area up here for a revolving CD rack, set up the stereo system there, hollow out space for an antique Jesus of Nazarene sculpture, etc. Finally, the Skandia is handsome: its light satin finish ages beautifully and goes well with any color scheme. My husband⿿s office is the best-looking and most functional room in our house because it is so well-put-together ⿿ thanks to Skandia!
May 5, 2013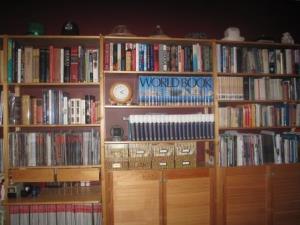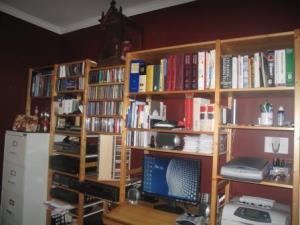 Rated

5

out of

5
 by
Mbkcons
Easy to set up, looks great
Just set up for sets of Scandia shelves. Once we figured them out, they went together quickly. You do need two or thee set of hands. You cannot put them up yourself. Only drawbacks are no bookend optional pieces and the bottom plate sit on the ground but doesn't lock in. Altogether a nice bookshelf.
November 27, 2016
Rated

4

out of

5
 by
DottieS
One of a kind
This is the only entertainment center I could find that was tall enough for my home office. It fits my space perfectly both vertically and horizontally. Love the versatility of the adjustable shelves. The only con is that there is only one wood finish/color available. Hence the 4 stars, otherwise it is a 5 star item.
February 8, 2016
Rated

5

out of

5
 by
Sam23
Skandia bookshelf
I have had Skandia shelving for 20 years now and love it! It's sturdy, lightweight, no sagging in the shelves after 20 years. Puts together like tinker toys. Recently needed more shelves and didn't want anything else.
January 19, 2015
Rated

5

out of

5
 by
mBeth
Most valuable shelving system
This is the best storage solution purchase I have ever made. I was in the military so I moved around a lot. With these bookshelves, I could set them up in different ways to accommodate the different apartments, condos, and houses I lived in over the years. Easy to set up and take down. Stylish too. You won't be disappointed.
April 26, 2014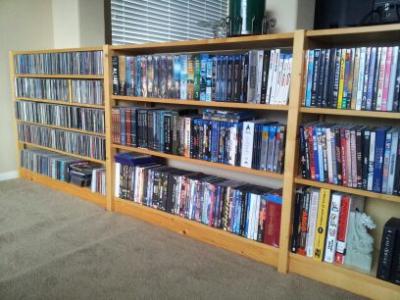 Rated

5

out of

5
 by
mickh
We'll have this forever!
We've had our Skandia shelf for about 12 years now, and it's been everything from an entertainment center to fish tank holder to office bookshelf, and it looks as good as the day we got it. It holds so much and looks fantastic. Unlike other inexpensive shelves we've kept for a few years and then passed along, I can't see ever having a reason to get rid of this one. Love it.
February 26, 2014
Rated

5

out of

5
 by
Moshi
Absolutely Best Purchase
Bought this & additional Skandia components to create a wall unit with desk, table, and abundant storage for my daughter when in high school. She has used this constantly for 15 years, through college and many apartment moves. It still looks just as it did when we bought it & has continued to be her favorite piece of furniture. Sure there are some dings, but nothing at all compared to other furniture! It doesn't stain, is easily wiped with a damp towel when spills happen. Honestly, I wish I had known, I would have bought it when she was in middle school! As it is she will probably have this for a very long time-it's so adaptable for any location of the house-not just a desk with shelves.
August 14, 2013
Rated

5

out of

5
 by
rms1
Finally a place for everything!
I purchased this shelving for my pantry when our builder wanted to put in the wire shelving. I knew I did not want the wire shelving because I had that at our old house and hated it. These are so much better and worth the price! They are super strong, holds everything and nothing falls over or falls between the wires! Best shelving out there and I have recommended them to several friends. I'll be ordering more to organize my basement.
March 20, 2013
Rated

5

out of

5
 by
hartje
Great for Small Spaces
The material of the product is great and hardy for child use. The vertical storage is great for little ones because it puts the toys up at their eye level and it makes it easier for them to engage. Plus, it looks good! Only negative is that it doesn't store a TON of toys...more ideal for single child. Overall, great buy!
March 18, 2013
Rated

5

out of

5
 by
organizationhappy
Skandia grows on you and with you
Bought in college as a hutch. Used in my first apt. as a bookshelves. Now I am using in our garage to hold the overflow from the kitchen, like bottled water and other items that we stock up on. I love the look of Skandia, the function, and the strength of the wood. It is an investment, but you will get years of use out of it!
March 18, 2013
Rated

5

out of

5
 by
DallasDarling
Fantastic Shelving
I've had a Skandia bookcase/hutch since 2005. I've moved it 9 times and it still is in great shape. I originally got it as a hutch for my dorm room desk. Since then I've added more shelves to it and now use it as a bookcase. I love this thing and I plan on keeping it forever.
February 21, 2013
Rated

5

out of

5
 by
Brainiac
Versatile
I bought Skandia shelves about 15 years ago. I have moved 5 times since then and these shelves have been versatile enough to fit into any apartment or home in which I've lived. At times they have been used for an entertainment center and others as office furniture. They are fantastic!
February 14, 2013
Rated

5

out of

5
 by
sarahbarah
I got my first tower/desk 15 years ago when I moved into the dorm at school. When I got my apartment after school I added a few more pieces and turned it into an entertainment center. Now I have just ordered a few more pieces to convert it into shelving for my 2 daughters in their playroom! Such a great buy! It can be configured for any use/space. I love it and am sure I will have it for years to come.
June 14, 2012
Rated

5

out of

5
 by
LazyladyfromIL
Amazing shelves
These shelves are great for use anywhere in the house or garage or even your storage locker. They are sturdy and attractive. They are built to last. I gave a couple to my sister when I no longer needed them! You can change the position of the shelves so that you can put all sorts of stuff on them.
April 28, 2012
Rated

5

out of

5
 by
Verified Reviewer
The Only Shelving For Me
I have been using Skandia for all my shelving needs since the early 90s. Through many moves, additions, and reconfigurations, the shelving has worked every time. I am using the extended desktop currently to hold monitor and keyboard used in writing this review...Skandia serves as my desk too. More than one friend has asked where I got the shelving, and/or if I would leave it to them if something were to happen to me.
April 27, 2012
Rated

4

out of

5
 by
design
Multi-purpose
I bought the Skandia as a hutch to use in college. It worked out great as many of the supplied dorm desks leave little to be desired and hardly any drawers/shelving to use up the little space you get. Since you get to choose where to place the shelves you can custom place them to fit taller or smaller sized books/magazines/binders. When moving, it was easy to disassemble and reassemble into a bookshelf.
March 19, 2012
Rated

5

out of

5
 by
Auntieneat
Skandia in Students Dorm Room
These shelves can be put together and taken apart easily making them perfect for college dorm living. They are sturdy, but not bulky. Students need easy access to books, snack food and laundry soap and everything in between. These shelves are great for students and for the parents who get to help with the moving part!
October 4, 2010
Rated

5

out of

5
 by
WeekendArtist
Gets better with age
I've had Scandia shelving for over 20 years and the older the wood gets, the deeper and richer the color has gotten. The shelves are simple, practical, and in as good shape as when I bought them. I cannot bear to part with them.
May 17, 2010
Rated

5

out of

5
 by
Amysongs
Durable, Beautiful Shelves
I bought my Skandia shelves over five years ago. I have used them in different capacities--as an entertainment center, an office desk and as bookshelves. They can be arranged however they are needed, look beautiful and have held up wonderfully. I will keep them many more years.
March 28, 2010