Rated

5

out of

5
 by
OrganizedLover13
Amazing
These shoe racks are amazing! I was looking for a nice sturdy shoe rack when my friend recommended checking the Container Store. I went and looked and found these beautiful racks! They are very sturdy and slim and hold up to at least 4 pairs of shoes though it's a little bit of a tight fit. They also don't take up very much space in a room unless you really love shoes⿺️ I originally got two shoe racks but went and got another because I loved them so much.
January 16, 2017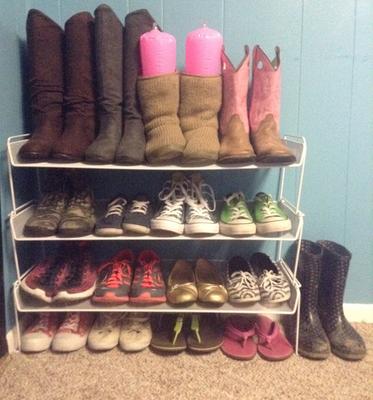 Rated

5

out of

5
 by
Freddi
White Mesh Stacking Shoe shelf
I bought 2 of these shelves and they were JUST PERFECT for my closet...... I have purchased so many items from The Container Store that have been wonderful for organizing my home. You are the first store I turn to when I need storage .. Thanks for being there for me!!! Freddi
April 9, 2016
Rated

5

out of

5
 by
Sunshinetx
Love these!
After reading reviews online I was undecided between the silver mesh and the Carrie shoe shelf. So I went up to the store to look at in person. I did not like the look of the Carrie one and the silver mesh was a few dollars less. I bought 3 to test out and I LOVE them!!!! I used the underneath part under the bottom shelf for my flip flops and sandals. On the 2nd shelf I have 4inch platforms and there is still plenty of room height wise.
December 11, 2015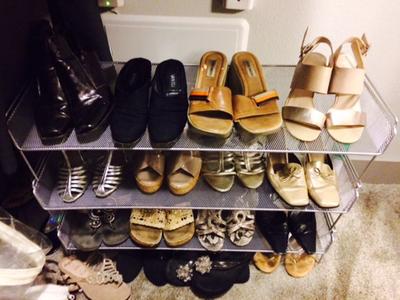 Rated

5

out of

5
 by
Stinepee
Small feet=5 pairs/row!!
I wear women's size 5.5/6 and I can fit 5 pairs snuggly on a shelf! Very happy customer. See photo on how I'm maximizing closet space: I intend on sliding over the first column to reach the back (good thing my bf doesn't need all his floor space ;P)
November 28, 2015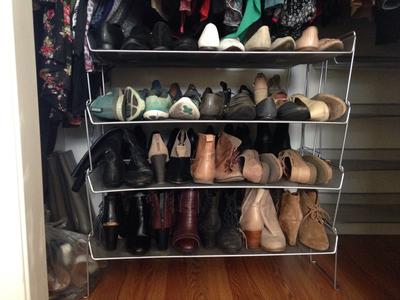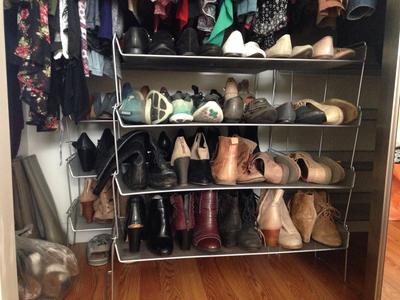 Rated

5

out of

5
 by
painterlady
very stable for heavier shoes/boots
I love this rack! It's great for shoes with no heel to hold them in place. When stacking the spacing is ample for even short boots to fit. Great purchase!
May 6, 2015
Rated

5

out of

5
 by
Desluv
Love this shoe storage!!
This is truly a great purchase. It looks classy, it fits neatly in my closet space and it is very sturdy. I also like the fact that I could fit flat shoes and flip flops underneath for extra storage.
April 22, 2015
Rated

3

out of

5
 by
Csatx
Barely Does the Job
This is a decent shoe rack. It isn't very sturdy and holds fewer shoes than expected. If you have a few pair of flats and that's it, this will do the job.
March 16, 2015
Rated

4

out of

5
 by
Krageegurl79
Great Shoe Rack for the Price
I live in a small apartment in SF fans space is limited. After tripping on my pile of shoes, I decided to invest in a shoe rack. I already had one, but it was flimsy so I was looking for something more sturdy. This show rack is not the strongest but decently solid and on sale so it was a no brainer. I wear a size 7.5 shoe and I'm able to fit four pairs of shoes on each rack. They are stackable - so if you have the lateral space, stack away! I like that the front of the rack has a mesh wire so my shoe doesn't scrap the wall it's leaning against. Also, there is good height between the rack space so I'm able to store booties and high-tops and/or foldable knee high boots.
October 10, 2014
Rated

4

out of

5
 by
jessica19
meh
so I bought this expecting 8 inches in storing height underneath the self. Well because the top shelf has a "dip," it actually only has 5 2/3 inches of storage height beneath. Because of that, I'm unsure if I want to exchange or keep.
June 28, 2014
Rated

5

out of

5
 by
colorpurple
Excellent purchase
picture shows how I used product quality product!!
May 26, 2014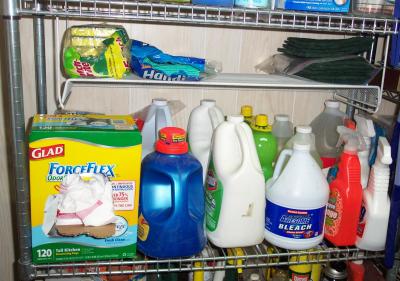 Rated

5

out of

5
 by
andirey
Just what I needed!
I was switching out my shoes from a giant bin every season to save on closet space, but this year got tired of it because the years go by so darn fast that it seems like no time before I'm lugging the HEAVY bin out from the storage closet again for the bi-yearly switch. Now that I'm keeping more shoes in the closet, I needed organization rather than stacking them on top of each other, which works fine for flats, not so much for any other shoe type. These are so easy, the white blends into the closet walls, and my shoes (and closet) just look so much happier now :) My mistake was only ordering 2. I need 1 or 2 more. Great product - inexpensive, but nice quality.
May 11, 2014
Rated

5

out of

5
 by
Swanny
Great shelf!
Works perfectly in my closet to store shoes. It has a nice clean look to it and a ventilated shelf is always great for shoes.
April 29, 2014
Rated

5

out of

5
 by
LCMO
Awesome shoe shelf
After having my shoes in a pile in my closet for three years, I finally decided to do something about it and bought three of these stacking shelves. I love how they can come individually or stack together to tailor to any closet, and they made a HUGE difference in how my room looked overall. These shelves kick-started a massive spring cleaning project for me and now everything has a proper place to be instead of being swept under the rug!
April 28, 2014
Rated

5

out of

5
 by
organize123
Works well
Bought two. I have shoes on the bottom one and the floor underneath and then gave the top section to my son so that he can keep his shoes and backpack together and not just thrown anywhere so he can find them for school in the morning.
April 20, 2014
Rated

4

out of

5
 by
kimmiegibbler
Not just for shoes
I actually bought this for a use other than shoes. It's a nice shape to make more efficient use of a shelf in a closet.
April 7, 2014
Rated

3

out of

5
 by
tennisgolfshirts
PURCHASE OK
A LITTLE FLIMSY- IT STACKS WELL - JUST NOT STURDY ENOUGH
April 2, 2014
Rated

5

out of

5
 by
SteffD
Happy with purchase
Does as advertises, it holds shoes! This shoe shelf is nice because not only does it stack but it locks into place when stacked. These shelves do hold a lot of shoes too. I think you can easily fit 3 pairs of tennis shoes per shelf, I think I might have squeezed in 5. It really is a great space saver for shoes and better then the hanging shoe shelves because its much more sturdy, my boyfriend keeps his steel toed work boots on the shelf and there is no way a flimsy hanging shelf would hold those shoes up. In the picture we have 3 shoe shelves stacked and I slide some flip flops underneath the first shelf.
March 22, 2014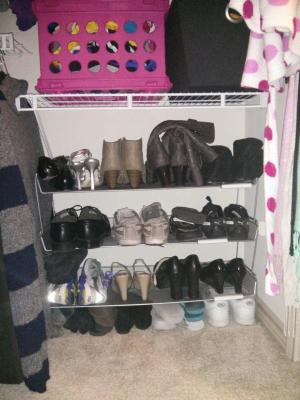 Rated

4

out of

5
 by
leee123
Good rack
This is great to use to put shoes on, I've fit at least 5-6 pairs on it and I have stored shoes underneath it on the floor. Really maximizes space, thinking of getting another one to stack!
February 27, 2014
Rated

4

out of

5
 by
TheOrganized
Excellent Product
This stackable shoe rack looks great and works great. it has just enough height to hold a pair of high tops or a shoe box. the only downfall would be the width. Its not quite wide enough for 5 shoe boxes, has space left over with 4 shoe boxes.
February 20, 2014
Rated

5

out of

5
 by
ViennaVAOrganizer
Doubled my shoe space
I bought these to use on shelves in my closet that were tall enough to accommodate them and was able to double the number of shoes that could be stored on each shelf. It's always great to maximize your space! Other reviewers have stated that four pairs of shoes don't quite fit. If you place each pair with one toe facing out and one toe facing in, it will definitely hold four pairs of shoes. The added bonus of this placement is that you can see the heel and toe of each pair of shoes.
January 17, 2014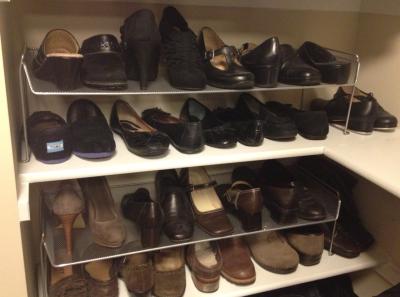 Rated

3

out of

5
 by
TTTT
CAREFUL
I bought 5 of these stacked one on top of the other. Cleared up and organized my front door and closet space. The welds on this thing are were not strong enough for me to attach one level to the other. Leg broke but returned and was gladly exchanged.
November 6, 2013
Rated

4

out of

5
 by
NjTee44
Wonderful Space Saver
Brought this product online at a great price. I have a lot of shoes and needed to organize my closet. This was perfect for me!!
October 4, 2013
Rated

5

out of

5
 by
LoVo
Simple stacking shelf great especially for men's shoes or women's shoes with a low heel. My taller heels had to stick out a bit at the back as they were too tall. The shelves stack firmly together and are lightweight and easy to move around.
September 6, 2013
Rated

5

out of

5
 by
UNCBelle
LOVE! The perfect small space shoe solution!
My husband and I share a very small walk-in closet. Shoes were always a problem, until I found this! It is narrow front-to-back, so it works well in my closet, but may be too short for men's shoes. I mostly have wedges and flats, so those would always fall off traditional shoe racks with horizontal poles. I also tried wood shelves but I found I couldn't see the shoes easily. This is the perfect solution because the mesh allows for greater visibility and they are flat so shoes don't slide off. Truly the best thing I have found for my closet! Plus it won't break the bank! Like another reviewer mentioned, they could be just a tad longer to easily fit 4 pairs.
August 15, 2013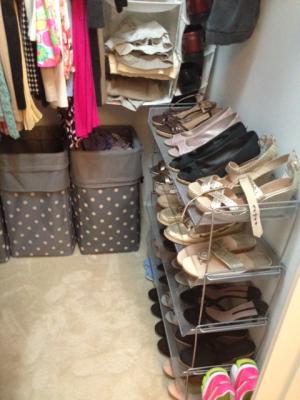 Rated

5

out of

5
 by
SavannahSmiles
Pleasantly Surprised
I was hesitant that these would work for my needs, but was pleasantly surprised! I love the mesh! The shoe heels don't slip between the wires as with other closet wire systems. The height and depth are perfect and I love that they're stackable. I'll definitely be ordering more to finish off my closet project!
July 15, 2013
Rated

4

out of

5
 by
JDJHarringtonPark
Great Budget Friendly Option
We just bought a new house and have a large walk in closet and needed shoe organization options that would hold a lot of shoes and not break the bank since future renovations may include the master closet. These racks turned out to be great. Two small things, I would add a couple of more inches of length and width to these units. I'm a size 10 and some of my high heeled shoes were too long to fit properly. Also, I could typically fit 3 pairs on each rack, but it was just a bit shy of being able to hold a fourth pair (my solution, sort by color and stack the summer sandals).
June 27, 2013
Rated

5

out of

5
 by
debhgrty
Best Shoe Rack
I love this rack - it has room for four pair of shoes on the rack and four under it. I love that it is flat so shoes with no heels don't slip off. The wire mesh lets the shoes breathe and is attractive.
June 6, 2013
Rated

5

out of

5
 by
Tracyb143
No longer dealing with shoes laying everywhere :)
This thing was a miracle worker for me. I am outnumbered in a house of boys. Shoes were always just thrown by my front door before, without any rhyme or reason. Now they are neatly put on the shelf & I'm one happy wife/mom. I've found that one shelf can fit about 4 pairs (that's my experience anyway), with additional shoes underneath. I've gotten lots of compliments on it. I will be buying more.
April 28, 2013
Rated

5

out of

5
 by
JEPB71
Great value
My teenage daughter had a very messy closet with shoes flying out of it every time you opened the door. Now with the stacking shoe shelf, her shoes are always in the same place and organized by height and type. Great value for us!
April 26, 2013
Rated

5

out of

5
 by
Brig862
For more than just shoes
I purchased this item to stack on my shelves in my closet to hold my tee shirts & workout clothes. I loved the size as it fits on my narrow shelves.
April 26, 2013