Rated

5

out of

5
 by
sarahdub
Paired w/ 20" shelf, makes a laundry sorter
We recently installed Elfa in our laundry closet; the bottom shelf is 20" deep. I needed a system for sorting dirty laundry and I considered using separate laundry baskets, but none maximized our small space. I went back to CS and thought I'd try using just shelf dividers to create a sorter. I installed the dividers today and sorted the clothes into them; so far so good. If I have trouble with pieces of clothing falling out of place i might add bungee cord. We hesitated buying Elfa because of cost, but after just installing it in 3 spaces we realize it's a great product for our small house. Wish we would have bought it sooner!
May 14, 2015
Rated

5

out of

5
 by
prescottpersona
amazed at the difference
After installing our elfa system I thought I'd give these a try to wrangle my purses and tote bags. I am amazed at how much more space they create and how tidy that area of our closet looks now. They do not work with shelf liners so keep that in mind when planning things. Love!
February 9, 2015
Rated

5

out of

5
 by
Designstar
Shelf Dividers
The dividers are okay. I initially purchased them to divide purses in my closet. However, I think I am just going to utilize them to divide shirts and sweatshirts at the top of my closet.
July 26, 2014
Rated

5

out of

5
 by
Tappuppyj
Purse Dividers
I purchased these to add to my Elfa closet. It's a great way to keep purses separated and organized.
June 30, 2014
Rated

5

out of

5
 by
kmatos
Excellent idea!
I purchased 4 Elfa shelf dividers to organize those piles of towels in my closet that never seemed to look organized no matter what I did. WHALA! Perfect solution and extremely easy to install....I highly recommend these.
April 26, 2014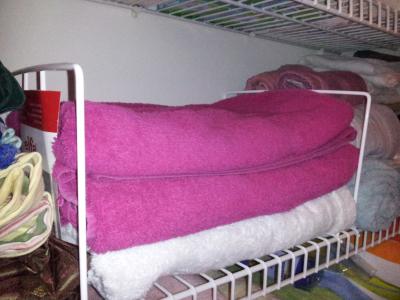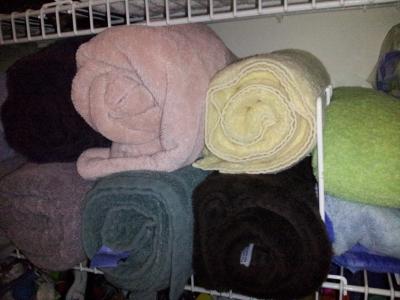 Rated

5

out of

5
 by
Caramia
Just what I needed
I had been looking for something to keep my stacks of sweaters and t-shirts from falling over each other. this worked perfectly.
April 25, 2014
Rated

5

out of

5
 by
Veroka
Great divider for bakeware
Used the dividers in my new pantry system, great !
March 18, 2014
Rated

4

out of

5
 by
HappilyOrganizedAtLast
Shelf Dividers
Originally, I had purchased these to separate my purses in my closet. Then I realized I could also use these dividers to separate my carry-on suitcases. The suitcases were lying on the top shelf of self standing chrome shelves in the garage. Using the dividers, I was able to provide vertical support for the suitcases and store them standing up, which allowed me to organize them all in one place...and free up the top of the other shelf unit.
March 10, 2014
Rated

5

out of

5
 by
VThome
Awesome shelf dividers!
My closet is all wire shelving, and while I did not like the way it looked with the piles of clothes sort of rumpled together and falling over, I was hesitant to spend money on dividers. I finally took the plunge and ordered two just to try them -- and I love them! I am ordering more, enough for all the shelves. They fit perfectly onto my existing shelving (another thing that had made me hesitant to buy some) and immediately added a more polished look to my closet. I'm so happy I finally tried them after years of considering it! Yay!
March 4, 2014
Rated

3

out of

5
 by
StorageSolutions
Shelf dividers
Helps keep items neat and prevents stacks from falling over. Unfortunately, not able to use with liners.
February 27, 2014
Rated

4

out of

5
 by
tracilee
Does not work with shelf liners
Let me start by saying I love my elfa closet! I went back to the store after it was installed to look into some additional accessories. Unfortunately it was the last weekend of the elfa sale and all the the sales people were very busy. While these fit the shelves well, they take up valued inches of shelf space and do not work with the plastic shelf liners. If there had been a free employee s/he probably would have told me this.
February 19, 2014
Rated

5

out of

5
 by
Frederick
The elfa shelf dividers help me keep my pantry, linen closet and bedroom closets organized.
January 14, 2014
Rated

5

out of

5
 by
MrsRod
LOVE
I LOVE this product! Can be used on other wire shelves, not just Elfa! Im going to be buying more!
October 22, 2013
Rated

5

out of

5
 by
echoi
Worthwhile item
Would definitely recommend. Holds purses in place. Makes closet look so much neater!!
October 17, 2013
Rated

5

out of

5
 by
Cb419
Terrific
Needed these to keep my pocketbooks upright on the shelves and this is terrific. I can now see all the handbags at a glance and be able to choose the one I want right away. They keep things neat and looks very professional. Easy to install. Just love this product.
September 25, 2013
Rated

4

out of

5
 by
HeatherD
Wouldn't fit my Standard Wire Closet Shelves
I gave this a good rating, because it's basically my fault the shelves didn't work. I bought the wrong size. So, if you don't have the Elfa shelving systems that the Container Store has and just have the standard white wire closet shelves, measure before you go! I know, common sense :( However, when I returned these, I decided not to try to find the right size (the store has a few different sizes) because there isn't much too them to help separate your stacks of clothes. Also, they weren't nearly tall enough for my purposes.
May 1, 2013
Rated

4

out of

5
 by
organizinggirl
Simple shelf help!
I use these in my kids' closets to divide their shelves into sections; their smaller clothes get disorganized quickly, and having these to divide the space keeps the stacks upright!
April 2, 2013
Rated

5

out of

5
 by
Nobby
Recommended!
I have been using elfa shelf dividers in non-elfa wire shelves The brand of shelving I have does not make shelf dividers and fortunately the elfa dividers fit perfectly and are quite sturdy! I have used the 12" dividers and just purchased the 20" dividers to work on another closet.
March 26, 2013
Rated

5

out of

5
 by
GeorgieGirl
White ELFA Ventilated Shelf Dividers
These shelf dividers make my personal closet space (we downsized to an apartment in our old age) much more attractive and accessible for storing linens. I drive 2 hours to get to Atlanta's Container Store. Anytime I am in Atlanta, the Container Store is a "must" visit. You provide great assistance from your staff and I love your products. They are so useful, handy, and well made. Thank you.
March 24, 2013
Rated

4

out of

5
 by
KT21
Very Effective
I purchased 3 of this item to separate linens of a shelf. Looks great and is working well to keep items separate. I do wish that they had a taller option, as well.
March 24, 2013
Rated

5

out of

5
 by
jkbunny
Great Organizing Tool
The Elfa Platinum Ventilated Shelf Dividers are great organizing tools for my Elfa freestanding shelving projects. The only concern I have is that you cannot use them in conjunction with the shelf liners. I have cut one of the liners and will see if this will finally work with both in place at the same time. Overall, I'm happy!
March 11, 2013
Rated

5

out of

5
 by
hdb5
Elfa products
These shelf dividers were the last small part of a new pantry that replaced the junk that the builder installed. the new Elfa shelving is more efficient, more beautiful, much more useful, and more attractive than what the builder left us. We love Elfa and these shelf dividers were further evidence.
March 3, 2013
Rated

5

out of

5
 by
Ohioan
Great tool
My closets are too shallow for the Elfa drawers, so I was limited to shelves. I used multiple shelf dividers and was able to fit entire wardrobes for THREE children in one 44" wide closet! I was also able to adjust each space to the exact width of each stack of clothes.
February 28, 2013
Rated

5

out of

5
 by
NewDiscovery
Exactly right
My multiple handbags are falling over each other and this divider does exactly what I needed! Solid construction and easy to install. It stays tight and upright on my shelves. A little bit pricy but worth it.
November 27, 2012
Rated

5

out of

5
 by
bagginit
Great!!
These shelf dividers are really a great way to organize your shelves.
October 11, 2012
Rated

5

out of

5
 by
ClosetHappy
An un-ordianry use for an effective product
We bought these to organize racquets at our tennis club after having our demos in a locked trunk. These make it so easy to store them by name, category and/or length and now it's simple to just open the closet and grab the one we want instead of fiddling with a lock to open the trunk and then locking it again.
April 29, 2012
Rated

5

out of

5
 by
mmrobmom
I called my local store, explained that I had builder-installed wire shelving and that I needed some dividers. The associate I spoke with told me exactly what I needed. I ordered them on line and then went to the store for pick-up. Easy installation. Exactly what I was looking for.
March 24, 2012
Rated

5

out of

5
 by
Jerri
Organized and Happy
Have found lots of uses for these shelf dividers...in my closet-protecting my handbag investment...in my pantry-separating wraps and boxes of plasric bags, holding trays upright on top shelf of pantry. I could go on and on...buy them and you will find them useful!!
March 12, 2012
Rated

5

out of

5
 by
Elfamaven
Terrific item
So easy to install. Does a great job of easily partitioning items on your elfa shelves. Great cost-effective partitions
February 15, 2012
Rated

5

out of

5
 by
Chaservie
Great Dividers
I bought this one a whim to go with our new elfa closet and they work really well. I have them placed between my stacks of sweaters and it keeps them from leaning into each other and falling over. Simple design and a snap to instal.
April 21, 2011