Rated

5

out of

5
 by
turkelstone
shoe shelves
We designed a whole new closet for my husband and the shoe shelves were just one set of the many well designed components. The shelves house multiple pair of men's shoes. The shelves easily slide in and out for access. All shoes are visible for ease of selection. Aesthetically and practically perfect.
March 20, 2012
Rated

5

out of

5
 by
Katie2324
Great shoe rack
I love these slide out shoe racks. They are great for storing my husband's shoes and I like that they keep the shoes off the floor.
July 4, 2016
Rated

5

out of

5
 by
DanaA
Quality product
Great quality & easy to install. Stores 6 pairs of shoes.
June 10, 2015
Rated

5

out of

5
 by
smashing
I've been buying ELFA products for 15 years
...and I'm still using them. My closets, cabinets, and garage are full of ELFA baskets and frames. I couldn't live without them.
May 18, 2014
Rated

5

out of

5
 by
Pattie123
Love Elfa
Put in sliding shoe rack in my custom closet and removed the over the door shoe holder. My condo is for sale Was shown the next day and was sold! Thank you
May 1, 2014
Rated

5

out of

5
 by
MinnesotaMama
Works super well
I love these shelves! They hold a ton of shoes, work well and look great. When we moved, we had to leave most of our Elfa system behind, but I took my shoe shelves! Can't wait to install them in our new home.
April 26, 2014
Rated

5

out of

5
 by
gmsavs
Why didn't we do this sooner
We recently installed the Elfa closet system in our master closet. We love it. The Gliding Shoe Shelf is the best thing ever. No more opening boxes to see what pair of shoes is in it. They are all right there in plain sight. Thank you Elfa for making life easier!!
April 25, 2014
Rated

5

out of

5
 by
RedWingShopper
great organizer
This is a great organizer for shoes. Versatile, looks great. Easy to change the configuration
April 11, 2014
Rated

5

out of

5
 by
HappyCamper2
A Good Improvement
I started using Elfa closets in 1997 and have them in almost every closet/storage area in my apartment and week-end cottage. I noticed the gliding shoe shelf and changed out my shoe racks for the gliding shoe shelves. they solved a big problem. I have changed my shoes from heels to flats and the old shoe racks just didn't hold flats. These gliding shelves are perfect for flats, although I would keep the racks for heels. The gliding shelves take just the right touch to get them hooked into the system and stable, but once you get the knack, they are stable. This is a great improvement. I love Elfa and this fixed the only problem I had with all my closets. thanks Elfa for continuing to improve things.
March 14, 2014
Rated

5

out of

5
 by
Hmrtraveler
Great space savers and very functional
Love these gliding shoe shelves! I can get at least 6 pairs per shelf. They glide out very easily so that I can see everything. They make great use of my limited closet space.
March 14, 2014
Rated

5

out of

5
 by
GraceK
New Master Walk-In Closet
I highly recommend the Elfa system. It's a great closet system and offers a wide variety of options for every style and shape of closet. Working with the Elfa Designers was incredibly easy and they make it fun to get started. They are very knowledgeable and use your ideas to create the design and provide suggestions for things you might not have thought of. Once the design is finalized and the order is placed, everything is well organized and ready to go when you pick it up. Easy to follow instructions, quick and easy to understand videos, make the installation a snap. All the components were well labelled and cut to size. No guess work needed. We could not be happier with the finished project and the quality of the products used. Thanks Elfa for helping us to get organized.
February 20, 2014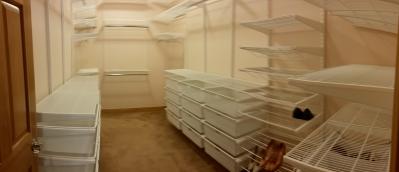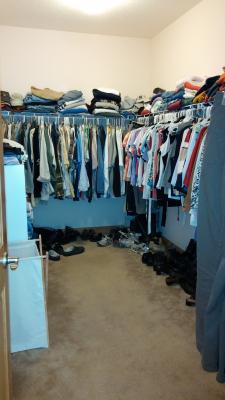 Rated

5

out of

5
 by
Brob
So convenient
I love these shoe racks. I wish they fit more shoes. I'm a woman and i have a lot of van shoes, about 4 pairs great then like 1 pair can get split up, so 5 pairs can fit on there. But my boyfriends shoes he can only fit 4 since his feet are a lot bigger. So be sure to plan accordingly depending on the shoe size! But i love that they pull out
February 20, 2014
Rated

4

out of

5
 by
HappyConsumer
Shoe Shelf Heaven
We just renovated our laundry room and really needed a good solution to our 4 person family shoe dilemma. My husband researched options endlessly until he came across the Elfa Gliding Shoe Shelves.... We paired these up with a whole Elfa system and turned our laundry room into a slice of heaven. We now have the entire family's shoes organized and easy to access without being ugly and overwhelming when you walk in the door. The only negative that we have found with these shelves is that you cannot put tall shoes in the back section of the shelf otherwise when you pull the shelf out, the one above it comes out with it. Not a big deal though. You just rearrange your shoes to make your taller shoes go in the front section of each shelf. We are really pleased with our purchase and will recommend the Elfa system to anyone who will listen.
February 17, 2014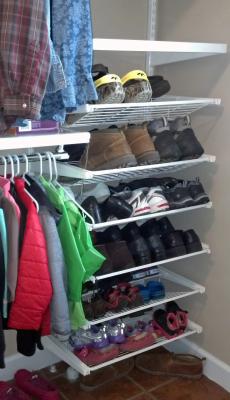 Rated

4

out of

5
 by
wytyd27
Nice Rack!
Installed this as a way to more effectively store shoes. What's nice is the shelves glide in and out and they accommodate varied types of shoes, making it practical. It's relatively easy to install and I might've taken longer than I had to because I was concerned about screwing up. It's a good shoe storage solution if you've the room for it in a closet.
February 17, 2014
Rated

5

out of

5
 by
KStarr
Best shoe shelf for "Shoe Princesses"
I bought two of these along with a hanging 10 compartment shoe bag by Milano and many other Elfa components to fit into a very tight reach- in closet in my teen daughters room. I wish we would have had room for more! My daughter told me the gliding racks made her feel like a "Shoe Princes". We were able to fit 5 pairs of shoes on each shelf, (size 8.5) then we were able to add double stacks of "flip flops" and very flat sandals in the two remaining slots for a total of 14 pairs of shoes stored. The glide out feature makes the shoes super assessable and they go back in keeping your shoes out of the way of dust and sight. All the Elfa components are well made, hold up to years of tough use, and though a bit pricey up-front you wont' have to complain about having to replace something that was cheaper and performed half as well.
February 13, 2014
Rated

5

out of

5
 by
Bowberg
GLIDER INSTALL TIP for everything
Love the Elfa line. This is my first purchase and it was so fun and rewarding to install in a closet by myself. This company is so organized and it was cool to have a designer help out first over the phone and then at the store. The only issue I had was that no one emphasized that there is a tiny little tab on all the gliders that must be pushed in to secure. The directions say push until you hear a click, however the video should show you what the small tab looks like and its more like two clicks. Our glider on our jewelry box must have fallen out 6 times. I thought it was faulty so I took it back to the store and it was only then that I learned about the tiny tiny tab that must be lodged into the hole.
February 11, 2014
Rated

5

out of

5
 by
Denyme
Adaptable Elfa never dissapoints
I just retired after more than 30 years with the same company. My Elfa shoe shelf in the laundry room closet no longer needs room for many shoes with heels - so I am replacing the shelf for high-heels with one for flats. I love that Elfa makes it so easy for me to adapt the storage shelf to meet my new needs in retirement. Thanks Elfa!
January 18, 2014
Rated

5

out of

5
 by
BBoop
Excellent Item
We purchased this item to replace the shoe racks that we installed 12 years ago. The old ones were for shoes with heals and not wedge shoes. These are perfect that that type of shoe. We love them.
January 15, 2014
Rated

5

out of

5
 by
closetenvy
Just what I needed!
Most of my shoes are either flats or wedges, and this slide-out shelf works for both! It easily accommodates six pairs of women's flats or wedges and makes it handy to reach for exactly what you need. I have three of these shelves (plus one of the racks that holds heels) and that holds my entire shoe collection except for a couple of pairs of boots.
November 7, 2013
Rated

5

out of

5
 by
Vvmitchell
Shoes shoes shoes!
I was able to adjust my 3 sliding shoe racks and fit one more in! I can fit 4 pair of flats in one row by placing one straight and one on end. Compact and efficient! I keep 3 open slots on the wall support between shelves and shelves still slide freely. I love my closet makeover and the prep is more time consuming than the easy installation. Be sure to remove all old shelves, repair holes, spackle, sand, paint (a pretty color), then easy install. Works great with a DIY husband and wife team! Enjoy
October 31, 2013
Rated

4

out of

5
 by
wranglrsahara
Better than expected
Fits a wide range of shoes, from sandals to flats to wedges (women size 9), without any problem. It may be more problematic for larger sizes.
October 28, 2013
Rated

4

out of

5
 by
Tyshe
Fit more shoes into small space!
I'm installing my new closet system in budget-friendly phases. the first was the section for our shoes. It's amazing how many pairs you can fit into each of these. Great for both my and my husband's shoes. They are a little tricky to install, and my heels can kind of fall through the mesh wires a bit, but those are minor complaints overall. I love it!
October 19, 2013
Rated

5

out of

5
 by
tbob
Love the shoe racks!
I purchased a complete elfa closet organizer in white ventilated shelving. I have a pretty small closet with one door entrance to it in my 1950's home and I absolutely LOVE the system. I am so excited about it, especially these gliding shoe racks. I also have one of the gliding shoe racks for heeled shoes with the system. It is like a breath of fresh air to have a more organized closet and I keep having to open my closet door just to check it out.
April 16, 2013
Rated

5

out of

5
 by
sasquatch
Elfa Garage products
Elfa Garage products are great, Easy to install , very well built to hold what ever you need to store from Ladders to Golf clubs to Bikes . Well worth the money also have Elfa throughout the House . Easiest most economical shelving you can buy.
March 28, 2013
Rated

5

out of

5
 by
Tesla
Off the floor!
I recently added the Gliding Shoe Shelf to our elfa closet system. I really wanted to get all of my shoes off the floor, mostly for cleaning purposes. Having them on the Shoe Shelf certainly accomplishes my goal ! It looks so nice and neat to have them off the floor, and with a better use of space.
March 18, 2013
Rated

5

out of

5
 by
nnny
they roll out to you
I love the shoe glider. A little tug and your shoes roll to you! Wow! It is like having someone else fetch your shoes. . . and it is easy to put shoes away - no pushing other shoes out of the way and knocking them off the shelf.The technicians were neat, polite, efficient, and EARLY( but they called first).
March 18, 2013
Rated

5

out of

5
 by
ClosetHappy1
Room for more!
Our elfa specialist designed my closet with three elfa Gliding Shoe Shelves for my sneakers (and flip-flops). Sneakers (and flip-flops) are the only footwear that I don't store in boxes, so they are not really stackable. The gliding shoe shelves were the perfect solution for keeping them neatly within reach. My only complaint, is the tight fit when storing three pairs of sneakers (running shoes, with their slightly flared bottoms/soles) across one shelf. I got around that by alternating pairs facing in/out in the shelf, but would have preferred to be able to keep all three pairs facing the same way. Minor quibble, and I can fit three pairs across (six pairs total per shelf), so I am still giving this 5 stars (though it might be closer to 4.5 or 4.75 stars).
March 18, 2013
Rated

5

out of

5
 by
RonnieM
Gliding Shoe Shelf
works with ANY type of flat or low heel---LOVE it!
March 14, 2013
Rated

5

out of

5
 by
Luv2organize369
Great Product!!
This shoe shelf is wonderful! I am enjoying having my shoes in order & out of the floor. The way they pull out makes easy to have access to every shoe I have.
March 4, 2013
Rated

5

out of

5
 by
Verified Reviewer
Shoe Transformation
This has been an excellent part of an overall system I created. I'm very happy.
March 3, 2013