Rated

5

out of

5
 by
LeimomiHouston
Another use for Wall Rack System
My closet has/had a 34" w by 108" h by only 7" deep at the entrance to the closet. I previously had hooks for hanging robes and nightgowns installed on the wall. It seemed to always be cluttered. I enjoy do-it-yourself projects. So, I'm quite pleased with the results of this clever use of space. I can easily organize my flip flops and handbags on the wall and at my 5'11" height, I can use the Polder step stool to reach less-used hand bags. It helps me stay organized because I can see what I have and easily put it away. I am an elfa fan; I have it installed in every closet. All of it designed and installed by me, myself and I.
September 18, 2016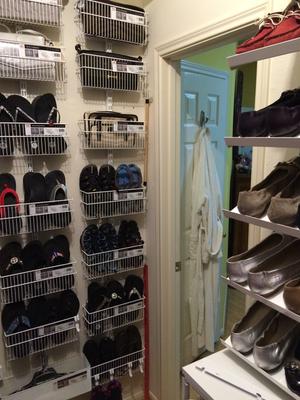 Rated

5

out of

5
 by
stampingnut
Excellent Craft Room Storage!
I was looking for something to store my many stampsets and I came across this over the door wonder! the baskets I purchased to install into the over the door rack is for DVD's/media but they are perfect for my stampsets! PLUS I now have room to buy and store more stampsets! This was easy to install myself too! Thank you Container Store for an awesome product! It feels so good to be organized!
January 21, 2017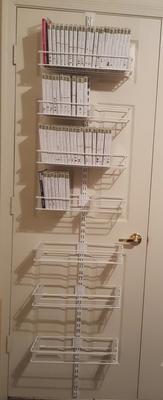 Rated

5

out of

5
 by
ssboysmommy
AMAZING for nursery
We bought this storage system to use in the closet for our nursery. We love it and my husband said it was easy to install. Would suggest this product to anyone and everyone!
January 19, 2017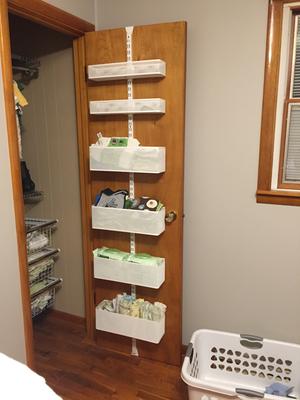 Rated

5

out of

5
 by
RoseP
Door Rack Systems
I love my door rack systems. It is so convenient to place small items and items that I use more often in the baskets. I have them on doors for my pantry, linen closet and front hall closet. No need to drill holes in the doors so they work great if you want to moe them to another location.
January 12, 2017
Rated

5

out of

5
 by
GrandmaDi
Elfa Door & Wall Rack System
I love the door rack system which I have used in several closets. It has saved me a lot of space. I especially love the space I saved storing the wrapping paper rolls.
January 10, 2017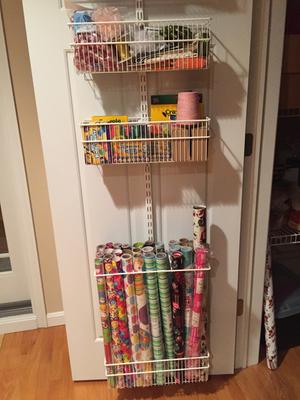 Rated

5

out of

5
 by
NJmary
Perfect Space saving
First I just saw somewhere and I liked how it look like. Than I went and bought a set and I felt in love with it. So I went back and I bought an other set. Just perfect
January 9, 2017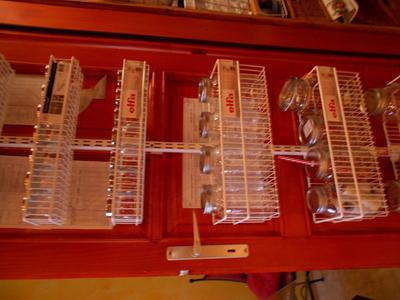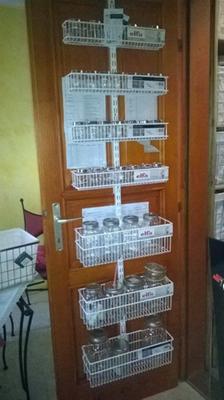 Rated

5

out of

5
 by
JCorn
Awesome!
Best purchase ever! I used these on the wall to hold all of my vinyl. Its the perfect size for how wide the vinyl is and I can even put multiple sheets on each bar. Highly recommended!
January 8, 2017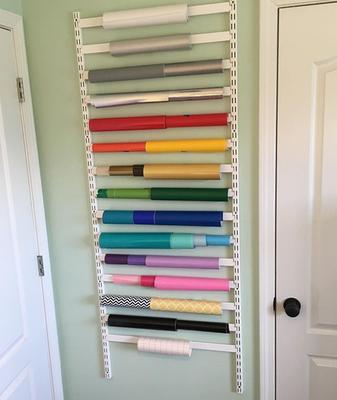 Rated

5

out of

5
 by
JrtO
Back of door - found space!
So happy with my back of door Elfa Utility Racks. We have an historic home, and there's not much storage in the small closets. Adding this back of door rack to every closet has helped and keeps everything easy to see and use. In library, we used it to organize office supplies. In guest room, our gift wrapping supplies, DVDS in the TV room, and of course all of my clutches and accessories in master closet. Kitchen and pantry are next!
January 8, 2017
Rated

5

out of

5
 by
gamma
great product
We recently had a Container store consultant come to our home to help organize our hodge podge of a pantry... She recommended the Elfa system with the baskets- it's perfect, my only complaint would be the wire weaved baskets are hard to see thru in higher up spots- I purchased the open wire and they are much easier to see. Plan on trying more of the system to get even better organized.
December 13, 2016
Rated

5

out of

5
 by
Tashia153
Wonderful Purchase
We live in a small house with a small kitchen. Space is at a primieum. I purchased the elfa utility door rack system and used the narrow baskets because of space. It is a miracle. Not only do I have additional storage, it has decreased the overcrowded pantry shelves, but I can see eveything I have on hand. Best purchase ever. And I love that I was able to design it myself. Also, I purchased the white and the enamel coverage is even and fully covered. Love it.
October 17, 2016
Rated

5

out of

5
 by
LittleRedNinja
Greatest elfa product ever!
We recently remodeled our kitchen. Previously, I had stored all of our wraps and ziplock in a drawer - but then we lost an entire drawer. I found the Elfa door rack solution and it is perfect! I especially love that the rack can be mounted inside the door (I don't care for the "overdoor" look). I may be installing this product inside all of my doors!
September 26, 2016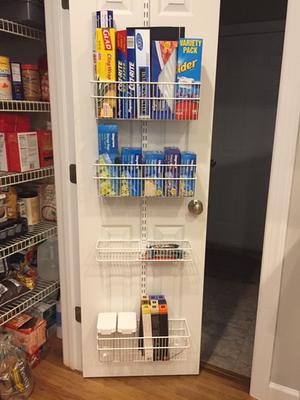 Rated

5

out of

5
 by
DownsizerinPNW
Quality Product to Create Vertical Storage
Anyone who's had to downsize to a smaller house knows what a challenge it can be to find storage for necessary items. Its amazing how much you take for granted when you have so much easy storage available, like built in cabinets in the laundry room and powder room, multiple spice drawers and a large linen closet to store household items. When you no longer have those storage/organization areas, its time to get creative! We went VERTICAL for all of our additional storage needs. My DH was the one who turned me onto the Elfa storage system, as he got busy adding them to garage walls for all kinds of additional storage options. We've since added them behind doors throughout the new home: Pantry, coat, utility, linen and master closet. I keep finding new places to put them. Even though our sq. feet has diminished significantly in the new house, it hasn't impacted our easy access and organization of much needed items (too much, that is). Mainly, thanks to the Elfa storage system. A good looking, solid product that is a snap to install and is quiet and secure once its in place. No additional purchases (or work) needed to keep them from banging against the door upon opening and closing. The system comes with both a top and bottom door hook to hold it in place. The baskets all have 4 sides so items stay put. Although the price for this system is more than some others of a similar (but inferior) design, the value of it far exceeds others.
September 24, 2016
Rated

5

out of

5
 by
SimpleHappyLife
Space Saver
Love that the over door bracket is low profile. Can hold small spices and heavier items too. I also use it to store small appliance accessories. Looking at puting a second one in our utility room for cleaning supplies.
March 26, 2016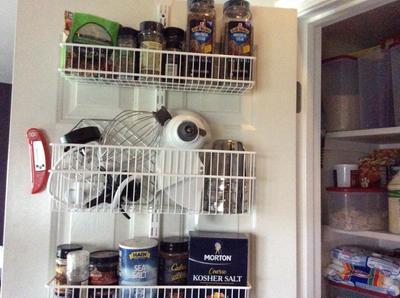 Rated

5

out of

5
 by
kitchenOrganizer
The system is brilliant. Had an small space and was able to add storage for bottles and can goods. Looks good and works well.
March 23, 2016
Rated

5

out of

5
 by
StorageGuru
Best way ever to clean up a pantry
Had used a single rail system behind the door of our closet remodel and loved it. Decided to tackle the pantry. What a difference this on the door rail makes. We no longer have double bottles of spices, because they are lost on the shelf. You can now see and find everything. This single rail shelf system was a breeze to install. Highly recommend
March 19, 2016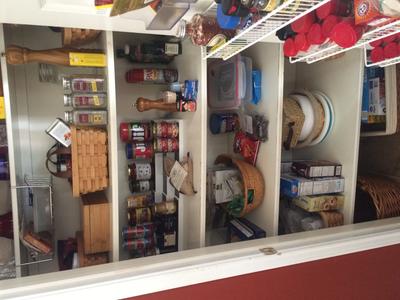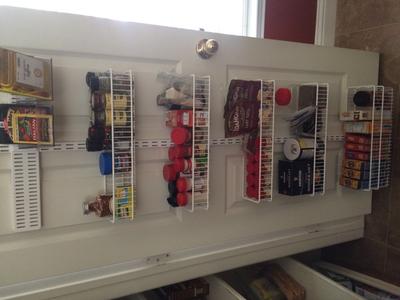 Rated

5

out of

5
 by
Wobb
Love it! great ways to organize in small space. I will purchase more to organize my whole house.
March 10, 2016
Rated

5

out of

5
 by
pennycolorado
Great for Spice Storage
These are the most darling hanging baskets for storing spices and such in, I have been using elfa over the pantry door holders since 2007, and the price and quality, and versatility can't be beat!!!
February 18, 2016
Rated

5

out of

5
 by
AprilLynne
Love it
Like that the organizer is not easily seen when door is closed. Easy installation and gives me much more storage.
February 8, 2016
Rated

5

out of

5
 by
Stansmom
Great Purchase
Just what I needed for a very already crowded craft room. So east to install on the door. Went up in a matter of minutes and baskets clamped on easily. Love it!!!
January 24, 2016
Rated

5

out of

5
 by
Princess78
Every home should have several!
I originally bought one for my craft room for wrapping paper, ribbons and bows. It worked out so well I bought one for the pantry. I love them! So good for storing and organizing.
January 11, 2016
Rated

5

out of

5
 by
catOnMyLap
Works perfectly
My new condo has limited storage, so I need to make the most of what there is! I bought the elfa platinum door rack and baskets so I could centralize all the cleaning supplies there, leaving kitchen and bathroom cupboards free for other uses. Simple and quick to install, these well- designed components gave an instant upgrade to the door of my utility closet and a home for every cleanser, sponge, polish, etc.
January 9, 2016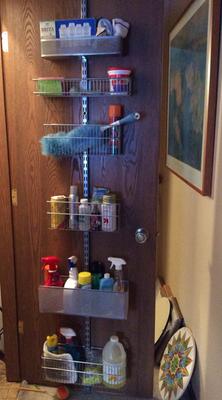 Rated

5

out of

5
 by
hedgewitch
Wish I'd Discovered Them Sooner!
My life is multifaceted - animal rescue, disabled veteran spouse, crafter, needlework, baking & cake decorating. It's been my goal to get better organized all round. Some has been trial and error, all has been inn its as time & energy allowed. Two closets were the last and toughest to get under control. Elfa too the rescue! I love Love LOVE the flexibility of these pieces to customize all the way.
December 25, 2015
Rated

5

out of

5
 by
Karmen
Great Produce
Great product. I have two elfa systems in my house and I love them.
December 23, 2015
Rated

5

out of

5
 by
donnyc
great space saver
This is my second Elfa door system an love how organized I've become. My bathroom counter is clean from clutter. Love it
August 14, 2015
Rated

5

out of

5
 by
AmyCK
Love these
I love the elfa closet door systems. I used one on kitchen pantry door, giving me a huge spice rack for all my different sized spice bottles and oils. I also have one on coat closet, for a gift wrap and ribbon holder. Use one of the large baskets for mittens and gloves. Last but not least, the linen closet door, holding extra bottles of shampoo, shower gel, deodorant, boxes of soap, bandaids, peroxide and rubbing alcohol. Couldn't live without them now that I've got them.
June 17, 2015
Rated

5

out of

5
 by
Grandma05
Elf a Products
I purchased the Elfa door system for my craft room and it's amazing! It's like having several shelves and the baskets are perfect for ribbon, craft dies and much more,
April 19, 2015
Rated

5

out of

5
 by
Carolina1977
Elfa spice rack
I brought the Elfa door rack syst home and in 20 minutes my pantry door became a spice rack to be proud of and show off to my friends.
March 29, 2015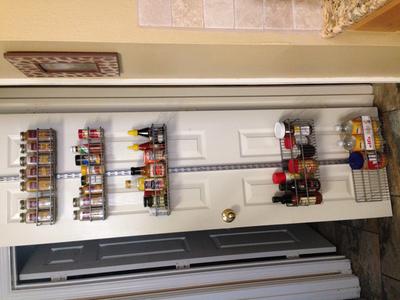 Rated

5

out of

5
 by
MomOf12
Great Purchase For My Pantry
I purchased this basket to add to my current system. This is hands down the best pantry door organizer anywhere! I LOVE it!
March 29, 2015
Rated

5

out of

5
 by
ernestallen
Nice!!!
Purchased these racks to complete the makeover in our pantry and what a difference they made. Very easy and convenient to install, infinitely adjustable and just downright useful!!
March 24, 2015
Rated

5

out of

5
 by
BabyHyena
The Ultimate Spice Rack and Kitchen Supply Saver
I wasn't happy about having to move again and start completely over, but, this little gem has made it slightly easier. No seriously! This is so genius. It is incredible to be able to see all the spices, oils, hot sauces and vinegars or whatever else you want to put in the baskets, with one glance and to save counter space. This is by far the best design ever. Thank you!!!
March 22, 2015