Rated

5

out of

5
 by
Stolat
Find of the century....for me that is
My basement has a crawlspace for storage. I was stacking cardboard and plastic boxes in there. Over the years a lot of junk has become unreachable. I found these and they have changed all that. I can stack 2 large wire shelves or 3 medium wire shelves in my crawl.they each hold 75lbs. I stack grandmas old china on them, stack wreaths,large decorating pieces, spare appliances; in other words: everything and anything. Try them, you won't be sorry!
December 5, 2015
Rated

5

out of

5
 by
casamystic
Great products Great Company
Love the products. These shelves are helping me organize a cupboard in my kitchen that was my largest cupboard and because of a home improvement project I lost half the functional space. The shelves are sturdy and well made and they stack and are helping me retrieve some of the storage space I lost. Great! Really like the values of the company as well.
July 30, 2015
Rated

5

out of

5
 by
GoofyMe
Perfect!!!!!!!
They were exactly as described. They were perfect in helping me organize my kitchen storage. Thank you.
February 27, 2015
Rated

4

out of

5
 by
ECTeach
Very sturdy shelves
Purchased these shelves to reorganize a corner base cabinet in my kitchen. At first I thought I had ordered the wrong sizes as I could not figure out how they stacked on top of each other. My husband had to help me out...I'm not sure if I could have squeezed the legs to get them to hook together. My only complaint is that although I carefully measured the cabinet I found that these would not fit due to the way the base flares out (the measurements must be for the shelf not the total length including the legs). I got it to work by placing it against a different side of the cabinet, but just be aware that you will need more clearance than the measurements suggest.
January 20, 2015
Rated

5

out of

5
 by
Hanz
Great shelves
These shelves are very sturdy. I have them in several cabinets and in a few closets. They make a messy space much neater, and allow you to store more in the space. Be sure you measure the space, as the shelves are generous sized.
August 28, 2014
Rated

5

out of

5
 by
midwesthelper
Awesome sturdy shelf
I have this shelf in my kitchen pantry and LOVE it! The shelf I had before was plastic and sagged. This holds a ton of weight with no sagging. Well worth the money.
July 15, 2014
Rated

5

out of

5
 by
TheWolfeGang
PERFECT PRICE, FORM, AND FUNCTION
We needed efficient, effective storage under our basement stairsâ¿¿that didn't break the bank and that didn't require time for assembly. These did the trick. We ordered 14â¿¿and got the discount for online order/store pickup. If you're looking for a fast, inexpensive way to reclaim a spaceâ¿¿these are the ticket. We feel better and have plenty of empty shelves left for expansion
May 26, 2014
Rated

4

out of

5
 by
Chip512
Great stand!
I was looking for something to elevate a 35" TV off the table. I had used other wire stands from Container Store and thought "they've got to have something!" so went an looked. Sure enough this wire shelf was big enough for my use and with a weight rating of 75 pounds more than met my need for a sturdy shelf.
April 20, 2014
Rated

5

out of

5
 by
Defty7
Perfect Fit
We needed shelving for a large over the fridge cabinet. This was the perfect size for half the cabinet. The other half was for the Bakeware Holder that we also bought at the Container Store.
April 14, 2014
Rated

5

out of

5
 by
LoveCaliforniaLiving
Get to shelves for pantry organization
I wasn't sure about these shelves but they work perfectly for lager, heavier items in your pantry. They stacked nicely. Each shelving unit clips into another so no danger of all of items falling over. I used it to organize by bake ware and all drink mixes bottles. Now I can actually see what I have and find everything within seconds. I am planning on getting few more to get my garage organized.
February 20, 2014
Rated

5

out of

5
 by
ladymatz
Works perfectly!
Everything I buy at the Container Store works perfectly, doing the job I need it to do. The stacking shelf is perfect for storing my heavy china. One of my "best" purchases.
November 5, 2013
Rated

4

out of

5
 by
KiranDC
Love these!
These shelves really helped me organize my make up and products. I have way too many for the small vanity space that I have. Someone told me I should get rid of some products, but I use almost everything.
August 26, 2013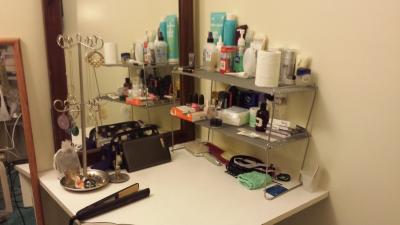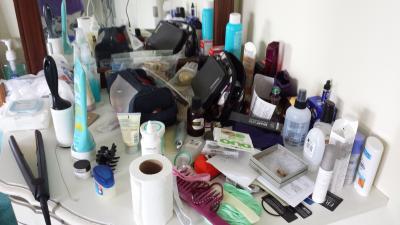 Rated

5

out of

5
 by
AJohnson216
Great for maximizing limited space!
I love these shelves! I picked up a few, then ended up going back for more! I bought several of them to organize our pantry, and nearly doubled our space. It's great to be able to see the labels on everything, and it helps to avoid items falling in the back and getting lost. I also have used them for shoe storage on the floor of my closet. Another nice thing about these....if you no longer want to use them individually, you can attach them all together and make one shelving unit!
July 1, 2013
Rated

5

out of

5
 by
pastelpoodle
Perfect sturdy instant shelving.
Well made easy to stack. Tucked nicely and easily into my space.
July 1, 2013
Rated

4

out of

5
 by
carlymac
It is okay!
I bought this to use in a lower cabinet to stack plates. It works fine and looks good, but the plates are heavy and the shelf wobbles. Works for the short term, but still looking for a better solution.
June 23, 2013
Rated

5

out of

5
 by
Kimberly96
Great for pantry organization
These racks doubled our pantry space. They are very sturdy, and we like the simple look.
March 26, 2013
Rated

5

out of

5
 by
LMarie91
Love these shelves!
I bought one of these shelves and it is very sturdy! I bought it to use at work so that I didn't have to pick up something off another in order to get to it. This worked perfectly! But then I needed more desk space so I brought it down to use as a shelf on my desk. Works great there, too! :) LOVE IT! (I don't have a picture for this review...sorry) :D
March 25, 2013
Rated

5

out of

5
 by
sheila
double the size of your kitchen cabinets
I use these in my kitchen cabinets to double the size of the space. It is a convenient way to stack pots & pans, dishes, or any kitchen item.
March 15, 2013
Rated

4

out of

5
 by
ndromo83
Job Done Well
Used these for stacking holiday items in my cabinet. They fit perfectly and are holding up well with the weight I put on them. I thought they were a little expensive for what they are but they are meeting my needs.
March 9, 2013
Rated

5

out of

5
 by
SilverNester
Platter and Bread Machine Solution
I measured the deep cabinet under my wall oven, which is high as well as deep, and bought two large flat wire shelves which I set in as a second floor for that space. They are very strong. The bread machine now has its own dedicated space, as well as the toaster oven and my hand mixer. Below that steel shelf the holiday platters, pie plates and casseroles slide in and out--easy access. This has cleared off my counters and has made my limited kitchen counter space tidier and more efficient. I keep going back to the cabinet and looking in, just to thrill myself again. Wow. Five stars.
February 1, 2013
Rated

5

out of

5
 by
Moviequeen
Extra space in your cabinet
I purchased this shelf for under my cook top to stack pots and pans. It fits well, holds quite a lot, and serves the purpose perfectly.
January 30, 2013
Rated

3

out of

5
 by
denheels
A little wobbly but a good fix
They fit perfectly in my cabinet but are wobbly. Definitely a short-term solution.
October 10, 2012
Rated

5

out of

5
 by
JamesJerry
Excellent Storage
These wire racks were the perfect answer for my closets. I have high ceilings which give lots of storage space in my closets on the built in shelf. These shelves allow me to stack sweaters and shirts easily and still have easy access without a mountain of stuff falling down.
October 6, 2012
Rated

5

out of

5
 by
NYCapartment
Great for Stacking!
I bought these stacking shelves for my tall kitchen cabinets and love them. I used them to organize my pots and pans and they really helped me utilize the height in these cabinets. And in a New York apartment, space is at a premium! I ended up buying more for the counters!
May 6, 2012
Rated

5

out of

5
 by
organizedlilmama
Two thumbs up
These are nice and sturdy. Used two of them to fill in an empty space at the bottom of my small pantry. They hold about anything that will fit on them and no installation is a huge plus for me.
May 6, 2012
Rated

5

out of

5
 by
Hillaryb123
I love these stackable shelves. Adds tons of space to my pantry
April 30, 2012
Rated

4

out of

5
 by
Allie12
These are great and maximize space by being able to securely stack them and easily set them up. And they blend in and look sleek.
April 5, 2012
Rated

5

out of

5
 by
MelissaMarie
Highly Recommend
This is a sturdy great addition to a cabinet. It is slender enough to work in smaller cabinets. My husband (who is not really interested in organizing) evern commented that this was such a addition. Now I am trying to figure out more cabinets to optimize with it.
March 30, 2012
Rated

4

out of

5
 by
jeanlinderorganizingcom
Great for stacking and narrow design
This is a diffiult size to find, but I'm glad I did. I am using them in stacked rows in cabinet with a narrow door to house plastic serving ware.
March 21, 2012
Rated

4

out of

5
 by
Caro17
Wonderful for Added Storage!
I only gave this Product 4 Stars was for the absense of instuctions when using 2 or 3 to create stacking. It took Me a while but the "Secret is to Twist" the top shelf legs until they Snap into the rail. I bought this and the Medium Half Shelf for a cupboard that didn't have shelving and am very happy with it. It has worked out wonderful! Is strong and doubled my space!!
March 21, 2012